Business is booming for Vitalii Kolesnichenko, the founder and CEO of drone startup AirLogix. 
Kolesnichenko worked in Ukraine's burgeoning IT sector until 2020, when he started prototyping a civilian cargo drone. When Russia invaded last February, the whole business shifted focus.
Now, from a bare and unmarked factory in the industrial outskirts of Kyiv, Kolesnichenko and his 40-person team are producing 10 sleek surveillance drones a month, thanks to a new series of government grants and initiatives. By the end of the year, AirLogix hopes to be producing 50 drones a month — provided it lands a coveted contract with the Ministry of Defence, which was once the exclusive domain of established contractors. 
But small dronemakers like Kolesnichenko face an unusual conundrum: while demand is high for their military wares right now, once the war ends it'll also be game over for their businesses — unless they can successfully convince investors and buyers that their technology is just as relevant in peace time.
Army of drones 
At the end of March, President Zelensky announced that the Ukrainian government planned to spend 20bn hryvnia (€500m) on drones. The government's tech innovation arm, the Ministry of Digital Transformation, known as MinTsifra, is also playing a key role in getting the defence tech industry off the ground. 
As Russian tanks rolled through the suburbs of Kyiv last spring, MinTsifra shifted its focus — as did everybody else — to the war effort. It set up a crypto-based donation platform to finance the military, which later turned into a more formalised donation platform called United24. 
Drones are a big focus for United24, which spent $123m between drone and anti-drone systems — over half of the $215m of total spending in its first year of operation. One programme, called Army of Drones, specifically aims to make home-grown equipment — "stimulating those who are here", as Alex Bornyakov, a deputy minister within MinTsifra, puts it.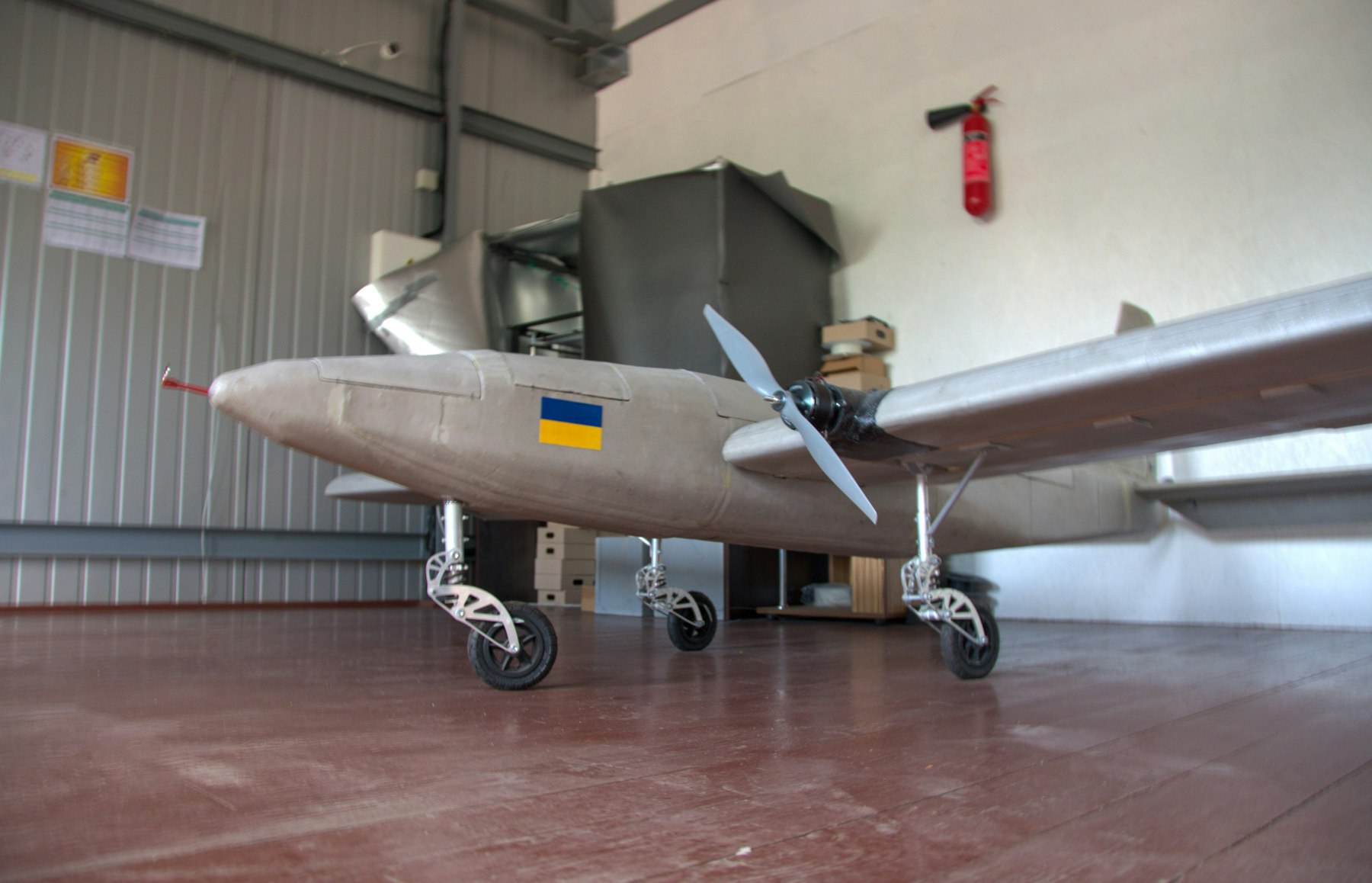 As of January, defence minister Oleksii Reznikov said that the military had contracted 16 local dronemakers. By the end of March, he told Reuters that number was up to 80. The Ministry of Defence did not respond to Sifted's request for updated figures.
It's also become easier for Ukrainian defence techs to work with the military. A joint project between the defence and digital transformation ministries called Brave1, which launched in April, streamlines the time and paperwork it takes to start contracting directly for the military from two years to a month and a half, according to Reznikov.
"Our experience demonstrates that in Ukraine there are many creative and qualified teams, which can create advanced things. But they need help at the start — with financing, with legalisation procedures, access to bases of production, testing etc," he wrote.
MinTsifra has also standardised the process for testing drones and added a requirement for the military to use them, while new schools have emerged to train drone operators, many of which are free to active soldiers.
Keeping post-war doors open
The new military funding is a blessing and a curse, however. 
Startup dronemakers are keen to advertise their non-military products to escape being pigeon-holed as weapons makers — and cut off from post-war sources of capital. 
The Ukrainian Startup Fund, a government-funded pot of capital for innovative businesses, has given grants to seven "dual-use" drone projects since launching at the end of 2019 — including dronemakers like AirLogix and Kray Technologies. One, Drone.UA, doesn't make drones but rather provides services for people who need drones or plan to build them.
"What's going to be successful right now won't necessarily be successful in the future and vice versa," says Dmytro Surdu, who founded Kray Technologies just months before the 2014 annexation of Crimea.
Before last year's invasion, the firm was assembling automated crop-spraying drones out of a plant in Texas, with some parts manufactured in Ukraine. Now, Surdu is busily pitching the Ukrainian military on a frontline drone that uses AI to identify targets and divebomb them, never slowing down to become a vulnerable target itself.
This new generation of dronebuilders are still in a different league from the Turkish and Chinese companies whose drones have seen widespread and highly inventive use in Ukraine, however.
"How long will it take to achieve the maturity of [Turkey's] Bayraktars, or [China's] DJI? That's a more complex question," says Surdu. "Most of these companies will probably not be able to raise a significant amount of money in order to step up to a high level."
Gun-shy investment
While defence tech is much more palatable than it was before Russia's invasion of Ukraine, many investors still won't back these companies.
"We won't be able to touch it," says Dominique Piotet, who runs the Ukrainian Tech Phoenix Fund, a €50m VC fund aiming to support Ukrainian reconstruction by investing in its emerging tech. He's also behind a string of innovation parks in Ukraine, including Kyiv's Unit.City. "Because of our LPs, because of our investors — we wouldn't be able to do any military tech."
"We are not interested in just military, because the market, for us, is too narrow. But if there's a dual use, yes, we'll look at them," says Mariusz Adamski, who runs ffVC's Blue & Yellow Heritage Fund, which plans to invest $50m into Ukrainian startups but hasn't made its first investment yet.
We won't be able to touch it. Because of our LPs, because of our investors — we wouldn't be able to do any military

tech
"[Military tech] is something venture investors try to avoid. It's usually very connected to the government and can face different restrictions," Ivan Petrenko, who manages the Ukrainian Catholic University VC firm Angel One, tells Sifted. "We have applications from a few makers, but none that would draw our attention."
"We as a VC fund are not allowed to invest in weapons and ammunition. That's why we focus in defence scenarios on dual-use technology," says Tobias Enke of German VC Project A, which hasn't invested in any Ukrainian drone startups — but did recently publish a blog post asking if VCs should be more interested in defence tech.
Plenty of Ukrainian dronemakers also aren't looking for venture capital at the moment. According to Adamski, the artificial nature of the current market — and particularly the ready availability of donations and government funding — has made dronemakers hesitant to give up equity. 
MilTech sans frontières
Long-term funding challenges remain, alongside short-term logistics barriers. Local dronemakers are subject to export controls which limit international expansion opportunities. But despite these issues, some believe Ukraine is setting itself up to become a next-generation military exporter.
"The biggest threat that the Russians face is the ingenuity of the Ukrainian people," says Charlie Dean, an executive at Aerovironment, a publicly traded US dronemaker and government contractor. "It's actually great for the Ukrainian industry that unfortunately from these times will come new growth and new capabilities in the country."
MinTsifra deputy minister Bornyakov says Ukraine could follow the same path as Israel, which has become a major tech hub in the past few decades. 
"In every tradeshow and every military trade show, if there was an Israeli product, everyone wanted to buy it because they knew that it's proven, because they had conflict," he says. "Ukraine has this unique chance to become one of the countries that produce military-grade equipment."
Surdu, whose business well predates the full-scale invasion, hopes that Kray Technologies will become a "game changer in next-generation agriculture, seriously pushing it to sustainable and carbon-capturing technology".
"We'll focus solely on this after the victory," he adds.