Big-name founders, investors and tech enthusiasts from more than 100 countries will descend on Helsinki this week for Slush, one of Europe's leading startup conferences. Founders from companies such as Stripe, Slack and Spotify will share their best practices; investors will swap notes and meet companies; and the European tech establishment will dance together in laser discos and sweat in the communal saunas. 
But to see Slush today, a student-led operation and an integral part of the European tech ecosystem, it's easy to forget how remarkable it is that this pre-eminent event was created in such a tiny Nordic country in the midst of an economic crisis. And it's even easier to forget how the event, born in a dark time for so many local businesses, has helped shape Finland's approach to entrepreneurship. 
This is the story of how, over the past decade, the volunteer-powered startup gathering has become something like a nationwide tech accelerator; a breeding ground for Finland's new wave of tech startups such as Wolt, Smartly and Blok as well as a cultural event which has inspired a generation of founders. 
"Slush came from the genuine desire of students who had been to Stanford, took a liking to the ecosystem and said 'we want to build something similar in Finland, do you want to help us build it?' says Timo Ahopelto, Slush chairman and board member since 2014. "If the government had tried to do an accelerator that would never have worked, of course."
Slush's "dark and miserable" beginnings
Back in 2011, in the early days of Slush, Finland was reeling. The once-dominant mobile phone maker Nokia was in freefall, being called a "burning platform" by its own chief executive and under assault from the Apple iPhone. The aftermath of the global recession was being felt on local heavy industries. The country was heading towards a decade of lost growth.
One silver lining amidst the post-crisis gloom came through the formation of Aalto University in 2010. Called a "national shake-up of higher education" by the FT, Aalto University was intended to boost innovation and company formation at the intersection of sciences, through the merger of Helsinki's main business, technological, and arts & design universities. 
The priority was creating a foundation for creating new business in a country that desperately needed them. And its student society for entrepreneurship, AaltoES, would deliver on that goal handsomely — through grassroots initiatives which eventually included the creation of Slush. 
According to Miki Kuusi, the former chief executive and brain behind the current Slush, the new university — combined with the urgency of an economy in the doldrums — became the foundation of Slush — and brought the onus of global tech to Finland much earlier than other European countries.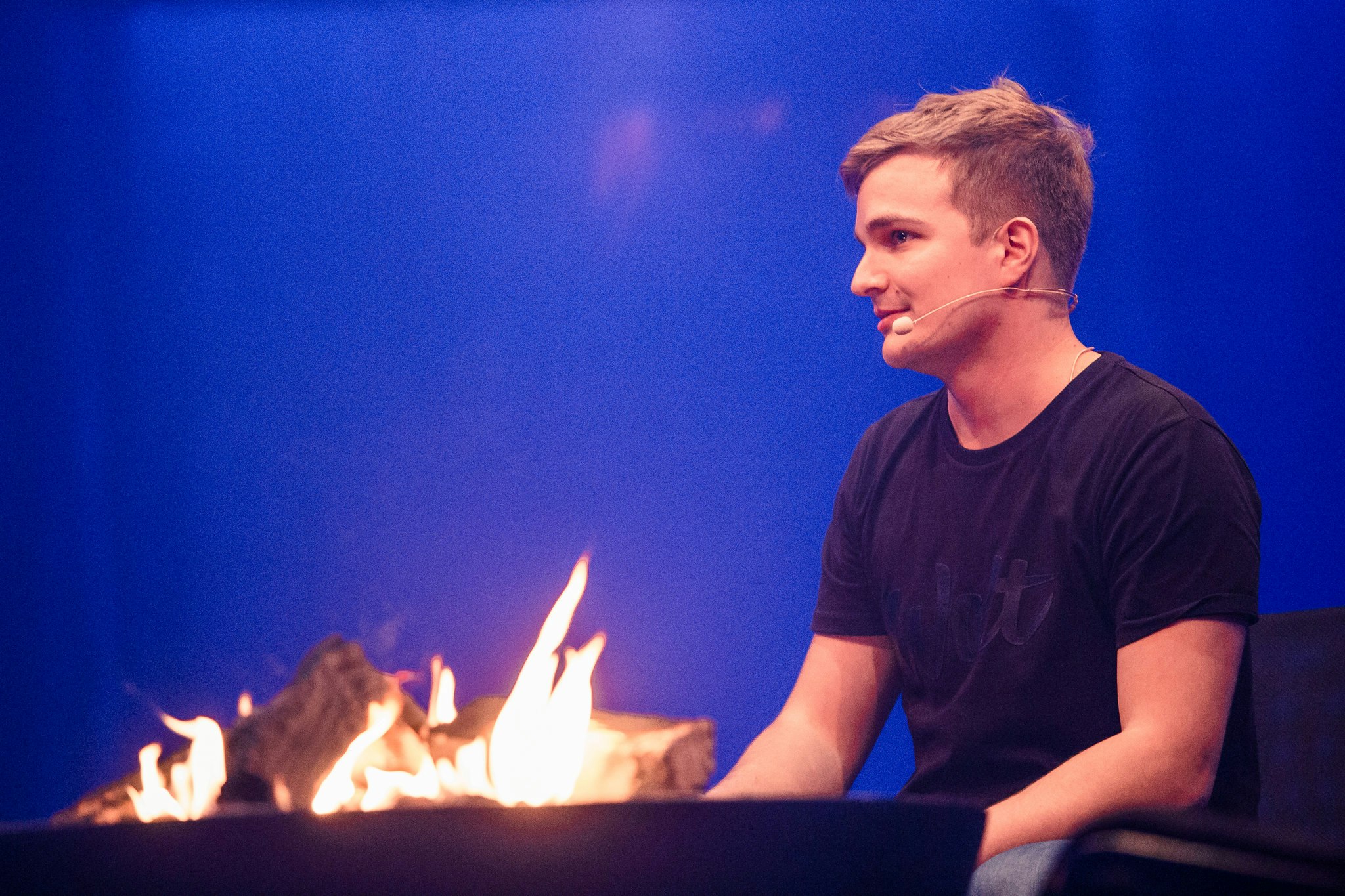 The explosive rise of local gaming firms Rovio, which hit the big time around 2010 after the launch of its Angry Birds game, and Supercell, which was founded in 2010, was the "lucky break" that a nascent Slush needed, Kuusi says, showcasing students "what all this tech and startup stuff could mean."
"This led to the perception that entrepreneurship is something that ambitious and smart people do," says Kuusi, whose own 'aha' moment to the powers of the tech wave came from testing an Uber ride in Silicon Valley before the company's public launch.
Slush in 2013 was attended by 7,000 people, including Niklas Zennström, founder of Skype and Atomico, and Taavet Hinrikus, and cofounder of Transferwise. The event quickly became a meeting point for startup enthusiasts — first in the Nordics, later globally. Soon Silicon Valley investors were flying into Helsinki to scout European tech. 
"From a pure marketing perspective, building Slush was a very interesting challenge; how do you convince people to fly to Helsinki in November, when it's so dark, miserable and cold?" says Jenny Gyllander, Slush chief marketing officer from 2013 to 2015. "It probably wasn't the easiest pitch. But we were determined to create a show window for European tech and match them with international investors."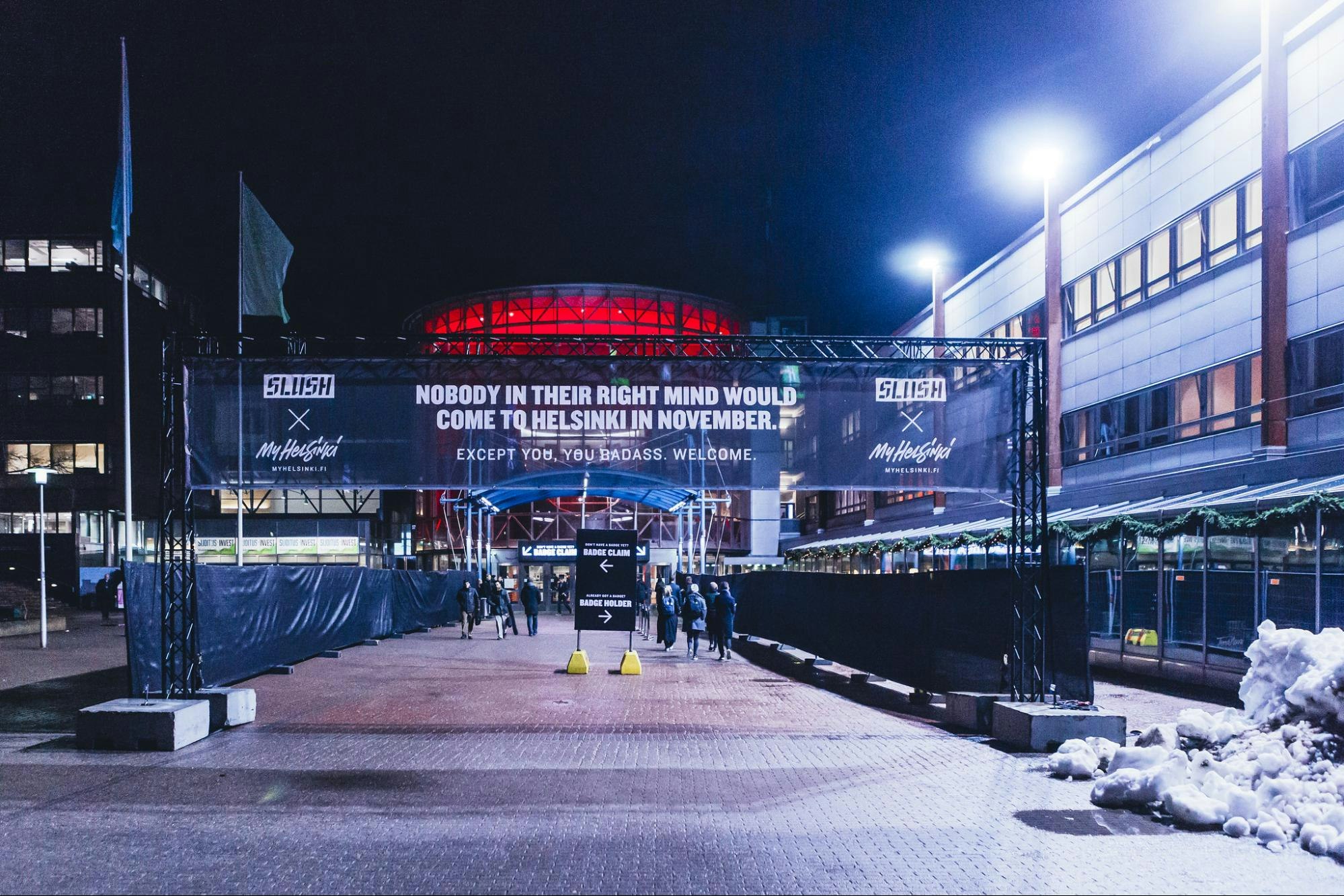 Slush also happily coincided with a boom in interest in European startups. Back in 2013 there was €5.2bn invested in European startups, according to Atomico's State of European Tech report. By 2015 it was triple that and by 2018 it was nearly five times more at €23bn. There are now 160 European tech unicorns, depending on how you measure it.
A student project
According to Ahopelto, the Slush chairman who is also the founding partner of Helsinki-based Lifeline Ventures, "the big catalyst for Slush's growth was the voluntary nature of it." It is essentially a grassroots initiative: "These students were a smart and neutral instance for building a true foundation for Finland's tech scene, and start creating things like Slush."
Miki Kuusi describes the Slush organisation as an extension of the AaltoES student union, just on a much bigger scale. Startups that attended Slush 2018 have since gone on to raise €1.2bn in financing, according to the conference.
The top day-to-day managers of Slush are students who abandon their studies for 2-3 years to work the event around the year full-time, including satellite events in Asia. The team "essentially changes every two years," according to Kuusi, something he sees "as an interesting experiment in culture transmission." 
Today there's a paid team of 50 students who work the event around the year. Their average age is 25 years old, and they manage more than 2,000 student volunteers. The current Slush chief executive Andreas Saari started out as a badge claim volunteer in 2014. 
"Slush in itself is a growth company," says Kuusi, who left his CEO role to start food delivery service Wolt in 2014.  "So if you've been part of Slush and go on to found your first startup, you probably have higher chances of success when you start your own company. Because you've absorbed the kind of things that more seasoned top entrepreneurs have gone through." 
Inspiring a country of entrepreneurs
While it's impossible to calculate the exact contribution made specifically by Slush — the event coincided with a global tech boom and a tidal wave of cheap capital — Ahopelto says Slush helped accelerate two important shifts in Finland.
Firstly, Finnish tech companies have an easier time raising money today than when Slush first started: inbound VC investment into Finland nearly quintupled to €188m between 2014 and 2018, according to the Finnish Venture Capital Association (FVCA). And not only is total investment up, but Finland ranks highest in Europe compared to other countries in VC investment as a percentage of GDP.
"Instead of having 50 international VCs looking at Helsinki, we now have 2,000," Ahopelto says, nodding to the rough number of investors attending Slush 2019.  "Bringing that focus on the Finnish startup ecosystem has been quite significant."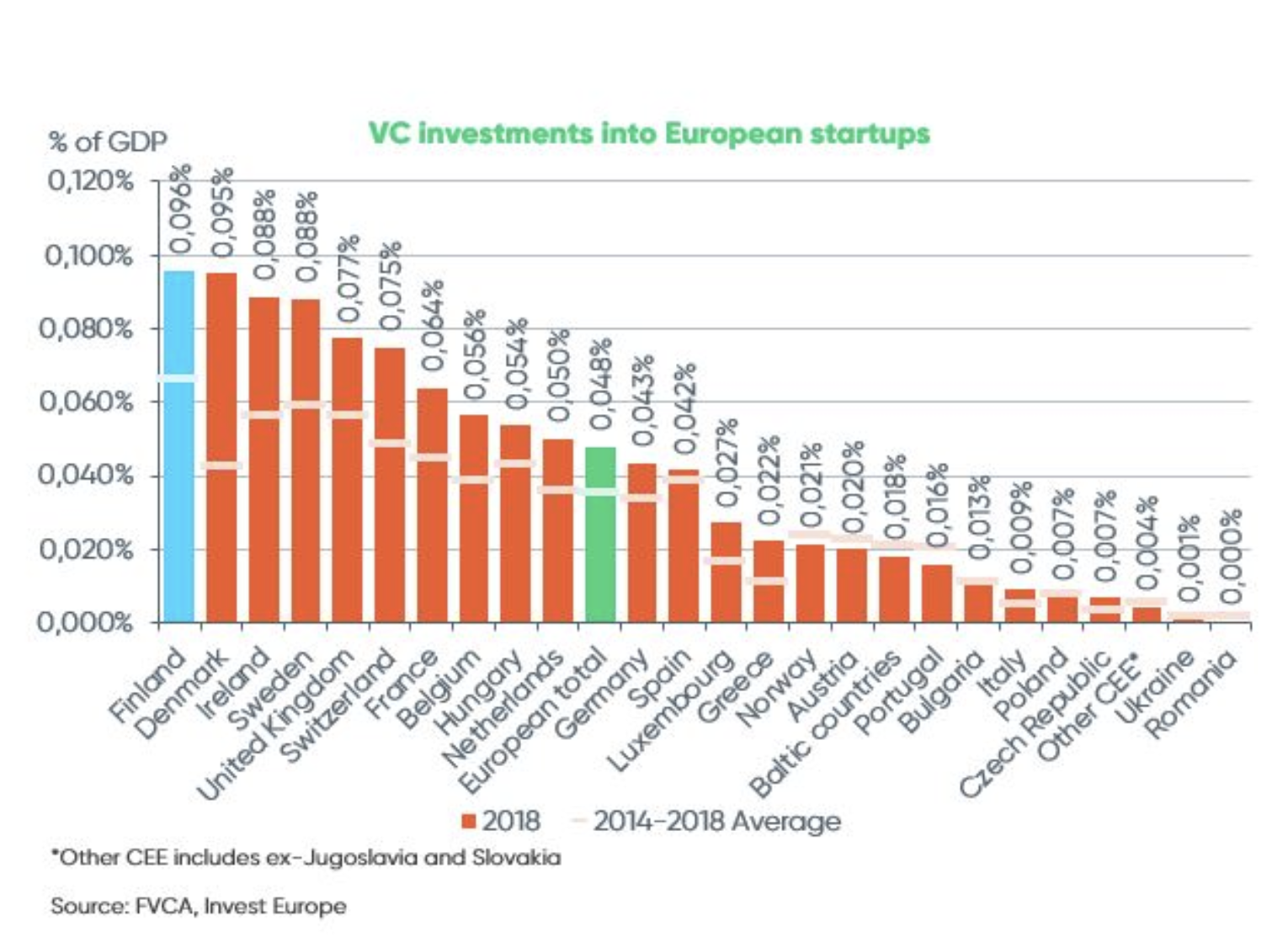 Second, the event has contributed to profoundly changing the culture around starting companies: "Slush has made it OK to be an entrepreneur in Finland; it's now becoming a desirable career choice, which is extremely important," Ahopelto says.
The Finnish entrepreneur and investor sees a big contrast to when he co-founded his own company, healthcare software provider CRF Health in 2000. Finland used to be an entrepreneur unfriendly country, he says.
"Before things started changing around a decade ago, entrepreneurs mostly worked in their own silos without proper access to advice from seasoned founders nor foreign investors, nevermind pitching competitions," says Ahopelto, whose former company was acquired (from other owners) for €1bn last year.
Ahopelto says the Slush volunteer program, which has exposed thousands of Finnish students to some of the biggest names in global tech, has been a key transmitter of this emerging entrepreneurial spirit in Finland. "I always tell my friends that they'd be foolish not to have their kids volunteer at Slush. It's only a few days of work, and they get to experience the tech world from the inside and make connections. Then there's a nice party at the end."
Today 47% of secondary school students in Finland are mulling careers in entrepreneurship – a dramatic rise compared to just a few years ago – while a fifth of Finnish people under age 25 believe they will start a company in the next three years, according to Global Entrepreneurship Monitor.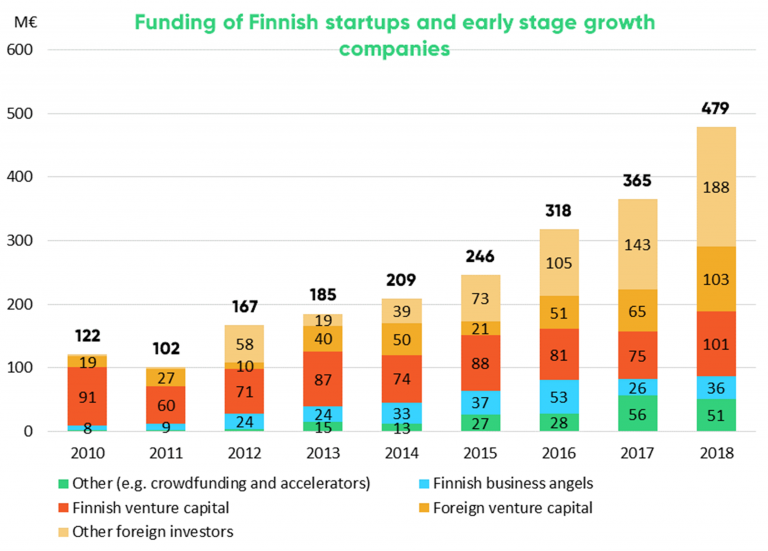 The event has "demystified" entrepreneurship, according to some people who have worked at Slush. 
Venla Väkeväinen, who worked at Slush 2015-18, most recently as chief operating officer, before starting her own branding agency BoU said: "When I first started at Slush, the thought of entrepreneurship really terrified me. My perception was that it's lonely and that it requires insane amounts of risk taking. During my Slush years, my perception of company building changed entirely."
The startup bug has reached academia as well, Ahopelto says. "Now even the professors, who were categorically against the concept of entrepreneurship, are very excited about it, and eager to create their own spinouts."
Slush mafia
A startup ecosystem is only as strong as its companies. By that metric, Finland has seen an immense improvement in recent years.
"In the last ten years, the number of Finnish startups has grown by about 10x, and just in the past three years their quality has become — not quite, but nearly — ten times better," says Ahopelto, whose Lifeline Ventures counts many of Finland's best-known startups in its portfolio — and recently raised a €130 million seed fund to find new ones. 
One testament to Ahopelto's claim is Maria01, the sprawling startup campus located in the heart of Helsinki; the biggest of its kind in Europe. But what's been behind this improvement?
Companies founded by ex-Slush employees: Blok, Wolt, Singa, Bou, thingtesting, Nyxo, Carbo Culture, Fiksari, Work Ahead, Industryhack, Wave Ventures, Klok
Other initiatives founded by Slush alumni: Inklusiiv, a diversity and inclusion initiative; Kutsuvat sitä pöhinäksi, a bestselling book co-written by Venla Väkeväinen and Hello Ruby, a coding movement for women
"I believe this knowledge is being built layer by layer, so we now have founders who have gone through a journey at world-class companies like Supercell or Rovio," says Ahopelto. "The other big reason is that our startup ecosystem now provides great conditions for founding interesting companies, from advisors to networking to peer learning."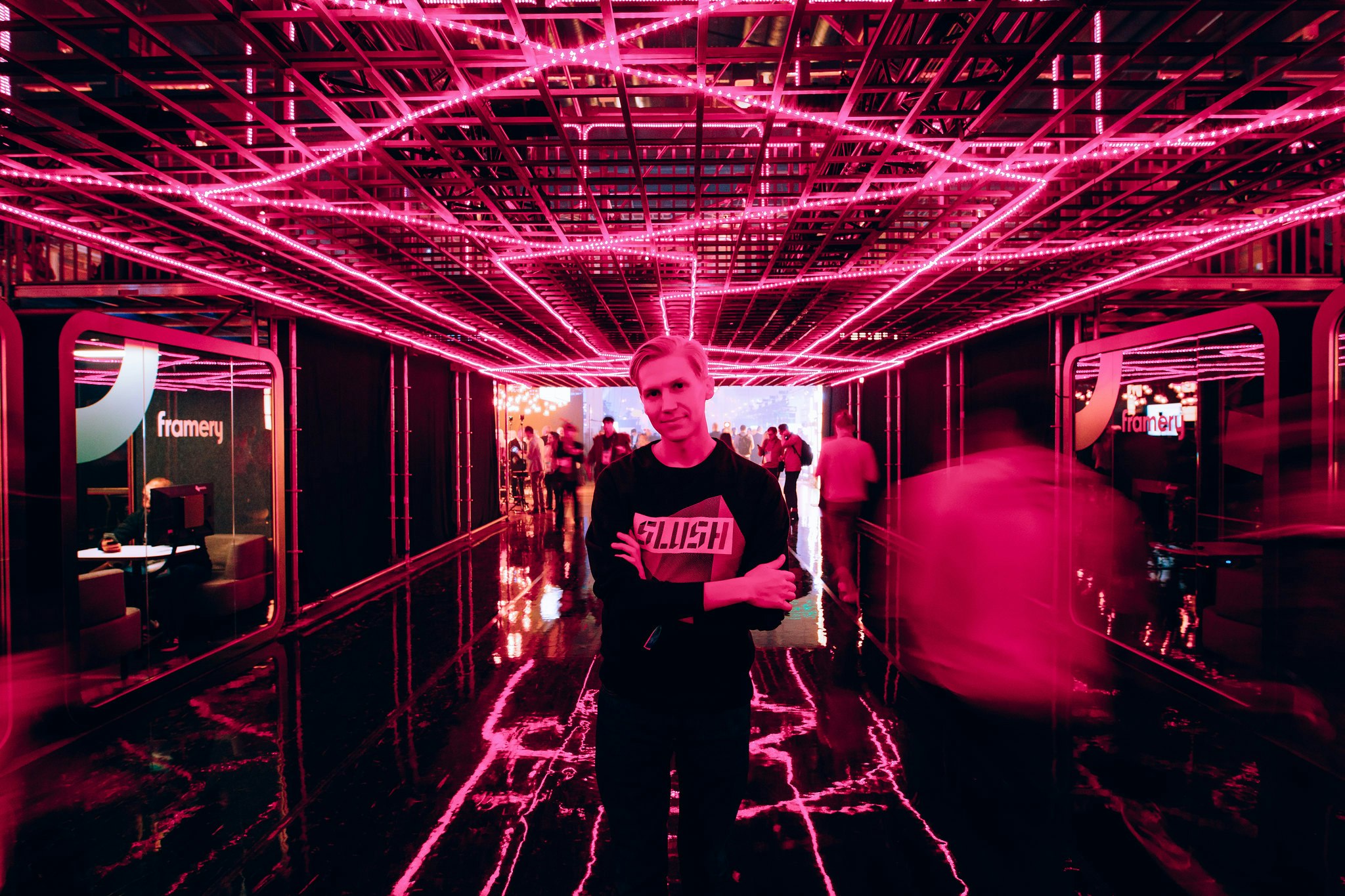 According to Gyllander, who is today running an online consumer guide and review platform called Thingtesting, the new wave of Finnish companies have acquired a "global mindset from day one, more so than many other markets. Whether or not it's because of the Slush effect, the change has definitely taken place over the past few years." 
Some of Finland's highest-flying tech companies today were founded by Slush insiders — known as the Slush Mafia in Finland. Wolt, founded by Kuusi and former Slush execs, recently raised $160m for pan-European expansion. 
Kristo Ovaska – a key figure behind the rise of AaltoES – is heading up Smartly, a global marketing automation platform with €63m in revenues last year. Other former Slush executives have set up companies such as Singa, a 'Spotify for Karaoke', and Blok, a digital real estate broker.
Building a new economy
Ahopelto says that while Finnish politicians first welcomed Slush as an enabler of entrepreneurial culture at best, a passing fad at worst, they've lately re-evaluated its impact. Slush is now a crown jewel in its own right; a driving force that helps the Finnish economy gravitate towards a global and tech-focused mindset.
"The most significant change that Slush has been able to inspire, is that Finland can develop a broader understanding for tech. That way, we'll have more growth companies, and even the big incumbents can take advantage of this global development."
Miki Kuusi's ultimate goal with Slush was always to foster not just a Finnish, but a European ecosystem — one that can "hopefully give rise to Europe's own Google." But the most vivid impact so far has been in Finland, where learnings, talent and capital are now circulating on an unprecedented scale. 
"At the heart of Slush is a really tight-knit community, which first started from the AaltoES student union — and consists of students, serial entrepreneurs, investors, founders, advisors and employees. Building this community is ultimately the most important achievement. Slush is simply a byproduct of that."