Imagine a world where a man gets into a violent car crash and his leg is shattered. But instead of having to amputate, the doctors can just fire up the 3D printer and make a new, identical bone on the spot.
This is the dream of a generation of European medical startups which are attempting to create a brand new medical category, taking 3D-printing technology once used for industry and applying it to the human body.
The market for bioprinting materials that mimic living cells (organs, blood vessels, heart tissue as well as bone) is still in its infancy. It is set to be worth just $2.2bn a year by 2024, according to Global Market Insights.
Many of the companies involved still need approval from regulators to even start testing the technology, let alone commercialising it, but many trials (for example in Japan) have been successful. And for optimists, it has huge promise to change the face of modern medicine.
In Europe, companies such as Particle3D (Denmark), Mimetis (Spain) and Xilloc (Netherlands) are just some of the startups entering this world, working out how to become a market leader in a brand new field and how to get the science exactly right.
"We are trying to mimic how the bone is constructed inside and out," Particle3D founder Casper Slots (pictured top) tells Sifted.
Denmark's 'dissolvable' bones
Slots was studying at the University of Southern Denmark when he met Particle3D cofounders Martin Bonde Jensen (a fellow student), Morten Østergaard Andersen (an associate professor) and Torben Thygesen (a surgeon at Odense University Hospital).
Thygesen already knew there was a need for a new kind of bone graft—those who suffer facial trauma or have cancerous bone tissue removed are often left with unappealing options: to have a one-size-fits-all implant fitted, or attempt to regrow bone from a graft cut from their hip or thigh.
"If you don't have the right tools to reconstruct the patient, you are left with a patient that can't recognise themselves in the mirror," says Slots. "That often leads to depression because they lose their identity."
To solve this Particle3D developed a printable material made out of calcium phosphate, the basic mineral our bones are naturally made out of. This allows for printed bone implants which can be personalised to each patient and disappear into the body as a patient's' bone regrows.
"Cells inside the implant actually start to make marrow and blood vessels necessary for it to be converted into real bone," says Slots, who has already successfully trialled the technique on mice and pigs.
Particle3D closed its first funding rounds last year, raising around $800,000 from part-state funded PreSeed Ventures and business angels and plans to raise another round to fund clinical trials on humans in 2021. But the startup is not the first to 3D print bones.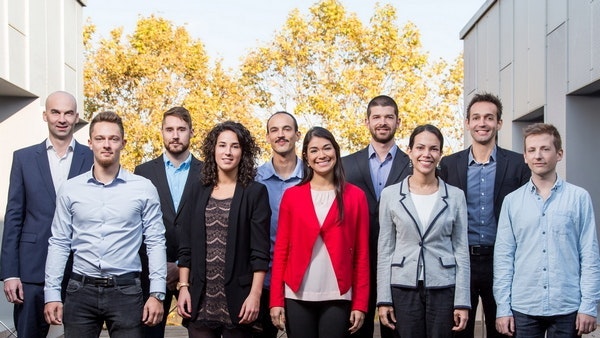 The Spanish startup with a headstart
Fellow academic Maria-Pau Ginebra has spent more than a decade developing her 3D-printable bone materials at the Polytechnic University of Catalonia in Spain.
Ginebra never intended to launch a startup. She initially licensed her patented material to a bigger company called Orthos, but the company failed to exploit it. "I realised if we wanted to really get this into the market we had to take the initiatives ourselves," she tells Sifted.  
The professor joined forces with another colleague, Javier Gil, and two PhD students (David Pastorino and Yassine Maazouz) to found Mimetis in 2013.
The team succeeded in bringing its 'biomimetic' material to market in the form of CE-marked granules in 2016 (granules are commonly used in bone reconstruction, especially in the dental field, but require a cavity to hold them).
Mimetis is also already 3D printing personalised bone grafts for dogs in Spanish veterinary clinics.
The startup, which raised two rounds of investment totalling €981,000, recently closed a crowdfunding campaign which raised €190,000 and received a €1m grant from the European Commission to start clinical trials in humans.
"The idea of a biomimetic material is that it's recognised by our cells as something familiar and the cells are the ones that take care of the remodelling," says Ginebra.
https://www.youtube.com/watch?time_continue=2&v=CksxCS1oPKc
The Netherlands buys into bone tech
Dutch startup Xilloc is another company which is betting that 3D-printed bones are the future.
Founded by Maikel Beerens in 2011, Xilloc has long been a pioneer in 3D-printed health. This developed the first 3D-printed cranial plate in and the first 3D-printed mandible.
In recent years, the firm has shown it too is looking to 3D print bone, having bought the rights to use technology developed by Japanese firm Next21 in 2015.
Beerens tells Sifted that its Next21 techniques have already been successfully tested in humans in Japan with "excellent results".
"Currently we are facing the challenge of the new Medical Device Regulations as we are trying to get a "foreign" product onto the European market," he says.
Making money
Regulation is one of the big hurdles to any of these companies. But before any of this bone technology can be sold to patients, the companies face a long, gruelling and likely unprofitable journey to perfect the technology.
That is why venture capital investment in this sector is still relatively light. Many of these companies may have to find other ways to make ends meet before human bone printing takes off: for example Mimetis printing bones for dogs.
But there is still a huge buzz around the sector, and who is going to lead it.