Payments giants like Stripe and Adyen power online shopping, but they're yet to fix the faff of typing in your card or shipping details over and over again.
That's left a vacuum for "one-click checkout" solutions like Simpler, a one-year-old fintech that's today coming out of stealth. With just €1m in pre-seed funding, the company says it's already coded a Europe-friendly product to help online shoppers pay for their baskets quickly.
"I've seen from the inside how much money people throw... at trying to bring people onto their websites. And then you lose them at the final step of the checkout. This is completely changing the shopping experience," says Simpler's founder and CEO Rania Lamprou. She says it takes an average of 22 clicks to checkout at the moment.
Innovation at the checkout in Europe has been slow to date; local innovators were blocked by a 20-year Amazon patent, whose monopoly on "one-click" technology only expired in 2017.
Meanwhile, US rivals like Bolt and Fast have been slow to expand out of their home market, despite what their names might imply, huddling down to secure billion-dollar valuations. Efforts by Rapyd and PayPal in this space also remain nascent.
Simpler's launch
London and Athens-based Simpler is now publicly launching after a two-month beta trial with 30 merchants. It's been assembled quickly, with Lamprou coding an early version in Python during lockdown (in contrast, it took years for Bolt to launch). She's since brought on two cofounders she knew from university and has established a 10-person team.
Aside from a quicker checkout, Simpler now wants to help brands pull in prospective shoppers via hyper-efficient links on digital ads (via Instagram) and via simple QR codes in the physical world, taking users directly to the checkout page with the product they've seen already in the basket.
Simpler will make money by charging a premium on each transaction and pocketing the margin. However, it will initially undercut other payment providers like Stripe, taking the financial hit to boost growth.
The sell for merchants is Simpler's claim that it can boost conversion rates by 30%. It's also increasing the use of card (instead of cash) in places like Greece by 70%. Meanwhile, registered users enjoy a smoother checkout once their details are stored, and can track all their orders in one place.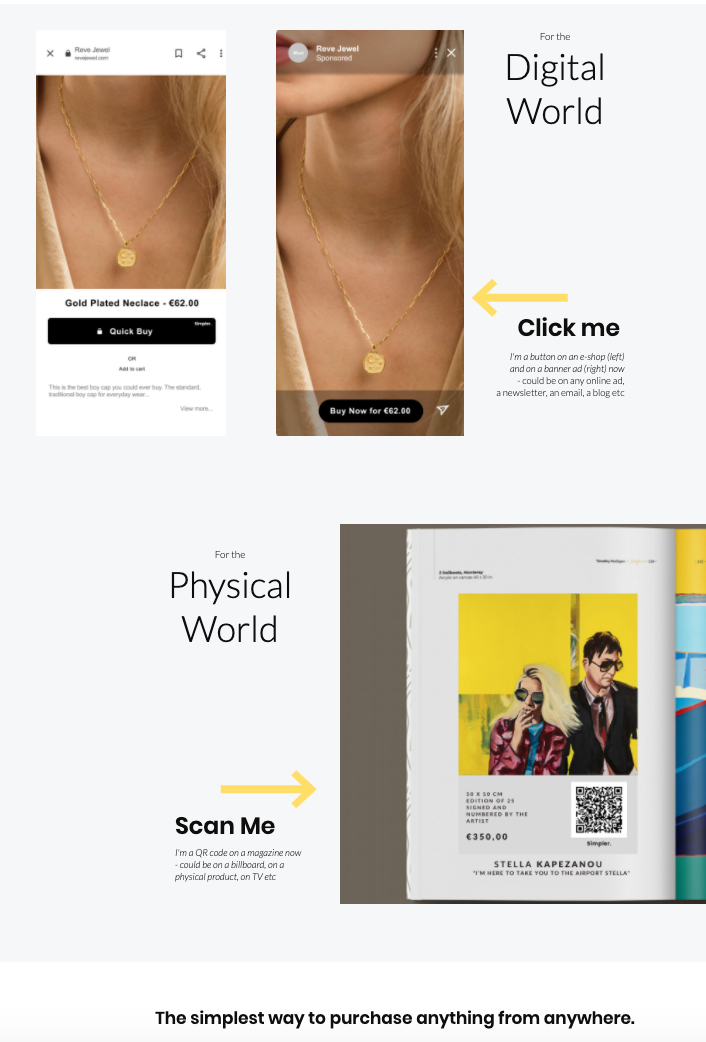 "A race against time"

The challenge now facing Simpler is scale. It took several years for the likes of Checkout.com, Bolt and Klarna to get a black book of merchants signed up, and it can be an arduous sales game.
One shortcut Simpler can use is integrating with software houses and payment processors like Stripe and Checkout.com to quickly leverage their sprawling merchant networks.
Yet even that takes time. Meanwhile, in November, both Bolt and Fast announced they were expanding into Europe.
We're talking about ecommerce, we're talking about a market of trillions... there will be multiple

winners
"It'll be a huge race against time," says Juliette Souliman, a partner at VC firm MMC and one of Simpler's investors.
But Lamprou isn't phased, arguing that it won't be a "winner takes all" market.
"We're talking about ecommerce, we're talking about a market of trillions," Lamprou says. "Europe isn't one market, so there will be multiple winners, and we want to be one of those winners. It will be a land grab game — getting into a country first will be important."
She adds: "I'm not intimidated."
Simpler is looking to open hubs across Italy, France and Spain along with the UK and Greece.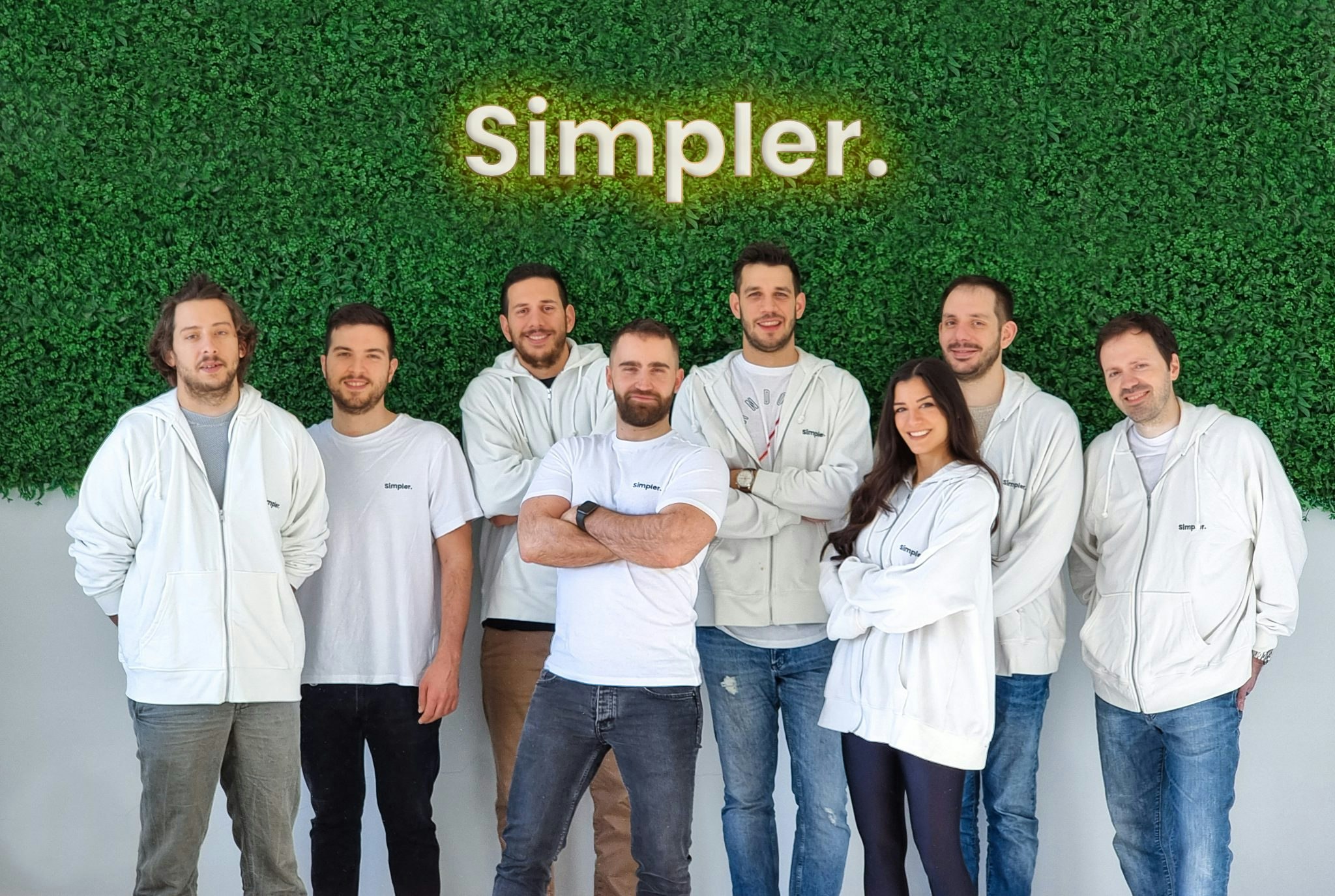 Still, Bolt is no easy rival. It's already signed up two large European merchants and can also leverage its recent "beachhead" acquisition of Tipser — a smaller player.
The $11bn startup also goes beyond just one-click checkout, operating as a data tool. It can track users' entire shopping history and then personalise their experience on other sites to maximise spending. 
"We're not just giving everyone the 'buy now' button on Amazon… It's the experience, tracking the order, etc." Bolt's chief business officer, Bob Buch, tells Sifted.
"Places like Instagram just treat the merchant like a drop shipper," he adds. "We're levelling the playing field."
Buch claims that Bolt now has "a decent number of [European] accounts," and already has 100-150 team members locally, concentrated in the UK and the Nordics.
Newcomers in town 
It's not just large players that Simpler is up against.
Other startups in the one-click checkout space include Volume, which is also about to launch its one-click solution but for "account to account" (A2A) payments, powered by open banking. 
Another is Blueprint, which has integrated its one-click solution for Shopify, accessing thousands of merchant websites and direct-to-consumer payments.
The intensity of competition has even created an obstacle for Simpler when it comes to fundraising, Lamprou notes.
"We've had cases in the past with VCs... where conversations were blocked because of conflict of interest from their side (a portfolio company raised an objection)," she tells Sifted.
Still, Simpler currently has the greatest breadth as a platform-agnostic product, with card payments at the heart (which still make up 80% of UK transactions). Other features like A2A payments and buy now, pay later integrations can be developed in time.
Simpler is also undeniably a nifty product, if the demo Sifted tried is anything to go off.
The company has also managed to stay lean — making it a rare breed.
"We have a product that works already. So it's not like we have to invest heavily there," says Lamprou. "We don't need £100m,"... Yet.