Silicon Valley investors are growing increasingly interested in Europe. That's the main takeaway from this Sifted Chart of the Week.
Last year was a record year for fundraising by European startups with €20.5bn (£18.1bn) spread over more than 3,300 deals. And it came with an increasingly US flavour.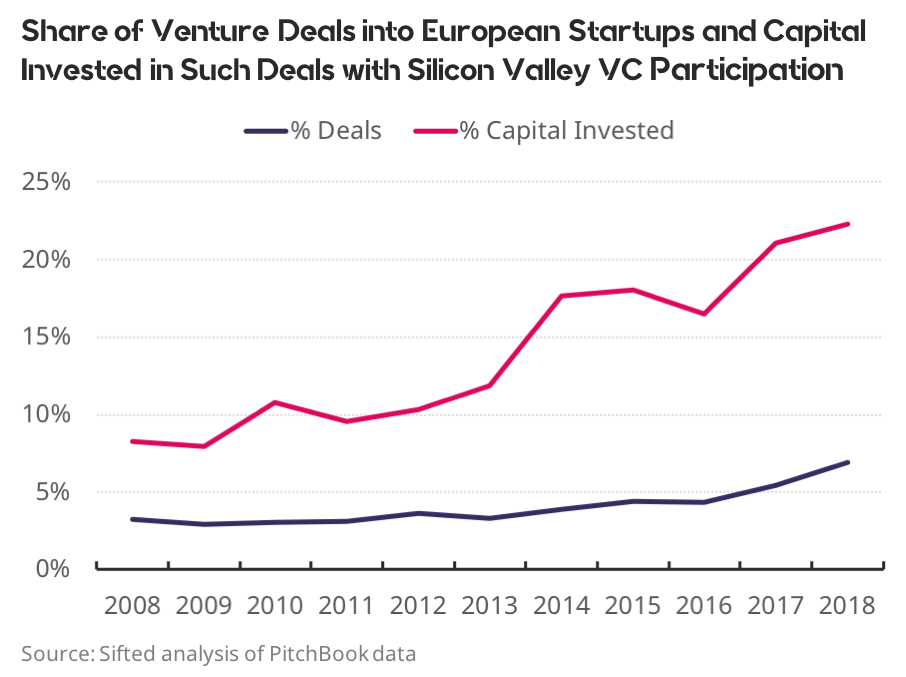 US firms were present in more deals: Some 7% of venture capital deals into European startups involved at least one Silicon Valley venture capital firm in 2018, up from 3 percent in 2013.
And they invested bigger sums in those deals: 22% of total venture capital invested in 2018 was in deals involving at least one Silicon Valley venture capital firm, up from 12% in 2013 and 8% in 2008.
This indicates that when investing in Europe, Silicon Valley venture capitalists are involved in relatively larger, late-stage deals.
Some of the biggest deals include AUTO1, the online car trading platform in Berlin that raised €460m in 2018, or the £392m raised in 2017 by Improbable, the London-based gaming company. Both deals involved Silicon Valley venture firms (G Squared, Andreessen Horowitz), however both were led by another international investor—Softbank, the Tokyo-headquartered mega-fund reshaping the global venture landscape.
The Silicon Valley firms most active in Europe include Right Side Capital Management, Bessemer Venture Partners, Founders Fund, Greylock Partners, and of course, two prominent London firms with deep Silicon Valley roots—Accel and Index Ventures.
A growing presence of Silicon Valley investors in Europe should be welcomed. In the present, it signals an ability of startups here to compete on a global stage. Over the longer term, strong linkages with The Valley will also serve as a pipeline for capital, talent, and knowledge, which have been shown in the past to contribute to the emergence of entrepreneurial ecosystems in Israel, Taiwan, China, India, and beyond.