The clue is in the name — Siilo, the Dutch collaboration platform for medical professionals, is on a mission to break down the silos in healthcare. 
It was clear enough pre-Covid that communications between clinicians left something to be desired — for patients, and medical professionals — but now, in the Covid era, it's become even more important that that changes.
"When Covid hit us, we had no idea what it really was. So people who would previously never communicate, silos that would never talk — GPs and ICU staff and government medical advisors — were suddenly on the same page," says Joost Bruggeman, Siilo cofounder and CEO. "It was the perfect example of network medicine."
Today, Siilo is announcing a $10.5m Series A, led by Berlin-based digital health VC Heal Capital, with participation from Philips Health Technology Venture Fund and EQT Ventures. It plans to take its collaboration tools to the next level and double down on its five existing markets (the Netherlands, Belgium, Germany, the UK and Ireland). 
It also claims to now be Europe's largest medical network, with more than 250,000 healthcare professionals using its platform and exchanging more than 20m messages per month. 
Covid surge
When the health crisis hit, medics flocked to Siilo. Registrations for the free app, which is a kind of WhatsApp meets LinkedIn, increased by over 300% in March and April (in comparison to the previous two months), while the number of messages sent increased by over 200%. 
Medics can use the app's secure messaging features to share patient scans or update one another on a patient's condition; a big improvement on the pager, or WhatsApp. They can also set up and join groups, or 'spaces', which function a bit like a Slack channel; places for specialists to share relevant information with one another, for example, or for hospital teams to give one another updates.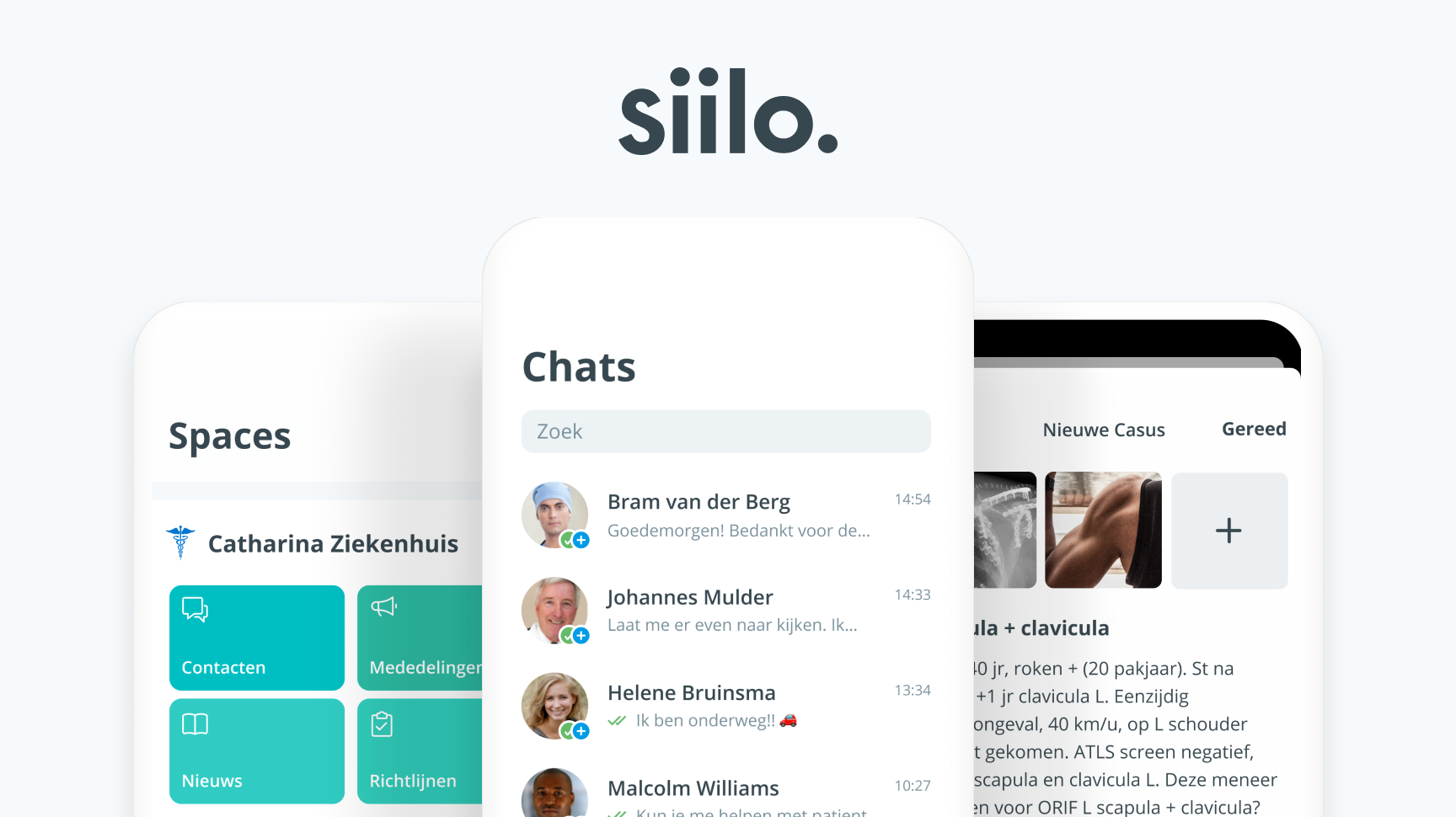 At the start of the crisis, these groups also became useful for discussing the pandemic. "All of a sudden there was a boom of Covid-19 and coronavirus-related groups on the platform," Bruggeman told Sifted. Healthcare professionals wanted somewhere to share learnings and news as the situation unfolded. 
Many institutions also showed interest in Siilo Connect, the company's paid-for subscription service for healthcare organisations — and moved with uncharacteristic speed to start using the platform to help their teams collaborate. 
"It usually takes 12–18 months to convince middle management," Bruggeman told Sifted in March. "Right now they're saying, 'Give it to us, we'll figure out the contracts later'." 
Hospitals have used Siilo Connect to broadcast updates about protective clothing to their teams or to let them know that their code has changed — and also to let them know about slightly more fun things, like free food offers from local restaurants. 
A lot of hospitals said 'Sorry no, we're not contemplating adopting new tools at the

moment'.
But not every healthcare organisation was so keen to start using new software. "Some of them flew the other way," says Bruggeman. "A lot of hospitals completely downscaled normal care, so revenue from that side dropped and they began asking for discounts. Or they said, 'Sorry no, we're not contemplating adopting new tools at the moment'."
Now, he says, sales conversations with institutions are more or less back to normal — apart from that now, Siilo doesn't need to explain why its service is a good idea anymore. 
Siilo works with institutions including Erasmus University Medical Centre in the Netherlands, Charité in Germany and East Lancashire Hospitals NHS Trust in the UK, amongst others, and 30% of its users are paying customers.
What happens next?
"Our previous focus was around secure communication," says Bruggeman. (For more on that, read Sifted's first profile of Siilo.) "Now we're going to expand our collaboration features." 
It's all part of a plan to become more embedded in the day-to-day routines of medical professionals. If Siilo can crack collaboration tools it could, for example, help make handovers between staff easier. "Teams have patient handover meetings, sometimes three times per day, as you hand over one shift to the next," says Bruggeman. "A lot of information is written on pieces of paper or quickly scribbled onto a Word document or some shitty tool that's not meant for doing that." 
In the longer term, Siilo's "hairy audacious goal" is to create a kind of app store for doctors. 'Nursepreneurs' and 'doctorpreneurs' have thought up and built plenty of smart tools to help with very specific parts of their jobs, but "there is no perfect distribution channel for these valuable tools and services," says Bruggeman.
Heal Capital
Siilo's fundraise wasn't a totally smooth ride, despite the booming interest in healthtech expressed by investors. 
It came "very close" to a deal with a London-based VC at the start of the pandemic, which didn't pan out once it became clear that the investor needed to focus more on helping out existing portfolio companies than finding new ones, says Bruggeman. But it wasn't hard to get other offers, he says. 
This is the first investment from Heal Capital, an €80m fund which was launched in 2019 by the Association of German Private Health Insurance.
Heal grew out of Heartbeat Labs and Flying Health, two Berlin-based healthtech accelerators which also manage the Heal fund.