Unless you've been living under a rock for the past six months, you've probably noticed that the funding climate has changed significantly over the past year. But not all is lost for early-stage startups. My cofounders and I just raised a €2.5m seed round for our B2B startup Finch, even though we haven't yet launched commercially.
The secret sauce that sealed the deal? Our sign-up list, with more than 12k names from our industry on it. Here's how it helped us secure funding.
Unveiling demand through social media
Operating in the architecture, engineering and construction (AEC) industry, we know better than most that the demand for digital tools and collaboration platforms is greater in this space than most — simply because our industry hasn't benefitted from the innovation that nearly all other industries are now used to. 
So we weren't surprised by the response of our industry peers when we published a visualisation of our minimum viable product (MVP) on social media, showing our initial graph technology that enables generative design — basically 3D models created and optimised by computer software — in the early stages of a building project.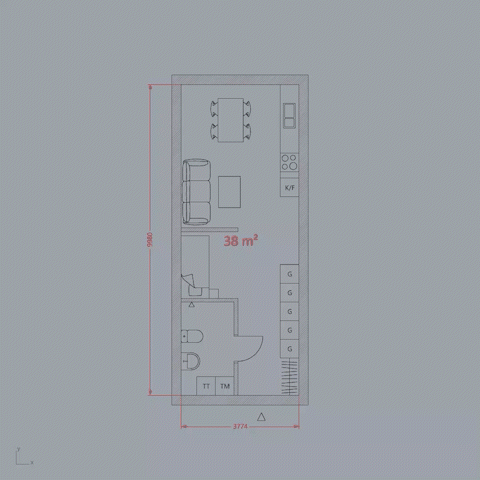 Our platform was far from ready when we published the MVP on LinkedIn and Instagram. But my cofounder and I are architects ourselves, and we know the impact that a platform like ours could have for companies in the AEC space. By using a simple gif to show the solution that we knew our target audience was craving, we were able to unveil and validate the huge demand from businesses in our space. Basically, our engagement numbers in terms of website visits, followers on social media and likes shot through the roof.
Lesson: Find a way to unveil the demand that you're better positioned to cater to than most. If that also means that you simultaneously pressure-test your MVP before you've spent too much time or money on it, even better.
Turning demand into leads
Social media engagement is great, but that alone doesn't help much when building an investment case. On the other hand leads, in the form of email addresses that have signed up to a waiting list, are something else. And by asking people who signed up what they do, what platforms and software programs they currently use and what their pain points are, we were able to qualify the leads and consider their pain points as we continued to build our platform.
We started putting our sign-up list link everywhere. And by everywhere, I mean… everywhere. In our professional and personal email signatures, on all our professional and personal social media accounts, front and centre on our website. We even — somewhat cheekily — asked journalists who got in touch if they could add the sign-up link to the articles they wrote about us.
We figured that if our theory of there being massive demand held, our peers in the AEC industry would throw themselves at the sign-up link. And they did.
Lesson: If you dangle a need-to-have product in front of your target audience, they'll happily tell you all about their struggles. Having access to this information straight from the source isn't just great for developing your product — it's also a way to easily qualify leads.
Turning leads into funding
Demonstrating the demand and customer need for what you're building is crucial when you start fundraising. But it's one thing pointing investors to reports and data that shows, like in our case, that our industry is one of the least digitised on the planet and costs the global economy some $1.6tn annually. We wanted to take things a step further and show investors that thousands of potential clients had already signed up for what we were building. We surpassed this number sooner than expected and by the time we went out to fundraise, we had more than 12k potential clients from our industry on our waiting list, waiting specifically for our platform. 
We ended up with an oversubscribed seed round, securing €2.5m from Inventure and prominent angels like Peter Neubauer (cofounder of Mapillary, acquired by Meta in 2020, and Neo4J) and Emil Sjödin (cofounder of Refined).
Lesson: Regardless of how you get them, having thousands of qualified leads prior to launching turns out to be a great selling point when approaching investors.
Obviously, a sign-up list for your product isn't the be-all and end-all. I doubt we would've managed to raise our round as successfully had it not been for the fact that we have a great product and a shared vision with our investors, and the strategic customers we've already onboarded — particularly in the current investment climate. That said, our sign-up list caught our investors' eyes and if nothing else, it sure helped us to demonstrate the demand we're catering to.