Sifted journalists spend a lot of time reading about, watching and listening to startup goings-on. From the latest podcasts and tech world TV series to founder memoirs and startup employee exposés, between us we pretty much have it all covered. 
Every week, one of the team reviews something they've enjoyed (or hated) in our Startup Life newsletter — and shares what they've picked up from the experience. 
So far this year, we've learned that: you really probably need to hire senior talent earlier than you realise; setting your team very clear goals can help reduce burnout; and it isn't a good idea to model your founder journey on that of Elizabeth Holmes…
Here are our top six reviews of 2022 so far.
For more reviews like this, sign up to our Startup Life newsletter. It comes out weekly on Wednesdays, and covers how to build a business and who to bring onboard to help you do that.
Film
Chasing Unicorns
Breaking: Sifted is planning a Sifted Session in Tallinn and the lucky employee who is planning the whole thing? That's me. After speaking to a lot of people in the Estonian tech scene, I was told that the film Chasing Unicorns is key to understanding its startup scene. Directed by VC Rain Rannu, based on real stories of Estonian startups and full of inside jokes — it's surprising Sifted wasn't invited to the launch party. Buckle up, here's what I learned:
Everyone in Estonia has a startup — no really, they do. The film opens with the iconic statement: "Everyone in America has a car. Everyone in Iceland has a band. Everyone in Estonia has a startup." Estonia has the most unicorns per capita in Europe, but this isn't by chance. Entrepreneurs are the rockstars, and the government follows their lead — in the film the ex-prime minister has a cameo working at a startup. Estonia's startup success is intimately tied to the network effect created by earlier unicorns like Skype. Other ecosystems, take note. 
Tech talent is in abundance — but Estonia really lacks salespeople. The protagonists hire a smooth Silicon Valley sales guy to grow their startup Bikedrive — a parody of SaaS unicorn Pipedrive and mobility giant Bolt. He ends up making more money than the two founders combined. Whilst you don't have to be in Silicon Valley to scale a startup in the Valley, you do need their sales talent to compete. 
Female founders face a tonne of casual sexism (shock, horror). The film captures the casual sexism female founders face, without focusing on it. We know VC is structurally biased —but there are more female founders emerging. References to 'the queers' and Nigerians, however, made me grimace —  Estonia has a wider diversity problem. 
All in all, it was refreshing to see a portrayal of startup culture outside of Silicon Valley. I would love to see more of the rich and wild startup stories brought to life on screen — and I have heard on the grapevine that a sequel is in the works. Here's hoping for an invite this time. 
Sophie, Sifted's event producer
TV
The Dropout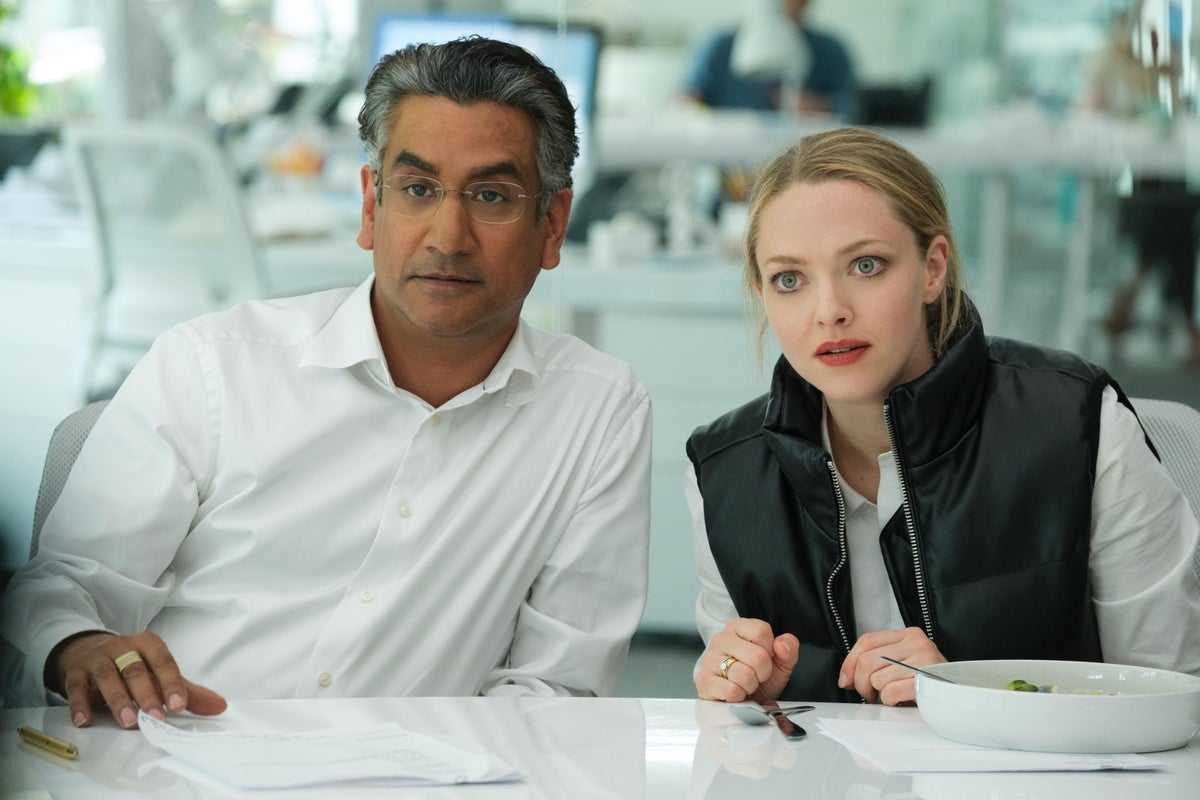 The story of Theranos and Elizabeth Holmes is one of the most dramatic stories to come out of Silicon Valley in years. If you've been living under a rock, Holmes is an American businesswoman and former CEO of Theranos, a now-defunct healthtech that promised a revolutionary new kind of blood testing using a tiny amount of blood. By 2015, Holmes was named the youngest self-made female billionaire in America. The following year, she was hit with criminal fraud charges and found guilty.
I wasn't sure what to expect from the Hulu miniseries — except for lots of black turtlenecks. Here's what I learned:
Let's leave the 'funding at all costs' mentality to Silicon Valley. Just a few minutes into episode one, Holmes is told her father has been laid off from Enron, an American energy company whose infamous collapse led to 4k people losing their jobs in 2002. It's symbolic of the damage executives can do when fuelled by greed, and seems to be the catalyst for Holmes' very personality and fate. "I want to help people… and I want to be a billionaire," she says, several times. I've seen the hot take that European entrepreneurs don't have the drive or star power of their American counterparts — but what good is that drive if it leads to a toxic industry that sacrifices people for profits?
The Dropout is a story of outsiders. First, you have Holmes; a young, ambitious and, often, awkward woman who is struggling to be taken seriously. Then, you have Sunny Balwani, an immigrant and businessman who, like Holmes, seemingly chooses the Theranos path as some sort of benevolent revenge for his father, who died of a preventable heart attack. Balwani, age 37, met Holmes, then 18, while both studying in Beijing. They eventually end up in a romantic relationship, and Balwani becomes president and COO of Theranos. He currently also faces criminal charges. Both are trying to break into a system built to keep them out — no matter what it takes.
Episode one covers a lot of background — we learn a lot about Holmes' psyche, get a glimpse into the brutality of American business, see the start of her relationship with Balwani and start to feel real empathy for her. We haven't yet gotten to the meat of the Theranos trial — or the black turtleneck — but I'm looking forward to seeing where it goes.
Georgina, Sifted's head of content
Podcasts
Founders Uncut: Real Startup Stories with Tom Blomfield
The journey of building a company is often glamourised in the media, in movies and by founders themselves – but the reality is somewhat different. This is the theme of a new podcast from Maria Palma, partner at London-based VC Kindred Capital, called "Founders Uncut: Real Startup Stories". 
In the first episode, Palma sits down with Tom Blomfield, founder and former CEO of Monzo, who refers to himself as a 'recovering startup founder' on LinkedIn. Two years ago, Blomfield reached breaking point after years of steering the fintech through hypergrowth. Since stepping down as CEO in summer 2020, Blomfield has had time to reflect on what he learned. Here is some of his wisdom:
Bring in senior talent at the right time. With hindsight, Blomfield realises he should've hired senior management earlier. But how 'early' is necessary for most startups? Blomfield says that if you're a startup that has product market fit, is scaling fast and has a team of 150 people, then it's necessary to get a few more experienced hands on board. The caveat is that, when hiring, you need to think a year or two ahead and hire people "two leagues up in terms of caliber" to ensure they can keep up with the growth of the company. If you're a team of 15 people, and you have just raised a seed round, just go and hire the smartest people you know that can really get shit done.
Show vulnerability. Founders get put on pedestals – by the media, by their peers and by themselves – so it can be hard for people to remember that they are humans too. Blomfield says that throughout his time at Monzo, he always showed his vulnerability to employees (he says he broke down in tears in meetings several times) which he thinks helped prove to employees that he's not a robot, and that he makes mistakes too. Showing emotion as a leader — as long as it's genuine — is how you build connections with your team and inspire them to follow you.
Overall, it was refreshing to hear a founder talk candidly about the low points and fuckups that happened throughout the journey of building a company, as well as the courage that was needed to step away when his mental health was on the line. I'm looking forward to hearing more open chat in the episodes to follow.
Miriam, Startup Life reporter 
Women Authors of Achievement Podcast 
While many companies grappled with remote work for the first time during the pandemic, Berlin-based presentation software startup Pitch has had a remote-first working culture since day one. Since Pitch was founded in 2018 by six ex-Wunderlist employees, its cofounder and VP of people Vanessa Stock, above, has overseen employee growth to around 150 people, dotted all around the globe. 
 In this episode of the Women Authors of Achievement Podcast by Klarna's Daria Suvorova, Stock shares her tips for maintaining a "people-centric" environment, regardless of location: 
Incentivise with a transparent business structure. In order for smart people to feel they have meaning, you need to help them feel ownership of their work. By encouraging open dialogue across different levels, everyone can feel they're shaping the product. Show juniors you value their opinion by involving them in strategic decisions.
Employee equity programmes are great, but make sure you choose the right one. Taking that sense of ownership further, different programmes can vary wildly in how much they will actually benefit employees. Consult the right lawyers, follow European best practice standards, and be aware that anything you write down for employees to sign sets the culture that you are spreading.
Choose clever tools over Zoom overload for the best remote collaboration. Ensure a low meeting frequency across the business. Provide the right space, time and tools so that everyone can rethink whether they need a meeting, or whether a great Slack update or Notion brainstorm will do the job. That way, people in different time zones can also contribute.
Set clear goals and timelines to avoid remote working burnout. Make sure to check in with people regularly to ask about their workload, and de-prioritise. Leadership should set clear timelines and not post new tasks too late, to create a culture where it's ok to take your evenings.
Ensure regular team updates to avoid silos when working remotely. The more communication channels you have, the more accessible you make a constant exchange so everyone knows what everyone in the business is doing.
Amy O'Brien, fintech reporter
Books
Banking On It
Anne Boden
I have to admit, I've been wanting to read Banking On It by Anne Boden, founder of Starling Bank, for quite a while — in no small part because I wanted the inside scoop on what happened between her and her rival, Monzo founder Tom Blomfeld. She does not disappoint, his name being mentioned as early as page five. If you're not convinced it's worth reading just for that (it is!), the Starling story is also a compelling one — it's rare to read a book about a European startup that isn't deadly boring, or about them committing fraud. Here's what I took away from it:
You need to be able to storytell. Having the right credentials, a niche idea and the ability to execute mean nothing if you can't explain to a stranger on the bus, simply and convincingly, why your company needs to exist.
You need experts but you don't have to listen to them. After listening to her team's expert opinions, Boden often decides her way could change the status quo. Although the risk doesn't always pay off, the attitude feels foundational to the building of Starling. Indeed, this attitude was key to not losing Starling when the team tried to oust her.
Network, network, network. Anne Boden seems like the sort of person who organises her contacts in a spreadsheet and sends them cards at Christmas. What I mean is she clearly spends time maintaining her professional relationships, with many of them lasting decades. It's this networking that helped her build a very impressive early team, granted her access to expertise and provided her with potential partners and investors. 
You can get the book here. It's a great read and if you were around the London tech scene in the 2010s, some of it will feel very nostalgic. 
Anisah, Startup Life reporter
Special Characters: My Adventures with Tech's Titans and Misfits
Laurie Segall
I'm going to be honest… I didn't read the entire book. Not because it was bad, but because I got food poisoning and had a busy work week. And while it wasn't bad, it wasn't not bad.
The book is a memoir by Laurie Segall, an American tech journalist who cut her teeth at CNN and has done some pretty big interviews with the likes of Mark Zuckerberg and Tim Cook. I picked it up because a very salacious Fortune-published excerpt about Silicon Valley sex parties caught my eye: "'Everything in here is high-tech,' she explained, as I glanced at one of the gas masks that had iPod earbuds attached. 'My tech clients helped me create much of this.'" If you're telling me you're not hooked, you're lying.
Here's what I learned (kinda):
Apparently, Silicon Valley is full of swingers and polygamists. While the tech-sex metaphors are pretty heavy-handed, what Segall succeeds at is illustrating how tech workers during Silicon Valley's peak glory days — probably driven to heights by ridiculous KPIs, VCs cracking the whip and lots of cocaine — were applying "disruption" to their personal lives. "Polyamory is a form of optimisation in the sense that you make trade-offs, and you take risks," one polyamorous engineer named Sydney told Segall. "If you're trying to build a product — let's say, to draw an analogy — and it's failing 50% of the time, you might want to consider the design and think about ways of improving that," another polyamorous engineer Chris says. We get it — perhaps the real takeaway here is that you can really stick a tech metaphor on anything.
Sex parties can be high tech — but how? I feel like I got scammed a bit. The Fortune article was an "edited" excerpt and described an encounter with a Madame in a BDSM sex dungeon. "Where do you think all the Apple engineers get their creative inspiration? I lock them up for the weekend," she tells Segall. And yet the book had none of this incredible detail. Where are the high tech nipple clamps!?
The sex chapter was half a dissatisfying exploration into sex parties and half an awkwardly-wedged venture into revenge porn and #MeToo in media which seemed too important not to receive their own chapter. There are connections between the "build fast, break things" attitude, polyamory and sexual harassment in the workplace, but the bridge was never built.
That's all I can squeeze out. The tone was a bit pearl-clutchy and it was full of wide-eyed Carrie Bradshaw truisms like "I wondered out loud about the connection between power, control, and sex" and "... part of me wondered about a data-driven approach to something as personal and unstable as our own hearts." That's nice, but I want to read about all the kinky sex parties tech titans go to.
Georgina