Berlin-based freight forwarder Sennder is now worth more than $1bn after raising $160m in a Series D round — making it one of the most valuable tech startups in Europe. 
The round, led by new and existing investors including Accel, Lakestar, HV Capital, Project A and Scania — plus an undisclosed US investor — brings Sennder's total funding to $260m. It follows a successful 2020 for the startup, which merged with French competitor Everoad in June and acquired Uber Freight's European business in September. 
The company, founded in 2015, connects small to midsized trucking companies with enterprise shippers, aiming to reduce the number of return journeys trucks do empty. 
It's among a cohort of freight businesses in Europe — such as Zencargo in London and FreightHub in Berlin — that are aiming to digitalise the, some say, antiquated logistics market currently worth $427bn in Europe alone. German companies, including Sennder, make up the largest market share of the industry in Europe.
The need for the largely pen and paper industry to digitalise was accelerated by the coronavirus pandemic, David Nothacker, cofounder and CEO of Sennder explains. 
The industry is "old school", he says, and "when coronavirus hit, a lot of logistic providers and suppliers realised they had to step up and become more digital."
"There were a lot of forwarders that had fixed phone lines in the offices that hadn't changed much over 25 years. And in the first lockdown, all of them had to move home. I spoke to one that said they have 80 employees, but only three laptops and five mobile phones in the company."
Sennder, in comparison, sees itself as ahead of the curve in terms of digitalisation — especially when it comes to cloud-based communication. 
For the last two years, the company has been developing a shared platform designed to "take messaging flow from SMS and phone calls", improving communication between truckers, as well as between truckers and customers.
Driving digitalisation
Sennder focuses specifically on the 'full truck load' market — or the movement of freight from A to B. Sennder wants to digitalise the processes of organising, logging and optimising cargo that lorry drivers pack onto their pallets to improve their efficiency.
"For example, we want to increase the average utilisation of trucks. Today, one third of all trucks drive empty — mostly because information symmetry is crazy," says Nothacker.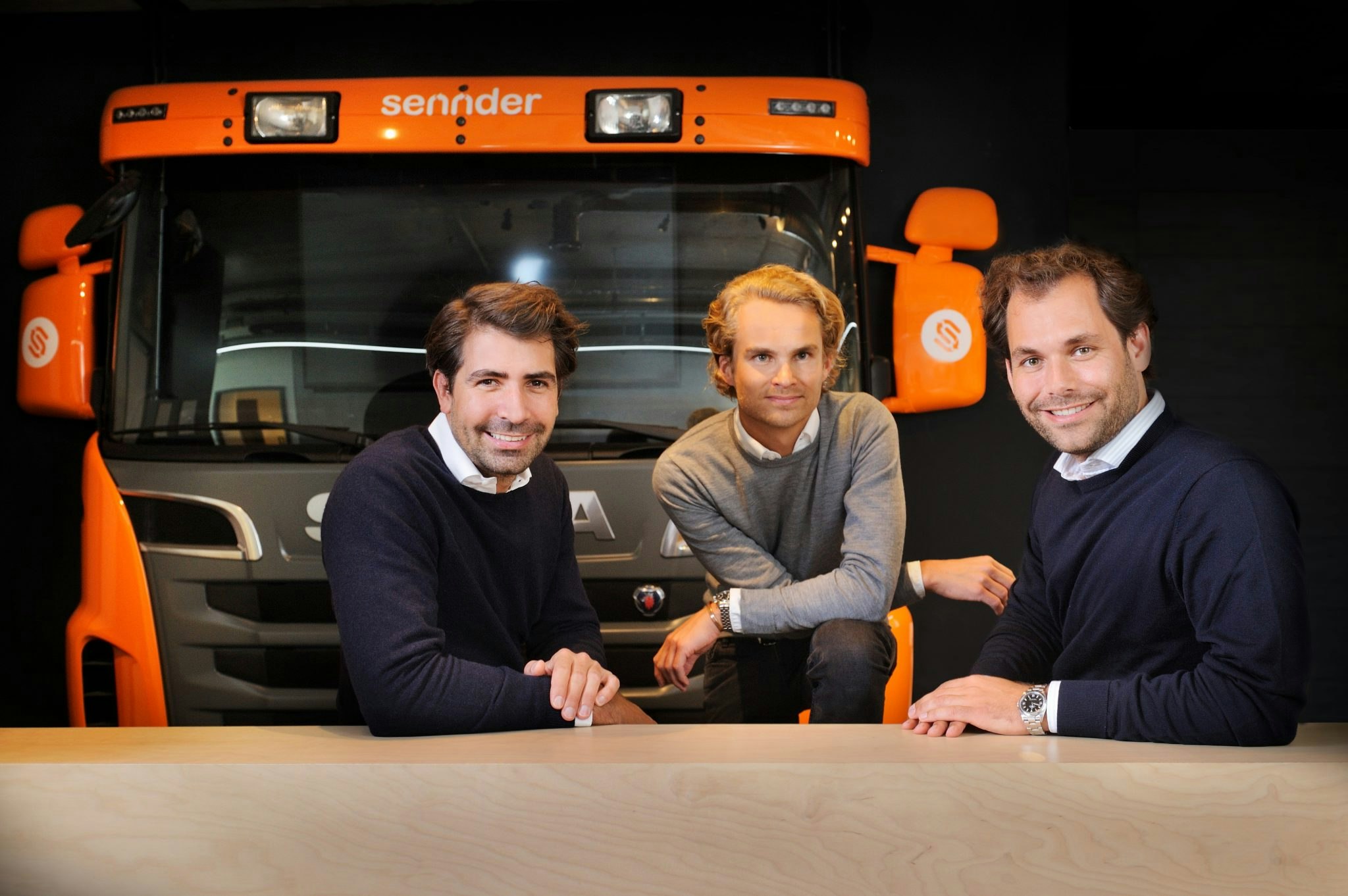 Sennder is working to solve this problem by combining cargo loads and automating the process.
"Due to many imperfections and a lack of full digitalisation on our shipping carrier side, sometimes a human interaction is necessary to check the data. Automating this is the next step of our evolution," adds Nothacker. 
Sennder is also using data to optimise route efficiency, and therefore reduce the environmental impact of road freight and the cost of transportation. 
"The big advantage we have [over competitors] is that we now have $160m that we can spend mostly on tech. We are now in the best possible spot to become the leading freight forwarder in Europe."
European expansion through mergers and acquisitions 
Sennder — which currently has offices in seven countries including Spain, Poland, Germany, France, Italy and Latvia, and has grown to 800 employees since its founding — will also use the new funding to focus on expanding further across Europe. 
"Scandinavia is a very interesting market," Nothacker explains. "And then in Eastern Europe, we still have a number of countries, like Romania, which is super interesting because most of the truck drivers today come from Eastern European countries."
The UK is also an exciting market for the company, Nothacker says. "We're waiting a little bit on how Brexit plays out, even though the domestic market which makes up 80% of the freight movement in the UK is super interesting."
A lot of Sennder's moves into new areas have come through acquisitions — notably its move to acquire a chunk of Uber's freight business last year. 
"New acquisitions are on the roadmap," says Nothacker, but also "smaller scale companies, between 20 to 50 people, specifically old school players that we want to digitalise and rebuy to increase our network density and optimise our growth in certain geographies."
Additionally, Sennder plans to establish more strategic partnerships to support its growth in Europe. The company wants to replicate the success it had with Poste Italiane, Italy's national parcel operator where, through the joint venture, Sennder helped the business save 6% of its €100m annual spending. 
Given its focus on small and medium-sized trucking companies, Sennder often works directly with truck owners.
"Our hypothesis is that we need to be present locally in every market, because in order to push technology adoption, you need a personal relationship with each small trucking business," says Nothacker. 
"A company with 10 trucks needs to be able to see you and access you. We received homemade sausages from our Polish truck drivers this year — which shows that investing personally into a relationship with customers is paramount."