Berlin-based SellerX, one of the troop of 'Amazon aggregator' startups which have launched in the past year or so, has raised a €100m Series B. It's the biggest equity round raised by a European startup in this sector so far — and comes just 12 months after the business launched.
The funding was led by consumer-focused private equity firm L Catterton (also an investor in Cazoo, Peloton and Freetrade), with Sofina and previous investors Cherry Ventures, Felix Capital and 83North also participating. 
Like its competitors, SellerX buys companies that are selling everything from soaps to phone chargers to garden rakes successfully on Amazon. So far, SellerX has over 30 brands across a range of verticals, from art and pet supplies, to fitness and DIY tools. With the new funding, it will continue to buy up brands in Europe, the US and China.
Investors have flocked to back these businesses, hoping to find the Proctor and Gamble of the next generation. In 2020, $1bn was invested in the aggregator industry, globally. So far in 2021, these startups have raised €475m in debt and equity. 
This one's an equity round
This round brings SellerX's total funding up to €227m — in debt and equity — and makes it the third-most funded player in Europe.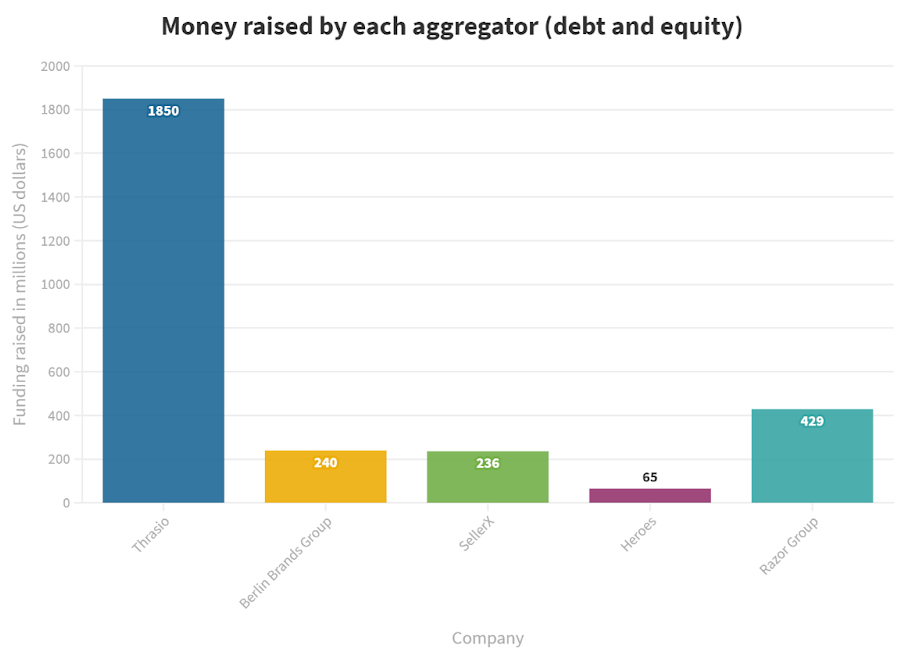 It has plenty of competition. In Europe alone, there are at least 21 ecommerce aggregators, according to Dealroom, with an estimated 40 Amazon aggregators worldwide. 19 of these 21 companies have launched since 2020. 
Fellow Berlin-based Amazon aggregator Razor launched in August 2020 and has since raised €362.3m in total —  including a €100m debt round in May 2021. It's also seen headcount grow 174% in six months, almost tripling its team from 46 employees in January to 126 in July. 
Similarly, Berlin-based Branded, which acquires top Amazon sellers, only launched in October 2020 but has raised €136m in total funding so far. Its headcount has also nearly quadrupled from 28 in December, to 103 in July. 
Sifted Newsletters
Sifted Newsletter
3x a week
We tell you what's happening across startup Europe — and why it matters.
SellerX is one of the fastest-growing startups in this space, having expanded from 46 employees in February 2021, to over 250 in August — a 443% growth rate. 
Globally, these aggregators are following the footsteps of US-based Thrasio, which launched in 2018 —  and has landed a whopping €1.1bn in funding so far. Industry veteran Berlin Brands Group (BBG), which was founded in 2005, has also raised $240m in total  — and has substantially expanded, with 900 employees as of 2021. 
During the pandemic, European ecommerce grew 2-5x compared to pre-pandemic levels, and is expected to be worth $465bn in 2021. With the decline of high street retailers, an estimated 506m Europeans have turned to online shopping — a figure that's only forecasted to grow.