The business of acting is ripe for disruption. Logistically the whole process of auditioning and casting actors is a nightmare on both sides. Casting directors don't necessarily have direct access to talent pools, and if they post call-outs online, they find themselves inundated with irrelevant applications. Actors have no choice but to pay agents and/or casting websites for inefficient and low-return services.
Online dating tackled the inefficiencies in romantic matchmaking years ago. For actors and directors, a fully digital matchmaking service is well overdue.
Film-maker turned entrepreneur Zari Raymond wants to rectify this. She's recently back in her hometown London after a few years in New York and she's about to make "Tinder for casting" a reality.
Swipe right
Raymond's app "Script" doesn't rely on fancy AI or blockchain. It's a simple, user-friendly solution to propel actors and directors towards the right opportunities, without getting weighed down by admin.
She says: "It will be the most efficient, simple, and sensitive way to rebalance the casting industry."
The key differentiator is that (according to Raymond), Script is the only app which is multi-sided, providing a service for both actors and directors on the same platform. In comparison, the incumbent online casting website Backstage launched its first mobile app in 2017 but only for actors to search and apply for opportunities. There's still a hard wall between them and directors looking to cast them.
The analogy between Script and dating apps is no coincidence; Raymond's inspiration really was Tinder, which launched in 2012 and was hotting up as she began developing her own product in 2014. She knew from her own experience of casting actors that directors make quick decisions on who to audition almost entirely based on what an actor looks like, in the same way that Tinder users swipe left or right based on someone's profile picture. The requirement for actors to submit a long cover letter (still standard today on casting websites) is wasted effort.
Instead, on Script the experience is essentially the same for both actors and directors: create a profile with important information about your own work and what you are looking for and browse through a curated selection of actor headshots (for directors) or audition opportunities ordered by date (for actors).
Just like Tinder, you can click a profile or audition opportunity to see more information, decide "yes" or "no" by swiping, and if there's mutual interest, you can communicate directly, and schedule an audition slot, all within the app. (This goes beyond Tinder's features, which don't include a date-scheduling function.)
"Auditioning is the most fun part of the process," says Raymond. "When you actually meet a whole group of actors that you're really excited about seeing in person, or even over Skype, it's great. But scheduling it is a fucking nightmare."
Independent and up-and-coming filmmakers are still using tools like Microsoft Excel to track applications and schedule auditions, she says. Swanky production companies rely on human PAs (probably also using Microsoft tools). Clearly, making the whole process seamless and integrated is low hanging fruit.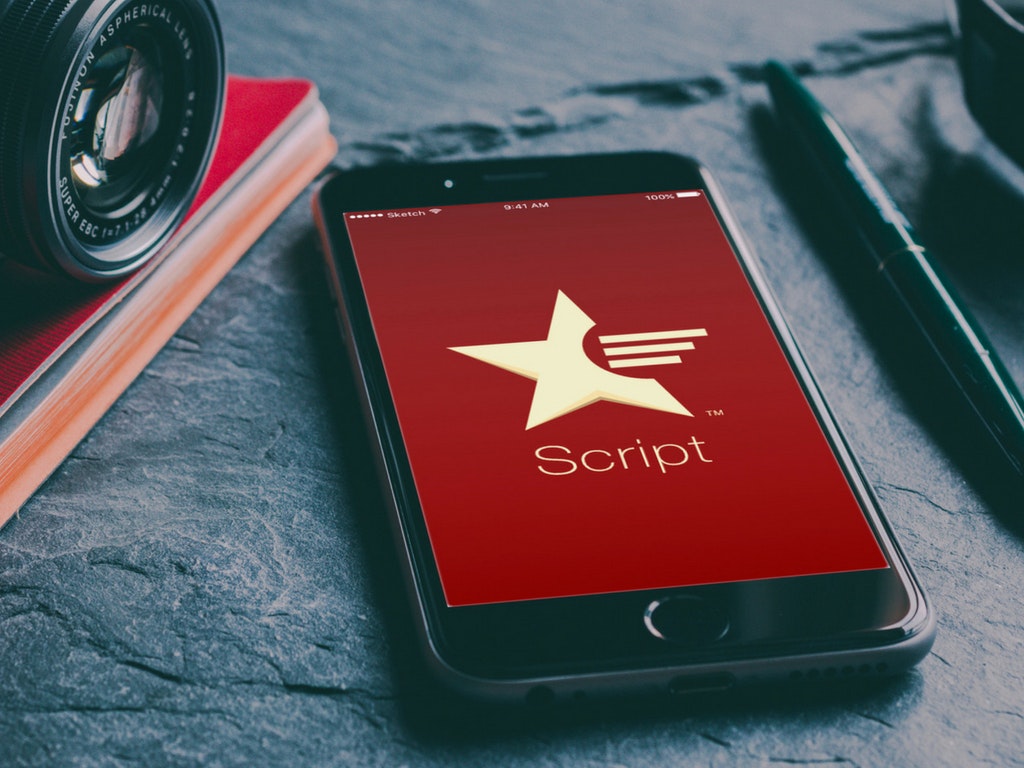 Casting costs
The crucial step to success is to ensure there are enough actors and directors on the app to make it worthwhile for everyone. Early users will have access for free, but soon both actors and directors will pay a monthly fee of around £4, with the option to cancel at any time.
This makes Script the most competitively priced casting service for actors, but it achieves this by asking directors to subsidise the costs; other casting websites give directors free access. If directors balk at paying, Raymond's model falls apart.
Her thesis is simple and familiar: time equals money.
Independent Italian filmmaker Astrid de Berardinis, who has worked in London and at an American production company, says that time-saving is even more valuable in places like Italy, where directors rely on personal networks for casting.
It's hardly ever worth spending the inordinate amount of time and effort it would take to search beyond this network, she says, so directors are more likely to tailor a film project to a "good enough" actor they already know, rather than cast the ideal candidate.
"The video making space is quite developed in Italy," she says, "but it is still very traditional in terms of casting.
"If I know someone who could be good enough for a role, maybe not the best but I know they are available and I work well with them, I tend to call that person rather than engaging in a long search. Time equals money."
Technology presents an opportunity for de Berardinis to stretch the talent pool she can access, even beyond geographical limits. An app like Script could enable her to cast a Milan-based actor totally outside her personal network in Rome, since the two cities are only a few hours away by train and easily commutable.
She says: "What excites me personally is the possibility to have direct access to a larger pool of candidates who might not know about certain projects. [An app] could really help me create the network I have in-person locally, but a wider network both nationally and internationally."
Comparison of casting services (from Script's pitch deck)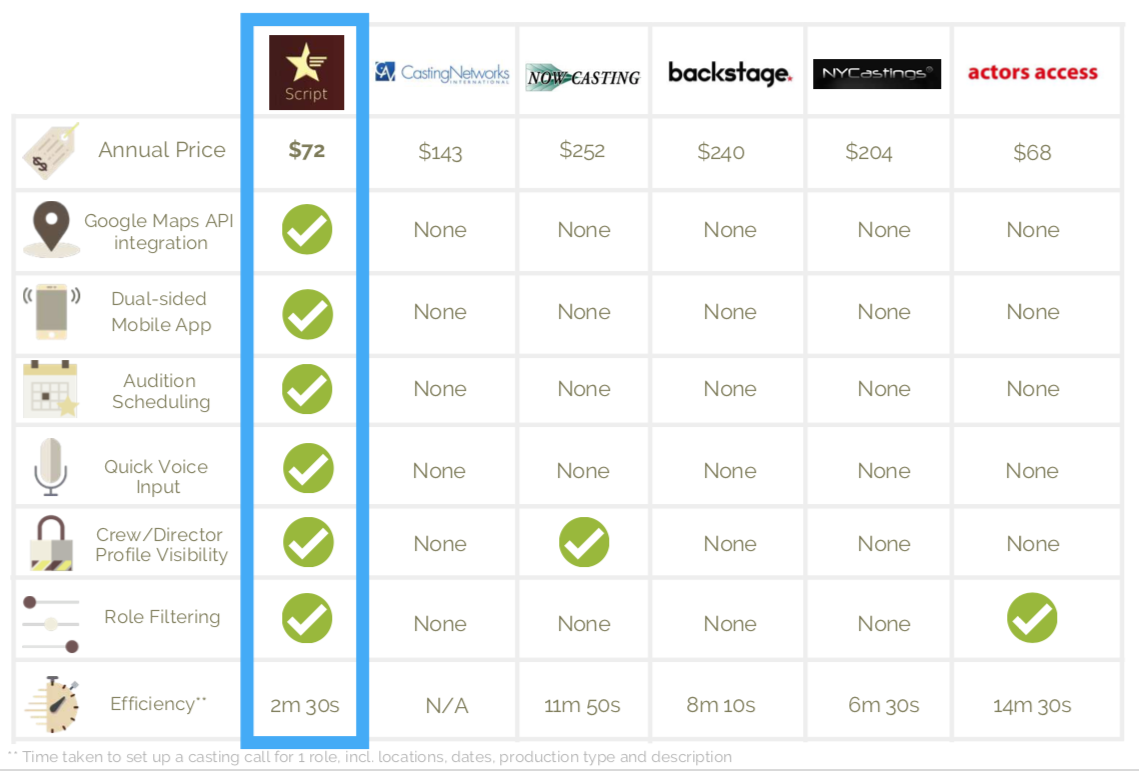 What actors want
Perhaps more important than admin efficiency is Raymond's aim to rebalance the power in the film industry. She wants to save actors the emotional stress of frantically applying and obsessively checking emails for responses that will probably never come.
"I'm trying to remove this weird culture of actors "begging" for an audition," she explains. "They shouldn't have to write a cover letter as they would if they were applying to be employed by a company."
In her mind, actors' applications should be as lightweight as Tinder swipes. Rejection is always going to sting, but the hope is that for actors, failing to secure an audition they have expressed interest in would be as forgettable as not matching with a profile that took their fancy on Tinder.
Actors have all put up with poor casting services for a very long time. By now, they know exactly what they want from a new-and-improved service.
London-based actor and director Alex Evans says that the app would provide a valuable service if it "gave actors direct access to casting directors or the actual director of the job", but it would only be an improvement on  websites like Mandy and Backstage if it could ensure audition listings were high-quality, paid work.
"There's a lot of rubbish online from other casting websites and they aren't always taking the actor into consideration," she says. "If it was strictly professional and paid jobs and not student films it would make the app very different to other options out there."
But Raymond wants to include student directors and actors, to make their lives easier too. Unpaid and student films (some of which are paid) will also feature on Script, but paid/unpaid will be clearly marked for each project to give actors the option to only select paid jobs. Some professional actors, she claims, would be interested in unpaid or student films for a variety of reasons.
"Actors are all different," she says, "It's not always about money, sometimes it is about love of the project or building a portfolio. I want it to be primarily about mutual interest, which is why actors get to be selective too, based on a film synopsis or a role description."
Fellow London actors Jessica Warshaw, Julian Laverty and Pippa Conway are, on the whole, enthusiastic about the possibility of a low-cost, app-based tool to manage their audition searches and schedule. All three say it could provide a far more convenient way to find their own castings if their agent was not serving enough opportunities.
Conway says: "I'd be so onboard with an app that's user friendly and can accumulate all the info you need to keep on top of things." Warshaw adds that it could be a "great resource" for unrepresented actors or anyone who can't afford the high-profile casting services.
Auditions of the future
Raymond has an enthusiastic American angel behind her, and she's currently fundraising $150,000 (£114,000) to launch the "market-ready" app and continue expanding the business.
The long-term vision is for an entire end-to-end platform, including additional services like Script Spaces for booking audition rooms, Script Extras for casting beyond lead and supporting roles, and Script Viewing, for streaming film projects "powered by Script" with the functionality for users to click straight through to the profiles of actors, directors or crews if they like what they see and want to work with them.
In the short-term, she's playing with the idea of including an "Uber rating" feature to empower actors to be selective about which directors they work with. If a director is unprofessional (or as Raymond puts it, a "piece of shit"), actors can warn others by rating them poorly on the app.
This might be a power-shift too far, says Italian director de Berardinis. Acting is an ego-centric business, and she worries that actors might submit a bad rating if a director bruises their ego at all.
"I am completely supportive of actors grading directors for their behaviour on set," she says. "But there would have to be guidance to discourage low ratings simply because an actor hasn't found the admiration they expected."