Europe's VCs have recently been afflicted by a terrible case of FOMO: Fear Of Missing Out on the Next Big Thing — which may, or may not, be scooter startups.
Since 2017, investors have been chucking cash at a flock of scooter startups which have sprung up across the continent — from Voi in Stockholm to Tier in Berlin. All of these companies are only a few years old, yet have raised enormous rounds, as they race to flood markets. Plenty of big-name VCs have been snubbed at the last minute, missing out on deals when another investor puts a more enticing offer on the table.
And yet, at the same time, suggestions keep cropping up that scooters are a dodgy bet — they have a short shelf-life (especially in the snow), there's been little defensible hardware innovation so far (most startups buy scooters from third parties — although many are now starting to tweak the hardware), and they can be dangerous (last week, Copenhagen police arrested 28 people for drunk scooter driving, and people have been killed in Stockholm and Paris by scooter drivers). 
There's also the pesky issue of regulation to contend with: after a flurry of scooters appeared on the streets of Paris, the city's mayor has announced plans to cut the number of operators allowed on the streets. They remain banned in cities in the UK. 
We dive into the numbers, speak to some of the scooter startups, and the VCs brave (or bonkers) enough to back them.
Scooters from the States have the most dollar
US startups Bird and Lime, both founded in 2017 and prominent on the streets of Europe, have raised the most cash to date. (Lime, which also operates dockless bikes, has raised $777m in funding, and has a $2.4bn valuation. According to Crunchbase, Bird has raised $415m — although is reportedly making heavy losses.) 
Of their European competitors, Stockholm-based Voi and Barcelona-based Wind — both founded less than two years ago — have attracted the most investment. In total six European headquartered scooter startups have raised funding; including Movo, an electric bike and scooter startup which mostly operates in Latin America, but is based in Madrid. A few more European scooter companies, such as Troty (Brussels), have not announced funding rounds. Meanwhile, Tallinn-based ride-hailing firm Bolt (previously known as Taxify) has also entered the scooter market, with vehicles in a handful of European cities — and a platform to help other e-scooter operators launch and manage fleets.
Sifted Newsletters
Sifted Newsletter
3x a week
We tell you what's happening across startup Europe — and why it matters.
As for employees, Circ has the biggest headcount in Europe — although Bird last week announced plans to hire 1,000 people in Paris over the next few years.
Companies seem to have barely announced one round of funding before they're announcing another — this is because many expect this to be a winner-takes-all market. The startup which can "win" the most cities will likely be the one to win out over all — and launching in a new city takes considerable capital investment.
Who's in which European cities so far?
Germany has become a hub of scooter buzz in the last month, since the Bundestag allowed operators to move into cities in June under a new electric micro-mobility vehicle law; the catchy "Elektrokleinstfahrzeuge-Verordnung".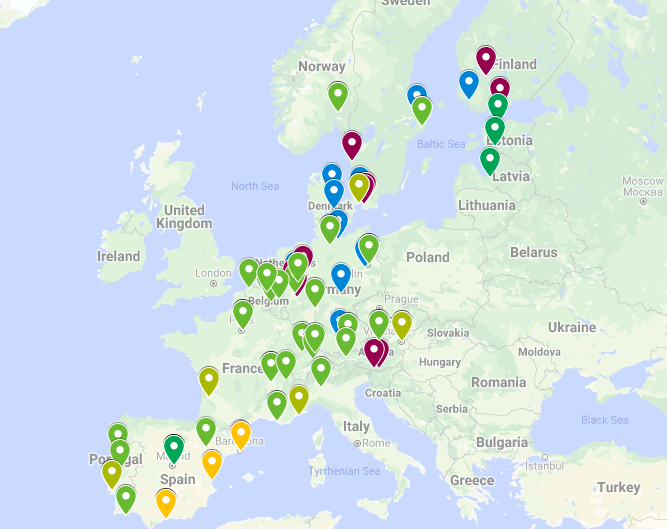 Scooter companies spent months preparing for launch — and Voi, Tier, Circ and Lime all moved in fast. App downloads shot up — although have tailed off somewhat in July, according to data collected by Lufthansa's Innovation Hub.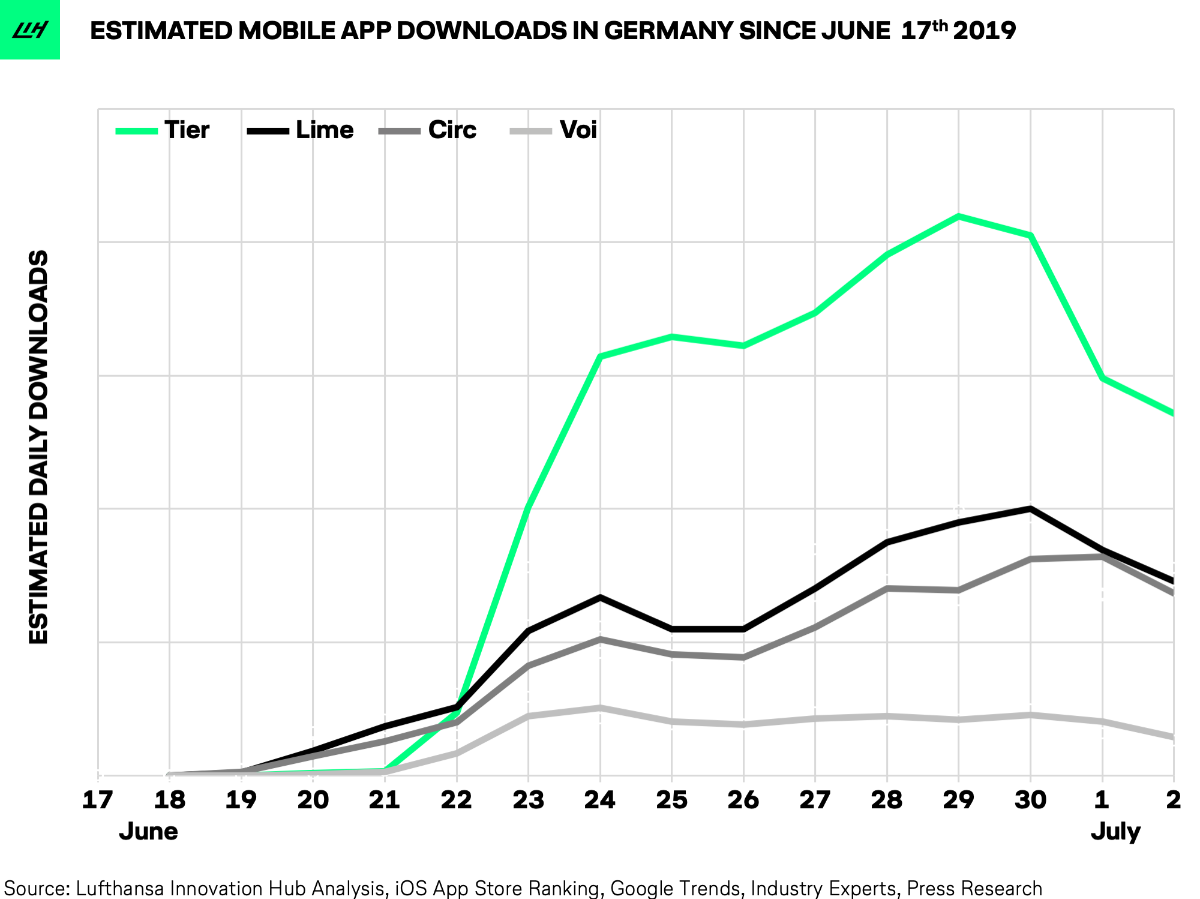 In terms of app downloads, Tier is leading the pack in Germany.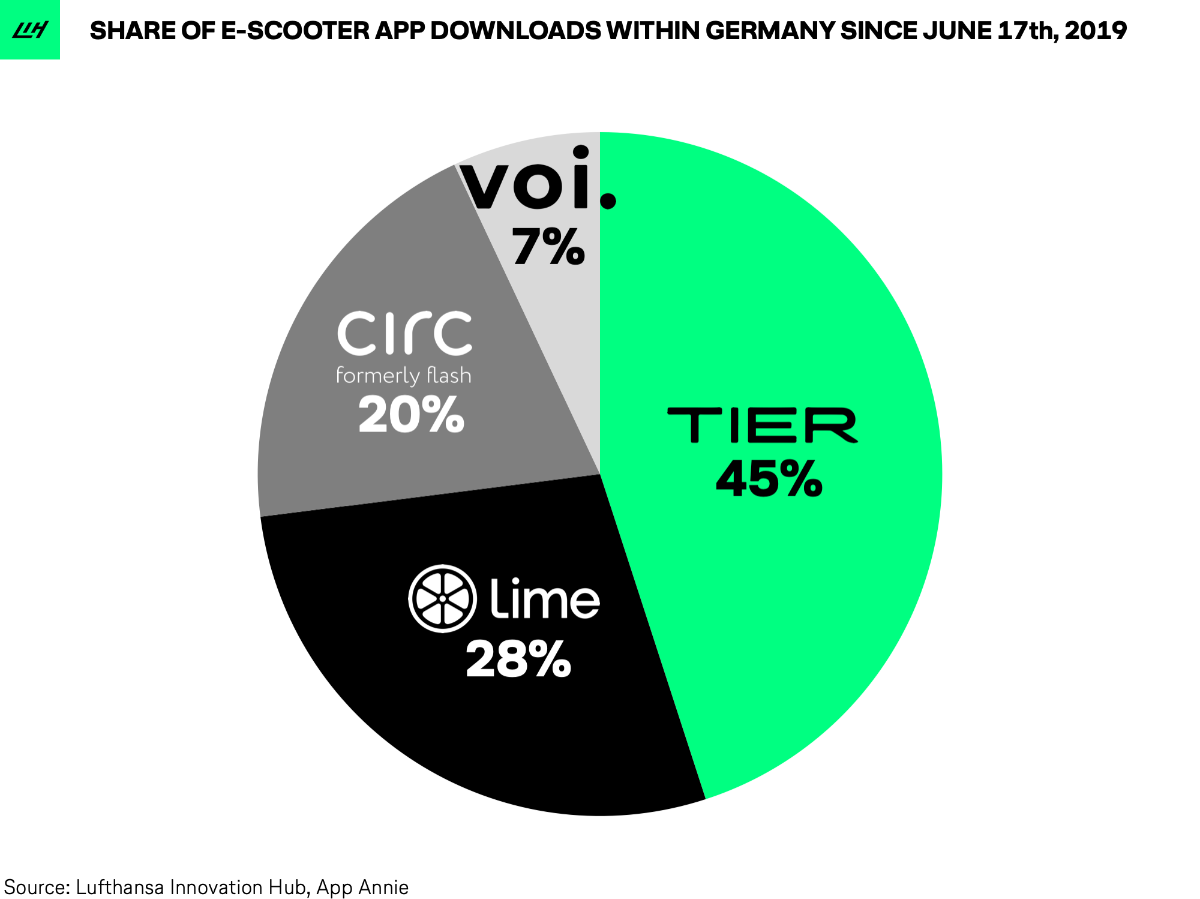 As for total number of rides completed across the continent, Voi claims the most.
Next stop, London?
One huge unconquered territory for scooter firms is the UK, where scooters are not allowed on public roads or pavements. (Bird has wriggled its way around the rule by running a trial on private land, at the Olympic Park in London.) 
The legislation is, however, under review — and several scooter startups are meeting with the transport minister today to discuss how micromobility could be introduced safely, and what lessons London can learn from other cities' experience.
Aside from safety, there are some big questions around where scooters would belong: road, bike lane or pavement? And what benefits scooters would bring to the city: would they cut down on congestion and car usage? Or simply replace journeys otherwise done by foot, bus or bike? 
It's likely that rules in cities across Europe will remain in flux for some time; Stockholm, for example, was once reported to be considering banning scooters but now seems happy with them on its streets. In February, Madrid authorised 18 companies to run scooter services on its streets — after banning scooters four months earlier following the death of a pedestrian in a collision with a scooter. Many other European cities have been reassessing rules (or creating them) for light vehicles.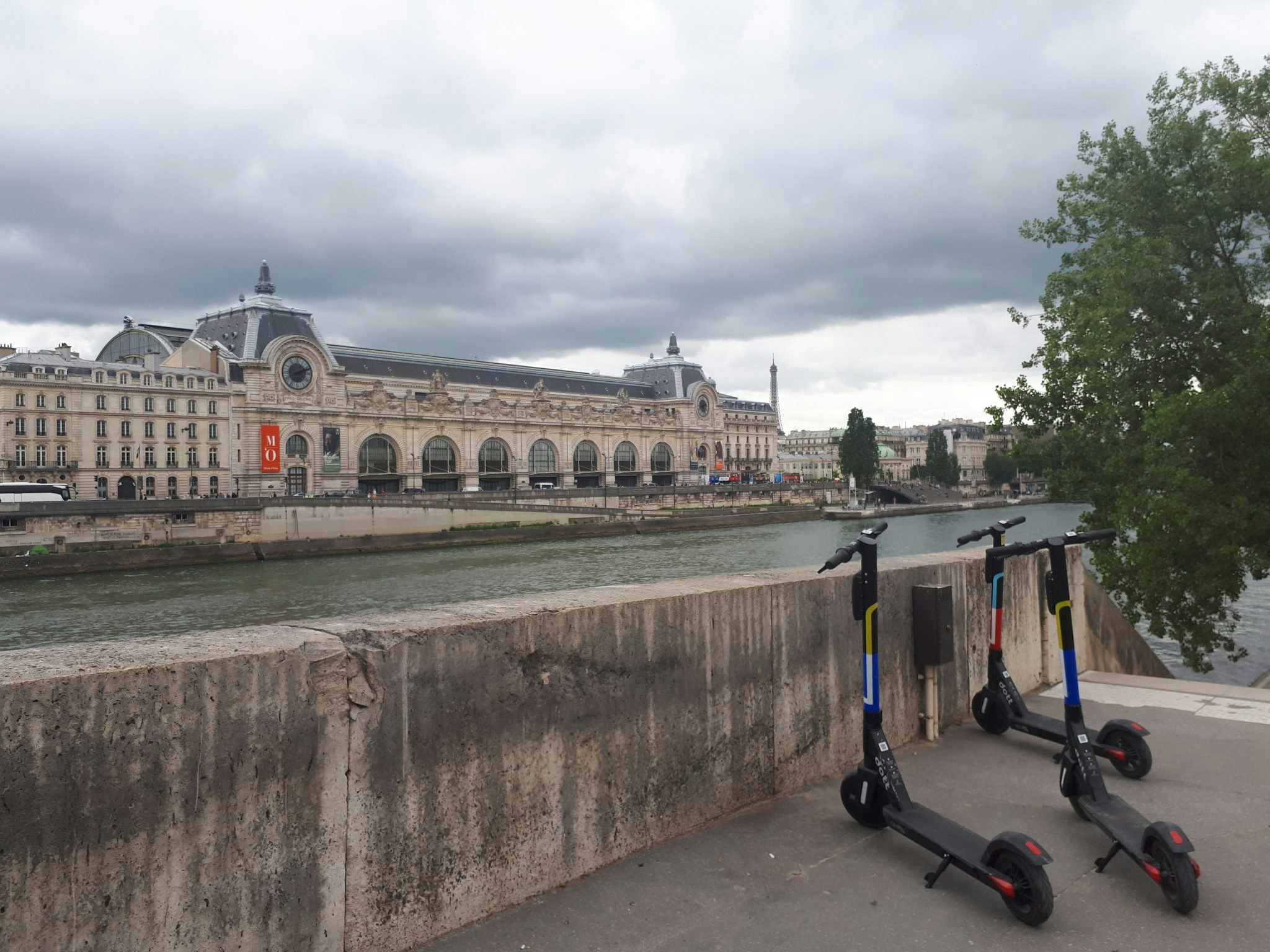 "I don't think that governments are trying to prevent the use of this mode of transport because they don't like it or are fundamentally against it," says Alex Frolov, a partner at Target Global (and an investor in Circ, which was previously known as Flash, until the team decided "the name had connotations we weren't comfortable with [of] speed and potential lack of safety," cofounder Carlos Bhola told Sifted). "It's more about how to regulate and use them in a responsible manner; about the players providing the right tools — like software to verify that the hardware is not used on vehicles routes or pedestrian [routes]."
More regulation will help scooter companies, said Mar Pallas Poy, VP of European market development at US mobility startup Scoot earlier this year. (The company has since been acquired by Bird.) It's better to have rules to abide by, rather than no rules and other players behaving badly: "When there are no regulations everything can happen — on the good side or the bad side."
Home turf advantage
It's a sign that cosying up to the local authorities will become essential for scooter startups — and, indeed, all claim to have excellent relationships with the cities they operate (or hope to operate) in. "We will only work with cities that want us," says Circ — implicitly, unlike many ride-hailing startups which moved into cities regardless of whether the authorities welcomed them. "We have a rather large public policy team," Bodo von Braunmühl, Tier's director of communications, told Sifted. 
Diplomacy is important in scooter land. Voi has produced a code of conduct which it hopes will help the various scooter companies keep local authorities onside. It recommends that all scooter firms have processes in place to maintain their vehicles, abide by traffic laws and ensure that gig-workers are properly paid — and that, where relevant, data on scooter locations and usage should be shared with local authorities. 
"We will only work with cities that want

us."
This data, says Bhola at Circ, can be "eye-opening" for cities. "We work with city authorities [to work out] what their community mobility needs are," he adds — in terms of where scooters should be placed and how many should be deployed. 
In Portugal, Circ says it is also "testing specific incentives for responsible use", such as a half price discount on the unlock fee for users who park correctly. The scooter firms' software can also force vehicles to slow down at specific intersections. In the near future, Bhola says he hopes to roll out a feature to incentivise helmet usage, using cameras to detect whether riders are wearing them.
Yet, he adds, "it's virtually impossible, as it is with motor vehicles of any kind, to prevent extremely irresponsible behaviour." 
How to win a market
But even if scooter startups do get politicians and civil servants on side, how much of their cash will they have to spend on acquiring customers?
"Put scooters on the street — and they start advertising themselves," says Frolov. "People come out of the tube, see it, are entertained, and willing to use it."
Yet there's little to differentiate between scooter startups at the moment — or gain customer loyalty. Most charge a €1 unlocking fee plus €0.15 per minute, so are betting on the "experience" — of using the app, as well as the hardware and availability of scooters — to stand out.
Home-made hardware
Most scooter startups are now onto their second or third generation of hardware. All began by buying vehicles off the shelf from the likes of Chinese manufacturer Xiaomi, but have now started pimping their rides (both to meet regulation, as in Germany, and to introduce swappable batteries).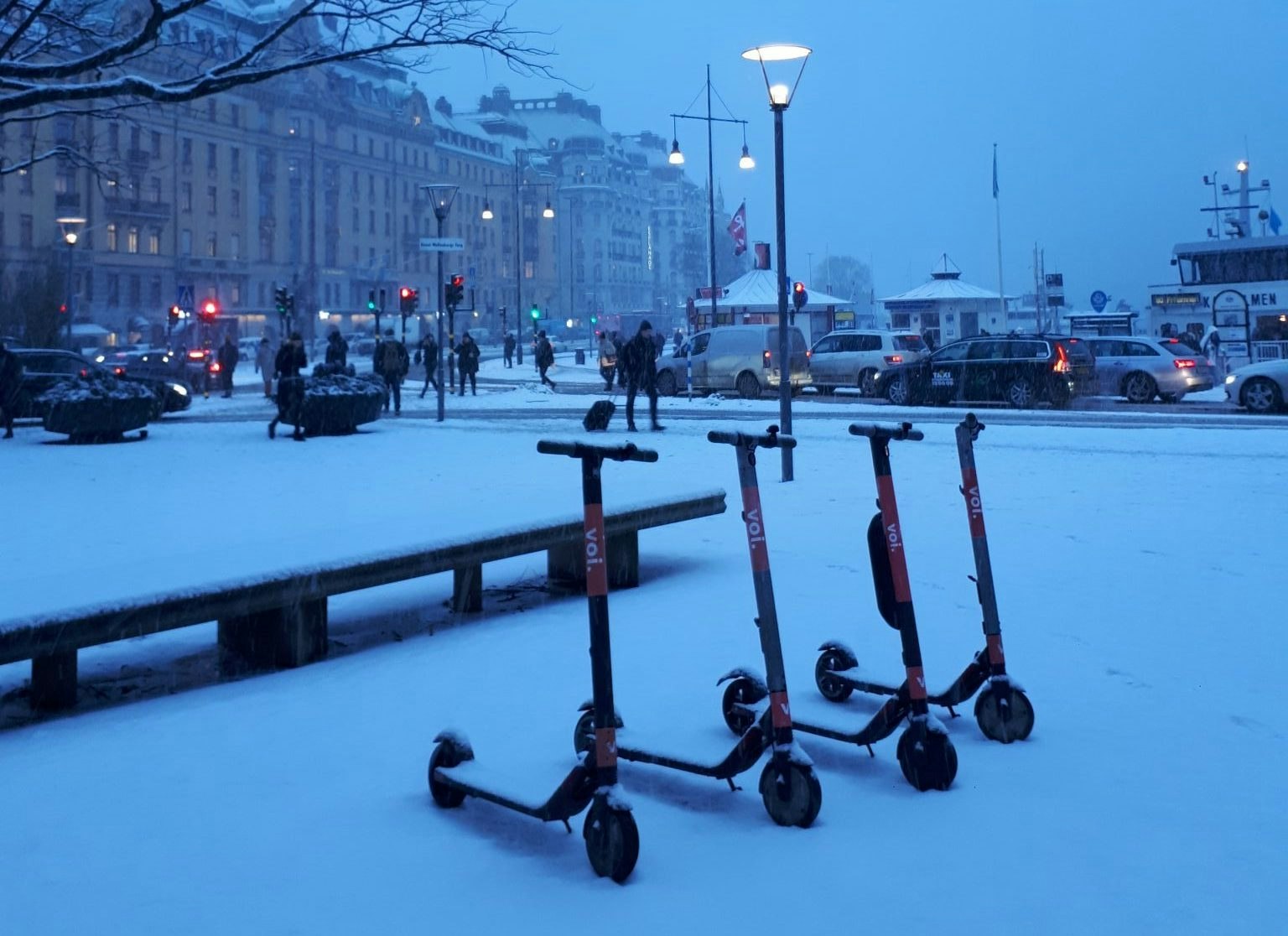 Transitioning to scooters with removable batteries will make fleets easier to maintain logistically. At the moment, many of the companies have to collect scooters when they run out of steam and take to a charging facility.
For this, Lime and Bird famously use "juicers" — gig-economy workers who pick up and charge scooters. Dott, on the other hand, runs all operations in-house, which it claims is the more "responsible" way. Circ is also a "full-stack service".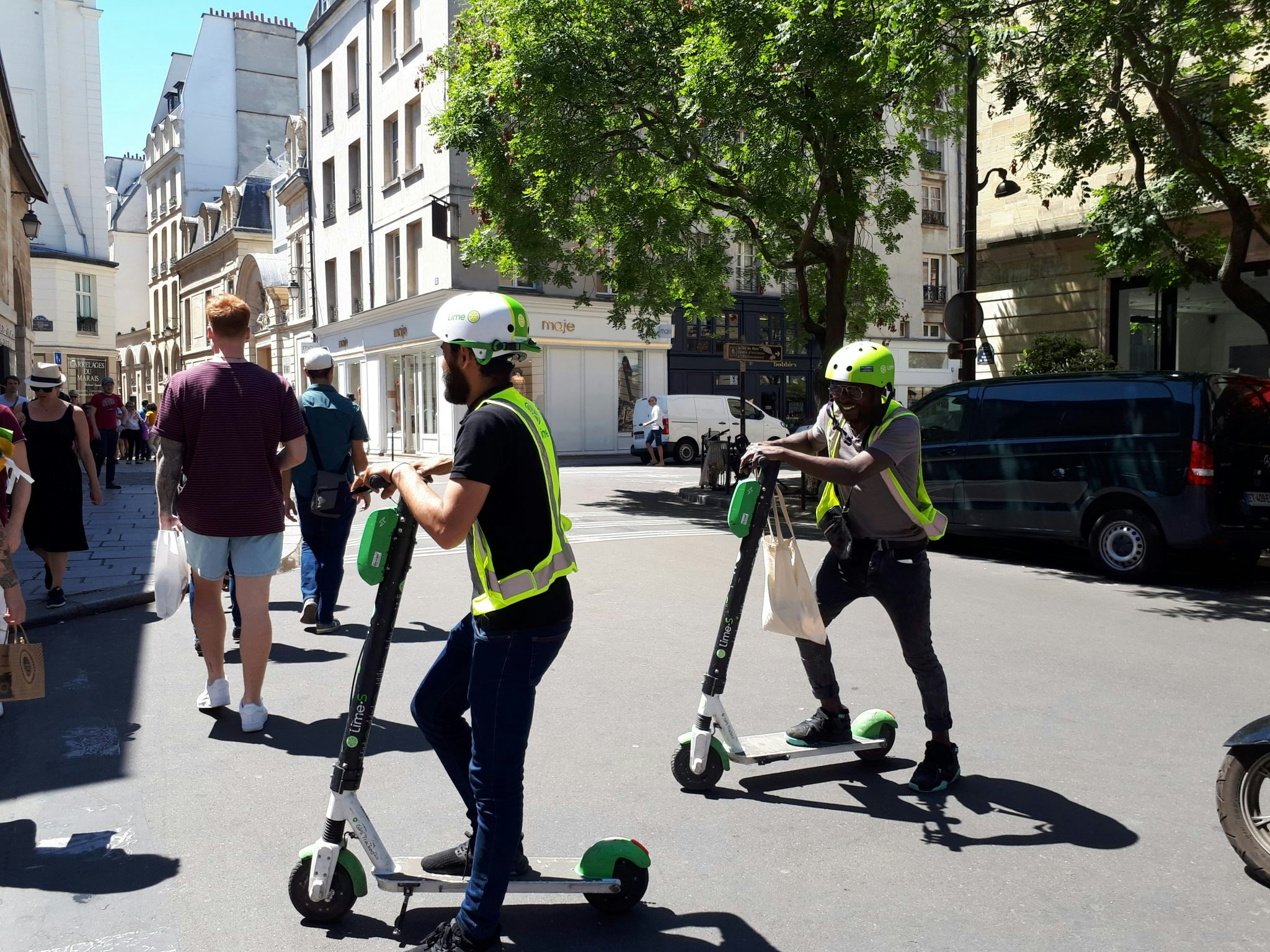 Tier, meanwhile, uses third-party contractors to collect and maintain its scooters — every evening, not just when they run out of battery — which, it says, saves money in the long term. 
Dott and Tier both say their scooters lifespan is currently six months, but with new hardware, will reach one year. Wind's new model scooter takes durability even further; it is waterproof, and can survive a dunking in a canal (a common cause of scooter death). 
"Whoever can produce better devices — long lasting on the roads — will have a huge advantage," says Frolov. 
"In a year from now, the vast majority of devices on the road will be different. It's much more a consumer toy right now, one you can use every weekend to play with, but not a proper transportation vehicle," adds Frolov. "That will absolutely have to change."
Partnerships
More recently, scooter startups have been racking up partnerships as fast as funding. 
Some are buddying up with big transport companies, like SNCF in France (partnered with Voi) and Swiss Federal Railways in Switzerland (partnered with Circ). Others have landed partnerships with car companies, such as Sixt (partnered with Tier), or are featured on third-party transport apps, such as Citymapper and Moovit. 
They're also working with insurance firms; Tier last week announced a partnership with AXA, Circ's riders are covered by Signal Iduna, while Dott has teamed up with insurtech startup Zego.
Why do VCs care so much?
Scooter hype is, in large part, thanks to another "proper transportation vehicle" craze: that of the taxi firms. With ride-hailing companies Lyft and Uber listing on the public market earlier this year at mega valuations, VCs who missed out on taxis don't want to make the same mistake again.
"If a micro mobility is a tenth of what has happened in the taxi world, it would be a meaningful play," says Frolov. "[And there are] a lot of reasons why it could be comparable by size."
"Will cities regulate the size of this market such that it's a lot less interesting than it

seems?"
Some VCs, however, aren't totally convinced. "Is this doing a job cities want doing?" says James Nettleton, an investor at Jaguar Landrover's VC fund InMotion. Many scooter startups bill themselves as an alternative to cars clogging up city streets — yet at the moment, he says, most scooter rides are being used for very short trips. "The use of scooters is focused on trips currently done by foot or on public transport; that's not a problem any city in the world wants to solve."
Regulation could also pose big problems, especially if it prohibits or severely limits scooter startups' expansion.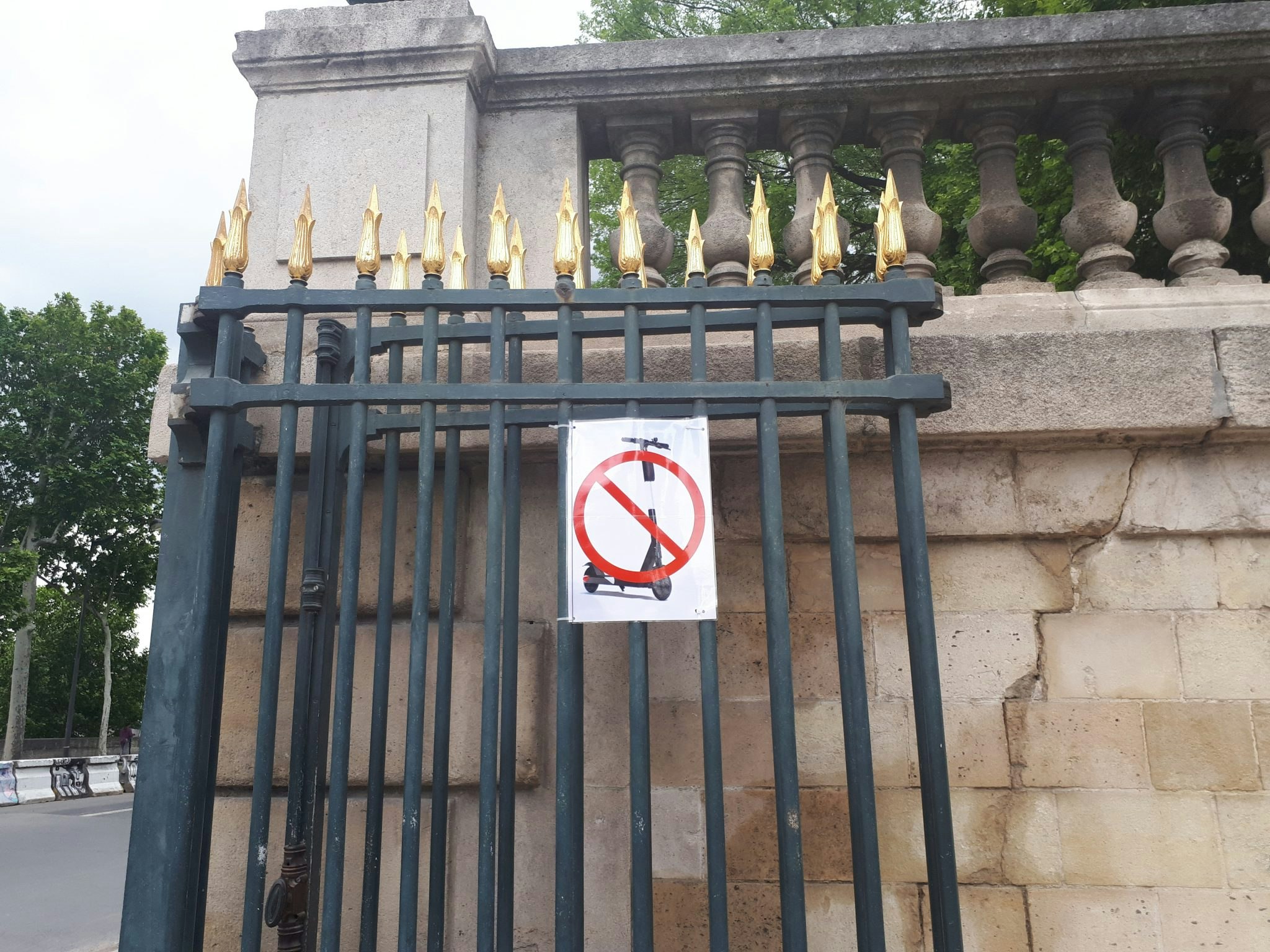 "Will cities regulate the size of this market such that it's a lot less interesting than it seems?" That, Nettleton says, is an especially important consideration because these companies' "valuations are so incredibly high, so early": scooter startups will need to reach extremely big valuations to give early investors decent returns.
Who will survive?
"One hesitation for any investor in this space in Europe is: Am I betting on the right horse here?" says Frolov. "The jury is still out on this one."
"Am I betting on the right horse

here?"
Frolov expects to see some mergers — and some casualties — soon. Mergers would bring economies of scale: joining forces would enable European startups to get better deals on hardware orders (or share IP over in-house designs), cut down on marketing costs, and share the load of negotiating with local authorities.
"One thing I'm certain of: we'll see less players in Europe by the end of this year."
 With additional reporting from Max Traeger.
This is an updated version of a story first published on April 2 2019.