This article is part of Scale Up Europe, an initiative with 150+ innovators brainstorming how Europe can propel its startups to the next level. To frame the debates, Sifted is exploring the region's most pressing and strategic questions in a series of stories. Read the full report here.
It's no secret that Europe has steadily fallen behind the US and China during the past two decades in the race to generate global technology leaders. 
The region is looking to fix part of the problem by spawning startups capable of becoming tomorrow's champions, as well as generating the next wave of technological breakthroughs (for more on this theme, read the related article about Scale Up Europe's deeptech discussions). 
It has deployed significant effort to attract, sustain and distribute investment into its startups.
But it doesn't make sense for Europe to lead a tech-only development strategy, nor does a startup-only focus fit. At some point, startups and corporates need to come together if Europe is to leverage its innovation for economic growth.
That's due in large part to the fact that Europe is still heavily reliant on older industries. Oil companies, carmakers, banks, industrial conglomerates and food and drink still make up the bulk of the region's economies.
Technology companies account for only about 6% of the CAC 40, France's leading stock market index. That proportion has nearly doubled in recent years with the arrival of companies like call center management software provider Teleperformance and payments group Worldline, but it's close to nothing compared to the weight technology companies have in US indices.
In comparison, about 27% of the S&P 500 is tech-related.
In past decades, European champions have gotten kicked off global podiums. Companies like mobile phone pioneer Nokia and national telecoms brands from Orange to Deutsche Telekom have seen newcomers like Google and Facebook eat away at their value propositions and gnaw at their profits.
Some would argue even technology flag-bearers in Europe are old. The biggest listed French technology company, Dassault Systemes, dates back to 1981, almost 20 years before Google was created. Europe's biggest tech stock, German enterprise management software company SAP, was founded in 1972.
Giving birth to new leaders is part of the solution. Getting well-established companies to transform and compete, in an increasingly tech-heavy environment, is also key for the continent.
It's an issue startups can help address. In turn, startups stand to gain from collaborating with corporates, if they can attract more business, scale their breakthrough technologies and find backers with deeper pockets.
The problem
In recent years, there has been a growing trend for large corporations to run accelerators, open innovation programmes and corporate venturing arms. Dozens of European companies, from LVMH to BP or Unicredit, have set up such structures. 
Emblematic household names like Daimler, Nestle and Siemens all have full-fledged corporate innovation strategies.
That's important because it's well-established companies like these that are producing heaps of data in factories, shops, and cities from Munich to Paris or Stockholm. 
Siemens, Daimler, Nestle are still among the region's biggest employers, accounting for hundreds of thousands of jobs. Combined, they employ just under 1,000,000 full time workers.
They also dominate European stock markets, with the three having a combined market cap of $521b.
Those are all, theoretically at least, resources that startups can use as stepping stones. 
European corporates are ideal candidates to buy products and services from smaller partners, share data through research and development agreements, or help spread breakthrough technologies by bringing them in-house for deployments at a bigger scale.
So far though, that type of collaboration has too often gotten stuck at the wishful thinking stage, and definitely hasn't been significant enough overall across Europe.
For one, European incumbents just don't buy many startups. 
That means European startups that do get sold are usually taken over by behemoths from the US or China, effectively driving the "multiplier effect" of innovation, and its ability to create jobs and inundate the economy, away from Europe and into the hands of others.
And too often, when tech leaders do emerge out of Europe, they seek stock market listings away from home. Spotify and Criteo for instance have both sought listings in the US, on the New York Stock Exchange and the Nasdaq respectively.
Furthermore, research and development spend by European companies, in comparison to their US counterparts, is skewed less towards tech and software, and more towards automobile and pharma.
There's room for more technological transfers to take place between startups and bigger companies. Transfers of breakthrough innovation through deeptech startups, for deployments at a bigger scale at established companies, are especially promising.
What's at stake
The digital transformation of Europe's economies is at stake. 
Europe will face a test with regards to its ability to bring an older generation of giants into the world of connected industry, artificial intelligence-fueled developments and cybersecurity challenges.
It's clear the region can't afford to exclude well-established corporations from its technology ambitions, or it risks seeing its economies fall further behind in the global race. At the same time, dinosaurs will not survive — and Europe can't afford the externalities involved, including in terms of job destruction, as it waits for a new generation of technology companies to pick up the baton.
Getting startups and corporates to cooperate — and eventually merge — within Europe is essential. But upgrading older companies is only part of why collaboration is important. For startups, it's an opportunity to grow, by teaming up with corporate partners for expansion, or multiplying exits through corporate takeovers.
Impact goal
As part of the Scale Up Europe initiative, participants will be in charge of elaborating a plan for action aimed at accelerating collaboration between startups and well-established companies in Europe.
That involves highlighting ways in which well-established corporations and startups can do more to: communicate, collaborate commercially, and co-innovate.
There's also a goal focused more specifically on creating more exit opportunities, including by getting European corporates to engage in more M&A activity.
Key themes for discussion
Here are a few of the themes that will be discussed by participants.
The forms and opportunities of collaboration: How to better apprehend corporate-startup collaboration models, learn from global best-practices and facilitate new projects and business opportunities.
Overcoming culture clash: How to achieve a power split between startups and corporates that is balanced and productive.
Facilitating takeovers: How to better integrate startup takeovers without altering their innovative DNA, to leverage mergers and acquisitions to the fullest.
Technology transfers: How breakthrough tech can scale faster through startups-corporates collaboration.
Data: How to make more data available across partners and industries, and better exploit the heaps of data being generated by Europe's "old economy" players.
Covid-19, an accelerator: To what extent can collaboration be a lever for recovery from the Covid-19 crisis?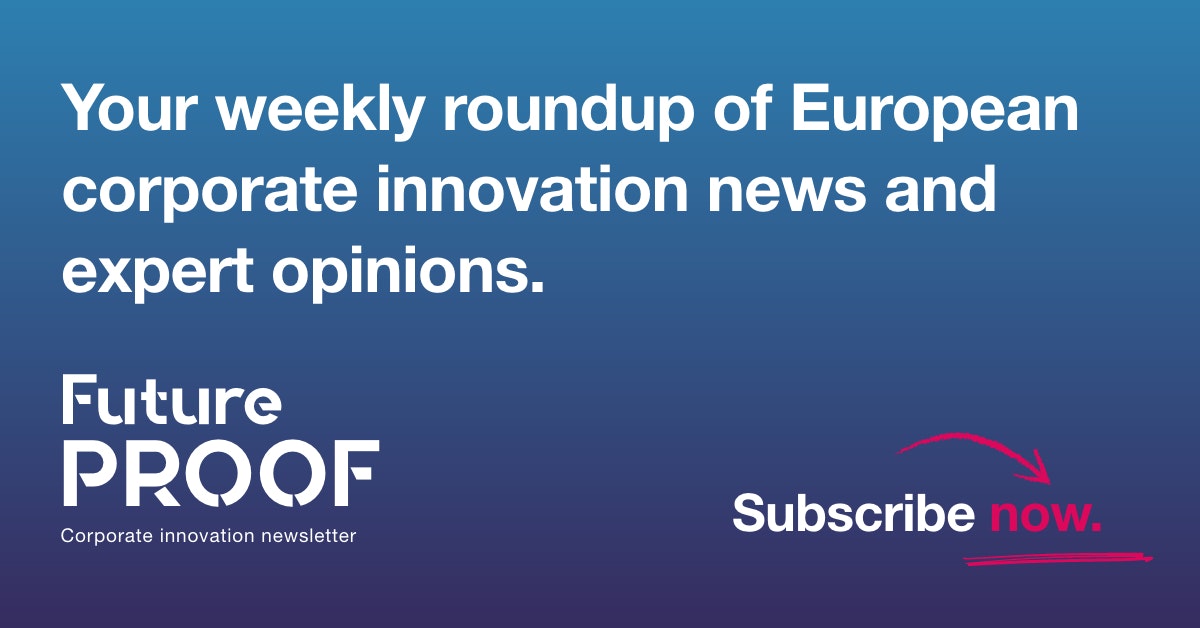 What is Scale Up Europe?
Scale-Up Europe gathers a select group of 150+ of Europe's leading tech founders, investors, researchers, corporate CEOs and government officials around the same goal: accelerate the rise of global tech leaders born in Europe, in the service of both progress and technological sovereignty.
Initiated by President Emmanuel Macron, the Scale-Up Europe initiative focuses on four key drivers: talent, investment, startup-corporate collaboration and deeptech.
The founding members will kick off a collective debate on these themes on the 4th of March and continue the discussion in the coming months through workshops and open consultation. Together, the tech community will define an actionable strategy and roadmap to be presented to European heads of state later this year on scaling the tech ecosystem to the next level.
Ecosystem partners for this initiative include Sifted, as well as La French Tech, Viva Technology, Hello Tomorrow and Station F.
Further resources