Saul Klein did not, exactly, follow the Brunch with Sifted brief when we met six months ago (don't ask). He suggested going for a walk around the block rather than chatting over toast. Then again, he doesn't really seem to follow the VC brief either.
Klein is founder of LocalGlobe, the early-stage VC firm he set up with his dad, Robin Klein, six years ago. Since then the LocalGlobe family has grown: it's now called Phoenix Court Group, and includes a Series B fund, Latitude; a fund-of-funds, Basecamp; and a Series C+ fund, Solar. He's become one of Europe's best-known and most successful investors: LocalGlobe counts 18 unicorns in its portfolio, placing it just behind US heavyweights Accel (with 24) and Sequoia (20). 
But Klein doesn't seem to care much about all of that.
The other side of the tracks
Our neighbourhood tour kicks off outside Phoenix Court, LocalGlobe's brightly coloured, curvy-walled HQ. We are, as Klein is keen to point out, just a stone's throw from institutions including St Pancras station, the new million-square foot Google building, Central Saint Martins art school, DeepMind, the Alan Turing Institute and the British Library — but we're also just around the corner from one of the most economically deprived places in the UK.
"It's not a normal place, not just for a VC, but for a business," says Klein, standing outside the Francis Crick Institute in a hoody and slightly tired-looking jeans. The only thing "VC" about him is his light puffer jacket (although I'm pretty sure it wasn't Patagonia). Opposite us is Chamberlain House, an early inner-city council estate built in the 1920s to help move Londoners out of slums.
"We chose to be here, because we feel like if innovation and technology is meant to serve society, and have a social impact as well as an economic impact, you want to be as close to understanding that as possible." 
What do other VCs think, I ask?
"I have no idea," says Klein, who's three years into a 20-year lease on Phoenix Court. "I don't really care. Seriously. It's never even crossed my mind. 
"A lot of people say, 'Why are you here? What are you doing here?' And if you want the rational reason for being here, we haven't even walked 300 yards and I've got the world's best life sciences computational biology lab literally across the road from me," he adds, waving his reusable coffee cup at the Crick behind us. 
On top of that, he says, Paris is less than four hours away by train, as are Brussels and Amsterdam, Oxford and Cambridge, Bristol and Edinburgh. Klein likes to call this hub "New Palo Alto" — and argues that it will absolutely rival the real Palo Alto very soon. If you've ever been to any event hosted by LocalGlobe, I'm sure you'll have heard that several times too.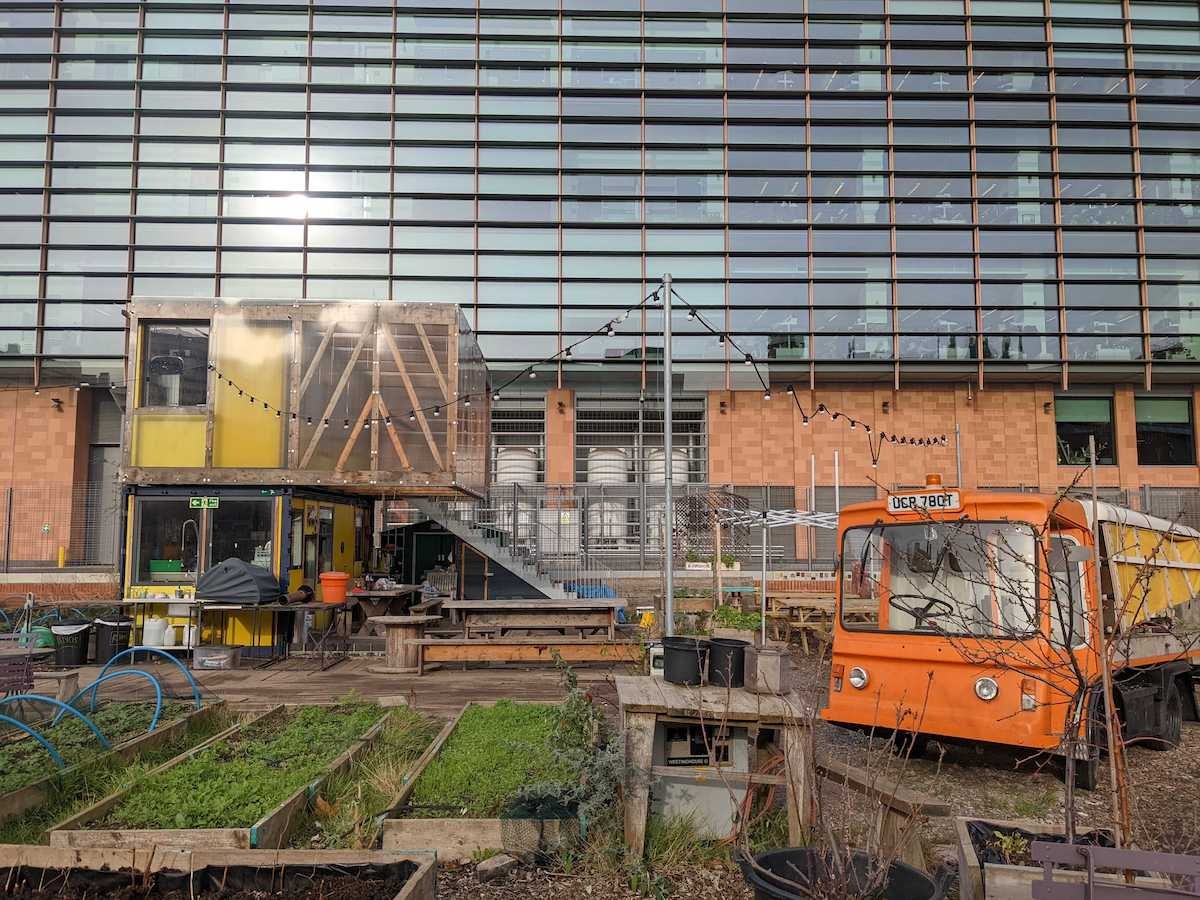 Being a good neighbour
We walk a few metres further down the street and into the Story Garden — a "meanwhile space" on disused land behind the British Library which has been transformed into a community allotment. There's also a teepee where local kids can come after school to read until their parents have finished work.
The Story Garden is one of 23 local organisations LocalGlobe supports through its foundation, Phoenix Court Works.
10% of profits in the management company and 2% of carry in every fund go towards the

foundation
"10% of profits in the management company and 2% of carry in every fund go towards the foundation," Klein explains. As far as he knows, the only VC that does something similar is Al Gore's investment firm, Generation. 
Another beneficiary is the Refugee Community Kitchen, which serves hot meals made from surplus food to people in food poverty in Camden — and occasionally caters for events at Phoenix Court too. 
"It's surprising and a bit sad actually how much an expensive lunch in Mayfair costs — how many winter coats that buys for the families of the Afghan refugees who've been housed at Edith Neville primary school," says Klein, referring to the school down the road — and to some VCs' rather large entertainment budgets. "£800 buys a lot of winter coats."
The team
It's not just the foundation that gets carry — in other words, a share of the profits realised by LocalGlobe's funds. 20% of the Phoenix Court Group profits stay on the balance sheet. The other 70% (after 10% goes to the foundation) is, fairly unusually, shared with the whole team. "Everyone from the people on front of house to the managing partners." 
Klein says they've taken this stance at LocalGlobe because he's "trying to build for the long term". 
"We had to think about succession out of the gates," he says; Klein's cofounder, and dad, was 68 when they started LocalGlobe. "How to be long-term and sustainable? How to design an organisation where you can develop talent?"
The thing that's always excited me is

potential
The full Phoenix Court Group team is now 30 people, including 13 investment partners and three operations partners.
"The thing that's always excited me is potential — the potential in an idea, the potential in a business, the potential in a market — and unlocking the potential in people."
The 'brunch'
To fulfil our Brunch with Sifted duties, our next stop is Flori Canto, a cafe around the corner. The barista Javier knows Klein's coffee order, and is extremely into arthouse films and sci-fi books. I grab a (delicious) pastel de nata. Klein goes for a banana. It sets me back a grand total of £4.
While beans are ground, we talk about the metaverse, Metropolis, Blade Runner, The Great Dictator and Pi — a black-and-white film from 1998 about a paranoid mathematician searching for a key number that will unlock the universal patterns found in nature, according to IMDb.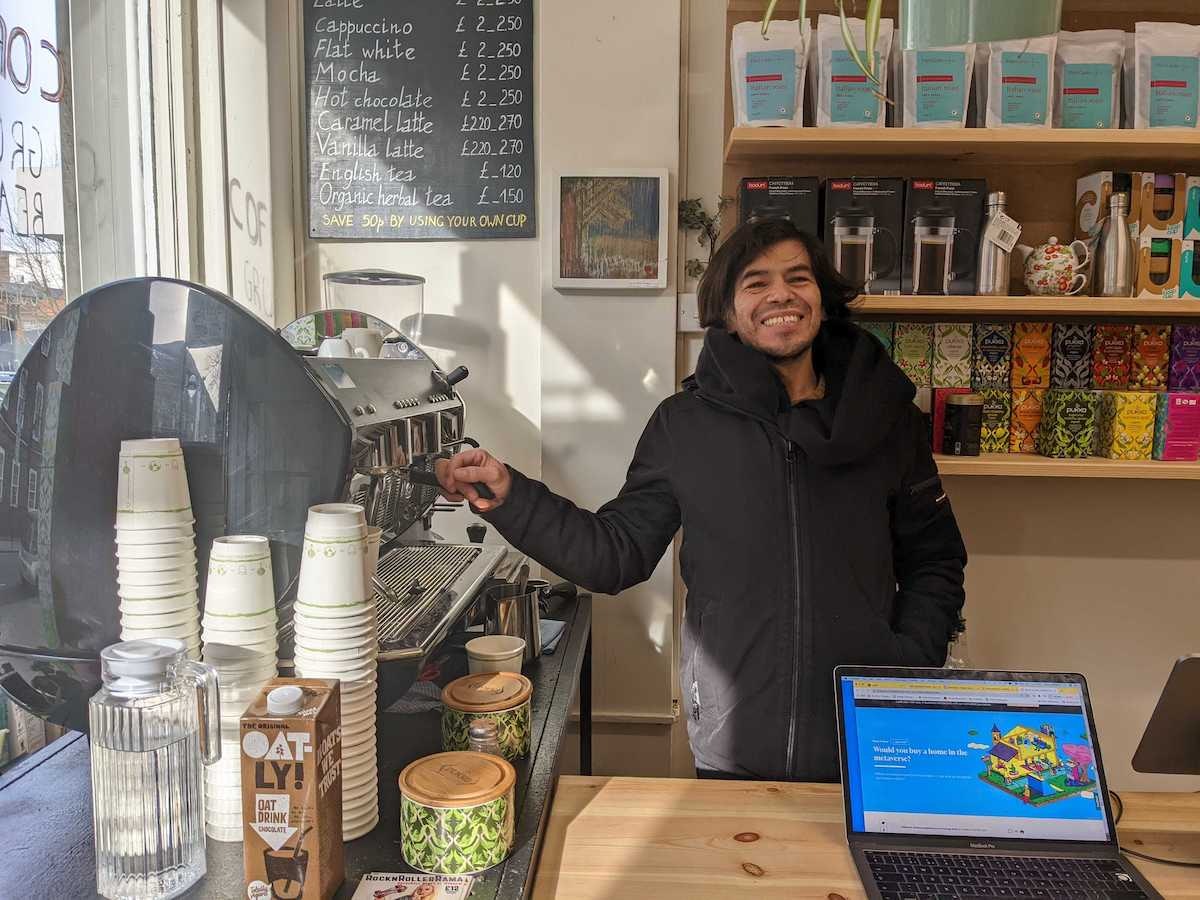 I come away with some unasked for film recommendations and copal — a tree resin that Mesoamericans used in ceremonies to clean spaces of spirits. Javier tells me that if I burn it it might help with headaches. 
The brunch really isn't panning out like most.
Klein, like me, studied English at university, where he put on plays and did some writing. Unlike me, he's not a big reader anymore: "I used to read a lot… but I haven't read fiction for probably 30 years." 
I fell down the rabbit hole which was the internet and never came out

again
His working life began on the editorial side of the Observer newspaper, but he says he was "too impatient" to work his way up the ranks and do the boring jobs on the way. "I kind of knew I wasn't really good enough, too," he adds. 
He ended up working on The Telegraph's shift to online in 1993 — "and then I fell down the rabbit hole which was the internet and never came out again". 
A new kind of innovation
In 2002, Klein founded a DVD rental startup called Video Island which ended up merging with LoveFilm and eventually getting bought by Amazon in 2011 in what was then a not-so-bad exit. Next, after a stint doing marketing at Skype, Klein became a partner at VC firm Index for eight years while it was getting set up in San Francisco. It wasn't entirely his vibe.
I think that technology without governance, innovation without governance, can just run

amok
"That bubble, that ethos, was not just anti-government but ideologically anti-regulation," he says. 
That — and "a lack of empathy, a lack of lived experience" — are some of the things he likes the least about the tech industry.
Klein is taking a very different approach. "Do we talk to people in government? Yeah. And I have done for over 20 years, because government plays a really important role — whether local or national — in the society in which we're in.
"I think that technology without governance, innovation without governance, can just run amok." 
For a long time, Klein says, "single-stakeholder" capitalism has been the main way of doing business: companies have been run to benefit their shareholders above all, who are, in the startup world, primarily investors and founders.
"I think there is fundamentally a better way of economic and social development," he says — and this is what he wants to achieve with LocalGlobe — "multi-stakeholder capitalism". 
There are investors sitting on far bigger sums of cash who are saying the same thing. But Klein is one of the few in the VC world talking so openly and passionately about making tech work for broader society — and he's also baking it into the fund's DNA.
The power of storytelling
We're now well over our allotted hour and only about halfway through the usual tour Klein gives of the neighbourhood, but I've had enough talk of capitalism — I want to talk about TV.
Turns out he's rewatching The Sopranos with his teenage son (Klein has another son, who's in primary school, and a teenage daughter). 
Tech folk and scientists, he thinks, could do with learning the art of storytelling themselves. "It's so important for companies and founders to understand how to tell that story and connect and communicate with people," he says.
As our tour comes to an end, I discover that I'm the latest in a long line to be taken on it. "We won't hire someone who hasn't been on the tour," says Klein — and even prospective LPs get dragged out too. "I do it as much as I can because I like doing it and it's good exercise." 
Plus — and this is where the storyteller comes out — "who we are is where we are".