Europe's largest traditional bank Santander is within weeks of launching its fintech spinout and TransferWise-rival, PagoFX, according to several people briefed on the plans.
The project is part of the bank's efforts to stay apace with digital newcomers, creating a competitive international money transfer platform for individuals and small and medium-sized enterprises (SMEs) in Europe and beyond. 
PagoFX presents fresh competition to rapidly-growing fintechs, such as TransferWise, which since 2011 have seen explosive growth offering cheaper and faster currency transfers than traditional banks or Western Union.
In doing so, PagoFX essentially aims to disrupt the disruptors; designed to serve non-Santander customers outside the bank's core infrastructure for the first time. This follows efforts by HSBC and RBS, who are building digital side-brands in the face of competition from the likes of Monzo and Revolut.
Despite being spun out of the Madrid-based bank, PagoFX has also deployed a team in London over the last 18 months, aided by a small group of external consultants, including Deloitte. Now employing over 50 people, the project has been spearheaded by executives Cedric Menager (former PayPal) and Ed Metzger, who reside in its Madrid HQ. 
The project is now gearing up for a Spring launch, according to people close to the project, having been kept outside the public eye since it was announced in April 2019.
Banco Santander would not specify the exact release date but a spokesperson said: "We expect to launch in the coming months in the UK and plan to be present in more than 20 markets in the medium term."
Indeed, reserved Twitter handles hint at PagoFX's aspirations to span out across Europe, while the UK Twitter, waiting-list and webpage are already live.
Sifted Newsletters
Fintech
Every Tuesday
From banks to bitcoin, get all the gossip and analysis in your inbox.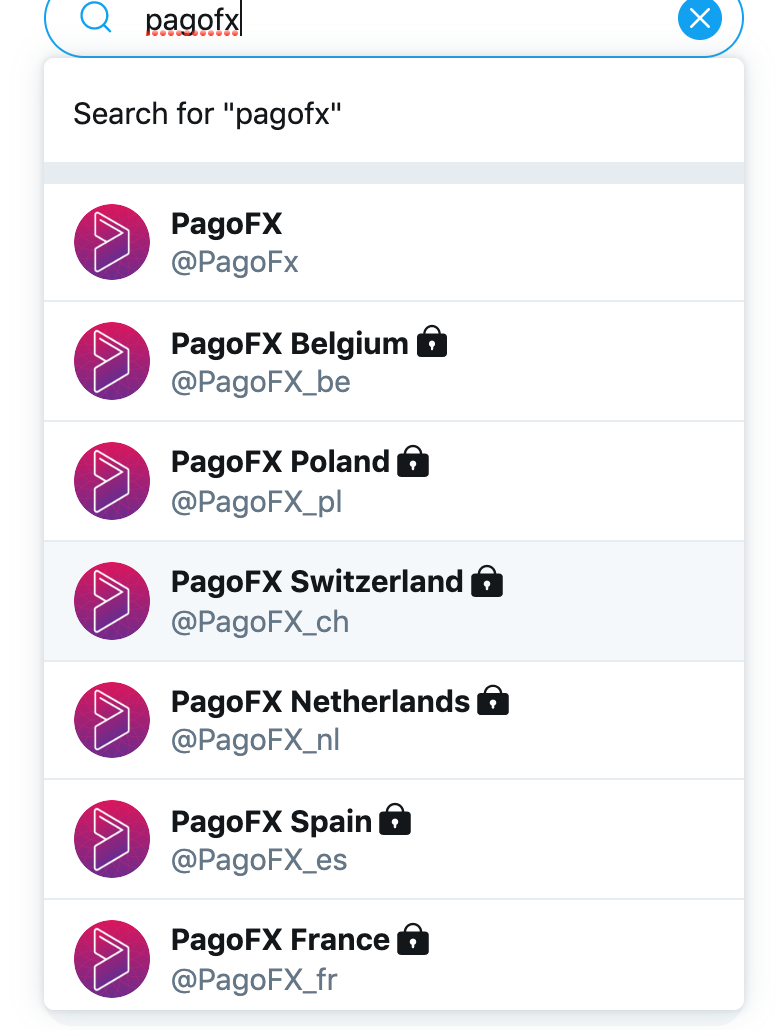 Notably, PagoFX received regulatory approval from the UK's Financial Conduct Authority on 23 Dec last year. However, multiple sources told Sifted the payment license took longer than expected, prompting the launch-date to be pushed back.
The spin-out is also believed to be applying for a Belgium license to operate across the EU post-Brexit.
The new FX landscape
While Santander is clearly late to the mark on money-transfer innovation, it's arguably filling a "trust" gap for audiences who remain nervous or unfamiliar with TransferWise.
"We are building on an open-market solution for international payments that combines the price, transparency and user experience you would expect from a fintech with the trust of a solid and secure bank," a Banco Santander spokesperson told Sifted.
The bank, which has 140m customers across 10 markets, will be hoping to present a strong challenge in a retail market currently synonymous with TransferWise, which has over 6m users.
Indeed, a price comparison last Friday showed that £100 would hypothetically get you $127.34 on PagoFX (in closed beta), while on TransferWise you'd get slightly less at $126.92.
Sources confirm PagoFX is also eyeing the $700bn global remittance market, with a specific interest in the Mexico-US corridor, where TransferWise launched exclusively for businesses last year.
In doing so, Santander will also compete with BBVA — Spain's second-largest bank — which launched money-transfer apps Dinero Express and Tuyyo to service the US and Latin American market; building on the launch of BBVA-branded Bancomer Transfer Services.
Meanwhile, other European startups specialised in remittance-transfers include TransferGo, which caters over 45 countries, WorldRemit and Azimo, which largely serves the EU-Africa corridor.
A serious counter-attack?
TransferWise has disrupted the pricing model for international payments, processing £4bn in customer payments per month. 
TransferGo meanwhile topped £500m in remittances annually and Azimo reported $1bn in annualised sending volume in 2018.
But a key issue they face is that customers are fundamentally disloyal, and the companies have not yet proven they can provide customer "stickiness" in the face of direct competition and potentially, better fees.
"The money transfer space should still allow for new players to join if the right user experience is accompanied by fair costing for the consumer," said one fintech-product expert, who asked to remain anonymous.
Nonetheless, for now, Europe's fintechs seem to be confident about their hold on the market. Notably, Azimo founder Michael Kent questions banks' ability to disrupt themselves, having witnessed BBVA's past attempts to do so.
"Some investors were like, 'The Banks are coming and you're going to get killed'. But it's very hard for traditional banks; they have legacy-tech, they hate taking risks and they struggle to attract talent. When they do it not those who want to make an impact… and their things bomb all the time," he told Sifted.
He did, however, argue that a graver threat to his sector was likely to be Brexit, which might reduce the movement of people and money in a key market.
The product expert also told Sifted he didn't expect startups to be too concerned just yet.
"This would not be the first competitor to look to challenge TransferWise for their crown and I highly doubt they will be looking over their shoulder with any immediate concerns… It's still unclear what PagoFX's USP will be."
Meanwhile, TransferWise told Sifted in a statement that it welcomes PagoFX, but that the new project still needs to prove it can be fully upfront about fees.
"If it's necessary to download PagoFX separately to achieve transparency, customers using Santander's standard service will continue to be short-changed," a spokesperson said.
Born to fail?
New fintechs are ultimately still perceived as a limited threat by most banks, with Barclay's exec Megan Caywood telling Sifted that incumbents have largely "dimiss[ed]" digital banks.
Nonetheless, institutions like Santander know they can't stand still; cue projects like PagoFX and Asto, Santander's new small and medium-sized enterprise (SME) accounting app, quietly being built in a London WeWork.
Overall though, these multi-million-dollar "flanker brands" aren't expected to be revolutionary. Instead, the main goal is to defend against the newcomers, says Andy Ellis, orchestrator of RBS's digital banks Mettle and Bo.
"I don't have to worry about that question [of profitability or user growth]… You wouldn't look at it [Mettle] as a standalone," he told Sifted earlier this year, adding that Mettle's individual success is not life or death.
But for all the luxury of being cushioned by a big bank, PagoFX will need to navigate similar cultural clashes that have reportedly plagued RBS's Mettle. For instance, sources who worked closely to PagoFX drew reference to "the 'say-no' crew" high up the ranks in Santander and "old-school" approach to regulation, despite bringing in senior-members from the world of fintech and 'big tech' to drive the project.
The nature of banking innovation also means executives can fail to fully invest mentally in side projects, according to a former Lloyds exec.
"That's why they give these things a separate brand. If they want to close it without lasting embarrassment, they can," they explained.
Still, for all the difficulties that innovation brings, European startups have clearly moved the needle when it comes to payments; now, banks are fighting back.