Countless Ukrainian lives have been torn apart by the Russian invasion. 
And, for those Russians who oppose the war, economic isolation and fear of political persecution are making life — both personal and professional — very difficult.
To understand some of the challenges facing Russian tech professionals and the businesses they've built, Sifted spoke to five founders and other tech professionals from the country. Their names have been anonymised, to avoid endangering them and their loved ones who are in Russia.
"We think twice, three times, seven times before we say something — personally and as a company — because there can be consequences for our team based in Russia,"  Daniel, who runs a fintech startup based in southern Europe with a tech team in Moscow, told Sifted. "People can go to jail for 15 years if they express their opinions openly."
'Financial flows are broken'
Daniel is lucky that he and his startup had raised money before the war began and sanctions fell on Russia. The company moved a portion of its freshly raised capital to a Russian account, meaning it can continue to pay its workers there.
For Maksim, founder of a Moscow-based startup with employees in Ukraine, things haven't been so easy. He is unable to easily pay team members in Europe, or pay for services like web hosting, due to sanctions.
"All financial flows are broken. We are having to resort to illegal, or semi-legal, means of payments," he says.
In terms of the situation in the country, few people expect growth and prosperity, most are preparing for the

worst
Maksim is now turning to convoluted and expensive means of paying his staff, involving transfers via other countries like Kazakhstan and Azerbaijan, and some cryptocurrency workarounds that he's found. He's also making plans to flee Russia, partly out of fear that he'll be conscripted into the military.
Anton, another founder based in Russia, says that issues like payments are leaving entrepreneurs with international ambitions little choice but to leave. "Entrepreneurs realise that there are two ways out, either to stay in the country and do business in Russia, or to leave and work with the whole world because it becomes impossible to conduct international business from Russia," he tells Sifted. "In terms of the situation in the country, few people expect growth and prosperity, most are preparing for the worst."
Sifted Newsletters
Startup Life
Every Wednesday
How (and how not) to run a startup.
Brain drain
It's estimated that more than 200,000 Russians have left the country since the war began, as many fear a purge of those who do not support Putin and the war. One of those is Lena, a tech PR professional who fled from Moscow to Europe as soon as she could after the war began.
"I just bought the first available tickets and fled the country because, on the one hand, I was terrified and scared of what the government might do inside the country. On the other hand, I still have relatives in Russia, my mother is still a resident there. I realised that if I have to provide for her — which is the case — I need a safe place to work, a place where I am not in imminent danger," she says.
It isn't only immediate danger to life and liberty that is making it difficult to do business in Russia today, Lena explains. It's also due to the fact that key business software is being frozen for Russian companies.
👉 Read: How the tech community can help Ukraine
"Slack is turning off spaces for Russian teams. Figma, the software used by designers, is not working for Russians. Jira, the tool used by all IT teams, is getting turned off for some Russian teams. The workflow is paralysed and there are no Russia-produced alternatives for these software products," she says.
Russia's tech sector is now facing ruin, says Alexi, another founder based in the country: "The war has led to the destruction of the future of the IT industry in Russia and turned the country into a raw material appendage of China."
The cost of Russia's tech isolation is significant to its economy. Figures from Statista suggest that Russia's exports of ICT services climbed from $2.6bn annually in 2010 to $5.9bn in 2020.
Export value of information and communications technology (ICT) services in Russia, 2008–2020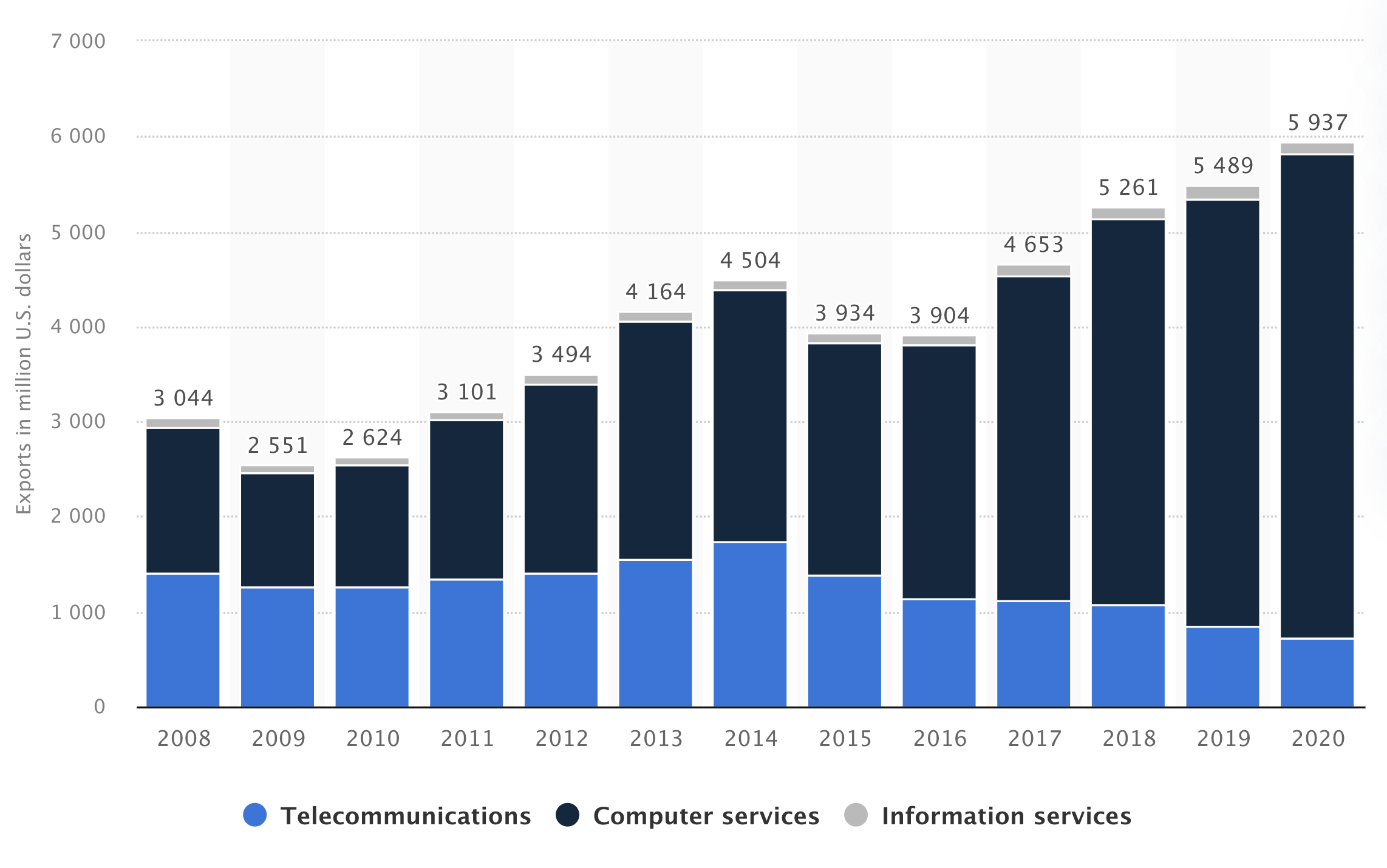 Dmitry Saikovsky is a partner at New Nordic Ventures, a Latvian fund that has invested in Russian-led businesses since 2016. He tells Sifted that, while his fund is still open to investing in Russian founders that have relocated and aren't dependent on the country's market, entrepreneurs are struggling to find a new permanent base.
"We see an increasing number of startup founders from Russia who want to apply for Latvian startup visas," he says. "But under current circumstances it is not feasible — the state migration department of Latvia is extremely selective in relation to Russian passport holders at the moment and entire EU member states follow the same principles."
Russophobia
It's likely that Russia's tech workers will continue to leave the country as the country's economic isolation continues. But many fear that Russians will face more than visa issues when they arrive in Europe, as discrimination towards their country increases.
"I understand that there will be retribution against all Russians living abroad irrespective of their political affiliations," says Artem, a Russian founder with a startup headquartered in northern Europe. "I have personally lived outside of Russia for 20 years now. I expect that this will have retribution on me personally. At the same time, I am Jewish and I'm used to anti-semitism. So on top of experiencing anti-semitism in Europe, I will be experiencing Russophobia and I can't blame anybody for this. I understand the reaction."
Artem isn't looking for sympathy though. "The focus should now not be on the Russians right now. I think the focus should be on helping the Ukrainian people who are fleeing the war. I am much more concerned about them," he says.
But like so many Russians, Artem has many ties with Ukraine, and the war and suffering it is causing is deeply personal to him: "I have relatives in Ukraine. I have a lot of friends in Ukraine, including some of my closest friends who had to flee. It is a catastrophe."
All of the tech workers that Sifted spoke to for this article condemned the invasion unreservedly, and said they hope that people will remember that not all Russians support the war.
"A lot of Russians who live abroad do so because they do not support the government… Just look into your own history. Should every American be blamed for what the Bush administration did in the Middle East?" says Lena. "Since the war began I've been feeling sorrow, shame, pain, guilt, disgust, horror, all of these at once. We just want it to end."