At the beginning of 2022 Tomas and Bene Milasauskas, brothers from Vilnius, Lithuania, were working on a startup idea — long-range wireless communication antennas. 
But then, on February 24, Russia attacked Ukraine and the founders decided they'd rather use their skills to help soldiers on the battlefield. 
Just one week after the invasion, after consulting with the Lithuanian military, they pivoted their idea — and started to produce remotely controlled mine detonators.
"We had six people working day and night, without any pay," says Tomas. Today the startup, RSI Europe, has started manufacturing and is selling its products to the Ukrainian army.   
"Our goal is to contribute to victory in Ukraine," he says. "And so we have to move extremely fast because the war is happening now." 
Defence tech — once a no-go for founders and investors alike — is on the rise in Europe. VCs across the continent have begun to dip their toes into the sector and Nato has even set up a €1bn VC fund to back these kinds of businesses. 
But the topic is particularly front of mind in central and eastern Europe, where countries like Poland, Lithuania, Latvia and Estonia share borders and a complicated history with Russia. 
Our goal is to contribute to victory in Ukraine... And so we have to move extremely fast because the war is happening

now
"Defence tech was almost non-existent in the CEE region before the start of the Russian invasion. Now things are changing and more talented people are exploring opportunities in this space," says Mikołaj Firlej, a general partner at Expeditions Fund, a Polish VC. 
"In the Baltics, but also in the other Eastern Bloc countries, a lot of people who go into defence, both the founders and GPs, do so partly because of emotional reasons," says Peter Marculans, managing partner at Overkill Ventures, a Latvian VC. "We live in countries that have always been warning about Russia, we do have a border with Russia, so obviously these things are much more on top of our minds than it will be for someone in western Europe.
"It'll drive many more people into this sector which may also contribute to there being more significant companies being built here."
New interest
During the communist era, the CEE region boasted a huge military industry — but that's mostly collapsed over the past three decades. There are few major defence businesses to drive innovation, and entrepreneurs and investors mostly stayed clear of the sector. 
But recently, the mood has been changing. 
Rokas Tamošiūnas, an investor at Lithuanian VC Open Circle Capital, says investors, companies and governments started paying more attention to defence tech when Russia annexed Crimea in 2014. The Baltic states, for example, organised numerous events and hackathons for defence innovation — including Lithuania's Delta Navy Hackathon in 2019, which took place on a warship and was co-organised by local tech body Startup Lithuania and the Lithuanian navy.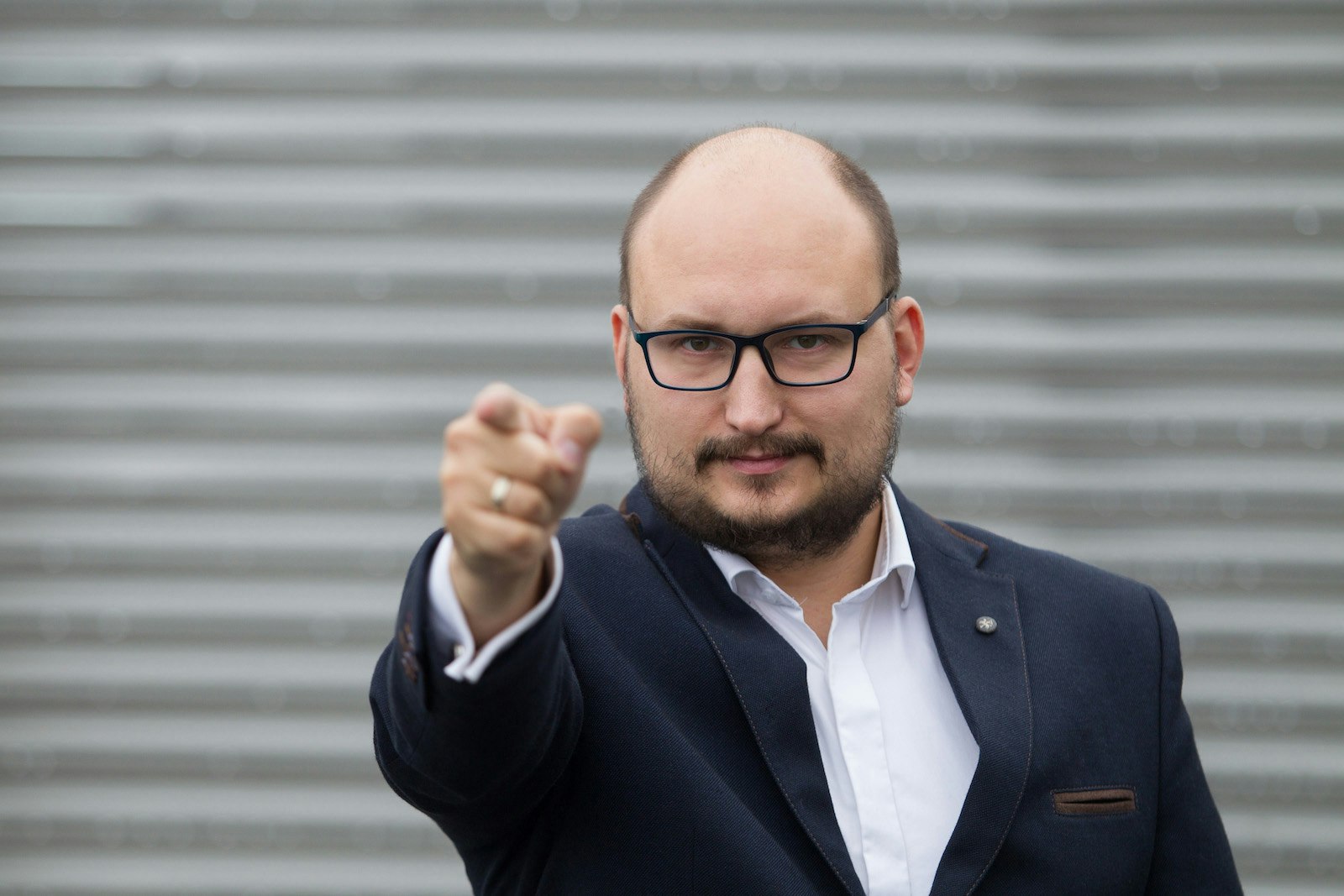 Now they're much more overtly interested. "I'm telling you, quite straightforwardly, I'm a defence investor. However, a year ago, before the Russians invasion into Ukraine, I would label myself as a 'dual-use' investor," says Tamošiūnas — as in an investor backing defence tech with both military and civilian uses. 
"It's the biggest shift that has happened across the mindsets of everyone: founders, investors, institutions," he says. "A few years ago, you might even be frowned upon. They would say 'Oh, you're doing investment [in defence], this maybe isn't ethical.' However now, you can even get praise: 'Oh, you're doing investment, keep up the good job.'"
New projects
This intensified interest has resulted in the creation of new startups, like RSI Europe, and the repurposing of existing technology for military purposes. 
Tamošiūnas says that in tiny Lithuania, a country of 2.8m people, there are around 50 defence ventures, of different levels of seriousness and progress. 
"There aren't that many new projects, but we see the pace of development of the existing projects is really picking up and it's getting the tech side to a serious level," he says.  
👉Read: 10 European defence tech startups to watch, according to investors
"The war in Ukraine allowed many of these products to be field tested, because a lot of them went on to support Ukraine and shifted some of their production over to Ukraine. That is an excellent feedback loop."
This is the story of, for example, Estonian Milrem Robotics which makes autonomous tanks — 14 of which are currently in use in Ukraine — and Unmanned Defence Systems, a Lithuanian producer of drones, which are also being used in the war.  
Kaspars Pollaks, who's responsible for the defence sector at LMT, a Latvian mobile operator, says that there's a growing number of interesting defence startups in Latvia. 
There's an emotional component. People in the Baltics in particular have very strong opinions and feelings regarding our

independence
"There is a startup model developed within the armed forces and the ministry of defence: they have had a series of hackathons and grants to support the startups, which we are in turn, also integrating within our solutions," he says. The Latvian government and the armed forces were, for example, engaged in organising a Defence Makeathon in 2022.
The company helped to set up a testing environment for 5G solutions in defence. It's been used by startups like Exonicus and Lightspace Technologies, which makes AR headsets that can be used to simulate military operations.  
Many of startups in the sector are bootstrapped or have secured some early-stage financing, like Estonian SensusQ, which makes software for improving fast decision-making from large sets of data, or Latvian Exonicus, which is virtual reality trauma simulator. 
Another example is the Latvian drone-maker Aerones, which recently raised a $30m Series A. So far, its robots are used in industrial operations but investors say they can easily be used in the military. 
"We're also starting to see some experienced founders, who have done other startups and exited, working on startups in this space," says Marculans. "There's an emotional component. People in the Baltics in particular have very strong opinions and feelings regarding our independence and the importance of savouring it." 
Government push
This newly found interest in defence in the region is shared by governments.  
Since the start of the war, countries like Poland and Lithuania have been pushing to increase the percent of GDP NATO countries should pay for their military spending.
Several countries from the region participate in NATO's DIANA fund — which is supposed to boost innovation through the network of defence startup accelerators — and Estonia, along with the UK, was chosen to be the accelerator's headquarters. 
Some of the governments also set up their own accelerator programmes. Lithuania is finalising the work on its state-backed €13.5m venture fund MILInvest, which will back defence and security startups, while the Polish Developement Fund, which owns Poland's state-backed fund of funds, is recruiting a specialist to work on accelerating defence startups. Estonian defence ministry has been running a competition for startups since 2018, with this year's budget reaching €700k.
Even if the war ends tomorrow, I don't think this trend is going to go

away
The founders and investors also admit that they're often in touch with the governments and the military to discuss their ideas and products. 
"Before the war in Ukraine our major focus was commercial customers," Vaida Karaliūnaitė, chief marketing officer at Nanoavionics, a Lithuanian satellite startup that has recently been acquired by Norwegian Kongsberg, a defence company. "Initially we thought that our major group of customers would be from that segment and it was for quite a while… [After the war started] there's also been massive interest from the government, from military organisations and we are having those discussions quite often. We can witness that countries and regions are now more willing to build their sovereign capabilities."
Marculans adds that Ukraine has also opened everyone's eyes to other potential military and security threats in other parts of the world.
"So even if the war ends tomorrow, I don't think this trend is going to go away," he says.