Investment in European eco-friendly startups doubled last year, with renewable energy as one of the leading sectors. 
Take the Netherlands, for example. Investment in Dutch energy startups is growing 10% each year, according to Maurice van Tilburg, managing director at Techleap.nl, a nonprofit organisation helping to accelerate the Dutch startup ecosystem.
VCs are finally taking note — but it's not all about ethics. Sustainable investments won't happen unless investors see a profit.
"It's an economy play," says Freerk Bisschop, managing partner at Rockstart Energy, the  €21m Energy fund of the Rockstart accelerator-VC. "It's not about being green or only trying to do good for the planet. It's just decent return on investment."
So what are investors looking for in renewable energy startups? We spoke with several VCs and sustainability innovation experts to find out.
Our investors, and primarily our cornerstone investor APG, keep track of the sustainability of our startups from day

one.
1. Proof of impact
Transparency and accountability are top priorities for investors.
"Money talks here," says Bisschop. "Our investors, and primarily our cornerstone investor APG, keep track of the sustainability of our startups from day one." This means measuring how startups contribute to the energy transition via digitisation, data applications and digital technologies.
"We contribute to developing methods to determine what climate targets are needed in our portfolios to achieve the Paris objectives. We want to invest in solutions that contribute to the [UN's] Sustainable Development Goals. We're also transparent about carbon emissions in our investment portfolio and take measures to limit them," Jeroen Schreur, who works in asset management at APG, told Sifted.
APG is one of 50 Dutch financial institutions who have committed to supporting sustainability by signing the sector's Climate Commitment, which means they have to annually disclose the carbon footprint of their relevant investments and set 2030 reduction targets no later than 2022. They've also developed several impact metrics that measure overall impact of their portfolio startups, including emission reduction, supply chain impact, how the startup contributes to the cost reduction of affordable energy, how many jobs are created and the gender makeup of their teams.
Sifted Newsletters
Sifted Newsletter
3x a week
We tell you what's happening across startup Europe — and why it matters.
There's no industry-wide standard for holding startups accountable, but most VCs in this space have a framework in place. 
"You cannot manage what you cannot quantify," said Fabrice Bienfait, partner at VC firm ETF Partners. "We have implemented a robust environmental impact management framework which we use to select the most impactful companies. We use impact KPIs to quantify, track and manage impact performance of our investments."
2. Energy suppliers and energy distributors
The energy sector is divided into those who supply the energy and those who distribute it — that's where the potential for digitisation and tech innovation come in. When it comes to renewables like solar, wind and green hydrogen, companies that can offer clean fuel, smart storage solutions and energy management are going to attract investor interest. 
"Being able to manage those flows and track them across grids and trading systems require a lot of real-time data, and AI-driven forecasting," says Bisschop. "And then you need smart storage solutions in cars, buildings and grids, with digital tech being a key element."
As Bienfait says: "Ultimately, a smart grid is a digital grid." 
Dutch startup Sympower has an advanced software platform that balances the electricity grid in real time through an automated demand response. For example, greenhouses need both heat and light, which are often supplied by combined heat and power plants, to grow greens. Sympower connects these assets to its platform to balance the grid and create more value. 
3. Potential to diversify and scale
The best way to demonstrate your startup is scalable to investors is to diversify your service offerings. 
"We believe the large masses of capital available are looking for ways to make money from investing, so you have to develop a pathway to scalability to be able to tap into that money," says Bisschop.
Spanish startup Starke Energy, for example, which is one of the portfolio companies in Rockstart Energy's current programme, provides buildings with smart batteries. By creating pools of local energy storage, users can access it when they need it, and buildings can be used as flexible power plants.
Starke Energy also developed an automated energy management system that uses AI to take care of their batteries' health, ensuring maximum lifetime value — and providing an additional revenue source.
4. Flexibility in volatile markets
Investing in natural energy means investing in volatility. "The main issue in this new energy reality is the flexibility that you need to deal with variability in demand and supply," says Bisschop. "If you use wind and solar as the main sources of energy, they will not always be available. So you need flexibility in terms of allocation over time and space, and this requires a lot of data, AI and predictions."
The main issue in this new energy reality is the flexibility that you need to deal with variability in demand and

supply.
But the weather isn't the only reason it's important to be flexible. Covid-19 threw a spanner in the works for many clean energy startups — but some were able to successfully pivot.
Greener Power Solutions, another Rockstart Energy portfolio company, got its start delivering batteries to music festivals, providing a cleaner solution to replace diesel generators, which powered polluting smoke machines and light shows. It had to quickly shift gears when Covid-19 hit, and now deploys up to 30 battery containers to construction sites, airports and harbours. Greener Power Solutions also offers grid flexibility and congestion services, and developed a layer of software that can be implemented with any battery to provide more efficient usage. 
5. Energy software startups
It's no secret that investors love SaaS, which provides return on investment relatively quickly.
Van Tilburg tells us that while it's important Europe continues to invest money into hardware and deeptech solutions for longer-term gains — like internet infrastructures, offshore wind turbines and open-source systems — investing in software solutions provides quicker returns for investors.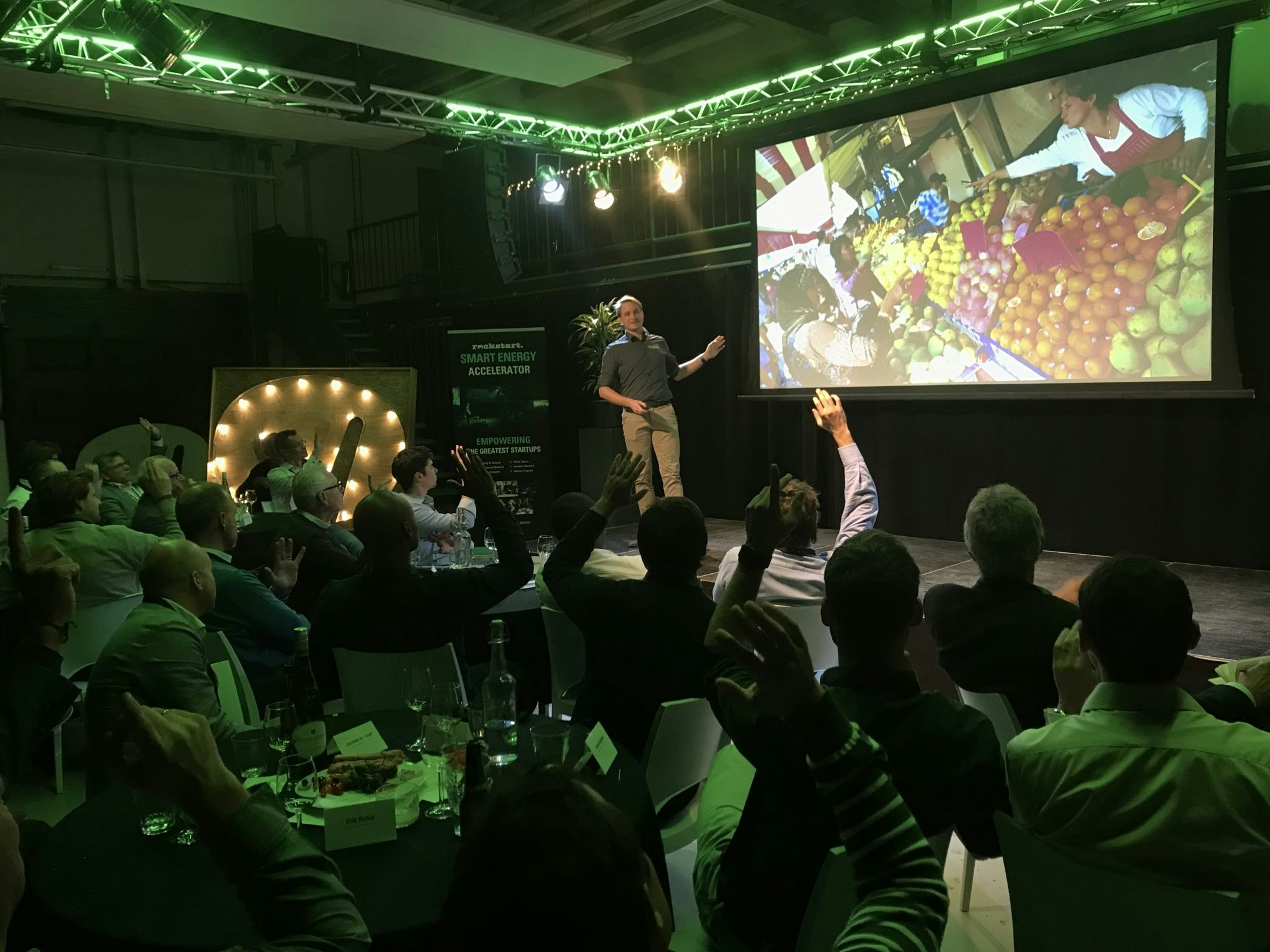 Tove Rådelius, investment manager at venture capital fund Norrsken, said short-term sustainability investments are as important as longer term goals: "While we need to work on the next generation solutions, in parallel we also need to make the most out of the existing solutions that are available in the near-term, such as technologies to assist with energy savings, resource efficiency and transition to a circular economy."
Swiss company Helio, another startup in Rockstart Energy's portfolio, is one example of a startup investing in the present. Helio found a lot of available computing power is set up for peak demands, which means 80 to 90% of the global computational capacity sits around twiddling its thumbs. Helio steps in to connect these different idle capacities in the cloud and deploy them where they're needed most, avoiding a waste of energy and allowing customers to execute large scale workloads — such as machine learning, 3D rendering and simulations — much faster, cheaper and more sustainably. 
6. Partnerships with dinosaurs
VC firms like ETF Partners are looking for disruptive energy startups that can make a faster impact than established utilities. 
"New entrants tend to be more innovative, agile and interested in deploying new tech quickly," he says. "There are also several attractive B2C opportunities emerging as consumers try to save energy and money and reduce their CO₂ impact."
New entrants tend to be more innovative, agile and interested in deploying new tech

quickly.
But, as Christoph Frei, partner at Energy Technology Ventures, says, legacy energy companies still play an important role: "There's an innovate or die mindset among the dinosaurs. Innovation, while it's often driven by those most exciting startups, will not replace existing infrastructure. It will rely on it. At the same time, we see an appetite for those legacy companies to be a part of the transformation but it's not easy because they're stuck in their ways. The willingness to change here is something that we believe is strategically critical to drive innovation together."

Rockstart is a global accelerator-VC empowering purpose-driven founders. Rockstart fills the funding gap between seed capital and growth financing, by combining VC investment with its long-proven accelerator model. Its Energy fund recently reached first close with a unique mix of institutional investors (APG, on behalf of its largest client, Dutch civil service pension fund ABP), family/private wealth, industry investors and government funding (RVO, Dutch Enterprise Agency) using the Dutch energy ecosystem as a European entry point for international seed-stage startups in decarbonised, distributed digital energy solutions.