The UK chancellor of the exchequer Rishi Sunak has hailed a new "age of entrepreneurship" in Britain, adding he wants to inject a similar spirit of fast-moving innovation into a "startup Treasury."
Speaking exclusively to Sifted, Sunak said the government would support entrepreneurs' efforts to expand their startups and create jobs by reviewing research and development credits as well as option schemes and visa rules.
The 40-year-old former hedge fund manager said the government was planning an "ambitious set of reforms" in these areas, and that he believed that the most important issue facing startups was improving access to talent.
"The thing that most founders, entrepreneurs, people in the community have raised with me is people and talent," he said, adding the solution was "a mix of training and development at home and having a migration system that supports that as well."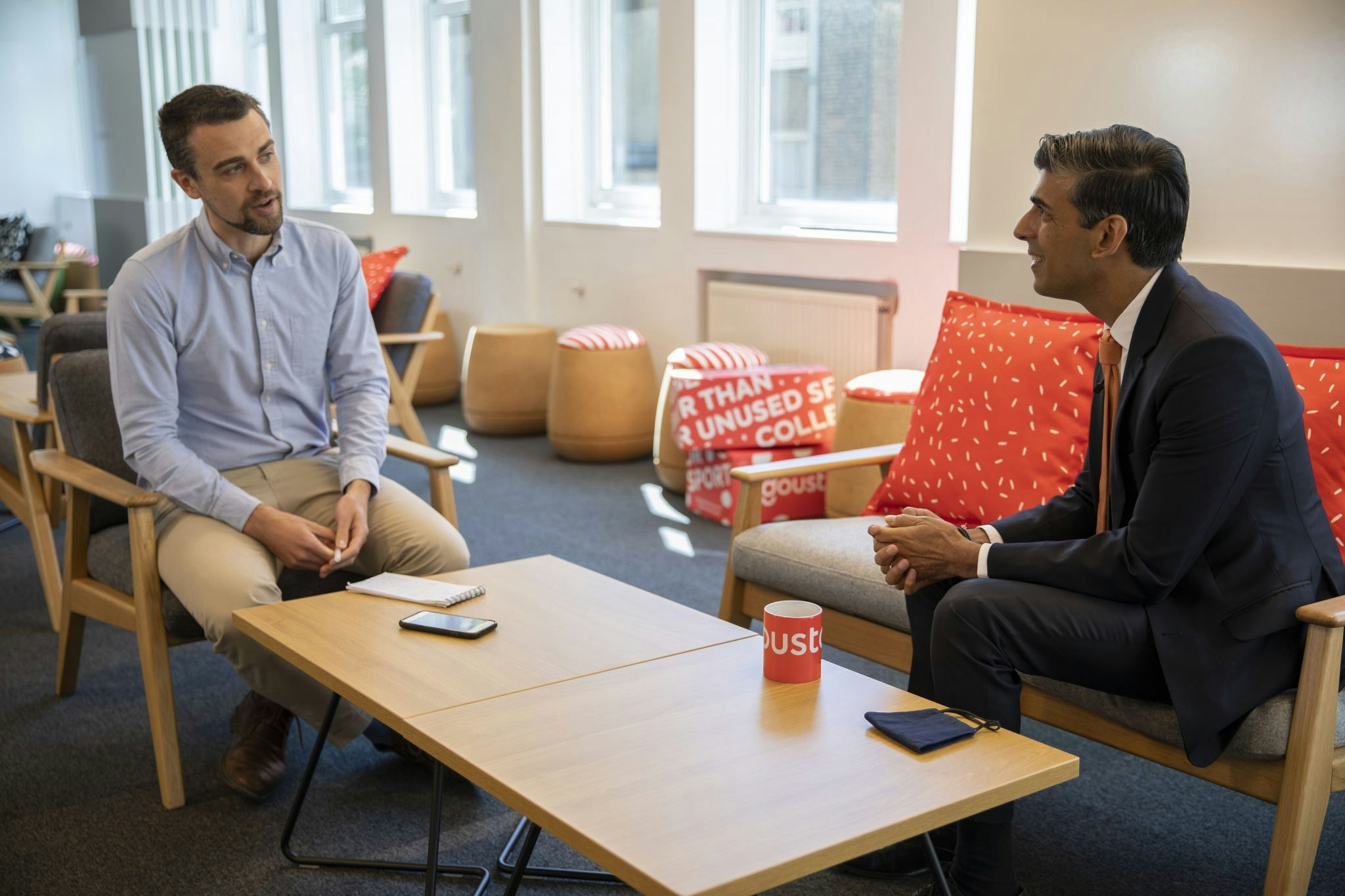 Sunak said that Britain's public sector could also act more like an innovative startup than a large bureaucracy. "We want to move quickly, be highly consumer-orientated and do things that scale with impact," he said, taking on the lingo of the startup world. "We want to do things that are technology-centric as that's how people are living their lives. So hopefully we can have that 'startup Treasury' mindset."
He added that after his MBA at Stanford back in 2006, many of his friends went on to join startups such as Facebook. He said that while he had taken a different path into government he was adopting some similar thinking. "What I try to do is bring that mindset into the job I have at the Treasury. We try to bring that [startup] approach into our policymaking."
The Conservative government, which is riding high in the opinion polls, is hoping that young tech companies will play a leading role in the UK's economic recovery this year as the country bounces back from a double-dip recession sparked by the Covid-19 pandemic. 
While tech startups — a term which typically refers to young digital companies that are loss making but very fast growing — are a small part of the overall economy, they make up a disproportionate amount of new jobs created every year.
Sifted Newsletters
Sifted Newsletter
3x a week
We tell you what's happening across startup Europe — and why it matters.
The UK sees more startup investment than anywhere else in Europe at $15bn last year alone, and tech startups have generally thrived over the past 18 months as the pandemic has accelerated digital adoption in areas such as healthcare, online shopping and remote working. 
One example is a two-year-old London-based online events platform called Hopin, which only launched its first product in March last year and today has a valuation of $5.7bn and more than 400 employees (compared to 23 before the pandemic).
That rate of growth was pretty much unheard of in the UK until recently. "We are definitely living through the age of entrepreneurship," said Sunak.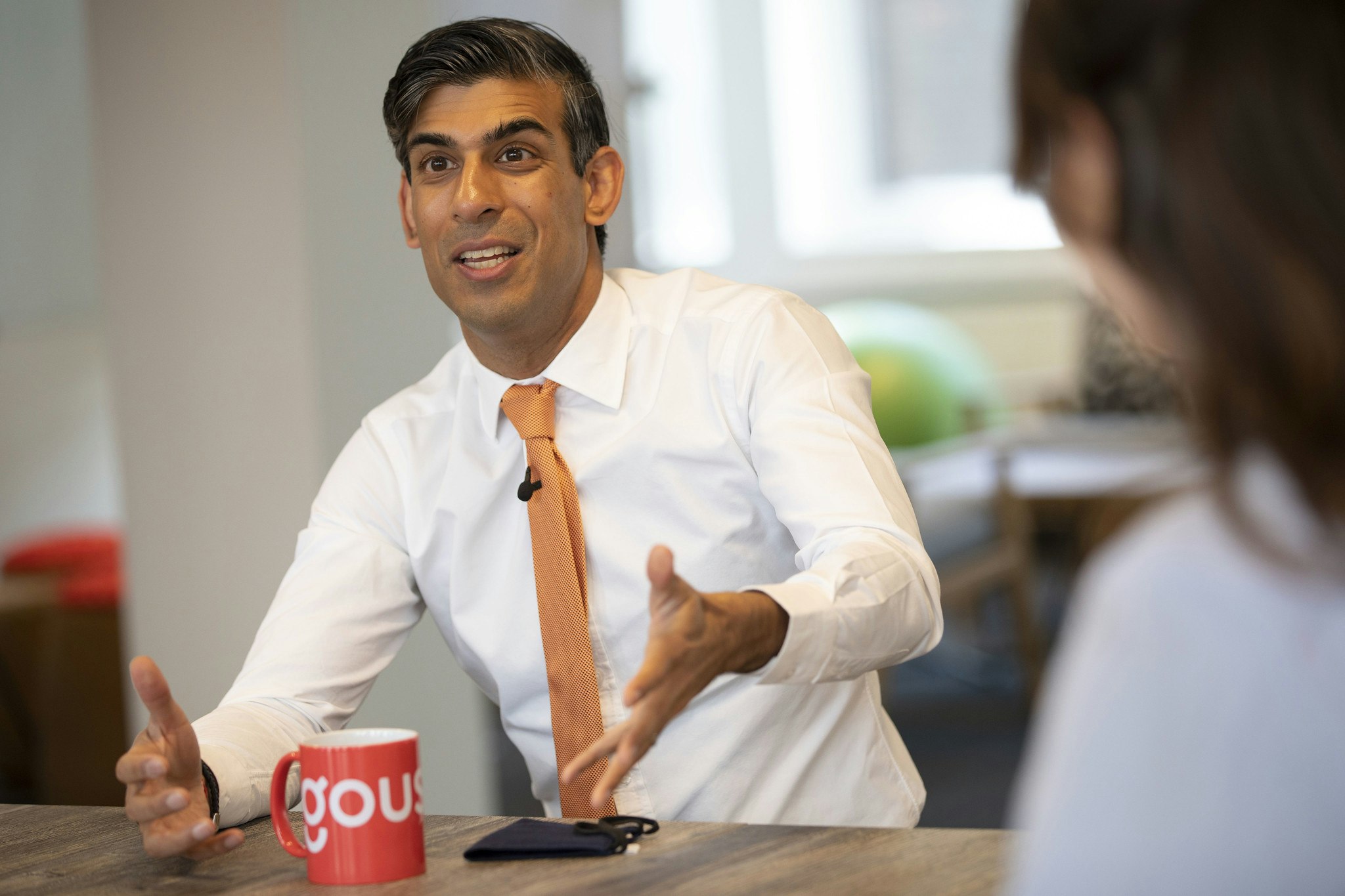 Sunak was speaking to Sifted at the end of a tour of the offices of Gousto, a London-based meal delivery kit company which has also seen rapid growth in the pandemic, delivering 25m meals in the first quarter of this year compared to around 15m a quarter at the end of last year.
Gousto is planning to hire hundreds of new people as it plans to open two new facilities in Cheshire and Essex by late next year. The company, run by Timo Boldt, was valued at more than $1bn at its funding round late last year. 
Sunak has helped spearhead the economic response to the pandemic, launching one of the biggest governments spending boosts in Britain's peacetime history and launching the Future Fund, which was designed to provide financial support to startups via convertible loans.
More from the UK Chancellor
On Visa reforms:  
Sunak reiterated that new visa reforms announced at the 2021 Budget in March this year will be introduced to make it easier for companies to attract international talent in science, research and tech. He said that more details would be coming soon as they are rolled out.
"That's our plan for the year. And it's quite an ambitious set of reforms. So designing them, delivering them and implementing them is important… I think they'll make a huge difference."
On late-stage funding: 
Sunak said that the government's rollout of the Future Fund Breakthrough co-investment scheme later this year and pension reforms to try and get more funding for later-stage "scaleup" tech companies were pressing ahead.
"I don't think that [late stage capital] is actually the biggest issue [for UK tech], but we can always do better at everything. So unlocking capital from corporate pension funds, for example, into a liquid venture ecosystem is something that we're working on as well."
On employee options schemes:
Sunak said he wanted to review the EMI options scheme, a program allowing cash-poor companies to better attract talent by awarding their employees equity in the business in a tax efficient way.
"It's a key feature of the tax system that supports startups. And we want to have a look at it and make sure that it's still working in the way we wanted to, to incentivise and reward people to work in businesses like this. So that's on the agenda for this year."
On research and development (R&D):
The UK has long had a scheme in place to give tax credits to companies doing R&D, but Sunak said it was under review to make sure it was still fit for purpose.
"We have, I think, pretty generous tax incentives to do R&D. But we want to make sure that the definitions of it and how it works in practice are actually supporting the type of activity that we care about. And that's again on our agenda for this year."
On promoting "tech for good":
Asked if the government could be doing more to promote startups that have a positive social impact on the world, he said: "We already do actually have a tax relief for that it's called the Social Investment Tax Relief. And it's not very well used at all. And we recently reviewed it and decided to extend it. But I think we could do with more people using it to figure out if it actually is making a difference or not… I would urge people to have a look at that, if they're interested in this."
On fintech
Sunak said that he was looking to implement many of the recommendations of the Kalifa Review of UK Fintech and the Lord Hill Review that talked about visas, as well as listing rules and creating a regulatory sandbox to help to scale fintechs in addition to ones just starting out.
He said: "we are a global leader in fintech: all this should put us at the front of the pack for fintech innovation."
On cryptocurrency
Asked if he could ever see the Bank of England holding reserves in bitcoin, he said he did not want to comment on that specifically but said that it was important the central banks "explore the use cases for opportunities and risk around central bank digital currencies."
He was referring to a previous government request for the central bank to look into launching a digital currency to coexist with sterling, which has already been dubbed the 'Britcoin'.