Frank Thelen, the investor and TV celebrity famous for his appearances on Die Höhle der Löwen, Germany's version of Shark Tank, is on a mission to create a strong European technology sector.
Part of that, he says, is getting the message out that rich European need to stop investing in the kind of boring conventional assets that families have been investing in for hundreds of years and think about tech instead.
"Europe's rich people need to invest in technology," he says in an interview with Sifted. "I am fighting insanely hard to get them to invest in startups, rather than buying another hotel."
"I am trying to speak bluntly to them. Rich people should spend 5-10% of their wealth on tech — if we don't spend on our future we are not spending our wealth wisely."
But it is an uphill battle.
Europe's rich aren't noted for their tech investments. Compare US and European billionaires. The ten richest Americans include Jeff Bezos, Elon Musk, Bill Gates and Mark Zuckerberg. In fact, 8 out of the top 10 are involved in technology and the companies they run — especially Google and SpaceX — are noted for their outsize investment in new technology.
Europe's rich list is very different — most of the top ten have made their money in luxury goods — like Bernard Arnault of LVMH or François Pinault of Kering, or retail, like Mancio Ortega of Zara or the heirs of Aldi founder Karl Albrecht.
These are not names that feature in lists of tech investors on platforms like Dealroom.
BMW invests extensively in startups through its BMW iVentures fund, and BMW heiress Susanna Klatten has stakes in wind power group Nordex and carbon fibre company SGL Group. L'Oreal runs an innovation lab programme together with Founders Factory and Station F, and bought augmented reality company Modiface in 2018. But most of its investments are more beauty than tech. And these examples are more the exception than the rule.
Time is running out, says Thelen. There is a much-repeated theory that Europe, having lost out to the US and China in building the world's biggest consumer internet companies, could play a big role in the next wave of deeptech companies, based on its expertise in areas such as artificial intelligence and quantum computing.
"The continent missed the consumer internet wave — there are no strong European Saas companies. But now the scene is more mixed," says Thelen. Innovative founders have emerged in Europe, such as Daniel Wiegand, cofounder and CEO of flying taxi startup Lilium and Mate Rimac, who is building the world's fastest electric cars.
We are on a timetable that is not very nice. It is really

urgent.
But at the same time, Thelen believes Europe only has a short time to secure its position as a leader in this next tech wave.
"If we don't wake up now we have a serious problem. I want to create a strong European tech sector but we are on a timetable that is not very nice. It is really urgent."
Thelen's own venture fund, Freigeist, invests only in very disruptive technologies like Lilium Jet, Kraftblock and Hardt Hyperloop — the kind of technologies that he believes could turn into $50bn companies.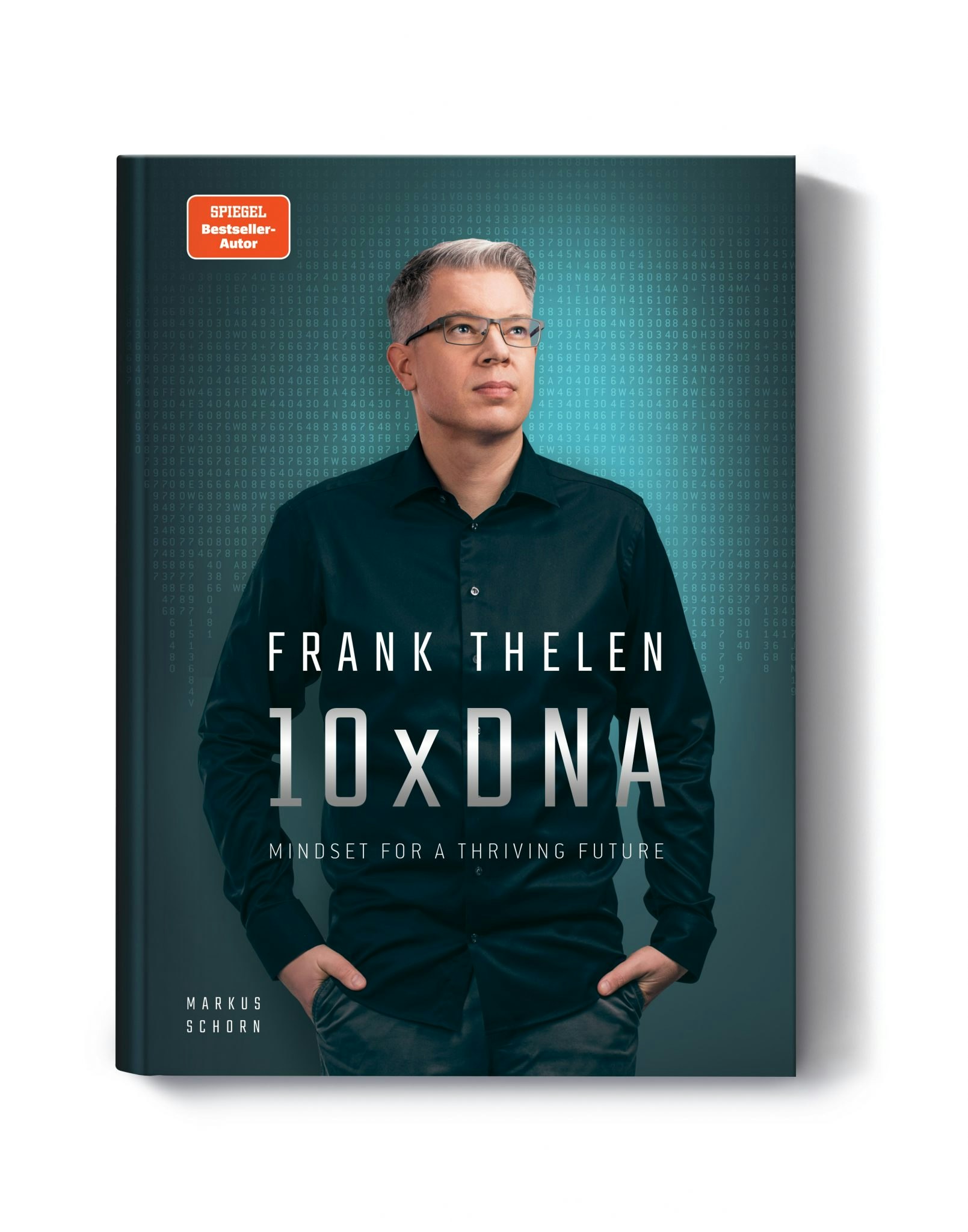 "As a German who loves his country, and cheers for the European Union, I strongly feel the world needs at least three great powerful voices to come up with fair and equitable solutions to the tremendous challenges humankind is facing today," Thelen writes in the preface of his new book, 10X DNA: Mindset for a Thriving Future.
Thelen is looking at several trends which he believes will be big over the next decade, including the combination of robotics and fast 5G internet connections. He is also interested in European space technology, as satellites increasingly allow us to take monitoring and connectivity to the next level.
To turn Europe into a tech superpower, however, this is what needs to happen:
We need a better general understanding of tech.
Thelen's contribution to improving tech literacy is the new book, 10 x DNA, which is partly an explanation of how to achieve the right mindset for taking great technological leaps forward — this is the "10x" mindset that the title refers to — and partly a primer on emerging technologies — from synthetic biology to quantum computing.
"I want to explain to a broad audience what is happening in tech. For me the most shocking thing is that in Germany we have a car industry that didn't understand what Tesla was doing until it was too late," Thelen tells Sifted. "We need to explain this to politicians, to big organisations and even startup people."
We need money. Either from rich investors, companies or governments.
Thelen is not just trying to persuade rich people to invest more. He is asking for more money from governments, too, and from big corporations.
Projects such as Hardt Hyperloop, one of Europe's most advanced hyperloop projects, would need €25-€30bn to build its first real track, and the company is struggling to get it. It is the kind of sum that only governments can provide — but tech funding on this scale is rare in Europe.
The European Commission recently made its first direct equity investments in startups, spending a total of $178m — so attitudes on baking tech do seem to be shifting. But there is also a need for backing the larger, ambitious scale-up projects.
"The US would never have landed on the moon without government funding," Thelen reminds us.
We need heroes.
"Heroes are important — that is why everyone plays soccer. In the 1980s Steffi Graf and Boris Becker were heroes and filled up all the tennis schools," says Thelen. "One thing I learned in my TV career is that we need to do better at storytelling. Potential founders need to have someone to look up to."
Europe's tech scene is still lacking in the kind of high-profile Elon Musk figures that would inspire a new generation to take up entrepreneurship.
Being the visible face of European tech is potentially an uncomfortable position, though. The showmanship isn't necessarily something founders want to embrace. When I ask Thelen who he would suggest for a list of European founder-heroes, he pauses for a long moment. It is not that there aren't many brilliant founders — but the outsized personalities needed to be in the news the whole time is a different matter.
Thelen himself knows it comes at a high cost. His TV career has brought him haters as well as fans and when he makes calls for more government funding, he is always conscious that this can be misinterpreted as him trying to line his own pockets.
Still, Thelen is using what influence he has. He isn't on Die Höhle der Löwen any more, but makes regular appearances on TV talk shows and his LinkedIn account, which has more than 330,000 followers is a major European tech news outlet in its own right.