London-based fintech Revolut is on the hunt to find its first-ever chief commercial officer to build an ambitious new sales stream.
A job advert on LinkedIn reveals Revolut is looking for a new CCO to sell "platform services" to medium and large retail merchants; a marked shift from its existing model.
According to insiders, hiring a CCO to target merchants forms part of Revolut's plan to grow a full-stack financial platform, where retailers such as Amazon can offer goods and services to Revolut's 12m customers within the app.
Revolut will then earn a cut or commission with every sale or transaction, while allowing Revolut's users — including business customers — to buy the goods at a discount.
A version of this strategy is already live (as seen below) but is still in its early phases, likely necessitating a dedicated commercial team to take it to the next level.

The decision to hire a dedicated CCO comes amid a difficult year for digital banking apps like Revolut, which have been badly hit by Coronavirus and have struggled to manage a high cost-base since they first launched.
Indeed, Revolut recorded post-tax losses of £107.4m in 2019, despite strong growth in customer numbers and revenues.
Revolut and its peers are now under increased pressure to reach profitability, prompting the hiring of a CCO.
Revolut's new CCO will be expected to bring in over $100m in annual sales, according to the job advert.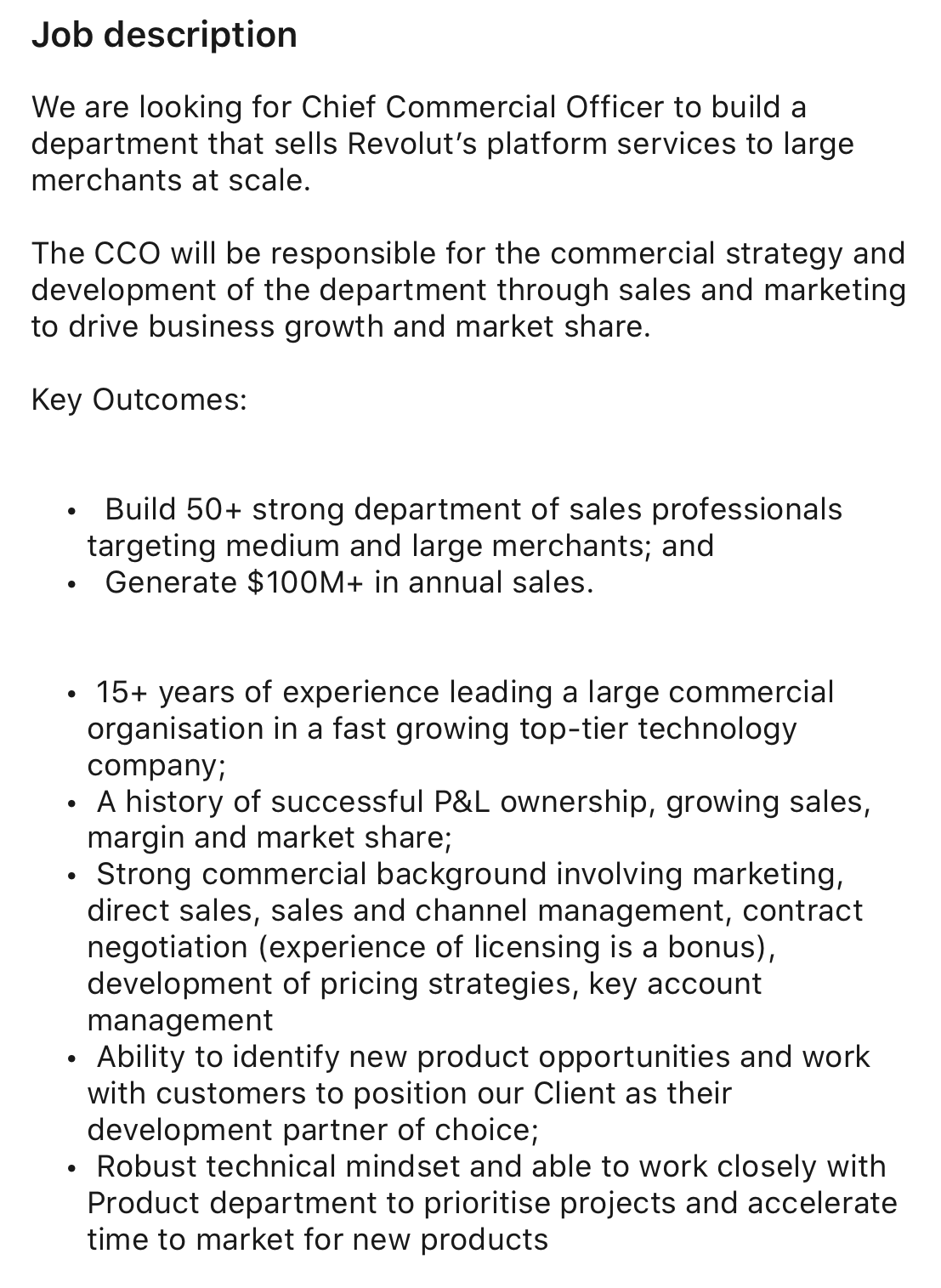 More broadly, Revolut closed a mammoth fundraise earlier this year, meaning the fintech has ample resources to execute its plans — including appointing a wave of executives.
The company has previously outlined ambitions to build a one-stock 'super app', which it hopes will allow users to track their entire financial lives in one place.
Elsewhere, Revolut has also reportedly begun building out a platform that can offer card processing services to large enterprises. However, it's unclear if the CCO will oversee this operation too. Revolut declined to comment.