In the first quarter of 2019, European startups raised a record amount of venture capital investment. That's the key takeaway from this Sifted Chart of the Week.
According to data provider Dealroom, venture capital investments into European startups reached €7bn (€8bn if Israel is included) so far in the first three months of the year; an all-time high. Those capital investments were spread over 690 venture deals (766 when including Israel).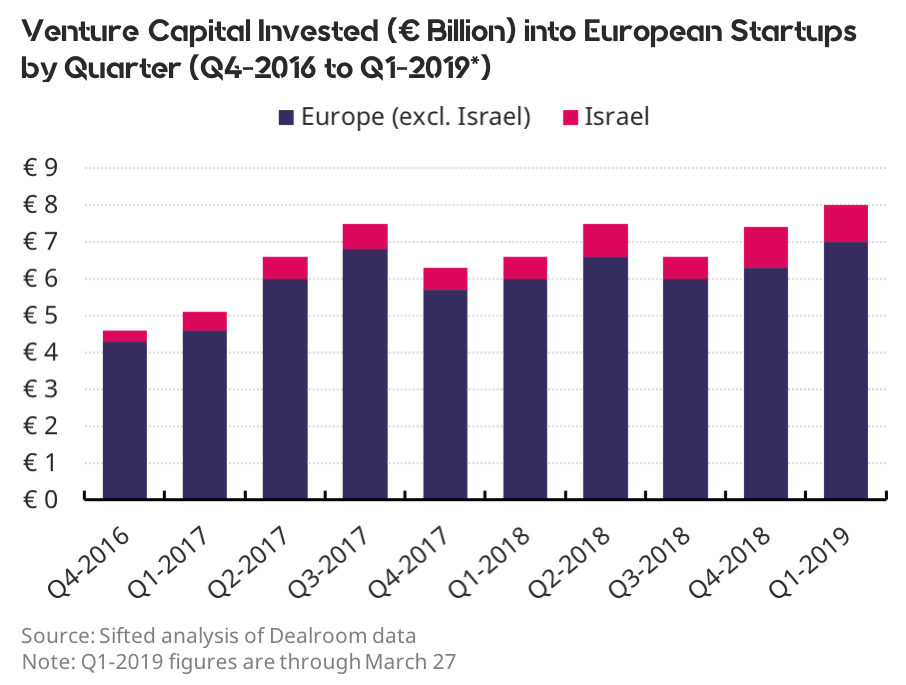 The news comes as European startups raised an all-time record for annual venture investments in 2018 of €24.9bn, according to Dealroom data. That's up from €23.1bn in 2017, for a gain of 8%.
Some of the biggest deals include $500M into Veeam, the Swiss enterprise security software company, $440M into London-based Fintech company OakNorth Bank, and $300M into N26, another Fintech startup based in Berlin. Other major funding rounds include OVO Energy (Bristol) and Relex Solutions (Helsinki), which each raised in excess of $200M.
In other good news for the European startup ecosystem, last week we reported that Silicon Valley venture capital firms are investing more in European startups than ever before. Read that full story here.