French search engine Qwant launched a decade ago with a tantalising pitch: an alternative to Google that protected its users' privacy and promoted European tech sovereignty.
Government officials lapped it up, showering the company with political support and more than €50m in public funds. But as losses mounted, critics raised questions over its cosy ties to the government and technical dependence on US and Chinese tech giants.
As auditors warned that Qwant was running out of money to cover its debts and expenses — the company only had €10.5m in the bank as of July 2022 — it embarked on a desperate attempt to raise more capital. That led to a new plot twist: one of France's most notable entrepreneurs, OVHcloud founder Octave Klaba, announced that he wanted to acquire it.
Klaba revealed an ambitious plan in April: use Qwant as the cornerstone to build a European cloud services giant that would provide alternatives to the myriad online products Google and other US tech giants offer — from Dropbox's cloud storage on a virtual drive to Google Docs to web-based email to cloud-based gaming. Today, Klaba confirmed that he intends to close the deal after two months of testing new search engine prototypes with Qwant's developers.
"SaaS tech companies are each working in their own corner," Klaba wrote on LinkedIn. "Tomorrow we want to co-build this platform with the ecosystem to make all this European tech visible to find users and customers. The road is long, complex and expensive, but there is a real expectation to have this platform in the EU SaaS Cloud that respects our values and our European laws."
While Klaba's move may seem to be the longest of long shots, his political timing could be spot on. European governments are increasingly concerned about the stranglehold of US tech companies on era-defining technologies — from generative AI to autonomous vehicles — and Klaba's ambitious plan promises consumers and policymakers greater control over the continent's digital destiny.
But to do that, Klaba's web services concoction will have to do what Qwant could not: convince people to actually use it.
Klaba's big sovereignty vision
The pitch is simple: Klaba wants to build a single company, dubbed Synfonium, that could match all the online services that Google offers. Klaba hasn't provided a definitive product list, but he's hinted at services such as email, document sharing, video hosting and streaming. Looking at Google's vast list of consumer cloud services suggests others: Maps? Music? Calendar?
"You will find the search engine, free services, collaborative suite, social login, but also the services of our tech partners," Klaba wrote today. "One of Synfonium's roles is to create the critical mass of B2C & B2B users and customers who will be able to use all these free and paid services."
Sifted has reached out to Qwant and Klaba for comment.
Synfonium wouldn't be his first rodeo. After he moved to France, Poland-born Klaba founded OVHcloud, with his father Henryk, his mother Halina and his brother Miroslaw. OVH is now Europe's largest hosting provider, and he is now estimated to be worth more than €1bn. In recent years, he's become an active startup investor through his Jezby Ventures vehicle.
Klaba's cloud services ambitions can be traced back to 2021, when Jezby made a successful bid in French bankruptcy court to acquire Shadow, a French startup that had developed a cloud gaming and remote PC platform. Under Klaba and new Shadow CEO Éric Sele, it relaunched its virtual PC and gaming services and added an online storage service called Shadow Drive to compete with Dropbox and Google Drive.
The pair had already been talking about extending those services to match Google's cloud offerings.
In April, Klaba announced in a press release that he wanted to acquire Qwant.
The deal won't be closed until sometime this summer, and so many details — such as financing — remain fuzzy. But according to Klaba, he and his brother would own 75% of Synfonium, while the French public bank Caisse des Dépôts et Consignations (Qwant's largest historic investor) would own 25%.
Sifted has reached out to Caisse des Dépôts for comment.
Synfonium would continue developing services while also acquiring cloud-based startups that offer complementary online services across Europe. Klaba wants to create a single service that would offer all these products as features, and having a search engine at the heart of this portal would attract more users.
"You have small companies across Europe that have developed something great, but they don't have the capacity to be profitable because they don't have enough customers," Klaba in an interview on French television station BFM in April.
When it comes to fixing Qwant, however, Klaba's solution appears to be radical: smash it and start over.
"We're looking at how we can create a real search engine in the space of six months, 12 months, 18 months," Klaba said on BFM.
Klaba has been collaborating in public with Qwant's team to develop a new version of the search engine. He began discussing earlier this month the development of what he labelled a "proof of concept" (PoC) through a series of posts on LinkedIn.
The concept appears to revolve around searches related to particular themes. In this case, the test version invited users to search for topics related to recipes, public administration and banks and insurance using an infrastructure set up independently of other search engines. Klaba suggests that subsequent test versions may incorporate generative AI.
Saying he was satisfied with the results of the tests, Klaba said he would move to close the deal and then come back after the summer with a more detailed roadmap for Synfonium's future.
"In September, we will come back to the strategic details of what we will build for you but also how we want to integrate the entire EU tech ecosystem into the adventure," he wrote.

Qwant's trail of tears 
If Klaba does pursue the deal, sceptics will remain legion. Those doubts are founded on almost a decade of hype around Qwant that failed to translate into actual adoption.
Based originally in Nice, Qwant's three cofounders — Jean-Manuel Rozan, Patrick Constant and Éric Léandri — offered a seductive pitch at the start. With fears mounting over Google's dominance of search, Qwant would build an alternative: a search engine that protected privacy by not tracking users or sharing any personal information.
Qwant proved to be a magnet for money.
The company raised more than €48m, primarily from the Caisse des Dépôts and German publisher Axel Springer, which was worried about the impact of Google News. The European Investment Bank loaned €25m to Qwant, a debt it has been unable to repay. A representative of the EIB declined to comment and Axel Springer officials did not respond to a request for comment.
Qwant has received another €4m in grants and loans from various public agencies for projects like developing a fake news detection platform and a European AI hub, according to its annual reports.
Despite the public largess, Qwant's market share in France remained stuck at about 5%. In addition, government audits noted that its search engine was heavily dependent on Microsoft's Bing for search results — a bad look for a company promoting European independence. According to Qwant's most recent annual report for 2021, 93% of its revenue came via an advertising partnership with Microsoft.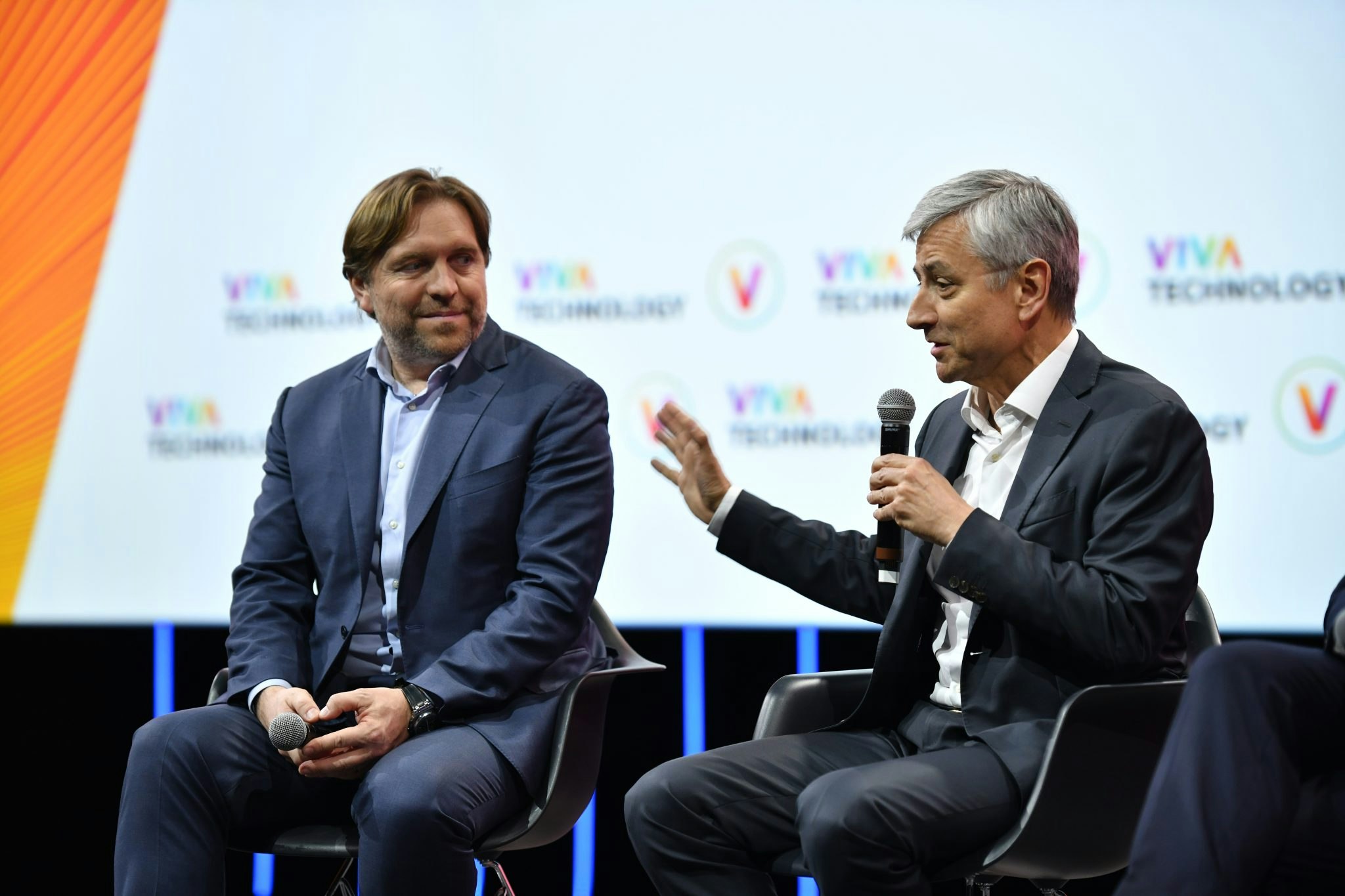 Financially, the company has struggled. Qwant lost €13.9m on €4.5m in revenue in 2018; €23.5m in 2019 on revenues of €5.86m; €12.8m in 2020; and €9.16m in 2021, according to its annual reports.
The situation came to a head in January 2020 when the board removed Léandri as CEO and restructured the company. Badly in need of cash, Qwant accepted a convertible €8m loan from Chinese telecom giant Huawei in the summer of 2021, which had made Qwant's search engine the default on its smartphones sold in France the previous year.
Not so simple
Along the way, Qwant continued to receive vocal public support from President Emmanuel Macron, economy minister Bruno Le Maire, and former digital minister Cedric O. That support included a controversial move to make Qwant the default search engine on public employees' computers despite reports questioning the quality of its search results.
That perception of public favouritism has left rival entrepreneurs embittered. Marc Longo, a French entrepreneur who blames the government's favouritism toward Qwant for the demise of his rival privacy-themed search engine Premsgo, has been pursuing legal and financial actions against the company to block further use of public funds.
He has also attempted to contact Klaba to convince him to abandon the deal.
"It's not a search engine, it's a scam," Longo says.
The sceptics also include Léandri, who has largely kept silent about his departure until now. He says Qwant under Klaba would just be reinventing the wheel. Before he reached the end of his tenure, Léandri said he was pursuing a similar cloud services strategy by launching a music search service and building a cloud mail service.
He claims the board rejected this strategy when it removed him.
"What they want to do right now is exactly what we were doing three years ago," Léandri said. "So we just lost three years for Qwant."
The other complication may be the financial piece of the puzzle.
Qwant is now reportedly valued at €50m, with almost all of that representing the debts it owes, according to its annual reports. The three cofounders still own 60% of the company, while Axel Springer still controls 20%. Then there's the question of debt repayments to EIB, Bpifrance and Huawei.
Léandri said he's open to discussing terms of a sale, but won't simply give away his shares.
"I want Qwant to succeed," he said. "I will not be robbed of what I have done for 10 years."
It's also unclear how much Shadow is worth now. And the question remains as to whether Caisse Des Dépôts would inject more money into Synfonium or whether that cash would come from Klaba.
When announcing the deal, Klaba stated that closing it would rest in part on whether he could demonstrate the potential to reboot Qwant. In mid-June he signaled in a LinkedIn Post that he was optimistic that the deal was moving ahead.
"There remain some big points to finalise before the signing," he wrote. "I hope that we are going to succeed in coming together rapidly."