Proximie, a British healthtech startup, has raised an $80m Series C round for its augmented reality tech which allows surgeons to advise on operations remotely around the world.
The round follows a $38m Series B in April 2021 and brings the startup's total funding to $129m.
What does Proximie do?
Proximie, which was founded in 2016, states its mission as saving lives by creating a "borderless operating room".
It uses augmented reality to allow a surgeon to remotely watch an operation and use their hands to demonstrate things to the surgeon conducting the operation, who sees the remote surgeon on a screen. 
The aim is to democratise access to the most up-to-date and skilled knowledge on surgery practice, by helping surgeons advise each other from different parts of the world. 
"Proximie is helping to bridge the surgical training gap in hospitals across the world,'' says Dr Nadine Hachach-Haram, NHS surgeon and Proximie's founder. 5bn people currently lack access to safe surgery, she says, and over 18m people die every year from lack of access to surgery.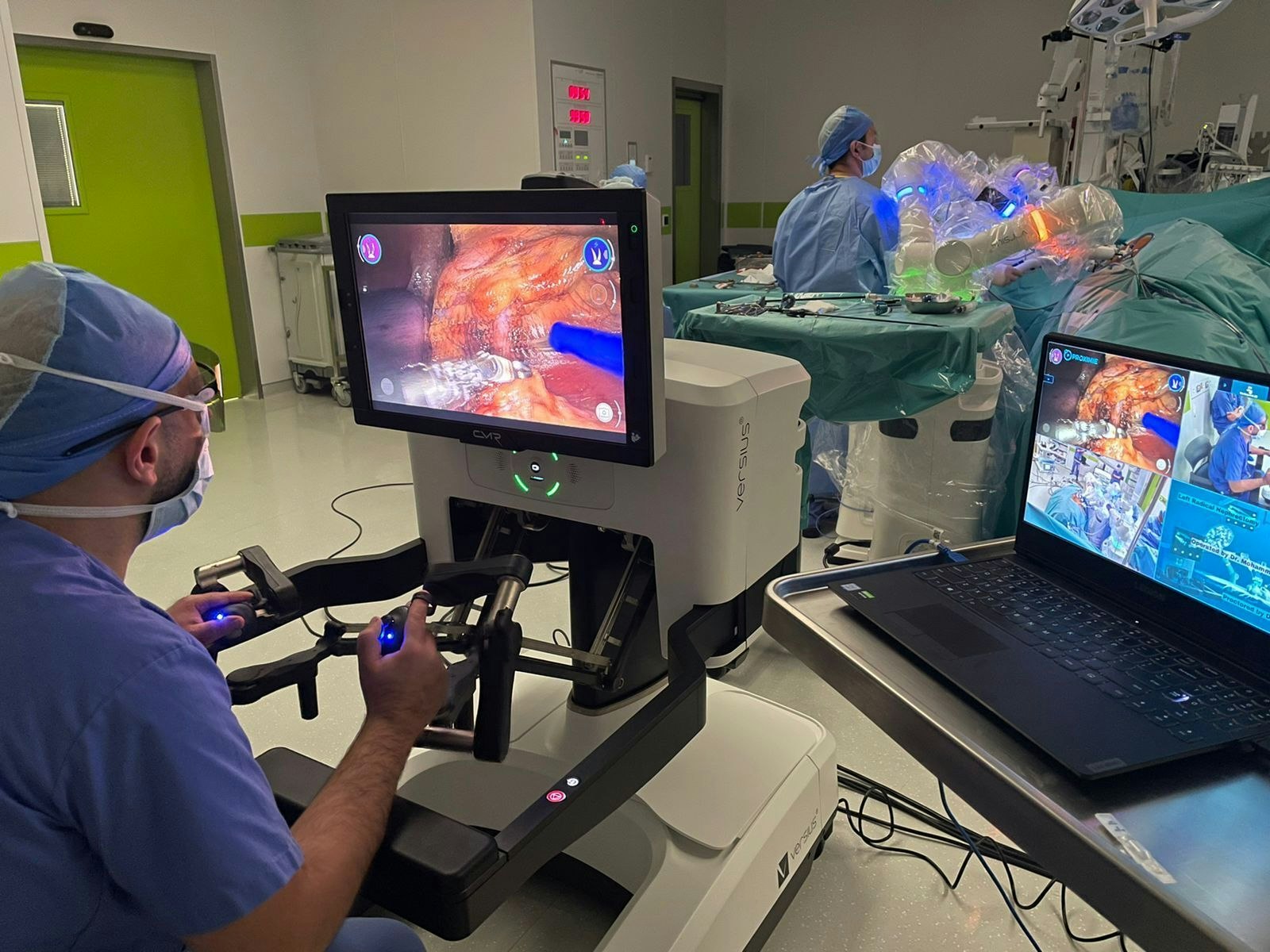 Alongside helping surgeons collaborate, Proximie also records surgery to create a "digital footprint" of operations, a database of knowledge on surgery shared across the world.
Recent updates to the tech include integrations with wearables and a mobile app version.
Who's investing?
The round was led by Advent Life Sciences, a British-American VC focused on life sciences.
New investors SoftBank, British Patient Capital, Mubadala, the Minderoo Foundation and Emerson Collective, an American investment firm led by Steve Jobs' wife Laurene Powell Jobs, also participated in the round.
It's a rare sight to see SoftBank back a European startup in 2022. In 2021, the fund participated in 16 rounds into European companies, according to Dealroom. The Proximie round is only the third round in 2022, suggesting this year's total will come in significantly smaller than last year after some dizzying losses on recent bets.
Existing Proximie investors F-Prime Capital, Eight Roads, Questa Capital, Global Ventures and Maverick Ventures also participated in the latest round. 
What's the market like?
Proximie is tapping into a large market, with hospitals constantly working to improve their performance in surgeries. It's now been deployed in 500 hospitals across 100 countries.
There are other startups working on remote tools for surgeons. There's Proprio, an American company which helps surgeons collaborate using AR — it's raised $30m. There's also SentiAR, which has raised $8.4m, and which beams holographic organs above a patient in surgery to guide the operating team.
There are also tools to train surgeons using virtual reality — including British companies FundamentalVR and Osso VR.
What's next for Proximie?
Proximie has already secured several high-value contracts — including one with Vodafone (which runs a health solutions arm) and Teladoc, an American telemedicine company valued at $23bn. It's also signed deals with several medical device providers.
The new fundraising will be used to expand Proximie's platform.
"Proceeds will be used to accelerate the development of key products and services, build out our marketplace ecosystem and scale our Operating System of the OR — a centralised platform delivering connected surgical care," explains Hachach-Haram.
"Our mission is simple: it's to be in every operating room in the world. We continue to deploy Proximie across the global north and south."
Sifted's take
Telemedicine boomed during the pandemic, and Proximie's rise echoed that: the number of surgeries it was used in increased by 430% across 2020.
But, while the use of some telemedicine tools has plateaued since coronavirus lockdowns ended, Proximie's use has continued to grow, and looks set to do well in the post-pandemic world. 
"The impact of the Covid pandemic in England alone means 6m people are on the surgical waiting list," says Hachach-Haram, "with 1m surgical training hours lost during the pandemic. By 2043, medical workforce shortages will be over 80k."
Proximie is now by far the best-funded player in the sector, and has significant reach: the company says it's got access to 90% of operating rooms and diagnostic suites across the UK, US and EU.