The UK-based startup Proximie, which has developed an augmented reality tool to save lives by allowing senior surgeons to virtually climb into any operation theatre across the globe, has seen a 430% increase in surgeries this year.
Since being founded by the NHS surgeon Dr Nadine Hachach-Haram in 2016, the startup has managed to attract 2,500 users across 300 hospitals and has had its tool used in over 7,000 surgeries.
With the year of Covid coming to an end, the company is now looking to raise more capital to take its tool to more markets. "Undoubtedly Covid has accelerated behaviour change and accelerated the willingness to see this as a solution for the future," says Hachach-Haram.
This is potentially a big market. There are about 330m operations happening every year and a large majority of the global population, 5bn people, lack access to safe surgery. The idea is that giving local surgeons the support from experts in another location could change the outcomes of many operations.
As a video gamer at a young age and later a surgeon, Hachach-Haram thought she could see a solution.
"I started to recognise that a lot of the challenges ultimately happen because we rely solely on co-presence. We also rely on communication and collaboration. How can we do this in a way that's more scalable?" she asked herself.
But all of this has been accelerated by the coronavirus pandemic which has pushed hospitals to embrace telemedicine at a much faster pace.
Augmented reality in action
By creating a tool based on augmented reality, but on very low bandwidth to handle bad internet connection, the idea is that surgeons in operating theatres from all over the world can follow a more senior surgeon's directives on the screen in front of them.
The clinician advising the surgeon could, with only a google chrome account and a computer, be able to live-feed what should be done by using their hands.
"We've layered the communication platform with augmented reality tools, because as you know surgery is very practical – it's very hands-on. It's very difficult to demonstrate to someone what you're describing just by words, but by being able to reach with your hands into the screen, and the doctors on the operating room are able to see your hands and follow your hand movements, is really critical," Hachach-Haram says.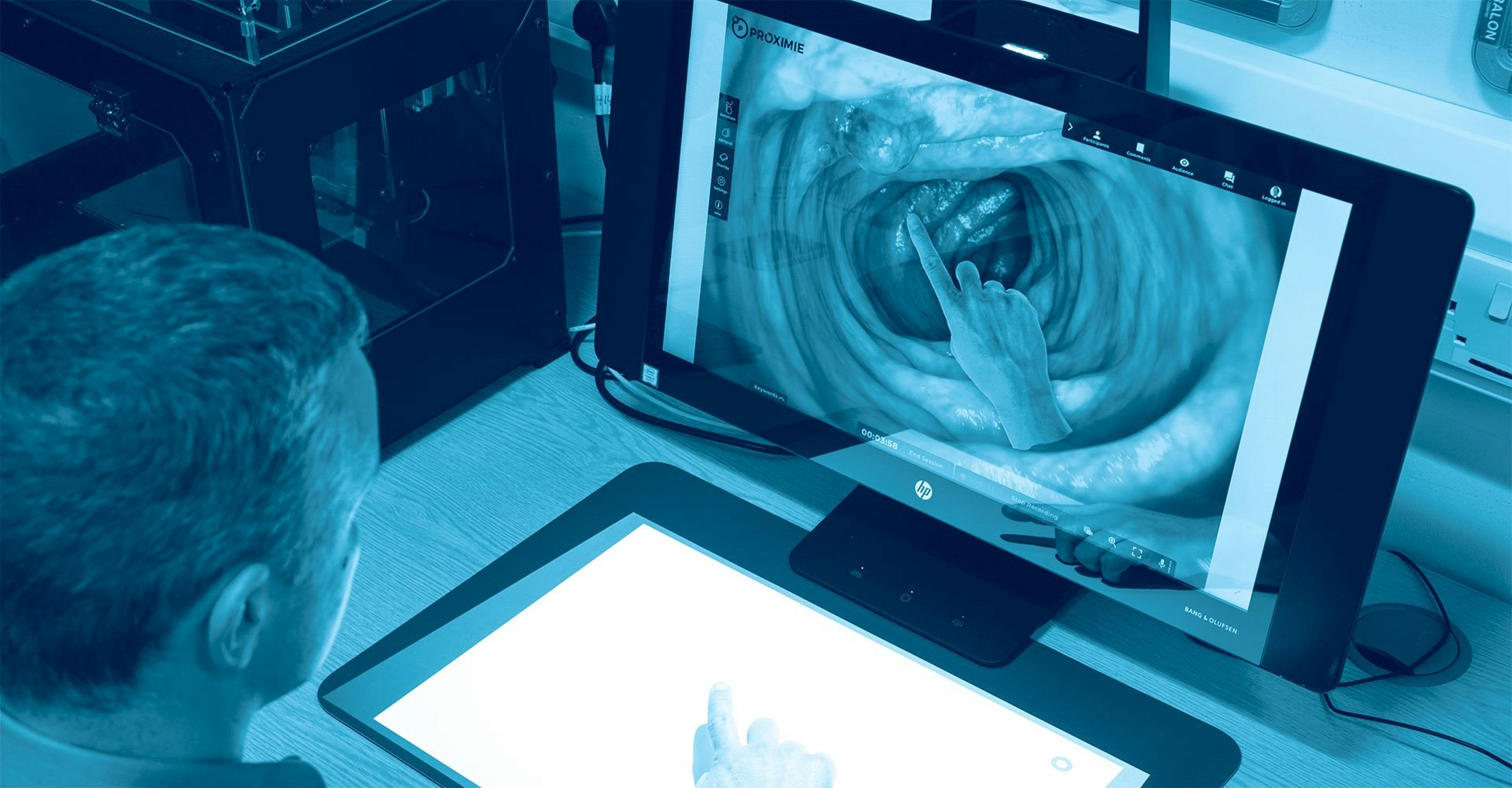 The 5G network has long been seen as the solution for being able to remotely do surgery with the use of robots, however, in many places where the expertise is most needed, internet connection is bad.
"What we wanted to do is make this largely scalable and accessible so you don't need any fancy equipment. This meant that we moved away from needing very cost-prohibitive equipment to actually using what people use day-to-day at their desks," Hachach-Haram says.
Laughed out of the room
Having been used in war zones previously, Proximie was launched for business in 2019 but it is during the pandemic that business has really spiked.
With lockdown and global travel restrictions, many surgeries have been postponed or cancelled, due to the lack of experienced surgeons in place. Others have lacked the expert helping out.
"Undoubtedly Covid has accelerated behaviour change and accelerated the willingness to see this as a solution for the future. In my opinion, I think we were always heading in the right direction."
"But I'll be honest with you, a few years ago many times when I talked about the virtual operating room I would get laughed out of the room and being told it was impossible and why should anyone do things this way."
Apart from helping surgeons get live-feed support, Proximie also records operations to create a huge database of surgeries. By adding artificial intelligence to the data, the company hopes to be able to translate it into cases of best practice used across the globe.
"With this rich data set, we can start to leverage that knowledge from operating rooms to see how we can deliver better care to patients. That's really the ultimate test and we have started to do this already in areas of colonoscopy. This was really part of our vision," she says.
Looking for deep pockets for Series B
So far this year the startup has been able to double the number of hospitals that use Proximie and attracted a lot of other customers including the medical device companies Johnson & Johnson, Abbott and Medtronic.
The startup finalised its Series A (an undisclosed amount) in April 2019 with a range of venture capital firms such as Beco Capital in Dubai and New York-based Endeavor Catalyst.
It has also managed to attract well-known investors such as Tim Draper and long-term Uber employee Curtis Chambers.
Proximie is now about to raise capital for its Series B financial round to be able to expand to more markets.
"When we look at Australia, India and the Far East we're consistently getting demand to go there as well as to Latin America. We've held off because we want to make sure that we're resourced to be able to continue to scale in those markets and that's what our Series B will be focused on," Hachach-Haram says.
"It's important to have an element of strategic investors, but also deep pockets to be able to help us to continue to scale."