AI experts and enthusiasts are of the opinion that very soon it's going to be impossible to imagine life without generative AI tools. But as many of these services are yet to be explored, can you imagine life with them? 
Mahesh Ram, head of AI at Zoom, says the time is now to start exploiting the vast capabilities of GenAI assistants and how they can help out you and your startup. 
"GenAI generates and curates content from text, image and video," he says. "These capabilities enable a GenAI assistant to deliver tremendous value by not only removing repetitive tasks from our plates, but also helping us improve the quality of our work."
Here's how startup teams can get the best out of GenAI assistants.
How can GenAI assistants help your team?
According to a survey conducted by Morning Consult on behalf of Zoom, 58% of employees spend an hour or more a day on messages and emails — and 64% of leaders say they need more time than they have to finish all their work during the day. 
GenAI could be the answer to cutting that down (and more) by processing huge volumes of information faster by summarising content from meetings, email, chats and other channels, and extracting action items and next steps so you can cut to the chase and focus on your contributions. 
"It also gives us a strong starting point for our deliverables: reports, presentations and communications, so we can deliver faster and higher quality work," says Ram, adding that it can also stimulate creativity by providing you with ideas that you can develop further, help you manage your time better by helping you prioritise meetings and projects, and even coach you on improving your skills in the workplace — for example, with tips on how to better present yourself and your ideas.
Simi Lindgren, founder of Yuty, an AI-powered platform that helps beauty businesses offer hyper-personalised services to their customers, adds that GenAI assistants can help reduce attrition in companies.
"You're able to increase employee engagement and reduce employee attrition because, ultimately, they are more productive," she says. "They can now be more productive, work smarter and drive better business outcomes, be more creative, effectively communicate and collaborate better with their colleagues — this really is the brilliance of leveraging ML and GenAI."
How can GenAI assistants help you be as productive as possible?
Morning Consult's survey also found that 52% of employees and 67% of leaders say they often work more than the standard work day of eight hours. GenAI assistants can cut this down and help founders focus on strategy and business development by taking care of repetitive, mundane tasks. Additionally, they can also provide business insights and analyses.
Lindgren says that GenAI assistants have the ability to "deliver proactive, personalised or even contextualised insights".
"AI is not creative, but it gives you that bandwidth to actually be able to collaborate with your colleagues in an effective way, come up with something that is really going to have a positive impact on an organisation and ultimately on customers that drive revenues," Lindgren continues. "People have become more productive with this technology — people like to work in a smarter way, they're able to do things quicker, and it drives better business outcomes."
Ram agrees, saying that it helps leaders cut down on time spent on mundane admin or organisation and scheduling tasks. Zoom AI Companion, the company's GenAI assistant, for example, can summarise content from meetings and other written communications, so users can keep up with their day, as well as intelligently draft content (including emails, chats, reports and more). 
Zoom AI Companion has also rolled out whiteboard content creation as a feature, which can generate ideas on a digital whiteboard and organise them into categories for you, in addition to a team chat feature that can quickly draft messages based on the context of a team chat thread, as well as change tone and length to spend less time composing replies. Zoom AI Companion is included in all eligible paid Zoom plans at no additional cost.
How to navigate the risks and get the most out of your GenAI assistant
There are some risks with using GenAI assistants in the workplace, such as hallucinations, but they can often be managed with adequate oversight and governance.
Ram says it's critical that organisations establish clear governance principles for GenAI applications and vet their providers adequately: "This includes how these features are enabled (or disabled), how consent and notice are handled, and how data is stored and secured."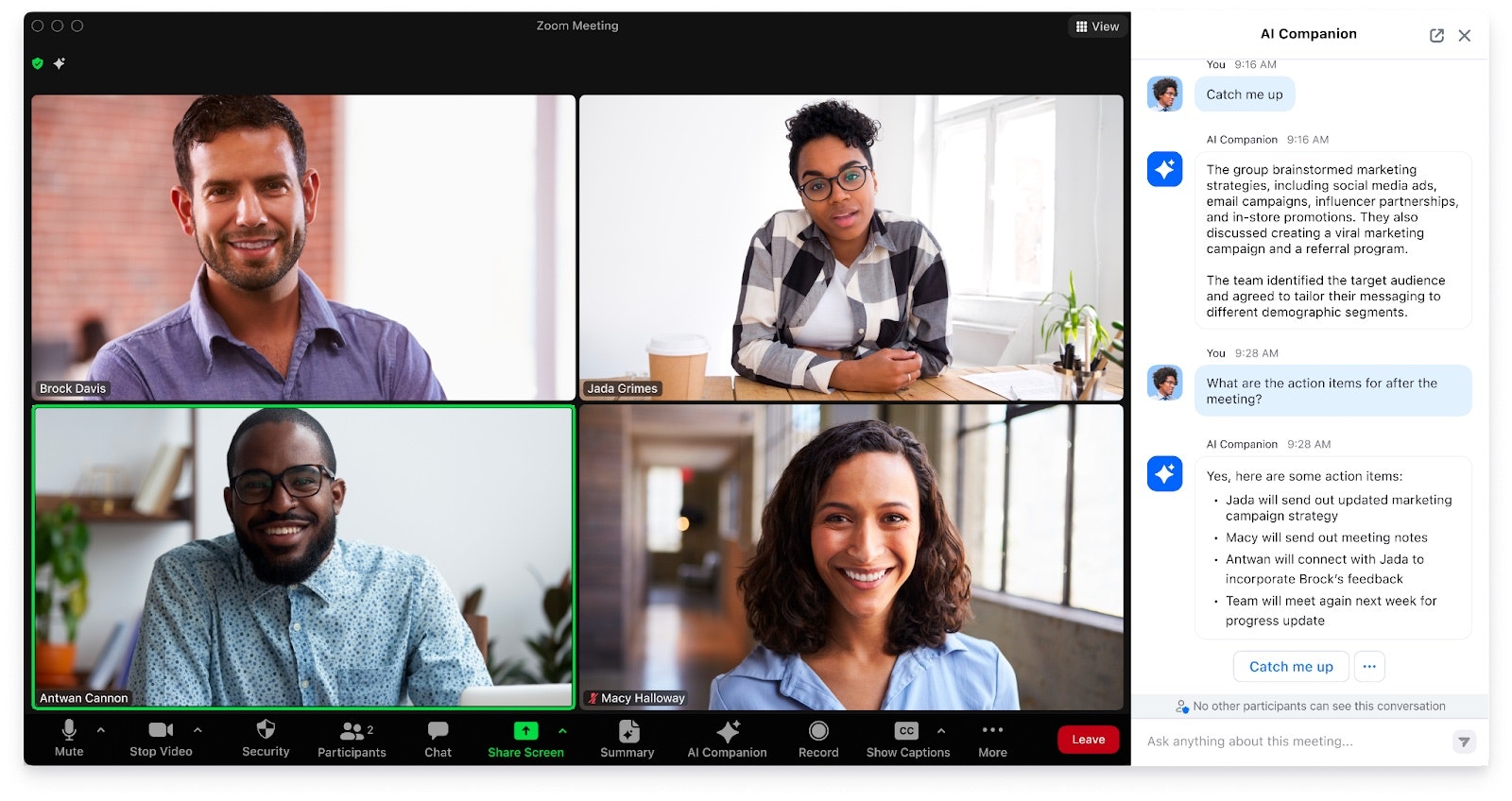 For example, Zoom AI Companion does not use any of your audio, video, chat, screen sharing, attachments, or other communications to train AI models. 
Ram adds that there must be human oversight. "Any form of inaccurate information that GenAI might produce is something that everybody should be vigilant about. Human supervision plays a major role in mitigating this: we should review and validate the work that is produced by a GenAI assistant."
To help with this, Zoom AI Companion provides the host and users with control over what is shared, with the ability to edit summaries and change sharing settings to avoid misinformation. 
Gary Brotman, CEO of Secondmind, a platform that aims to help automotive engineers design cars using machine learning, agrees. 
"From the perspective of an application developer, you really have to adhere to the standard best practices for code development, open source scans, for example, and just general development hygiene," he says. "Always double-check the output, like you can't trust that the answer is going to be right.
"Human beings create the algorithms or tools that help you be better at innovating," he concludes. "If you actually leverage them appropriately and treat them as the tool that they are, they'll help you be a better innovator and a better creator."
Zoom AI Companion empowers you to increase productivity, improve team effectiveness and enhance your skills. With Zoom's unique federated and responsible approach to AI, you can expect high-quality results and transparency when it comes to how it uses your data. 
Get help drafting emails and chat messages, summarising meetings and chat threads, brainstorming creatively and much more — all in the simple, easy-to-use Zoom experience you know and love. Learn more.