Described by early adopters as a cross between LinkedIn and Twitter, professional social network Polywork — which was born in the UK — today announced $13m in Series A funding in a round led by iconic Silicon Valley-based firm Andreessen Horowitz. 
It's the fourth Andreessen investment in a UK-born company this year after Hopin, Dishpatch and NFT sneaker brand RTFKT. Andreessen also had a win in Europe's largest tech ecosystem when portfolio company Wise went public last month. 
Polywork allows users to share highlights in a timeline format, blending both personal and professional updates, which Northern Irish entrepreneur and founder Peter Johnston says will hopefully improve on the clunky, "analogue" experience of LinkedIn. The platform — which is currently browser-based, with an app in the works — launched in invite-only beta in April.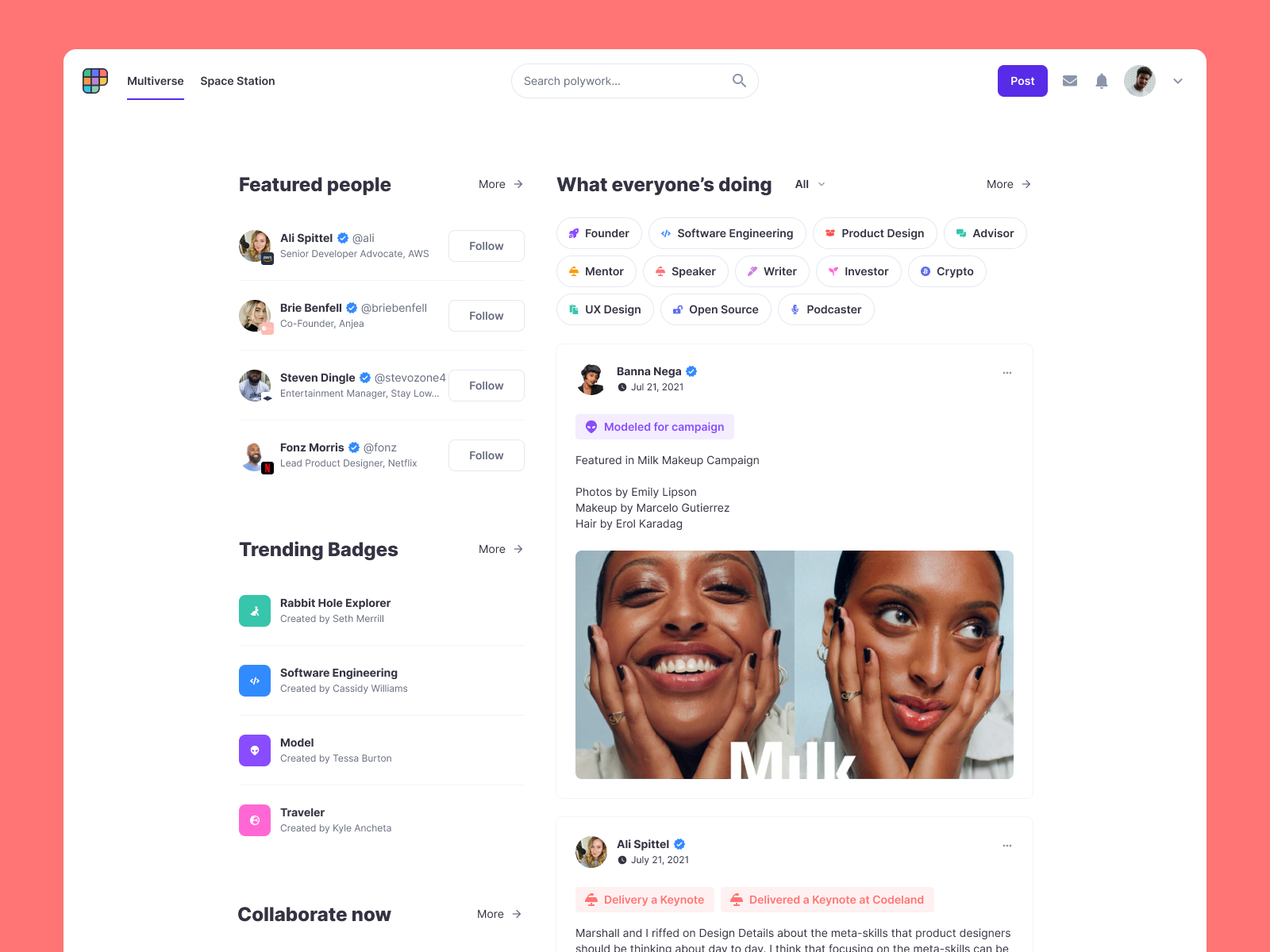 "Our pitch to investors was basically reframing what LinkedIn is trying to do. Like, how useful is a CV with a list of skills, really? To me it's not about what skills you have, but about what you actually do with them," says Johnston. 
The raise comes just three months after the company's seed round. The founders of Stripe, Instagram, Reddit, Behance and Product Hunt are also chipping into the Series A — alongside Caffeinated Capital, Goldcrest Capital, Bungalow Capital, Harry Stebbings' 20VC and a series of angel investors.
The pandemic has prompted an interest in social apps and networks, while people stuck at home find new ways to connect online. 
Social audio app Clubhouse — also backed by Andreessen  — kicked up a fuss in Europe in early January, but users say interest is already waning, and numbers of downloads are declining.
Clubhouse competitors Twitter Spaces and Spotify Greenroom also launched this year, and so-called Instagram alternative Hive, which launched in 2019, but has only just gained traction, had a moment in the sun in February too.
Investor interest
"When you're signalling to people who you are, the primary forms of identification are job title, or where you went to school — which are both pretty terrible proxies for who you actually are and what you care about," says Johnston, who grew up in Belfast and now lives in New York.
With Polywork, which is designed to be a digital resume of sorts, users can add badges to describe themselves — such as 'vegan', 'memer', or 'dad' — and explain their hobbies, side-hustles or projects they're working on, allowing them to express themselves in a more holistic, '360 degree' way.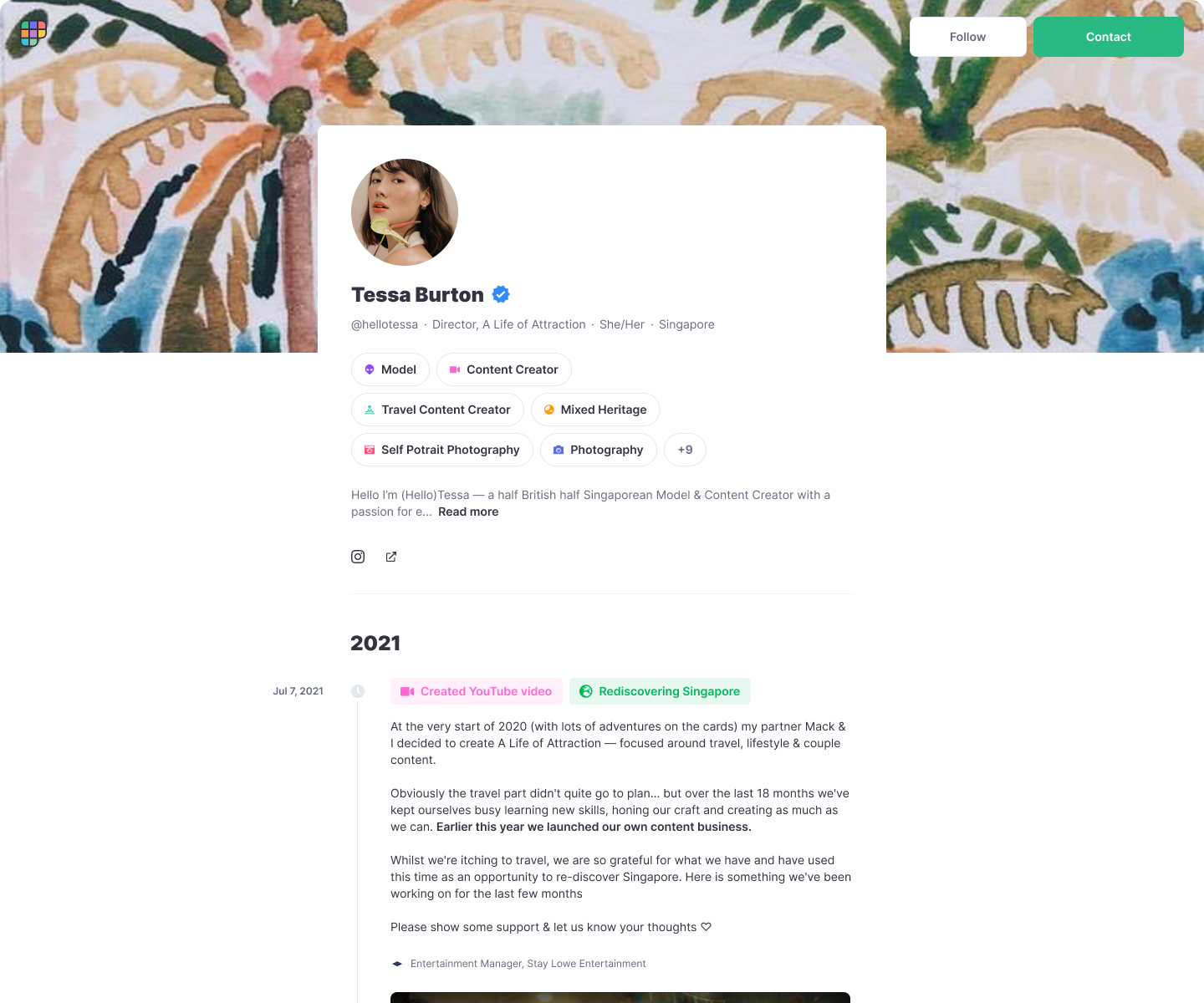 "We benefit from having a very obvious benchmark: LinkedIn, a $10bn revenue company. And it has a lot of glaring issues that no one's tackled yet," says Johnston.
He gives the example of the fact that people can endorse each other for skills on LinkedIn — even if they've never worked together, meaning the "reputation of every person on that platform is unreliable."
Also, Johnston says that LinkedIn put the curled-up old CV "that's been in your briefcase for ten years" online, without changing much about the format. LinkedIn focuses primarily on the qualifications and skills professionals have, rather than their broader interests and personality quirks. 
Removing 'systems of stress'
Another unique selling point of Polywork: There's no like buttons, or visible follower counts — "things that have typically turned other social networks into anxiety-filled popularity contests," says Johnston. 
It's part of a larger trend. Other apps such as France-based teen social app Yubo, and Berlin-based micro-podcasting app Beams have done away with likes and followers too.  
Instagram has also recently given users the option to hide their likes, to give people "more control" over their social media.
So how will they monetise the platform?
There's a near term and a long term plan, says Johnston. 
The team is currently focused on "making sure people can build a webpage that represents themselves on their own custom domain." 
Then, they'll introduce a premium version, which will give people access to more custom templates and allow them to fully customise and "play around with the look and feel" of their profile.
In the longer term, Polywork wants to focus on having premium search features to help connect people for opportunities.
"I think that if we get the right information sets, we can help people find the exact perfect person that they need for a certain project, or to speak at a certain event. And I specifically say 'project" as I think Polywork is really about all the different fractional work out there — whether it's part of your nine to five, or outside of that."
On Polywork, users can indicate what they want to be contacted for, and can even mark whether they're open to being reached out to for interviews. The latter may be a handy tool for the press, who are increasingly using LinkedIn to find experts for interviews. 
Polywork currently has 30,000 beta testers. The team is currently five people strong and fully remote — with two designers working in Berlin, and the rest working out of the US.
With the new funding, Polywork plans to hire a further 15 to 25 people, and invest heavily in product, design, and engineering.