In October last year, Gina Westby and two of her friends were planning to go to a music festival in Amsterdam. It was going to be a three-night city takeover curated by drum and bass DJ Andy C, with hotel stays, boat parties and sets from some of Europe's top DJs.
Westby bought the tickets, which came to just over £1,000.
It was organised by London-based events startup Pollen, which has raised hundreds of millions of dollars from some of Europe's best-known VCs, including Northzone, Frontline and Molten Ventures. It secured a $150m round as recently as April.
A month before the event was due to start, Westby received an email saying it had been moved to April 2022. Then, in January, the event was cancelled altogether because of coronavirus restrictions.
"I got an email saying that all refunds will be processed and would be in my account within about 90 days," she says.
Those 90 days passed, and no refund appeared, so she emailed Pollen and was told it would be in her account in five to seven days. 
A few weeks later, with still no sign of a refund, Westby turned to drastic measures. "I bought LinkedIn Gold to send a message to all the heads of department at Pollen," she says. Westby says she told Pollen that it was withholding money from people during a cost of living crisis, money she could use to pay her rent or bills. 
After speaking to management on LinkedIn and a Sifted journalist, she received her refund this week, over five weeks after she was first promised her money back within a week.
Ben Robinson, who's from the UK, has not yet been so lucky — he similarly had tickets for Andy C and says he's desperately chasing a £500 refund more than four months after the event was cancelled. "Seeing as [Pollen] had a $150m investment this year, it's hard to swallow," he says. 
After surviving the worst of the pandemic, and landing a giant investment in April, Pollen may have felt there were sunnier times ahead in 2022. 
Sifted has spoken to several other people in similar situations to Westby and Robinson — including one person who says they're chasing $2,400 and another who says they're waiting on over $4,000. In the last week there have been at least 55 Twitter posts from customers tagging Pollen to try and get their money back.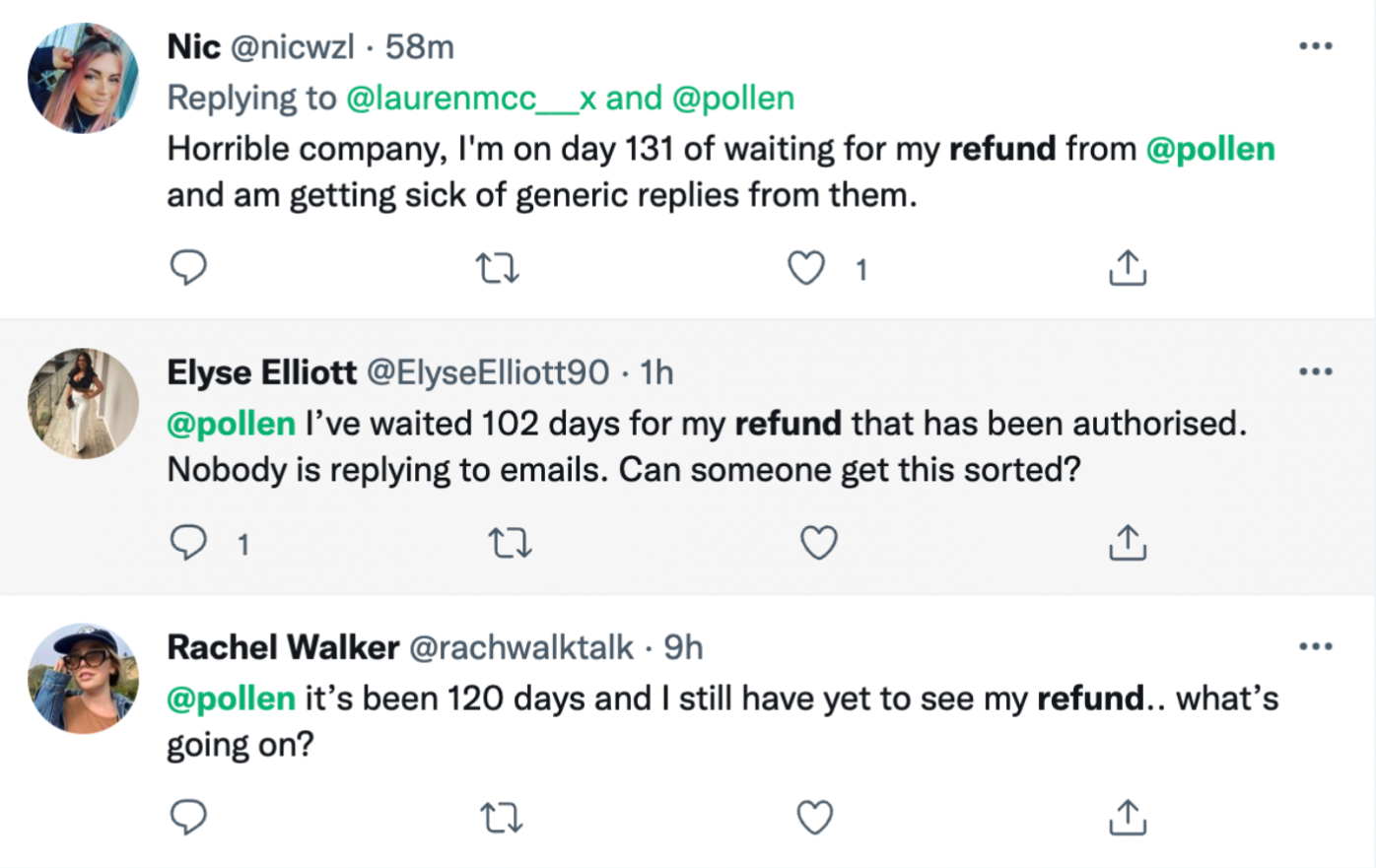 The picture emerging is of a company dealing with thousands of refund requests — the vast majority forced by the pandemic — while many customers are venting their frustration on social media. Complicating matters is the recent car crash in tech stocks and the shaky macroeconomic environment, which has sent Pollen and many other companies scrambling to reduce their headcounts. 
Sifted spoke to four former employees and one current member of staff, who spoke of their stressful experience at a startup that's straining to keep up with the flood of refund requests while facing a barrage of public criticism and low team morale after a set of layoffs.
Pollen says events were cancelled because of rapidly changing coronavirus regulations and that it is in communication with those customers which haven't received a refund within 90 days.
The Negus-Fancey brothers
Pollen began life as StreetTeam Software in 2014 and then rebranded as Verve before settling on its current name. Its founders are two brothers, Callum and Liam Negus-Fancey. The idea was to work with festivals and events and build a network of "ambassadors" who would sell tickets to their groups of friends.
Pollen has raised roughly $255m in venture capital from investors, including its $150m Series C in April this year. 
Yet, just weeks after announcing the raise in April, with the tech market beginning to wobble, Pollen abruptly laid off 200 people — around a third of its workforce — as reported by The Pragmatic Engineer newsletter.
Pollen says that the layoffs formed part of a plan, agreed with investors, to cut costs by 15% as "part of the conditions of closing our Series C round".
The company is hardly alone in its struggles — some of the biggest names in tech, including BNPL behemoth Klarna and speedy grocery company Gorillas, are starting to trim their headcount. 
But it's not the first time Pollen has made big cuts to its team. In May 2020, with the pandemic raging, it laid off 69 employees from the US and Canada. 
The most recent layoffs cap a tumultuous period for Pollen, as customer dissatisfaction with cancelled events and the long waits for refunds grows. 
Departure Mexico
One of Pollen's flagship events was Departure Mexico, planned for January this year. It was to be four stages of techno, with 70 artists and 175 hours of music, all held in the coastal resort town of Playa del Carmen, known for its raucous parties.
Departure was scheduled to begin on January 6, by which point attendees would have arrived in Mexico. But that morning, a post on the festival's Instagram page told attendees that it had been "postponed until tomorrow". 
The next day, on January 7, another post: "It is with an incredibly heavy heart that on the weekend of our show, after 10 days of building and months of planning, we have been instructed that we cannot operate Departure."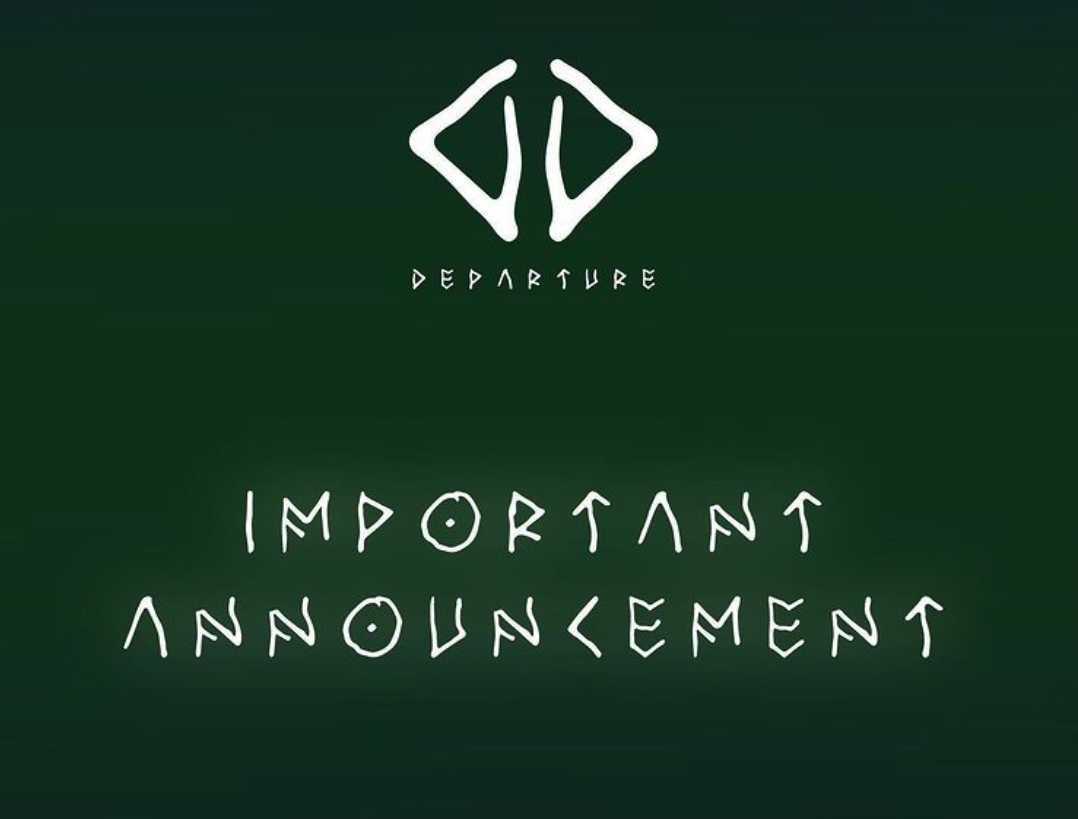 It was down to coronavirus restrictions, the post went on to say, and all attendees would receive a refund and a $200 voucher for another Pollen experience. 
Pollen says it was informed the night before the festival was due to begin that the local government had "deemed it unsafe to continue with Departure" because of a 700% increase in Omicron cases.
But Sam*, a former employee who worked at Pollen at the time of Departure, tells Sifted that there were often cases where Pollen would wait until the last minute to cancel, despite knowing that it might be cancelled weeks before.
"Staff would pipe up and say, 'we know this might be cancelled in a couple of weeks, so can we do it right now?' Because, we know that these people are going to need their money back," Sam says. "But they would say no."
Alexandra*, another former employee, also claims Pollen wouldn't cancel until the last minute even when an event was at risk of not happening because "they need the cash flow coming in".
Fiona*, a third former employee, says the cancellations come when Pollen realises it's not going to make its money back.
"They have a target of ticket sales for each experience," she says. "When they're not close to the target, there's a conversation around cancelling it or postponing it."
Pollen challenges these accounts and says the decision to cancel was "always difficult" and if it was unable to deliver an event it would always look to postpone rather than cancel. It tells Sifted that, across its 10-year history, it has only had to cancel 10 events due to "soft demand" — meaning a lack of consumer interest. 
Refunds
The Instagram posts explaining the cancellation of Departure now have dozens of comments below them, all with attendees asking for their refunds.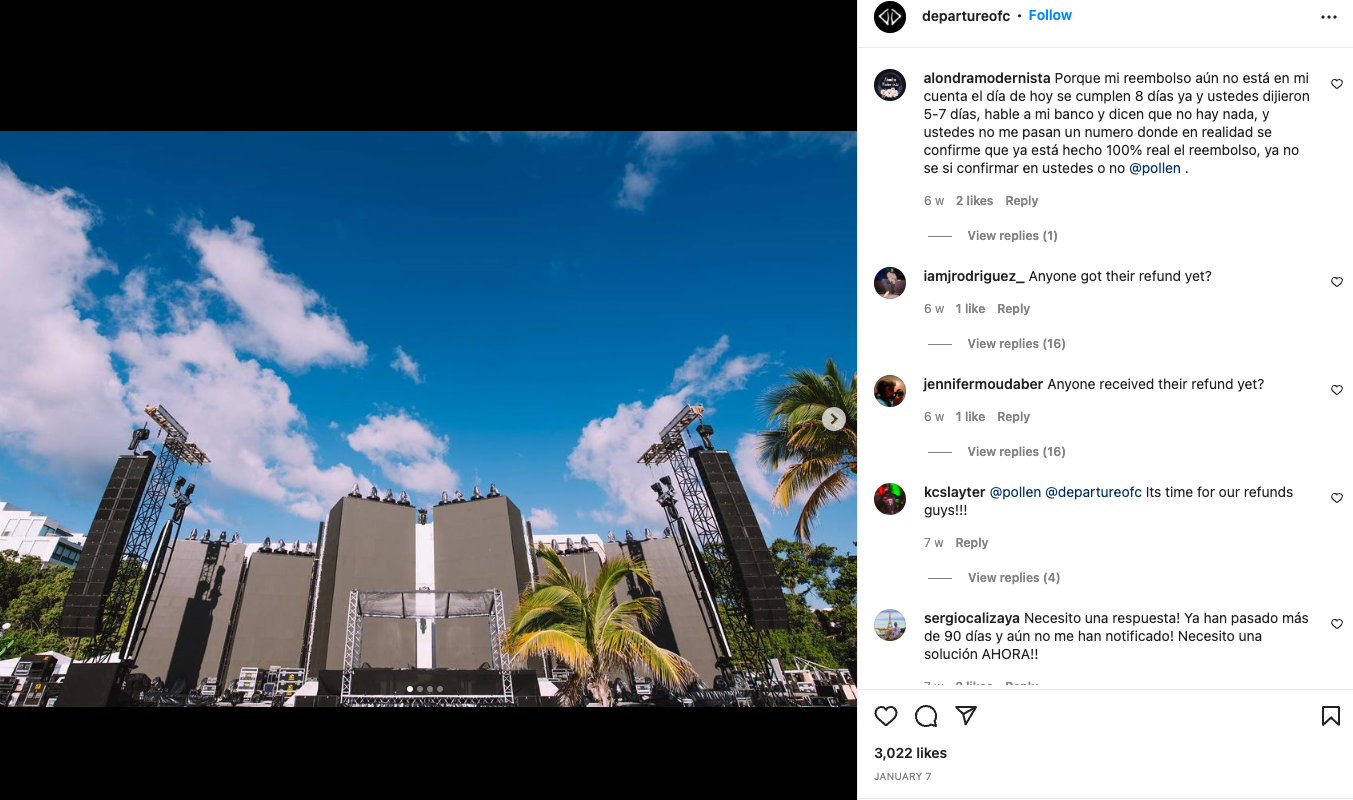 One customer Sifted spoke to at the end of May, who had tickets for another Pollen event in Mexico — Highlander Ground Cabo Weekender, planned for mid-February — said he was still waiting on a $1,006 refund, as were the group of friends he had planned to go with. He was told in mid-April that he would have his refund back within a week. 
"They've got a huge refund backlog," Sam, the former employee, says. "They had a 90-day promise for refunds. There's some people that are owed thousands of dollars, and they've been waiting for six months or even longer." 
Pollen denies, as some ex-staff members have alleged, that it's internal policy to keep people waiting. 
"Internally, they'll just say 'just ignore them for a while', and the queue builds," Sam says. "The customer service staff on the front line are some of the most stressed."
Alexandra used to work on the customer service team. "We'd say to customers that their money would be with them in 90 days, but then delay beyond that. We'd say things like 'sorry, there's been a delay with the Stripe account', or something else. There's always an excuse, and we had a copywriter to send us what to say.
"It's horrible to do that," she adds. "It's degrading and makes an unhappy environment."
Pollen says its refund policy is to repay customers within 90 days, and that it has delivered on that promise on 90% of refunds since 2020. If customer refunds are late, it's because Pollen is waiting on payments from other suppliers (like hotels), Callum Negus-Fancey explained in an email to Sifted.
There's always an excuse [for refund delays], and we had a copywriter to send us what to say. It's

degrading
"The reason this led to some customers having to wait longer than 90 days for a refund when an experience was cancelled or postponed was because in some cases, the vendors and hotels who we paid to deliver the experiences for us took longer than 90 days to refund us, despite contract terms we had in place with them," he wrote.
Like Gina Westby, other customers have turned to drastic measures. There's now a Twitter page, Pollen Group Action, set up to help campaign for refunds, and an Instagram page, @pollen_hasnt_refunded_ourmoney. A Change.org campaign to "Stop Pollen" has attracted over 200 signatures.   
That's sometimes the only way to get a refund, Alexandra says. "The customers who aren't complaining, we don't do anything for them." 
"I went full on FBI agent and emailed the VP of customer experience," says Harry*, who had tickets for a weekend festival in Amsterdam in 2020. Harry got his refund 10 days after that, having waited over 180 days in total.
'If you cancel an event, you should just pay people straight back'
Some of Pollen's online reviews match the experience customers and employees recounted to Sifted. A review posted last week on review site Trustpilot from user Paul Goldsmith said that Pollen cancelled a festival earlier this month in Budapest, citing the Ukrainian war as the reason. 
"I went to Budapest on the weekend of the festival [May 6-8] and the city was in no way impacted by the war," he wrote. 
In a call with Sifted, Goldsmith — who is from the UK — says he messaged Pollen cofounder Liam on LinkedIn for an explanation as to why his refund was taking so long. "If you cancel an event, you should just pay people straight back," Goldsmith says. 
Pollen says: "It wasn't a government policy that experiences couldn't go ahead in Budapest but we made the decision jointly with our partner and risk committee. We always put the safety of our travellers first and it was impossible to predict how the situation was going to develop."
Various comments allege waits of up to six months on refunds for cancelled trips. Among the negative reviews there are positive remarks too, with some users complimenting the service as "friendly" and "helpful". 
Justin Bieber and Friends
Pollen says it has run 360 events in the last year and cancelled 39 over coronavirus restrictions — just over 10%.
Out of the events that have gone ahead, perhaps most notable was Justin Bieber and Friends — a three-day event in Las Vegas last October, "curated by Bieber". It left something to be desired, says Taraneh, a hardcore Bieber fan who paid over a thousand dollars to attend. 
"It was the most awful planning management that I've ever experienced," she says. "Many of the things we were promised were not delivered."
On the first night, a Justin Bieber documentary premiered, but, Taraneh says, not everyone could sit down because a lot of the chairs had broken and the film started late.
Taraneh had bought an upgrade that she thought would entitle her to VIP privileges. She was told on the first night that that wasn't the case, but when she asked again on the third day, she says she was told she did in fact have those privileges, but that "it didn't matter because the event was basically over".
The poster for the event said it would be "up close and personal with Justin".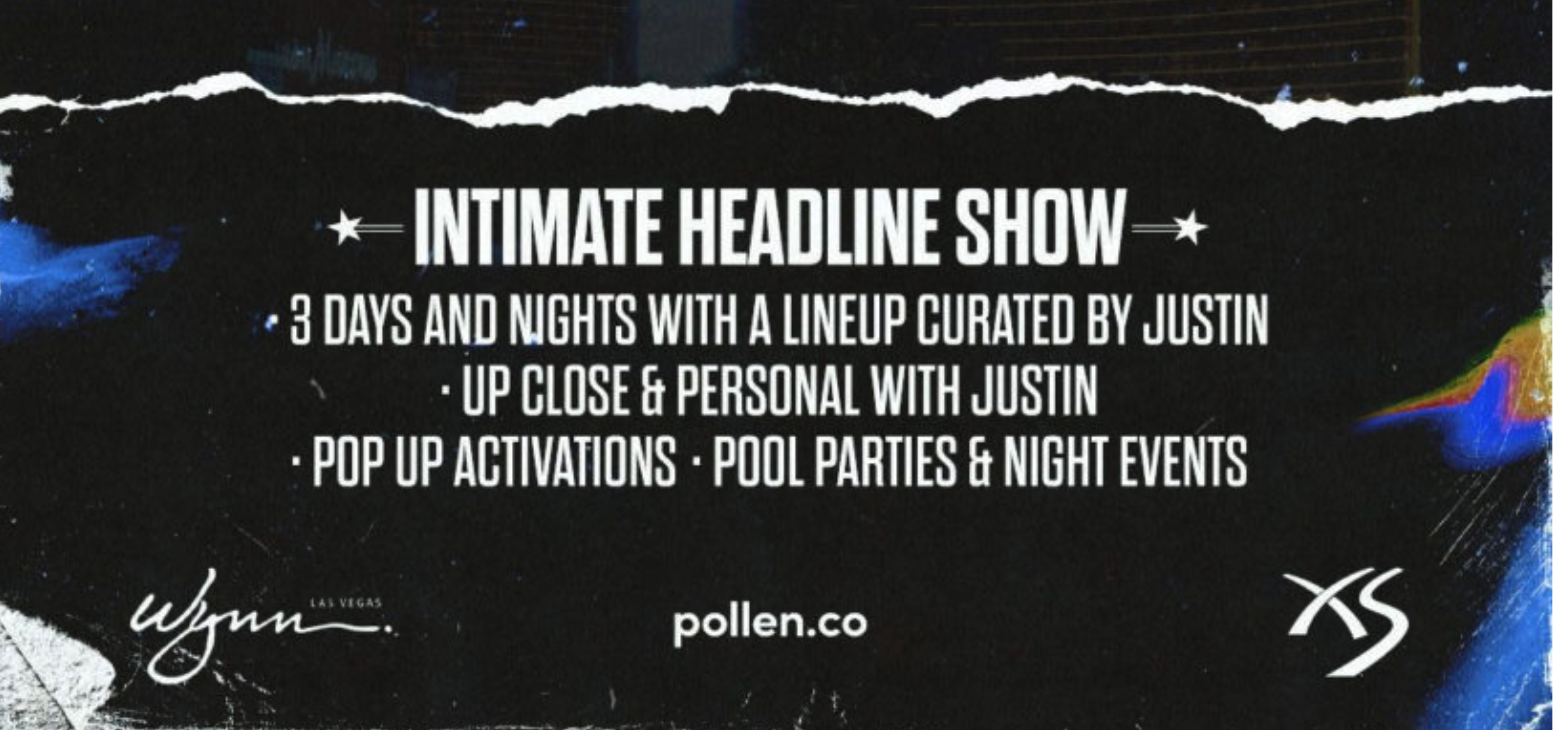 Bieber did perform at the event, for around an hour. "It ended up being $1,100. It was definitely not worth it," Taraneh says. "They didn't even have a set time [for Bieber] until the last minute. People thought he'd be around the festival, but he came for an hour. The fans were pissed off, everyone overpaid badly." 
Pollen says the Justin Bieber experience received positive feedback from vendors, customers and Bieber himself, and that it gave fans a chance to see Bieber perform to an audience of 3,000, when he usually performs to tens of thousands.
Another notable recent event Pollen put on was "Touch the Sunrise", a festival in Ibiza for Duran Duran megafans. It also left something to be desired, according to one blog's review — notably the "shifting nature of the promised itinerary once money had exchanged hands between customers and service provider".
Pollen says the experience received a customer satisfaction score of 8 out of 10, and that it will be launching another Duran Duran experience soon.
Shaky foundations
The pandemic upended life across all industries, but event organisers have faced particularly daunting hurdles. Pollen's customer service department won't have been the only one to face criticism as it handled the scramble for refunds that follow (often hastily) announced Covid policies.
Charlie*, an employee who left Pollen in late 2019, says the company didn't go into the pandemic as shored-up as it could have been.
"Pollen grew quickly," Charlie says. It acquired a number of smaller operators in close succession, including American JusCollege and Canadian Campus Vacations. "The company was not prepared to manage that. It meant a lot of operational inefficiency. A lot of these companies were operating out of spreadsheets."
Pollen says: "Integration timelines have varied, however, all but one of the founders of the businesses we have acquired still remain with Pollen today in senior leadership positions."
Charlie says Pollen's leadership didn't appear to be putting much effort into smoothing out operations, and it's not a shock that the company ran into trouble when it had to cancel events and return refunds.
We had a big gathering in California in the summer of 2019. It was hard to understand how we could afford those massive

parties
"I'm not surprised that there were operational issues that happened," he says. "They didn't have the right system and processes in place to do it properly."
There was also concern back in 2019, Charlie says, over Pollen's spending on employee events. "They were on the overspending side," he says. "There was a lot of overspending on employee events, we had a big gathering in California in the summer of 2019. It was hard to understand how we could afford those massive parties."
It's also an internal culture that not everyone could get on board with, Charlie says — particularly if you're an older employee or one with kids.
It's something Sam recounts seeing during his time at Pollen too. "Loads of staff go to the events, they fly there, they'll stay there, they'll party and they'll expense everything," he says. "So the expenses just grow and grow."
Pollen says it encourages employees to attend its experiences and that it's a "core part of our EVP [employer value proposition]". 
'Staff morale is low'
Despite the parties and hefty expenses budget, employees report internal questions being raised over late expense payments and salaries.
"Expenses were often paid late," says Fiona, one of the former employees. "Sometimes I was waiting for two months. I had to continuously chase finance for expenses and a couple of times my salary was delayed by a day or so." She adds that there were some people complaining on Slack about when their money would hit their account.
Pollen says that in the past year it has transitioned to a new ERP and payroll system, which led to a "well-communicated adjustment to payment dates". 
It's a shitshow... I don't want to be associated with this company any

longer
It adds: "In the company's history, there has been an occasion where payroll was late by two days for one of our US entities due to human error and the following day being a bank holiday." 
After the latest spate of layoffs, which have affected teams in the US and the UK, staff morale is low, says Rachel, who's still working at the company but plans to leave. "It's a shitshow," she says. "I don't want to be associated with this company any longer."
So what's next for Pollen? 
For those customers chasing refunds, the wait continues. Carli, from the US, says she has been waiting on over $4,000 since February. "They keep telling me to fill out a complaint form or a support form. I've done several and can't get a response." 
"This is my first experience with Pollen," she says, "but I'll definitely never give them a second chance."
Since Sifted first reported on Pollen, the company has gone into administration after failing to find a buyer following a rocky few months. It sent an email out to staff confirming it was restructuring.
*Names have been changed to protect the identities of those involved.
Eanna Kelly is a contributing editor at Sifted. He tweets from @EannaKelly1. Freya Pratty is a reporter at Sifted. She tweets from @FPratty. Amy Lewin, Sifted's editor, assisted with reporting.