London-based events startup Pollen is set to make an announcement on the company's future this week after reports emerged that it could go into administration.
Sky News reported that Pollen could crash into administration as soon as Wednesday. In an email seen by Sifted, Pollen cofounder Callum Negus-Fancey, said employees would receive an update Tuesday on what's happening.  
In June, Sifted reported that the company, which has raised hundreds of millions of dollars from some of Europe's best-known VCs, had missed payroll as it worked to secure new funding, potentially in the form of an acquisition.
It was reported that the company had brought Goldman Sachs and restructuring specialists Kroll onboard to try and find a buyer.
Salary payments to hundreds of staff were due to hit bank accounts on June 30. Six days later, management told US-based staff via Slack that their salary was being transferred that day. UK-based staff received their salary on July 1.
In a message to staff on July 1 sent via Slack, seen by Sifted, Callum Negus-Fancey, cofounder and CEO of the events operator, explained that the delay came as the company is "closing a transaction with a large, well-known entertainment company".
"They will become our biggest investor and shareholder," the message continued. One person who is a shareholder in the company tells Sifted that Pollen is in fact in discussion with several parties about an acquisition.
Asked if the company was looking to be acquired, Pollen tells Sifted: "We can't discuss ongoing commercial transactions externally. However, watch this space."
Negus-Fancey's message to Pollen employees went on to say: "I am working hard to finalise negotiations with our shareholders as fast as possible and get them to wire funds. I am really sorry about the inconvenience and anxiety the situation has caused all of you."
It's the latest twist for a company that announced a massive $150m fundraising round in April only to lay off 22% of its full-time workforce the following month. The company, which organises concerts and "experiences" around the world involving artists including Justin Bieber, has been hit by an avalanche of refund requests this year after events were cancelled because of pandemic restrictions or limited demand. Several customers reported to Sifted in June that they had been waiting "months" for refunds. 
After missed payroll and amid the company's funding discussions, morale among Pollen's remaining employees is now "terrible", according to one employee. Fears are growing internally that the company could announce another round of layoffs. 
Sifted asked Pollen if it will be able to pay staff next month. "Yes, absolutely we can," the company replied in a statement, calling last week's payroll "mis-timing" and "an isolated, one-off event". The company also denied it was at risk of insolvency. "The company has a supportive and well funded shareholder base," Pollen said. 
Pollen has raised roughly $255m in equity from investors including Northzone, Kindred, Backed and Molten Ventures. It last announced a $150m Series C in April this year, which was led by Sienna Investment Managers, a Luxembourg-based investment firm.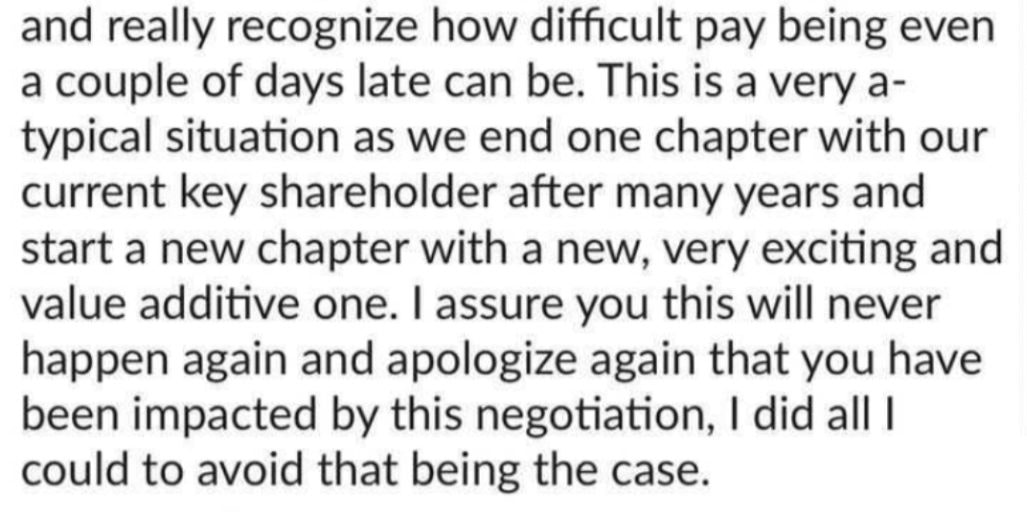 Late payments
Since Sifted reported on outstanding refund payments in June, multiple current and former Pollen employees and suppliers have shared their concerns about the company. One person who previously supplied services to Pollen tells Sifted that he and several others — who were also seeking payment from the company — were considering legal action if Pollen didn't pay them soon.
Employees were this week openly discussing the impact of delayed salaries on the company's Slack. 
Slack messages shared with Sifted show employees fretting about rent payments and transactions that won't go through as a result of the late payments. Another employee wrote that they had credit card payments due soon and failure to pay them promptly could negatively affect their credit score. 
There have also been delays in outstanding pay for those laid off in May. Former employees say they were due to receive their final pay cheques in late June, but Sifted has seen emails from Pollen's chief people officer where staff were told that their outstanding salaries had been delayed further.
Pollen did not comment on outstanding pay for laid-off workers. 
"They're in too deep, this is all they can do with payroll," another former employee tells Sifted.
Late payroll has happened once before at Pollen, the company told Sifted last month. "In the company's history, there has been an occasion where payroll was late by two days for one of our US entities due to human error and the following day being a bank holiday," it said.
Update:
July 8: After Sifted put questions to Pollen, management told staff it was shutting down the company Slack for "the next couple of days".
August 10: Pollen sent an email to employees confirming it is restructuring after failing to find a buyer.