Payments giant Visa made a monster startup acquisition last week, paying $5.3bn for US financial technology company Plaid.
This is confirmation, if any was needed, that global dealmaking in the fintech space is heating up, 
In Europe it has left startups and investors asking what this means for fintechs on their side of the Atlantic, and who could be the next big contenders to get snapped up.
"There'll be many more deals like this over the coming years," Tim Levene, chief executive of leading London-based venture capital fund Augmentum Fintech told Sifted. "The Plaid deal reinforces the trend we're seeing with financial incumbents looking to acquire innovative fintechs."
Olly Betts, the founder of Nottingham-based fintech OpenWrks said Visa is likely to look next to European bank-facing startups: 
"It's a bit of an arms race now. Visa has made one move, but there's a lot more they could make. And Mastercard too."
It's a bit of an arms race

now.
The next big exits? Plaid's peers
The Plaid deal highlights the corporate interest not just in fintech startups, but particularly the ones involved in the back-end, "plumbing" of the finance industry — companies that normally get less press but are often far more profitable than their consumer-facing peers. 
For those unfamiliar with Plaid (pronounced "plad"), the company serves as the operating glue between most US fintechs and their users' bank accounts, helping to authorise payments. The company's billion-dollar price tag comes partly from the 25m bank accounts it connects to, giving it access to a pool of retail data pool. 
So who are the Plaid lookalikes in Europe?
The image below highlights some of the more mature players you should keep an eye on: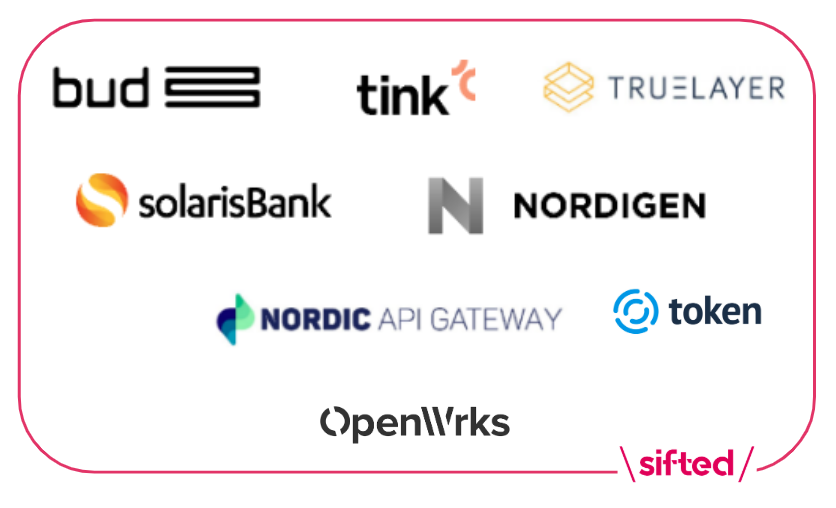 Like Plaid, these startups are already partnering with large banks and fintechs like Revolut, integrating their software to provide data insights, instant payment portals and credit checks under the broad paradigm of "open banking".
And crucially, the big incumbents have already started to sniff out this ecosystem.
PayPal invested in the Series D of Tink, which has a similar offering to Plaid, allowing companies to connect to users' banks and institutions with their permission. Bud is another open banking firm, which has received seven-figure funding from both Goldman Sachs and HSBC. Visa also took part in rival TrueLayer's $35m Series C. 
Meanwhile, Mastercard has already acquired Nordic payment platform Nets, as well as London-based open banking company Vocalink.
As such, another large takeover could feasibly be on the cards from one of these players, with eyes particularly on Visa.
"Visa is very open about its plans to acquire more heavily in the open banking space. With record revenues, it is in a strong place... to reinforce its ambitions to become a technology company rather than just a processor," says Tony Craddock, director general of a London-based payments association.
Another acquisition in Europe could be particularly helpful for Visa, according to OpenWrk's executive Betts. While Plaid has already begun to expand into Europe, "Visa might want a jumpstart rather than wait for Plaid to build" in particular countries like Spain or Italy, he noted.
This was also echoed by Archie Cochrane, an early-stage investor at Anthemis — a venture capital fund and major investor in TrueLayer. He told Sifted that open banking isn't a "one winner takes all market", meaning Visa may use European startups to collaborate and scoop up areas where Plaid is yet to mark its territory.
Will big tech and big banks step in?
There is also speculation that, on top of Visa and Mastercard, 'big tech' companies may also be developing an appetite for startups with banking and payments software.
In part this is because they want access to people's financial data. 
Jakub Zmuda — chief product officer at business-payments startups Modulr Finance — told Sifted earlier this year: "The likes of Facebook, Google and Uber will need to collaborate with the right fintechs if they want to grow at scale, to understand and remain compliant with changing regulations."
Meanwhile, large banks could also get cosy with some parts of the Open Banking ecosystem. Given banks are keen to make their apps smarter to draw in more customers and sell more products, intelligent data tools like Bud's offer a potential revenue source.
"There's a defensive play for banks," Bud's chief executive Ed Maslaveckas told Sifted. "They're the natural place for people to manage their finances and with more intelligent systems, banks can broaden the scope of products that they distribute. At scale that has real value."
Nonetheless, Betts ruled out a bank buy-out for his company OpenWrks, noting that he wanted the company to remain "bank-neutral".
Meanwhile, Tink — the Swedish open banking platform — seemed similarly reticent regarding the suggestion that PayPal might buy them when we asked last year.
"I really don't hope so. This is far too much fun to be acquired," Tink cofounder Fredrik Hedberg told Sifted.
By way of alternative, these startups may opt for a flotation if their valuations continue to climb.
Investment buzz
Meanwhile, Plaid's younger competitors like Yapily will be thinking more about securing funding than exiting.
Fortunately for them, Europe's venture capital funds will be salivating at the returns guaranteed by Plaid's early backers, and will be looking at how to benefit from the same trends.
"Plaid's acquisition will definitely help companies like us get more attention from venture capital. We're just at the beginning of open banking and open finance so it's great that investors are going to focus on this more," said Yapily's founder Stefano Vaccino.
Indeed, one obvious source of funds might be Plaid's early investors themselves, who will now be boasting a strong cap table and potentially look to reinvest in the space. That includes Andreessen Horowitz, Index Ventures and Google Ventures.
Another potential heavy-better is Octopus Ventures. The £1.3bn fund mentioned last year they wanted to invest specifically in the "plumbing" subgenre of fintech, and particularly those helping to boost old banking systems.
In return, startups will have to continue to show banks that their security is up to scratch and that customer demand for data-control is there.
Open banking's step-sister
The other area that will likely attract more investment is the new cardless payment network that open banking will facilitate. 
Rather than using a card or PayPal when shopping online, users will eventually see a "Pay with Plaid" option, meaning they can pay directly from their bank account into the accounts of the merchant they are shopping with. 
This is the other incentive behind Visa's acquisition, as open banking payment portals will cut into their fee model by cutting out cards.
European startups like Trilo are making similar moves, positioning it as a potential investment or eventual acquisition target. In particular, large online payment operators like Stripe may be interested in buying payment portals like Trilo to boost their check-out capability, suggests OpenWrks' Betts.