For a serial founder with years of experience talking to the press, Christian Reber is, in his view, rather shy.
His presentation software startup, Pitch, has just raised $85m in a Series B round led by Tiger Global and Lakestar — on top of the $50m in fundraising already in the bank. But he and his seven cofounders will have a hard time shouting about it.
"None of us are loud; we're actually super silent. I take responsibility for marketing as the others prefer to stay in the background. We're all just a bunch of introverts who like building stuff," says Reber, who is also Pitch's CEO and head of product.
Founded in Berlin in 2018, and officially launched six months ago, Pitch is developing a collaborative presentation software where the "journey of creating, collaborating, presenting, sharing and publishing presentations is covered by one product," says Reber.
Pitch's cofounders are Jan Martin, Charlette Prevot (who is married to Reber), Vanessa Stock, Adam Renklint, Misha Karpenko, and brothers Marvin and Eric Labod. Six of them know each other from the days of working together at Wunderlist — a task management app founded by Reber, Prevot and Martin in 2010. 
After the company was sold to Microsoft in 2015, the team went their separate ways — until Reber got in touch two years later.
Now that the band is back together, he and a few of his less media-shy cofounders finally want to chat. 
First Wunderlist, now Pitch
At the latter end of 2017, Reber and his former cofounders got together for a reunion at his and Prevot's house in Pankow, Berlin. 
The team felt like they hadn't really "succeeded at building a business" with Wunderlist, and was keen to discuss ideas for a potential new venture.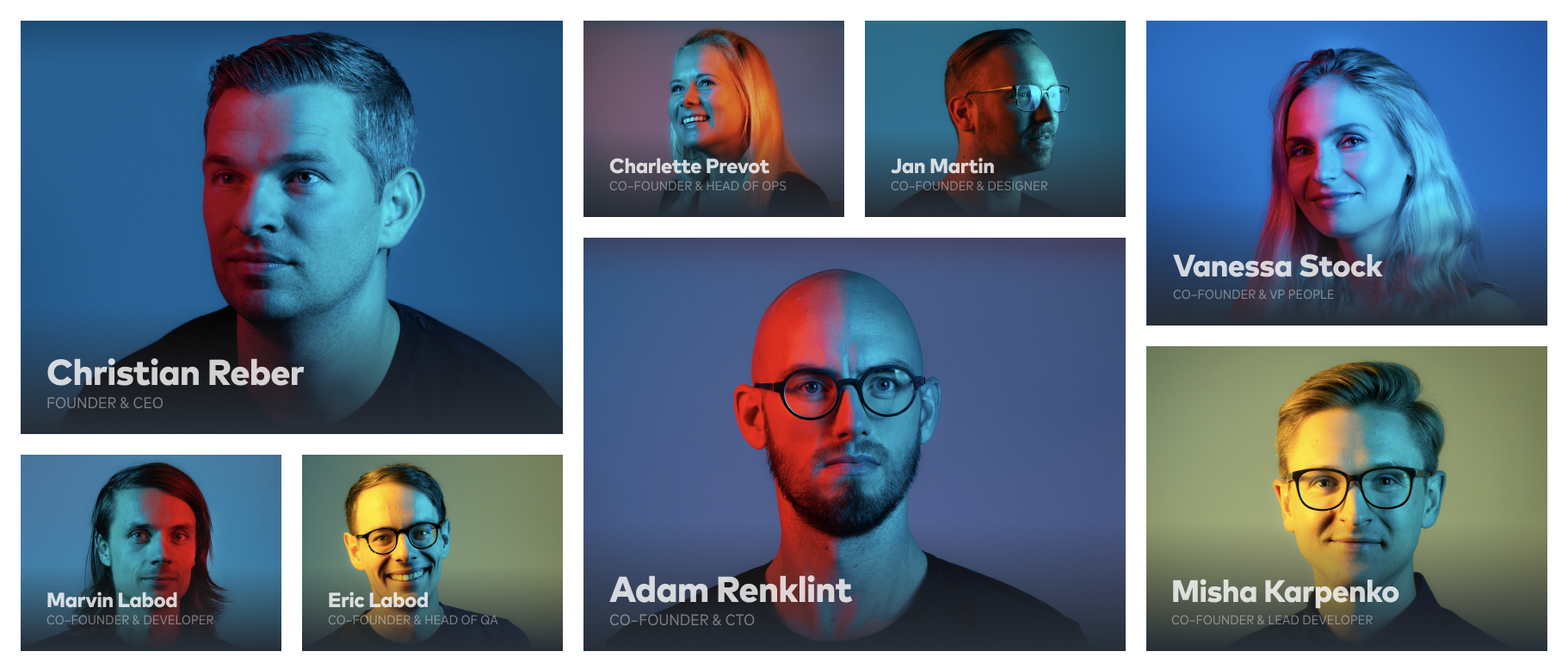 While Wunderlist was a product that had many passionate users, it was never profitable, says Reber. Not only that, but the acquisition by Microsoft ended painfully with the company shutting down the app in 2019. 
Reber swiftly offered to buy back Wunderlist to prevent the product being killed — even making his plea public on Twitter — but ultimately, he didn't succeed.
The disappointment of having the app discontinued motivated the founders to "build something independent that can last for a very long time." And disrupting an age-old software tool seemed like the perfect place to start.
Why presentations?
That night in Pankow, Reber put a number of "vague and unpolished" ideas on the table that he'd been ruminating on for a while. The most popular one was to upgrade Microsoft Powerpoint — which was launched in 1987, and whose user-experience was still clunky — and make it into a "next-gen presentation product."
Consulting firms create PowerPoint presentations on a PC, they share them via email, they convert them to PDF, it's a broken

experience
Before Pitch, no one had successfully disrupted powerpoint yet, according to Reber.
However, Pitch isn't the only company seeking to streamline the process of presentation-building. 
San-Francisco-based company Ludus — which was founded in 2017 — is also building collaborative presentation software. Meanwhile Projector, a company founded by Twitter's former vice president of engineering and the former director of product management, is similarly using real-time collaborative design software to make crafting presentations fun. 
"Nowadays, consulting firms create PowerPoint presentations on a PC, they share them via email, they convert them to PDF, it's a broken experience," says Reber.
As product creators, the founders saw the opportunity of building "beautiful" software with a focus on real-time collaboration and intuitive design features to make the presentation-building process more seamless. 
With the new funding, Pitch will be rolling out three extensions to its platform in the coming weeks. They include a "publishing and content ecosystem" — where users can discover content from top creators and brands, and publish their own work directly to public profile pages — and narrative recording and playback.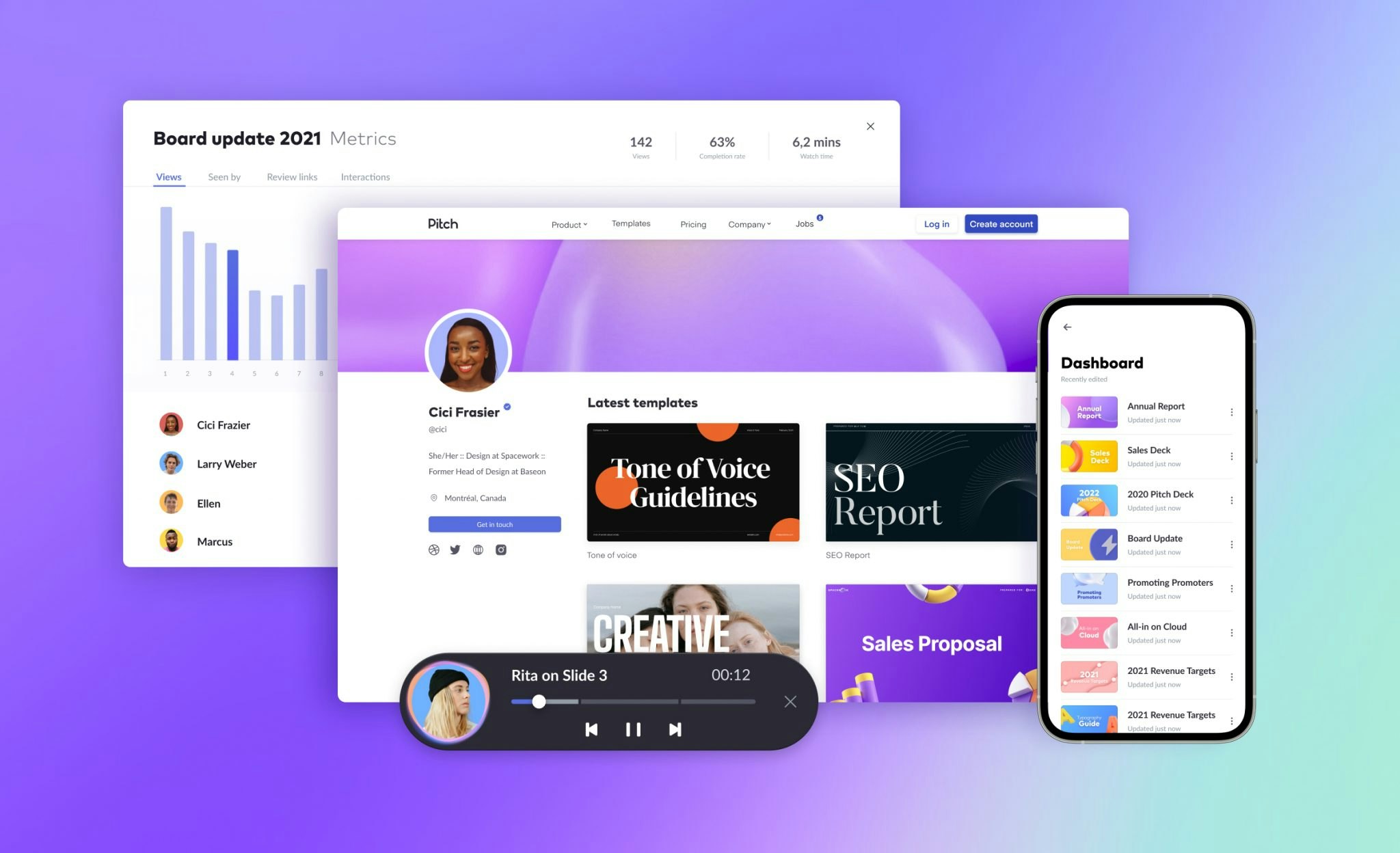 The latter will allow creators to record themselves chatting through a presentation, which can then be replayed by their team members asynchronously.
Naturally, the founders made their pitch deck to investors using Pitch's software: "Anything else would have been ridiculous," says Reber, laughing.
The 'magic' of the collaboration
Each cofounder at Pitch is like a cog in a well-oiled machine, says Reber, as everyone brings something "very obvious to the table."
"We work efficiently together because we all have our specific roles, and we trust each other to carry out those roles," he says.
Everyone should be hands-on, and everyone should be on the

field.
Misha Karpenko, Pitch's lead developer agrees:  "Because our group had a grasp of everyone's strengths, we were able to start Pitch on the basis of interpersonal respect — even before we were aligned on our product vision.  And that's facilitated transparent, pragmatic decision-making."
For example, Karpenko describes the moment where the cofounders decided who would be Pitch's CTO as a perfect display of democracy. There was no tension or heated discussions: "We all spoke our mind, agreed Adam was the right team member to step up, and sorted it out in 15 minutes," he says.
One of the defining features of the founding team, says CTO Renklint, is that each member has stepped up to lead the group at one point or another: "I think that speaks to our trust in one another, and our shared modus operandi: Everyone should be hands-on, and everyone should be on the field."
Choosing investors
Reber is an open-book when it comes to revealing the mistakes he made as a founder with Wunderlist, as well as the lessons he learned the hard way. 
For example, while he's "had the pleasure" to work with great venture firms like Atomico, Sequoia and Earlybird in the past — that were all backers of Wunderlist — Reber also had "rough experiences being screamed at by shareholders" who weren't excited about his product strategy.
Investors are there to be your toughest critics, but it's also important to have great relationships with

them.
"Investors are there to be your toughest critics, but it's also important to have great relationships with them," says Reber. Now, every time he brings on an investor, he tries to find "overall great human beings" to work with that can actually add value to his company.
Stephen Nundy, partner at Lakestar that is now backing Pitch, is a case in point.
"I always loved the input he has as an operator," says Reber. "He has 20 years of experience in leading engineering teams, and I thought this could be valuable for Pitch – especially as our current board members have a completely different skillset."
Meanwhile, Tiger Global is "the most ambitious firm right now in the market," with a sparkling reputation according to Reber.  Indeed, Tiger has made 14 investments in Europe in 2021, as tracked by Dealroom, and has been on a shopping spree of sorts in industries as far apart as fintech and foodtech.
For first-time founders seeking investment, Reber has a key piece of advice: "Something you absolutely have to do when taking on investors is to make reference calls with their portfolio founders — and I don't just mean two to three calls, but 20 or 30," he says. 
"Ideally, you want to speak to companies that are not successful yet so you can really identify how helpful [and genuine] the investors are."
Taking it step by step 
Possibly the biggest lesson Reber learned from Wunderlist was to take things slow, and not try to achieve "too much too soon." 
At the start of Wunderlist in 2010, the founders began with the idea of building a teaser product called Wunderlist, and a bigger product, Wunderkit. Instead of following their initial strategy, they leapt ahead to focus on Wunderkit — investing €2m and a year and half of their time — and let Wunderlist fall by the wayside.
"We launched Wunderkit and it didn't work at all: it had been over-engineered and the design was too complicated. We killed the product three to six months later," says Reber. Not only did this harm the reputation of the company and its founders, but Reber lost 20-30% of his team who were "heavily invested" in the Wunderkit product. 
"That was probably the biggest mistake of my career: not realising fast enough that Wunderlist is a great product that people fall in love with and getting distracted by other things," adds Reber.
Based on this experience, the cofounders are "taking things step by step this time."
For example, instead of doing big releases every 10 months, Pitch is shipping new releases every Tuesday; gaining feedback, and iterating on the product at regular intervals. 
Stock, who joined as an intern at Wunderlist nine years ago and now heads up Pitch's people department, is also being very deliberate about who she hires; seeking out professionals who are pragmatic and who can work autonomously.
We're more confident and much less reactive than we used to

be.
Fostering a company culture is easier this time round, she says, because the team has a solid foundation of "trust and authenticity."
"We're more confident and much less reactive than we used to be, but everyone's still the same humble, grounded human beings."