Pet tech is on the rise. The industry raised some serious funding in 2021 and innovation is booming.
But the sector is still dwarfed by more mature industries, like VC-favourite fintech and human-focused healthtech, leading many pet tech innovators to feel isolated. 
One way to address this is through community building. The biggest in Europe has been formed by Unleashed, an accelerator programme powered by Purina, Nestlé's petcare division. 
"Currently we have about 400 pet tech founders in our community," says Kim Bill, who heads up the Purina Accelerator Lab. "Pet tech is still one of the, I would say, not very well known verticals, so we're trying at Unleashed to bring more visibility to the pet tech vertical and to encourage more pet startups. Building a  community is one of the ways that like-minded people can network and be inspired." 
A safe space
For Bill, starting up a pet tech community was motivated by wanting a stronger petcare startup ecosystem and to build a safe space for founders.
"As a founder it can be very lonely. It's not easy to talk to people from different verticals because they may not have the same experience," she tells Sifted. "We wanted a community where it's safe for pet tech founders to share, network and maybe even collaborate with each other." 
To do this, Purina set up an invite-only Slack group where founders can post about their companies and milestones, find details about pet industry events and read about pet tech related news.
Rather than being afraid of competition, there is the notion of us trying to move the entire sector

forward
Eyass Shakrah, founder of the Pet Media Group (PMG), a pan-European startup that acquires and develops pet marketplaces, says finding a community in the industry has been invaluable.
"We started building PMG in 2019 and it was a lot lonelier than it is now," he tells Sifted. "These days we speak to awesome entrepreneurs and companies on almost a daily basis. I've previously built startups in other verticals and geographies, but never felt the warmth and sense of community that I've seen in the pet tech scene." 
While community building within a small industry could be competitive, Shakrah says there's plenty of market share to go around and most founders want to build the sector as a whole. 
"There are so many subverticals and angles to address the needs of consumers, breeders and pets alike," he says. "Rather than being afraid of competition, there is the notion of us trying to move the entire sector forward, and always being on the lookout for other people and companies to collaborate while doing so." 
Houda Lemrini, founder of FurryChamp, a Swedish-based pet insurtech, says the community is bound by a mutual goal of making life better for animals. 
"The community in general is super nice and also very passionate about pets," she says. "Even if it's everyone competing, everyone is helping each other because people are driven by the animal cause and we are all fighting to actually create a better life for pets." 
Sharing milestones
One of the biggest milestones for pet tech startups is getting funding — particularly now tech is facing a downturn. 
"Given the macro dynamics and the funding environment, I think it's going to be an interesting period of time," says August von Sydow, head of strategic partnerships at First Vet, a telemedicine platform for pets that works across seven markets. "The European pet community is diverse and quite big but when comparing it to the US market, it's still not as dynamic."
There are few funds dedicated to pet tech or the pet industry… Women draw less investment than men so that's an issue as

well
Jacky Palma, CEO and founder of Pet Genoma, which does genetic testing for dogs to provide information about health risks, says one of the reasons the community is supportive is because founders have empathy for other founders — they've been through similar experiences, like looking for investment opportunities. 
"There are few funds dedicated to pet tech or the pet industry… Women draw less investment than men so that's an issue as well," she tells Sifted. "The community is very supportive, we know that we need to support each other."
When it comes to the network, Bill says Purina encourages founders to introduce their companies, update their profiles so they are searchable and share their milestones and experiences. "And why not if they are raising. This will help the whole community," she says. 
But von Sydow says founders within pet tech are still hesitant.
"It'd be interesting to have more sharing of learnings, there's still some caution in terms of sharing what works, what doesn't work, sharing the successes and also the failures," he says. "Given the market is so young, I think there's some protection over what works."
Michael Geretschläger, managing director of Feragen, a genetic veterinary laboratory they call the "Tinder for dogs", and winner of Unleashed class of 2022, adds he'd like to see more science-based startups join the community.
"At this point I think the community is just getting started," he says. "In pet tech, pet software or pet food and nutrition there are so many companies and startups, but based on the scientific side or the DNA side, there are not so many."   
Collaboration station
In addition to knowledge sharing, strategic partnerships within the pet tech community have been key to boosting business.
"Other than the social aspect of having industry peers who are going through the same trials and tribulations of building a startup that you can connect with and both laugh and cry with, the community has had an immense impact on our business," says Shakrah.  
Discussing with other pet tech startups outside the region is like having a glimpse of the

future
Fady Azzouny, founder of Vetwork, a pet care marketplace and winner of Unleashed class of 2022, says his startup is already making use of business connections. 
"Discussing with other pet tech startups outside the region is like having a glimpse of the future," he says. "We're already discussing with two other pet tech startups about integrating our solutions together."  
Palma says Pet Genoma found a collaborator at a pet industry event. 
"We got talking about how this is a product that will help you a lot with your customers and from there we started talking about a potential collaboration and now this laboratory in the Netherlands is going to be distributing our product," she says. 
Forming relationships with the experts
Pet tech startups can also benefit from corporate expertise. 
"We have done R&D for over 100 years, so we understand pets, we understand their behaviours, we understand their biology, their physiology," says Bill, referencing Purina. "So we can help validate what pet tech companies are doing." 
One way to get access to this expertise is through the Unleashed Accelerator Lab, which is now in its third year. 
"We're looking for disruptive pet startups who can actually bring some innovation to the pet industry," says Bill. "We are on a journey to transform ourselves from a pure pet food company to a pet care company, particularly having a data enabled pet tech ecosystem around us and we can't do it on our own." 
The Unleashed Accelerator Lab is designed to be at the cutting edge of the next generation in pet services, novel nutrition and health technologies. 
This year's winners are: 
EniferBio — a Finland-based startup developing "the world's most efficient" process for the production of sustainable protein derived from fungi.
Feragen — a German startup that has created a matching tool that uses genetic information to find the right breeding partner for dogs.
Kibus — a Spanish startup that has created a cooking device that serves freshly prepared healthy food automatically to dogs. 
Knok — a Portugal-based platform that allows pet parents to access the veterinarians and advice about nutrition and care for their furry friends.
MOA — a Spanish foodtech that offers sustainable alternative protein ingredients platform.
Vetwork — an Egyptian app that delivers petcare professionals to your door.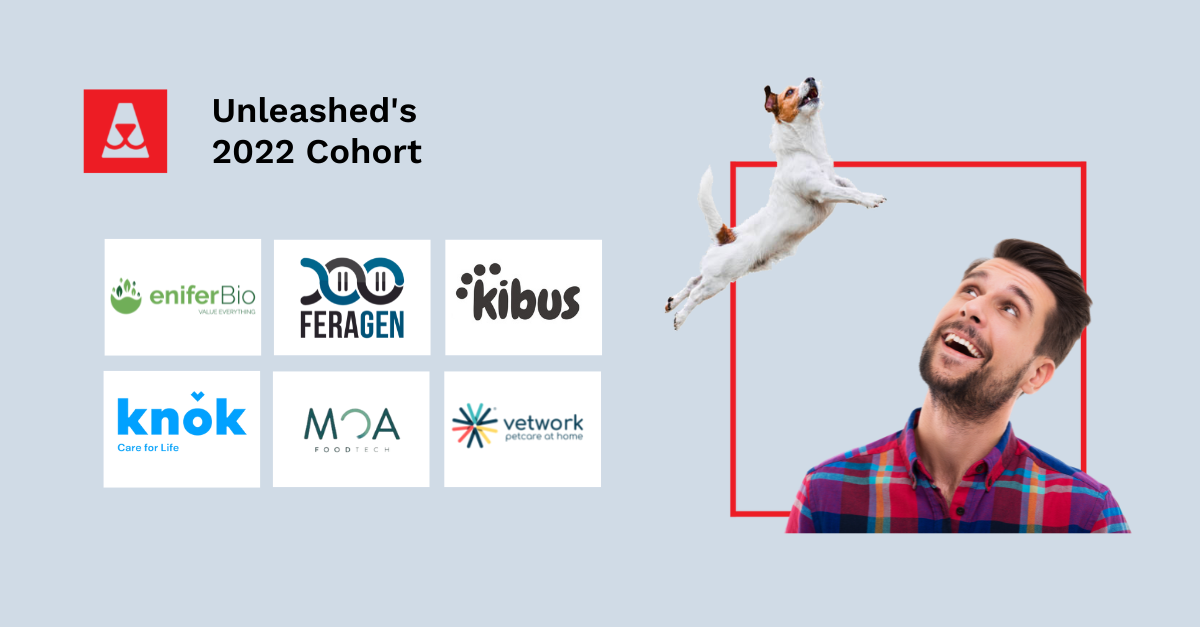 We're starting a new series of our monthly pet tech newsletter from September onwards. Sign up here to make sure you get it direct to your inbox.