This article first appeared in our new fintech newsletter. Sign up here to get exclusive content, juicy insights, and early access.
Every now and then, it's fun to check the app download charts.
It's a decent proxy for growth, and the data for 2020 helps us understand how lockdown played out for fintechs.
So we asked AppAnnie to crunch last year's data, and the results highlighted one dominant player...PayPal: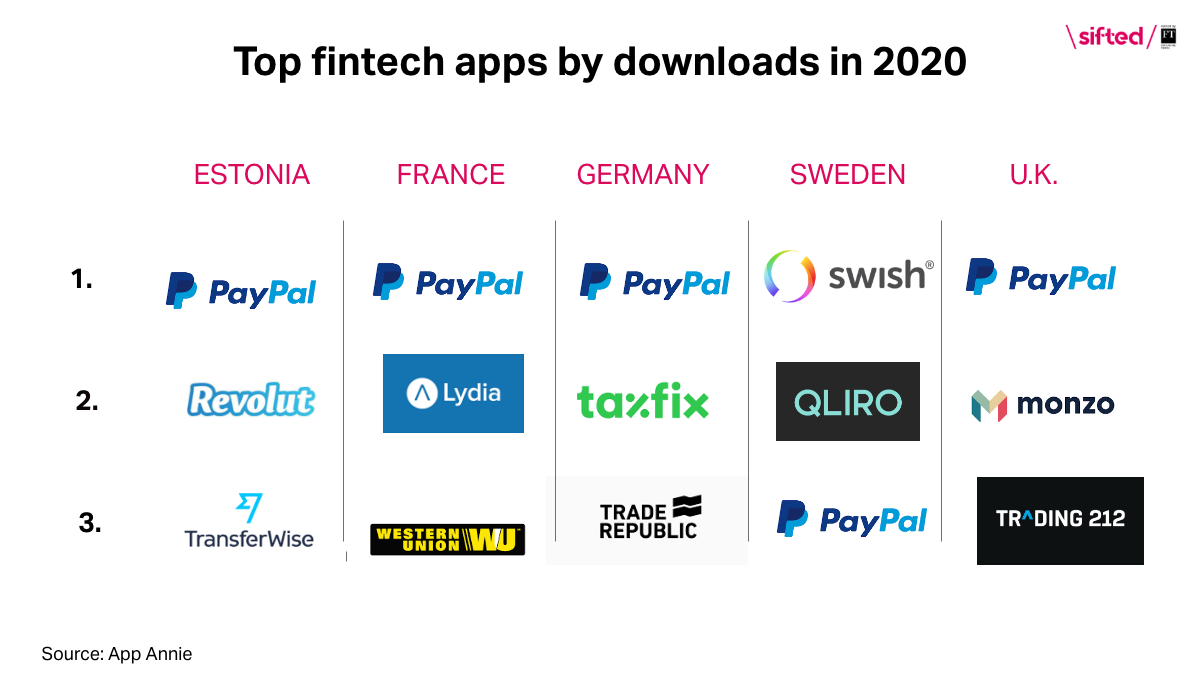 It's funny (if not a little painful) that a US giant is growing faster than Europe's star fintechs.
We sometimes forget PayPal, or even dismiss it as one of the dinosaurs of the 1990s; bunched in with the old banks.
But this data offers a reminder not to dismiss the company, or the user base that flocked to them during the lockdown. Indeed, PayPal says the over 50s were its fastest-growing segment in early 2020, and clearly they came in hordes across the continent — topping the table from the UK to France.
For now, PayPal largely sits in its own lane of wallet services and online payments, meaning it isn't yet in a pitchfork battle with European fintechs.
Still, it recently began rivalling fintechs like Klarna in the Buy Now Pay Later space, and if PayPal ventured into accounts or trading, that would be a direct threat to the big players.
At the very least, the old girl has clearly still got it.
Fragmented fintech
One of PayPal's advantages is that Europe's fintechs still offer very specific services.
Ruth Foxe Blader, an investor at Anthemis, says this is clearly shown in the data.
"We still don't see the super-app of the East [like AliPay] prevailing in Europe, or even in one European country. It looks like, between incumbent[s] and neobanks, customers here maintain the "app store" approach to banking: a specific tool for each operation and multiple, competing options."
In the UK for instance, the top apps include Monzo for banking, PayPal for online shopping, and then Trading 212 for buying stocks.
Finally, a Monzo win
The data is particularly positive for Monzo, which won silver with ~2m UK downloads in 2020.
It comes amid a challenging year, with executive departures and heavy losses. It also balances out reports that Revolut's downloads outpaced Monzo and Starling combined in 2020; a stat which counted users globally, where Revolut has a natural advantage.
Meanwhile, this AppAnnie data reveals Revolut actually lags behind Monzo in the UK, where it now wants to be a bank.
The other download champions during lockdown were stock-market apps like Trading 212 and TradeRepublic. [Remember this data was collected before the recent "Gamestop frenzy"]

Big banks catching up
Finally, the big banks had a pretty good year too.
According to AppAnnie, incumbents saw the largest growth in mobile engagement across Europe in 2020.
The data below is ranked by growth in "total time spent in the app" across Germany, France and the UK in 2020, acting as a proxy for popularity.
The results emphasise big banks' sustained lead at the national level, as well as a giant shift to digital compared to 2019.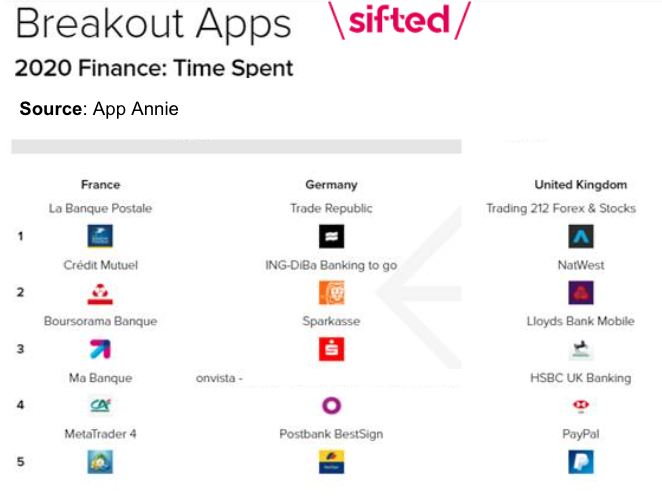 Isabel covers fintech at Sifted. She tweets from @i_woodford and coauthors Sifted's fintech-focused newsletter. Sign up here.