London may still be the startup capital of Europe, but Paris is growing twice as fast.
The number of venture capital deals worth more than $2m in London has risen from 155 deals back in 2014 to 301 last year, according to Sifted's analysis of Dealroom data. That's a compound annual growth rate of 18% over the four-year period.
But the number of venture deals in Paris grew a whopping 34% a year over the same period from 56 in 2014 to 178 in 2018.
That's more than twice London's growth rate. Paris also accounted for 10.3% of deals in Europe in 2018, up from 5.8% in 2014 — a near doubling.
This is the main takeaway from Sifted's Chart of the Week in partnership with Dealroom.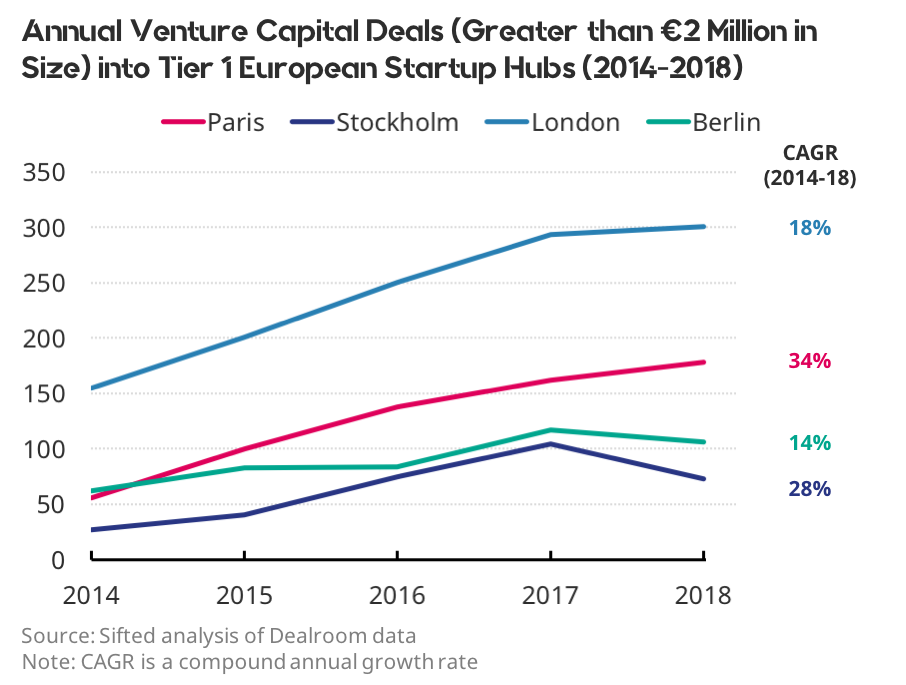 Away from the London-Paris rivalry, the two other large European startup hubs also saw significant growth over the same period.
Stockholm grew an average of 28% each year between 2014 and 2018, while Berlin managed half that at 14%. Stockholm expanded its share of deals in Europe from 2.8% in 2014 to 4.2% in 2018, while Berlin's share fell slightly from 6.4% to 6.1%.
These four startup hubs as a group grew faster than the rest of Europe — expanding venture deal activity by 22% each year on average, compared with 13% for the rest of the continent.
That lead to an expansion of their share of European venture deal activity from 31% in 2014 to 38% in 2018.
This news of increasing concentration of venture deal activity among Europe's leading startup hubs follows an earlier Sifted analysis, which showed records being set on the continent for deal sizes, total capital deployed, and co-investment from Silicon Valley investors.
Sifted Newsletters
Sifted Newsletter
3x a week
We tell you what's happening across startup Europe — and why it matters.