A couple of weeks ago, during a routine meet up with a climate tech investor, I asked her which companies she's interested in at the moment. Among a list heavy on gigafactories and other infrastructure bets, one name stood out: Pangaia. 
Pangaia is a fashion brand that makes sweatshirts and tracksuits — and may very well be Europe's most under appreciated climate company. 
Its popularity during the pandemic saw it dubbed "the It brand of lockdown", and celebs from Harry Styles to J-Lo and Justin Bieber were snapped wearing its brightly coloured hoodies and track pants made from organic cotton and bio-based materials, which retail for a cool £130 a pop (at least you'll think twice before throwing them in the landfill). 
Sustainable fashion: not just 'hemp sacks'
Pangaia was founded in 2018 by Russian entrepreneur Miroslava Duma (plus six other cofounders, known as the PANGAIA collective). Born in Siberia, Duma is a well-known face in the fashion world: she started her career as an editor at Harper's Bazaar Russia and wrote a column for Vogue, as well as running Buro 24/7, an art and fashion website. Today, Duma's Instagram boasts 2m followers. 
Duma — who married Aleksey Mikheev, son of Russian oligarch Aleksandr Mikheyev  — also runs a VC firm, Future Tech Lab, which invests in sustainable materials. 
The Future Tech Lab is where Dr Amanda Parkes, now Pangaia's chief innovation officer, met Duma. There was a realisation at the VC, Parkes says, that sustainable fashion innovation was underinvested in because it sat in the gap between biotech and fashion, and was therefore not securing capital from investors focused on either sector.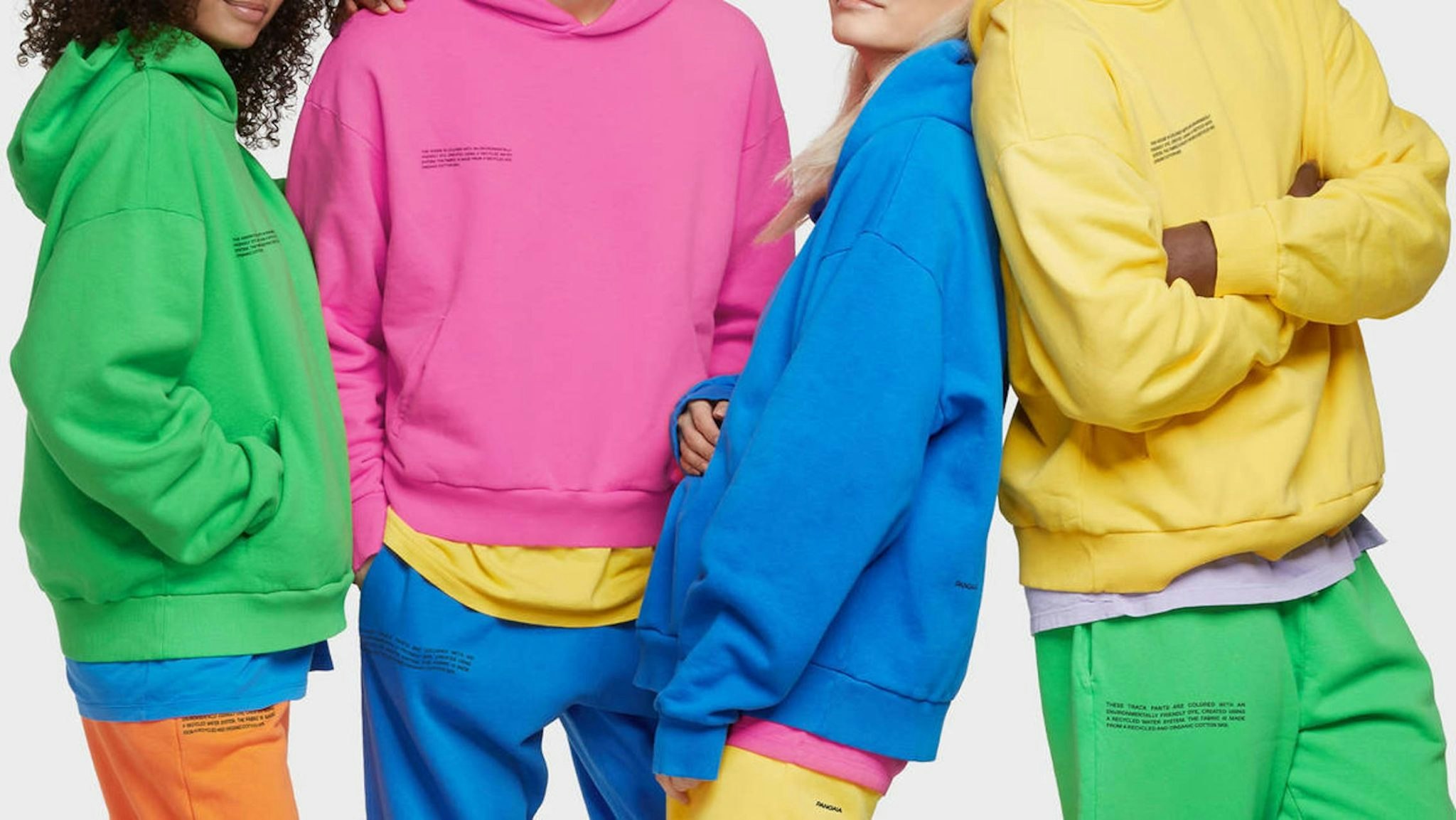 On top of that, large fashion brands struggled to interact with startups working on novel materials. "As we were seeing these new materials being developed, the large fashion brands were definitely interested, but they were not really meeting the startups halfway," Parkes says. 
Pangaia's goal was to start a brand that demonstrated what's possible. "The idea was to start a brand to demonstrate that you could use these new materials, or at least to show what the most responsible stuff out there right now is and how to set up a responsible supply chain," she says.
Pangaia wanted to prove to the industry that there was a demand for sustainable products — and dispel the image of "hemp sack" sustainable fashion that had come before it. Its by no means the only startup working on sustainable fashion — there are those like London-based Algreen working on turning food waste in materials and Colorifix, working on microbe-based dyeing techniques.
Harry Styles and Justin Bieber don Pangaia
The Pangaia team needed to prove there was demand — and it was demand they got. 
The company's first product was a tracksuit made from recycled and organic cotton. The company had always planned to focus on what it calls "lifestyle basics," but couldn't have predicted the aptness of its timing. 
"We launched formally in the fall of 2019," says Parkes. "Then we know what happened in the spring of 2020. Everyone was working from home, wearing tracksuits, so we had a big surge."
Google searches for "Pangaia" jumped in March 2020, as countries went into lockdown — its tracksuits' poppy colours perfect for the Instagram and TikTok age.

The brand hit the pages of the fashion press, the paparazzi snapped countless celebs in its clothes and, when Selfridges launched a Pangaia capsule store, the queue in the London branch went out the door. 
"I expected us to grow more slowly than we did. Then we had this big increase in sales, while also having all the complications of Covid and trying to work remotely and develop new products," says Parkes. "It was a chaotic time."
Financial records for Pangaia showed it brought in $75m in revenue in 2020, making a $16m profit for the year. According to Companies House filings, Pangaia raised a £36.1m round in 2021. The company told Sifted it doesn't comment on its shareholders, but filings show its backers include Brent Hoberman, Maria Sharapova and the De Givenchy Family Trust. Duma remains the largest shareholder.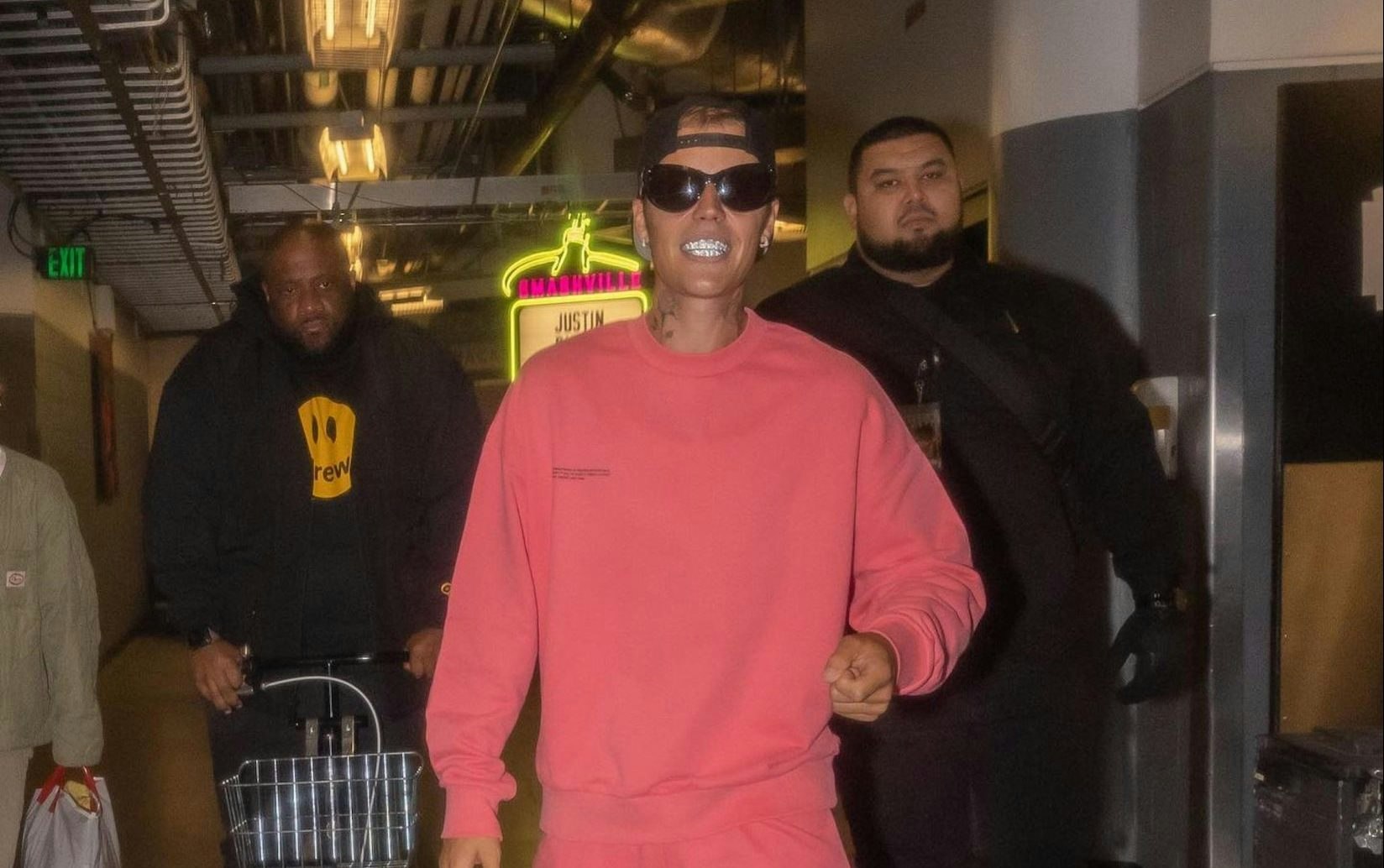 Post-pandemic Pangaia
Pangaia always aimed to go far beyond tracksuits, says Parkes. "The plan was always that we would have this back end R&D of textile innovation development," she says. 
"I'm coming from the tech world, where companies like Google and Intel are owning the future of their industry by planning products 10 years in advance, by developing IP, doing research and acquiring companies," Parkes says. Fashion brands are far less focused on long-term R&D, she says, and most materials innovation comes from the military or sports world.
"The idea was to say: can we have more of a tech company model in the sense that we are planning out and investing in the future of our own materials?" 
The brand's first patented tech came when it acquired the IP for an early-stage lab breakthrough to use compostable wildflowers instead of goose feathers down in puffer jackets.
High-tech naturalism
Parkes describes Pangaia's sustainability philosophy as "high tech naturalism". The team looks for places in nature where there's an abundance of a particular plant or substance — such as agricultural waste, banana plants, nettles or even carbon dioxide. 
"We think about those places where there's abundance, then we try to use the highest levels of science and tech to augment that functionality and turn it into something useful."
The philosophy led Pangaia to create Plntfiber — made from bamboo, pineapple and banana leaves found in fruit production waste — and Frutfiber, made from bamboo, nettles, seaweed and eucalyptus. The company sells t-shirts, hoodies, dresses and shorts made from the materials. The majority of products are manufactured at its factory in Portugal.
The hardest materials to create bio-based alternatives to are stretchy materials like spandex and lycra, Parkes says. 
Bringing down the cost
Pangaia's products come at a price — hoodies start at £130, trackpants at £120 — but Parkes says the brand isn't aiming to compete with high street fast fashion. 
"Fast fashion is artificially cheap. Someone is paying for that, whether it be a person or the earth — t-shirts shouldn't cost $3. We don't want to encourage that, we want that model to die," she says.
In time, the cost of the materials Pangaia uses will come down, she says, and it will come closer to the cost of other high street brands. "We're not sitting at an arbitrary luxury level, we have to reflect the quality of the textiles and the production."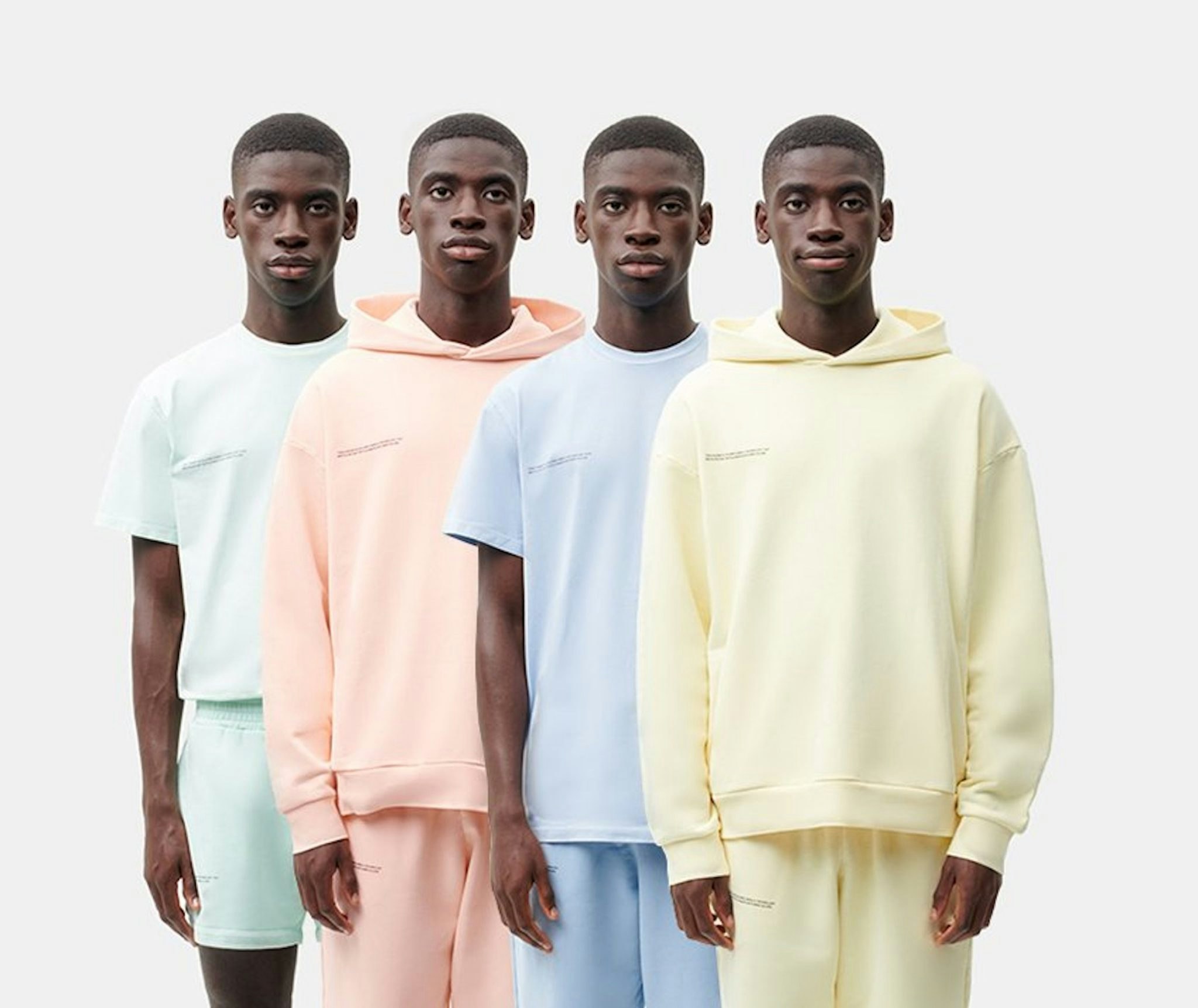 Pangaia is not solely consumer facing either. It wants to sell material innovations its proven consumers want onto other fashion brands, adding another revenue stream to its balance sheet and increasing the impact of its innovation.
"We want to release our materials to help change the industry from within, but we also want to make sure that we're not being used as a greenwashing tool," Parkes says. Pangaia is in discussions with most of the large fashion brands, she says, but vets partners to make sure their interest goes beyond tokenism. 
Can Pangaia build on its hype?
Until this summer, Pangaia's consumer facing shop had existed as a pop up store in places like Selfridges, or as an online shop. In June, it opened its first standalone store in Dubai airport.
Time will tell whether Pangaia can continue to build on the hype of its viral tracksuits, particularly as consumer spending power takes a hit. Its most recent sales figures, for 2021, were 14% down on its pandemic-fuelled 2020 revenues, and it's yet to file accounts for 2022.
For now, Pangaia has a pipeline of wacky products — from soap made from lab-grown palm oil to sunglasses made from CO2.