As the world moves online, the software-as-a-service (SaaS) market has taken off. The Emerging Cloud index, which tracks the valuation of software companies, has consistently outperformed the Nasdaq all year, accelerating fast after the pandemic hit.
Good news for Paddle — an SaaS company which helps other SaaS companies sell their services and is today announcing a new $68m Series C investment round. 
FTV Capital has led the round, with participation from Kindred Capital, Notion Capital and 83 North; this brings Paddle's total investment so far to $93m.
The success of SaaS is what drives Paddle's business —  companies come to Paddle's platform for help scaling their customer numbers quickly. The global SaaS market has tripled in value in the past five years to an estimated $100bn, explaining why Paddle has reported annual average revenue growth of 175% over the past four years. 
But this year, explains Paddle's founder Christian Owens, the market took off in a way that hadn't been seen before. 
Super-charged SaaS
"I think that the SaaS sector has probably developed as much in the last nine months as it would have done in 3-5 years without the pandemic as a catalyst," says Owens, who founded Paddle in 2012.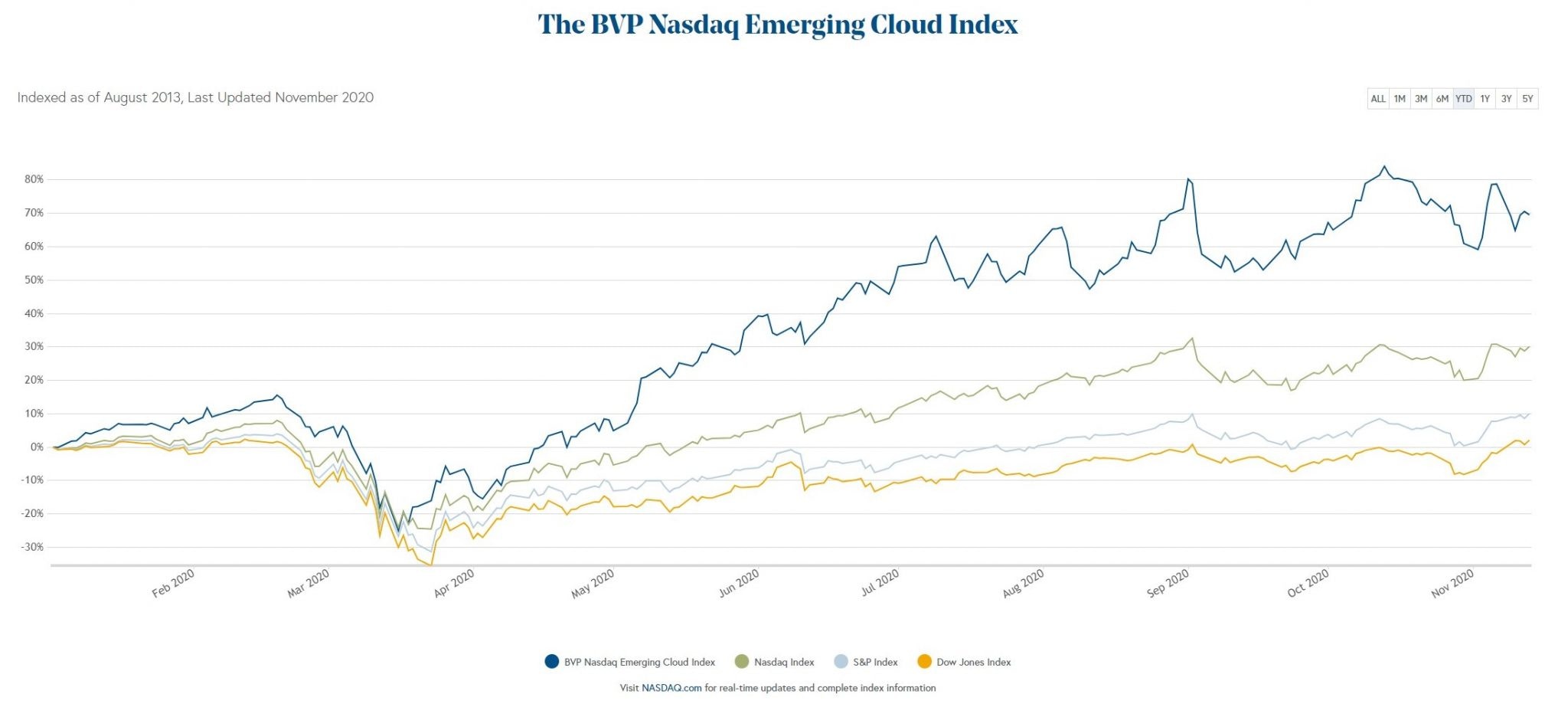 "2020 was the year that software saved the world. If you think about the hundreds of ways that we have had to adapt to the challenges of Covid-19, as businesses and individuals, so many of them have relied upon software. This has led to a huge opportunity for SaaS businesses." 
Other European companies, alongside Paddle, are very much part of the surge. 
"We have had a wealth of fast-growth, highly innovative SaaS businesses in Europe for years," says Owens, "but we're now seeing a number of European SaaS firms establish themselves as truly global players."
Sifted Newsletters
Sifted Newsletter
3x a week
We tell you what's happening across startup Europe — and why it matters.
Online event platform Hopin is one such SaaS company which has seen extraordinary growth this year — and reached a billion-dollar valuation, less than a year since launching.
SaaS unicorns
There are also now a hearty helping of SaaS unicorns in Europe, including security company Darktrace, healthtech business Doctolib and process mining business Celonis.
Last year, VC firm Accel predicted it would take three years before Europe produced a SaaS decacorn (a company with a $10bn+ valuation); but nine months after the prediction, Romanian company UiPath broke the milestone. 
Then in July, Norway-based Visma became the world's largest ever software buyout with a $12bn valuation. 
Europe's growth has been fuelled by an increase in large private investment rounds: in 2016-17, the five largest rounds had an average size of $100m — this year the average is $330m.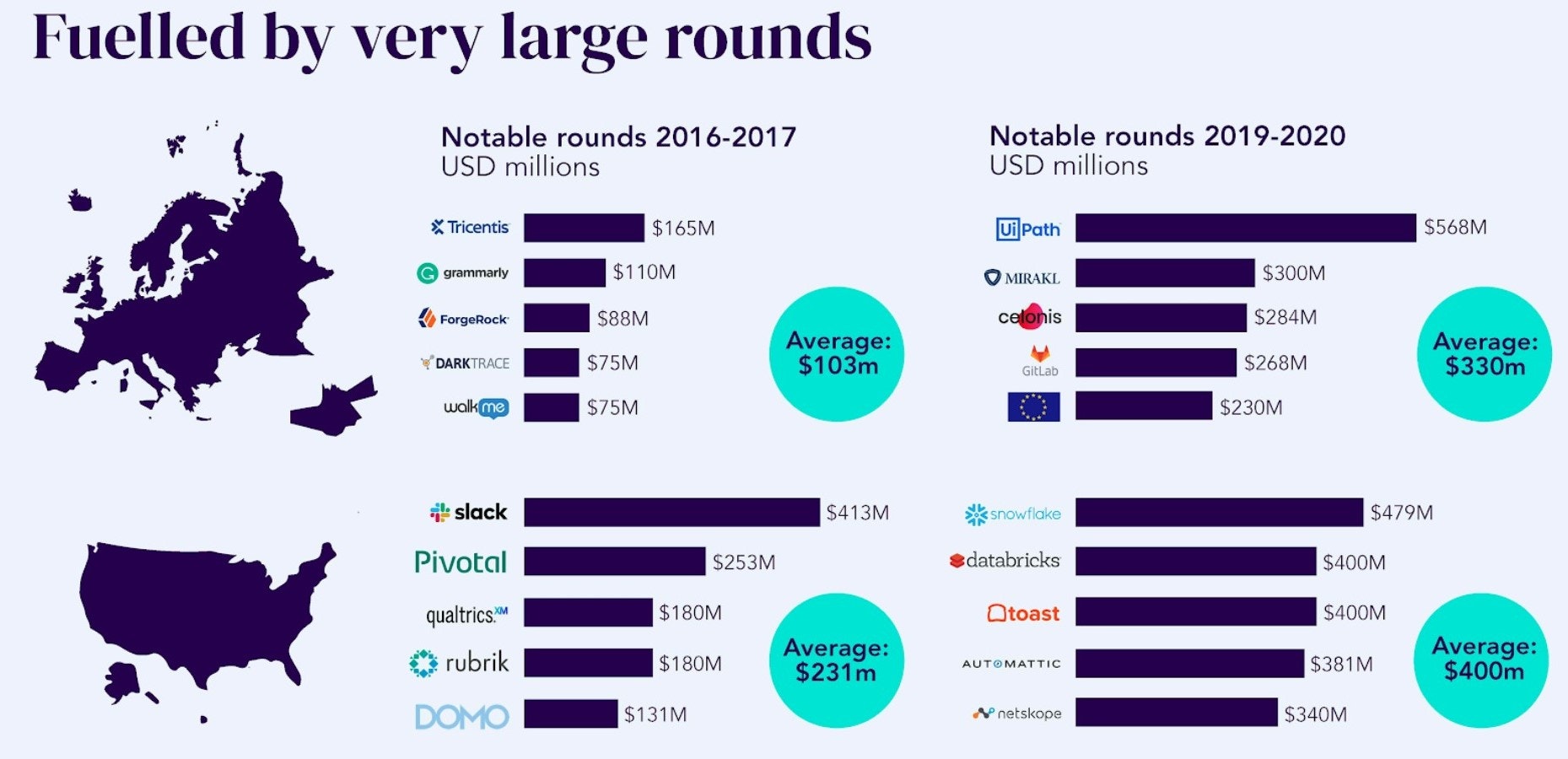 Covid customer churn
It hasn't, however, all been plain sailing for SaaS businesses across the pandemic. 
When lockdown first hit, many businesses looked at where they could cut spending, meaning March 2020 was actually the biggest month ever for customer churn in SaaS, Owens explains. 
"This is a stark reminder that every SaaS company really does have to be laser focused on building products that customers cannot live without," says Owens. 
With that in mind, Owens predicts 2021 looks bright for the SaaS market. 
"The industry will continue to evolve and change at pace," he says, "with the next phase of growth likely to be driven by an explosion of small and medium-sized software companies as it becomes easier for early stage businesses to create and sell software."