This article first appeared in our Fintech newsletter! Want early access? Sign up here.
We love to talk about the neobank hype bubble. But there's another bubble possibly brewing in the open banking sphere, dominated by the likes of Tink, TrueLayer and Plaid.
This is an exciting space, no doubt. These are the companies that are building the so-called "plumbing" of banking, allowing customers to share their bank data with fintech apps and to pay directly from their accounts.
But the price on that excitement is soaring out of control, investors tell Sifted.
European firm TrueLayer's recent funding round valued it at £250-300m, while annual revenues stand at under £5m, three VCs with direct knowledge told Sifted (that's a 60x revenue multiple). TrueLayer declined to comment on the figures. Meanwhile, Plaid's latest round priced it at around 59x its revenues, according to Forbes.
Tech valuations have long been lofty, with investors pricing in enormous future growth, but that's seeping into the fintech infrastructure vertical now.
"You're not wrong," one executive at Plaid told Sifted, when asked if valuations had gone cuckoo.
Meanwhile, Yapily founder Stefano Vaccino acknowledged that revenue multiples had soared even ahead of top payments companies like Stripe.
The big bet
Vaccino explains that VCs aren't concerned about monetisation yet: it's raw opportunity they're pricing.
"Investors aren't looking at revenue multipliers, but the size of the market... This is a space that for the next 10 to 15 years will continue to grow, and there is an opportunity to build a company that is $100bn," he said.
"It's more important to get into this space, than where [in the startup's journey] you enter," he says, drawing reference to the way AWS now dominates cloud infrastructure, with thousands of companies reliant on it.
But interestingly, the 'market' being chased is changing. Open banking startups have quietly moved away from being 'account aggregators' into 'payments companies'.
"You cannot really sell access to data... so they've abandoned account data as a concept," says Rolands Mesters, who runs Nordigen, which is working on a free API to link accounts (and then sell products on top).
Open banking payment rails are slowly being adopted worldwide, and could undercut cards, making this the central race.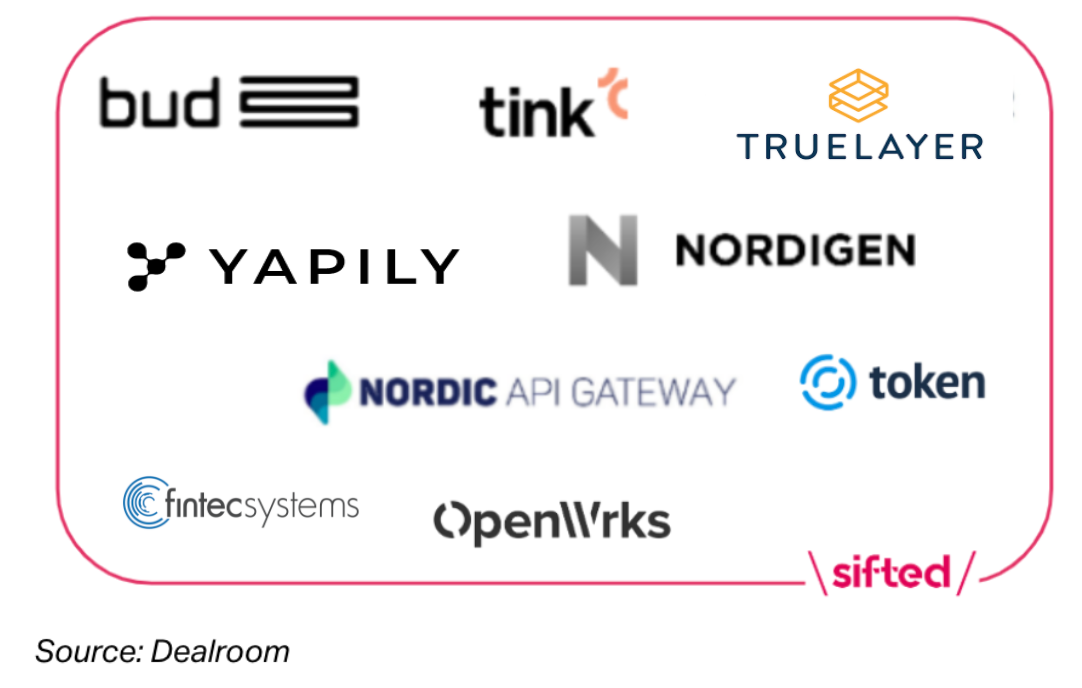 Two theses
Within payments, there are two competing models: infrastructure and productisation.
The first model includes Yapily, which is doubling down on perfecting its infrastructure to power other payment applications, whether that's a Stripe or a GoCardless (which just launched its open banking product).
"I don't see any product company as a threat, I see them all as potential partners... I am sure they will become a partner in the future," Vaccino says.
The other model includes TrueLayer, which is building the payments application itself.
It's a very sellable product, by all accounts. Yet Mesters says these companies will eventually have to go up against giants like Mastercard, who he predicts will soon undercut smaller players "because they want to have control".
A spokesperson for GoCardless also argued that pure payments companies that enter open banking could squeeze newcomers.
"Payments is our core competency — now we're just strategically adding new technologies as they mature. I'd argue it's much easier to do that (and to futureproof your business) than to harness your business model on one technology and then find use cases later on," she told Sifted.
Hiroki Takeuchi, cofounder and CEO of GoCardless, added: "Essentially we're giving merchants more choice in how they collect payments, and providing a low-cost alternative to cards. We've always been "rail-agnostic" and we remain open to the idea of adding new technologies to our platform down the line — so long as we believe they help businesses get paid more easily, reliably and at a lower cost."
One thing is clear — Europe looks set to create both high-flyer winners in this category as well as some big casualties. Stay tuned.