"Entrepreneurial culture starts with societies that invest in their children," former US president Barack Obama told an audience of startup founders and funders gathered at the annual Bits & Pretzels conference in Munich.
Asked how Europe could build Silicon Valley-like startup successes, Obama outlined four key ways to foster innovation. The good news is that most of these are already happening.
Strong universities.
"Universities end up being critical anchors for building a startup culture. In Silicon Valley it was Stanford, in Boston it was MIT," said Obama. "Wherever there's a strong university system, I think there's the capacity to think about how can you blend entrepreneurial spirit with the academic and research work."
We are already seeing this in Europe with startup clusters building up around universities like Delft, Leuven and ETH in Lausanne.
Government investment in basic research.
This, said Obama, "is something that has underwritten the technology products and the insights that have been generated in Silicon Valley."
Programmes like the European Union's Horizon 2020 funding programme for science and a proposed €100m tech investment fund should be laying a similar foundation in Europe.
Access to capital.
Obama spoke specifically about former AOL chief executive Steve Case and his Rise of the Rest investment fund which has been investing in areas outside of the usual venture capital hotspots. "
"The goal is to just go to places that don't have venture capital, that where you don't see investment, It turns out that there are some great startups there," said Obama. "I think countries can be strategic and thinking about areas where there might be outstanding entrepreneurs."
Finding entrepreneurs in unusual places is the mission of venture capital investors like Atomico and Backed VC, which are rolling out scout and angel investor networks across the continent.
Invest in children.
"Somehow, we think that we can starve public education and underfund universities, but then somehow, all these great ideas are going to just pop up," said Obama. "I get frustrated. There are people I know in Silicon Valley, who have been hugely successful, and yet are very resentful about the idea that they might have to pay some taxes."
The US does outspend Europe on education as a percentage of GDP according to OECD calculations, so maybe he's got us there.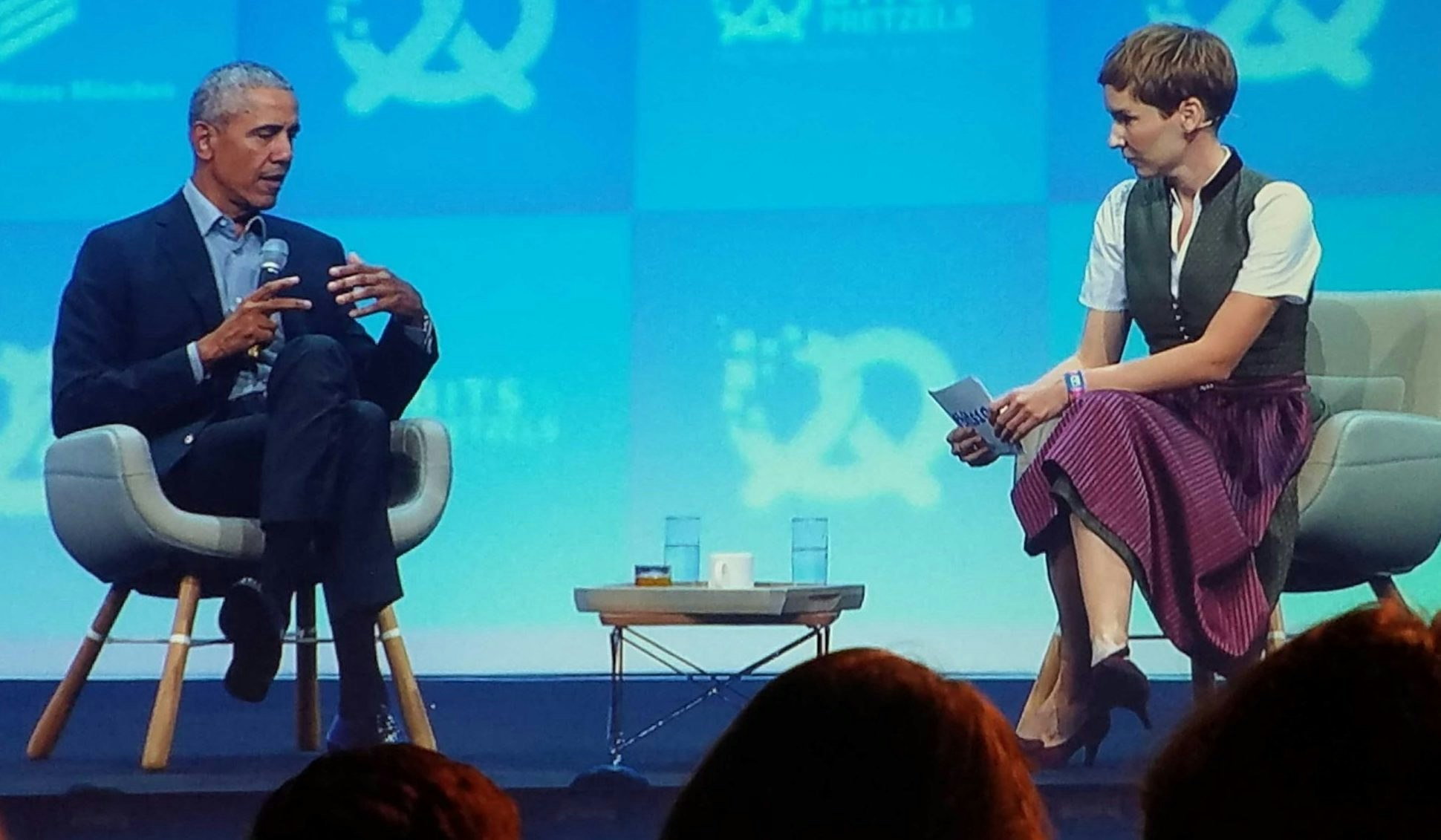 Obama spoke also of the need for diversity in tech, sharing anecdotes about how he made the White House staff more inclusive for women — "I just told the men to shut up". He spoke about meeting climate activist Greta Thunberg and about the need for tech companies to anticipate the societal problems they may cause.
Securing Obama as a keynote speaker was a big coup for Bits & Pretzels — ensuring a full attendance at the 6,000-seat Munich Messe auditorium. Just five years ago, when it was first launched the startup event had just 150 attendees. Booking the ex-president involved a 2-year campaign by the organisers — as well as a promise of lederhosen should he attend.
Obama confirmed he had received the lederhosen and tried them on "in the privacy of my hotel. I am going to wear them for Michelle when I get home."