The effects of September's seed round bounceback seemed to be wearing off in October, which saw 74 fewer rounds than the month before. And that dip continued in November, with a total of 210 rounds — down 49 on October's total. Those rounds, however, raised a total of €389m, an improvement on October's €373m. 
When it came to the countries topping the charts, the usual suspects remained at the helm. The UK raised the most, with €127m — up €16m on the month before. It was predictably followed by France and Germany — both of which raised more than they did in October, with €66m and €57m respectively. 
In comparison, there's been a shuffling of the deck when it comes to sectors. Before October, fintech was consistently in the top two industries raising the most — however, last month's upset, when it came in third after healthtech and software-as-a-service (SaaS), is reflected again in November's stats. With €30m raised, fintech dropped one further place to fourth. 
The top three industries that raised the most seed funding in November were leader SaaS (€59m), healthtech (€55m) and surprise entrant foodtech (€36m). Though the order has shifted, six of the top 10 industries raised more than they did in October.  
Both of the two joint highest rounds of the month went to healthtech companies: memory-focused cognitive test platform Neotiv and neurodegeneration tackler FundaMental both brought in €10m. Joining the top three with a $10m round was agritech ConstellR, which uses thermal microsatellites to produce images of land surface temperature from space, to help agricultural workers manage crops and reduce water waste. 
From taking sports fans into the metaverse to a TikTok approach to upskilling, here are some of the other startup seed rounds that caught our attention in November. 
Healthtech
German-based Neotiv offers a platform of cognitive tests that aim to assess potential problems with memory and identify someone's risk of developing Alzheimer's disease. Its tests are based on memorising visual prompts, and using the platform over time lets users track their memory performance. It plans to use the €10m round, led by Capricorn Partners, High-Tech Gründerfonds, bmp Ventures and IBG, to launch its app internationally.   
FundaMental was spun out of the neurobiology department at Heidelberg University in Germany, and is developing a newly discovered class of drugs to potentially treat diseases like Lou Gehrig Disease and Huntington's Disease. It says the science could also be used to tackle broader problems, like age-related memory loss and strokes. It'll use its seed money to continue drug development and speed up growth. 
Founded in April 2022, Switzerland-based Navignostics AG identifies cancer tumours in patients and tailors personalised treatment for each specific case using AI-driven software. It raised a CHF 7.5m (€7.61m) seed round led by Bruker Invest AG, with participation from Think.Health Ventures, Ventura BioMed and the Zürcher Kantonalbank. It's also a university spinout, from the University of Zurich. 
Food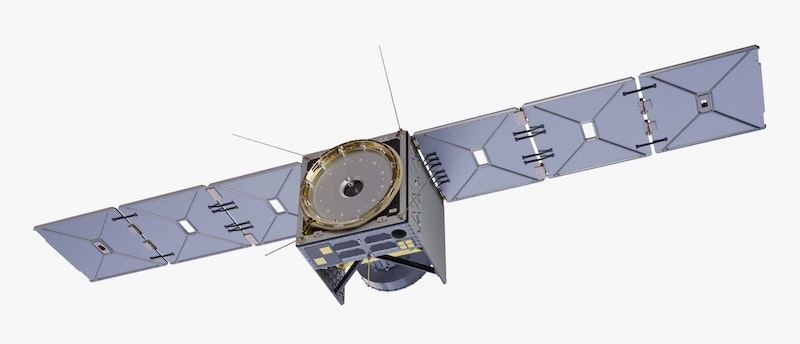 ConstellR is an agritech focused on food production, and uses thermal microsatellites to update agriculture and farming companies around the globe on the land surface temperature of their crop fields. Its $10m seed round was led by Lakestar and VSquared. The global food system uses 70% of available freshwater, of which 60% is wasted — and the German startup hopes to reduce both water waste and loss of crop yields by detecting and highlighting signs of early water stress. 
Something & Nothing makes vegan drinks and low-alcohol seltzers — without any of the "weird stuff", as it puts it on the company's website. Free from chemicals, additives and artificial colouring, the drinks are all under 100 calories per can — and £0.01 from every can goes to Glimpse, a creative collective that organises campaigns, both for activist causes and for charities. It raised a £2.5m round from ACF Investors and Rianta Capital, and will use the money to expand into the US. 
London's Julienne Bruno wants to shake up the vegan food market by offering products that aren't straight swaps for non-vegan foods, but rather new foods that are reminiscent of something that already exists. For example, the listing for its cheese-like Burella product states "THIS IS NOT A VEGAN BURRATA", describing it instead as "familiar, but new". Its £5m round was led by Cherry Ventures, with Outsized Ventures, Seedcamp and Nicoya also participating — the latter two were existing investors. 
Creator economy and the metaverse
5Mins, based in the UK, curates short video content from top creators and educators into a platform designed to offer companies an interactive training platform for employees — think if upskilling met TikTok. It raised a £5.1m round led by AlbionVC, with Chalfen Ventures, Portfolio Ventures, Blue Lion Global and Edenred Capital Partners also chipping in. 
Barcelona-based Eterlast, which raised €4.5m, wants to bring the hype of sports and entertainment fans to the metaverse by offering digital collectibles and assets to be used in Web3 games, that then lead to real-world rewards. For example, it plans to soon create a House of Boxing in which users can buy the best moments from Tyson Fury or Ricky Hatton fights to use in the game. The round was led by Supernode Global, and the company plans to use the cash to grow its user base and partner with more sports and media organisations. 
Fintech 
Atlar, which automates and streamlines bank payments for companies and was founded by three previous employees of open banking platform Tink, raised a €5m seed round led by Index Ventures. The Swedish fintech offers a platform that lets businesses manage separate accounts, action and track money transfers and keep an eye on direct debits in one place. Among its investors were also Revolut's CFO Mikko Salovaara, La Famiglia VC and Cocoa Ventures. 
France-based Tropee offers a platform to build and collect utility NFTs, which are digital assets that offer a use outside of their valuation, like ongoing membership perks, exclusive content or access to real-world experiences. Despite crypto's recent rocky road, Tropee raised €5m led by Tioga Capital, with industry-experienced angel investors Sebastien Borget, Thibault Launay, Gregoire le Jeune and Lorens Huculak also participating. 
SaaS
Surfboard offers a collaborative planning tool for customer service teams, which tackles and streamlines the task of employee scheduling to reduce customer waiting times and improve worker wellbeing. It predicts how many customers will contact the business across a week so managers can assign the right amount of people, and will use its $5m seed funding —  led by Speedinvest, with participation from Fly Ventures, Seedcamp, Tokyo Black, Nomad Capital, Foreword VC and angel Jag Singh — to develop and improve its product and grow its team.
Berlin-based team productivity app Amie, founded by former employee of neobank N26 Dennis Müller, raised $7m in a round led by Spark Capital. The app combines calendars with to-do lists, makes team calendars visible for meeting scheduling and management and offers personal touches like tracking what users listen to on Spotify and sending birthday reminders. Its funding will be used for marketing, plus growing the team.
Seed funding in Europe so far this year:
Sadia Nowshin is editorial assistant at Sifted. She tweets from @sadianowshin_