Frenchman Gilles Debuchy's resume is what you'd expect from a successful entrepreneur: he created a software startup in 2000 that not only survived the dot-com bubble but also went on to be sold for a fat check five years later.
His advice to founders: relax, not everyone expects you to create a pan-European unicorn overnight — and that's not what matters most.
"Startups that skyrocket in two years and raise millions, that's great but it's certainly not the only model we want for entrepreneurship in Europe," says Debuchy. "Too often we neglect that entrepreneurship is an artisanal process and people are the core of it."
As upstarts in Europe get bigger and raise more money than ever before, Debuchy's voice is one of several advocating broader thinking for how to gauge hits and misses. They're making a point that founders and investors should be wary of missing out on opportunities by being overly obsessed with mega funding rounds and valuations.
Debuchy is convinced that entrepreneurs should instead focus on building lasting relationships with key partners. Along with customer satisfaction and employee happiness, this is the kind of target that founders should be setting for themselves, he says.
"When a project fails, relationships stay," Debuchy says. "And relationships take time, so as an ecosystem we have to expand our scope on what's interesting and what matters beyond just projects that take off in the first three minutes on an exponential growth path."
Fixed pay for founders
Now the founder and chief executive of Paris-based startup studio WeFound, Debuchy scouts talent and co-creates companies alongside promising candidates. His company is financed by corporate investors, like France's energy provider Engie, and acts as an intermediate, reconciling the goals, processes and work styles of mammoth companies and founders.
At WeFound he's implementing measures like a fixed salary for early-stage founders to allow for a different approach to creating companies. He also thinks partnerships with corporate investors should rely more on trust and long-term relationship-building than piles of contracts and legal agreements geared only towards a takeover.
Sifted Newsletters
Startup Life
Every Wednesday
How (and how not) to run a startup.
"Being an entrepreneur doesn't have to mean working like a dog with no money for rent until you give up or fall from exhaustion. The same way success is about much more than raising tons of money," says Debuchy. "I'm talking about a different mindset, in which success is feeling good at work, it's being creative, it's making your clients happy."
Success is feeling good at work, it's being creative, it's making your clients

happy.
So far, WeFound has backed a handful of projects including Antilope, a mapping service specifically built for electric car drivers worried about battery consumption. The app will launch in May, the result of a brainstorming session with Engie six months ago. The intern who sat in on the initial meetings has since graduated from university and been hired to run the project — with fixed pay until Antilope picks up.
Ecosystem introspection
As the European startup ecosystem matures, so does its introspection on themes like work-life balance, success and failure, and more broadly how innovation in this part of the world is different from that of technology companies in Silicon Valley or China.
As testimony to that introspection, an increasing number of European entrepreneurs are putting profitability first to expand homegrown champions, rather than "Blitzscaling" Silicon Valley style. And more and more are convinced the continent is in the prime position to become a leader in a different kind of tech: 'tech for good'.
In December last year, French investor Jean de La Rochebrochard wrote a book pinpointing how startups need to revise what it means to be hard-working. Meanwhile, Nicolas Colin, a partner at investment firm The Family, is pushing for Europe to cope with failure in its own way by creating a safety net for a more entrepreneurial economy — rather than copying Silicon Valley's tradition of celebrating failure.
A lot of those points are still a work in progress though, and entrepreneurs are often faced with unrealistic standards that they, and investors, have set for their own world. Mega raises and valuations are one aspect of that.
Leave room for doubt
The pressure to shine as the next potential unicorn can mean founders end up missing out on bigger opportunities, as they don't have room to doubt themselves, their ideas and the path they've chosen so far, says Leonore de Roquefeuil, the chief executive of Paris-based startup Voxe, in an interview.
"After a while I got tired of questions like, 'How great are you guys doing?' and 'Still a huge success?'"  says Roquefeuil. "There's so much pressure from people who want to hear that and nothing else when you're at a startup."
She first expressed these concerns last year in a blog post, which described the pressure she was feeling to tick a set of boxes and perpetually celebrate her company as a success story, and how that left no space for doubt or hesitation.
Amounts raised, number of press articles, prizes won: is that what success really is for a

company?
"Amounts raised, number of press articles, prizes won: is that what success really is for a company?," she wrote in September. She warned how those ingredients can sometimes trap entrepreneurs into relentlessly persevering with mediocre ideas.
She says her post gathered hundreds of responses from fellow entrepreneurs who shared the same concerns and questions.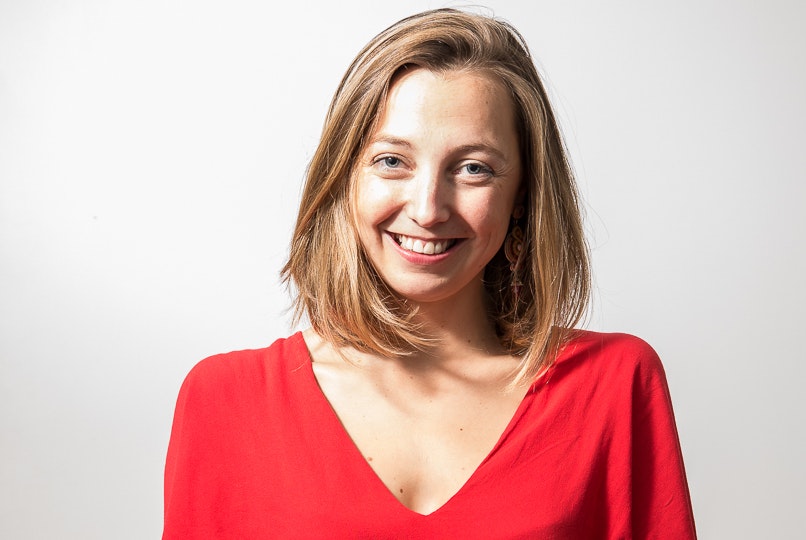 Starting over
Roquefeuil was hired to run Voxe in 2014, when the startup was still in its original form: a platform built to help younger voters compare the electoral promises of political parties. 
By the end of last year, she'd expanded that concept to 20 countries, won a €250,000 prize at an impact challenge by Google, and added news-delivery chatbot features that got some 80,000 users and €350,000 from angel investors. Roquefeuil was also nominated by Station F as one of the startup campus' top female fellows.
"We were in a strong place honestly: a solid, faithful user base, and cash coming in from white-label distribution of our technologies," Roquefeuil says. But the company was too dependent on Facebook's chatbot policies, and Roquefeuil had a feeling gnawing at her that maybe Voxe was meant to be doing something else.
Coming out publicly with her unanswered questions about success marked the start of a company revamp. Voxe polled its user base for eight weeks, scaled back its staff and relaunched earlier this year as a media that decodes and contextualises news to help empower young women. It also refocused from chatbots to newsletters.
"It turns out that 80% of our regular users were women, and over the years we'd become go-to place for learning about complex issues in a simple, fun way," Roquefeuil says. "So we're starting over. But really it's like we'd been maturing this product for five years without fully realising it and now it's finally coming to life."