Startup employees looking for a hefty salary should definitely think about moving to Denmark.
Regular employees there earn €57k a year while senior ones earn €70K, making it by far the best paying country in the Nordics for startup workers.
This compares to €43k for senior employees in Sweden and €46k in Finland. Danish startup workers are on average paid around a third more than the rest of the region.
This is all according to the latest Nordic Startup Salary Survey, conducted by the incubator Arkwright X and Danske Bank. The survey asked 733 startups across Finland, Sweden, Norway and Denmark about their work and salary.
Here are 5 other takeaways from the report:
1) Finns work less
Money isn't everything. For those that are keen to keep a good work-life balance whilst working for a startup, Finland is definitely the place to be. In comparison to the other Nordic countries, the average employee works 42 hours a week – 7 hours less than in Norway.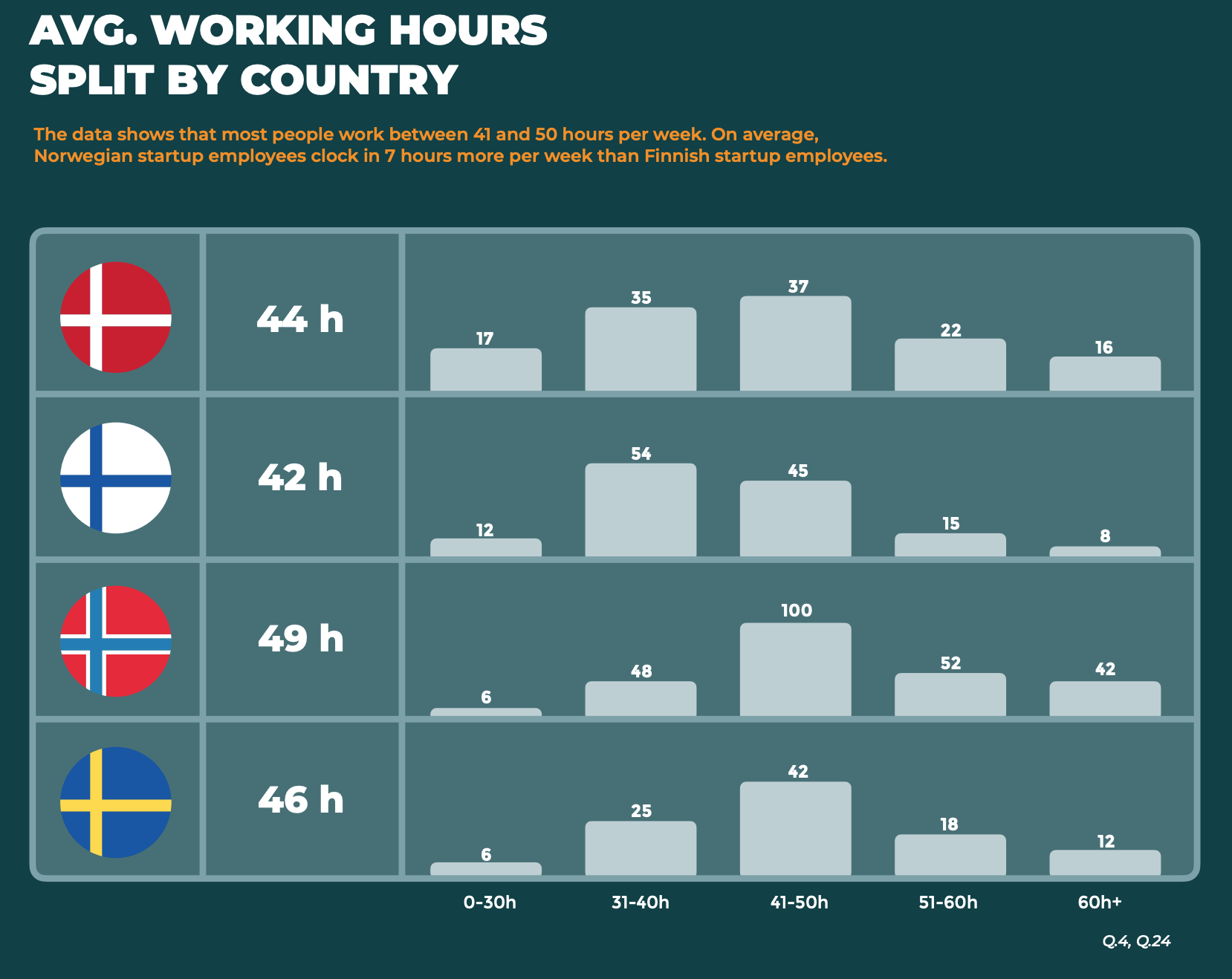 2) Equity does motivate employees
Stock options are a way of sharing the success of a company with employees. Some also argue that it motivates staff to work harder and care more about the company.
According to the survey, that seems to be the case, with the study finding that people with stock options work 8 hours more a week on average than staff without.
3) Gender pay gap still big in the Nordics
The Nordics are often seen as leaders when it comes to questions of gender inequalities. However, this report shows a big pay gap between men and women in the startup ecosystem across Scandinavia.
Within all functions at the startups, independent on size of the startup, women earn less than men. For senior employees, the pay gap is as much as €10k (yearly average). That makes the pay gap 23%.
According to the survey, the pay gap is larger at startups with more than 50 employees than at startups with 1-10 employees. For larger startups the difference in average salary between men and women is €15k or 26%.
Also, when it comes to share options, women more often go without. 55% of the female respondents had equity in the startup they worked for in comparison to 77% of the men. Women also work 4 hours less a week than their male counterparts.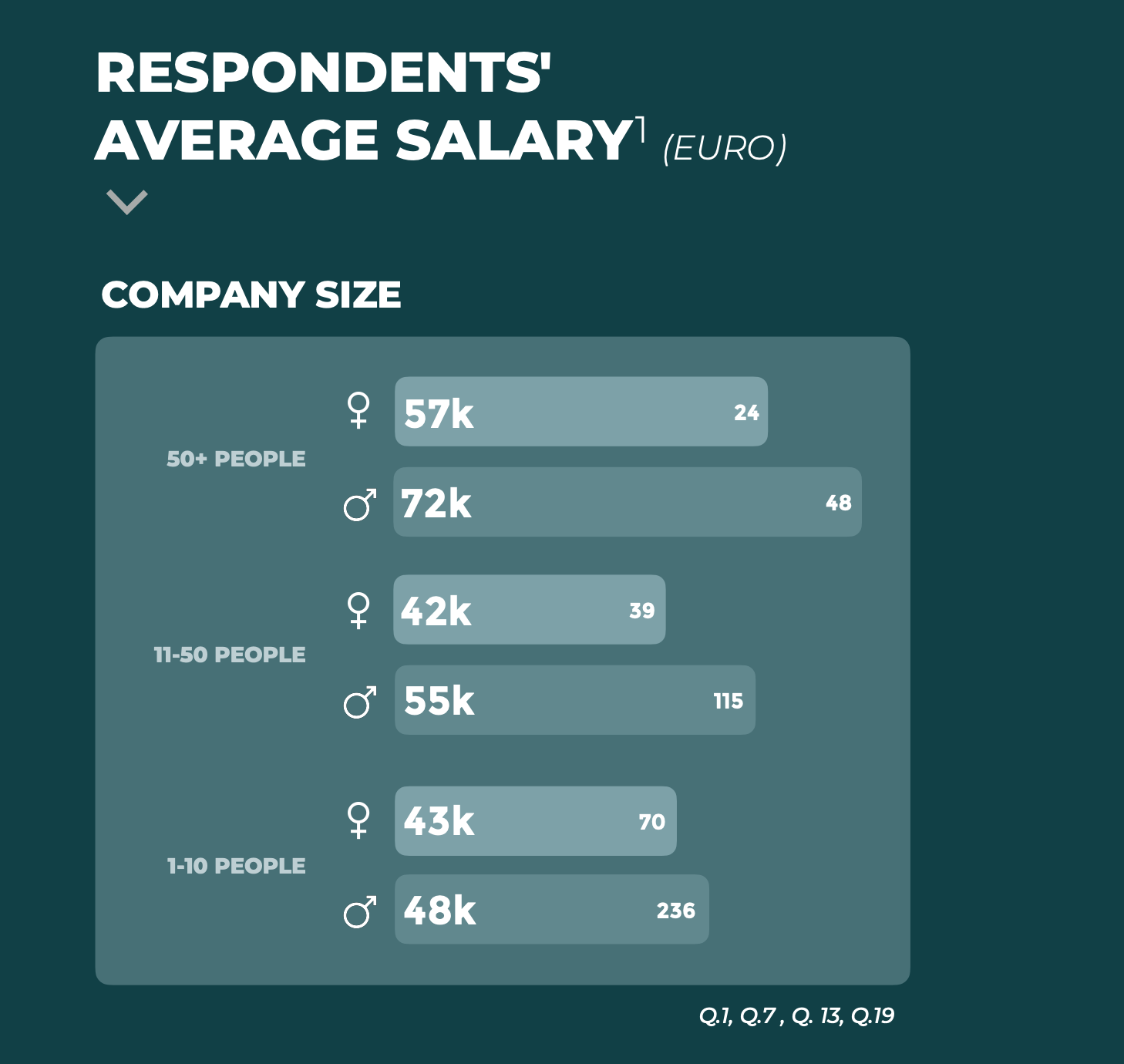 4) Sweden pays badly
When looking at the pay between the countries Denmark is the overall winner with the best average salary both for regular and senior staff. Sweden, which is often seen as the leading startup country in the Nordics has the worst salaries in this study.
However, Swedish companies were also the worst to submit answers. Only 115 respondents, 17%, are based in Sweden.
What the countries had in common was that the bigger startups overall pay more than startups with less than 50 employees.
Denmark
423K DKK  (€57K) regular employee
523K DKK ( €70K) senior employee
Norway
541K NOK (€55K) regular employee
648K NOK (€66K) senior employee
Finland
€40K regular employee
€46K senior employee
Sweden
384K SEK (€36K) regular employee
463K SEK ( €43K) senior employee
5) Founders don't get paid more
According to the survey, there is no difference between the pay of founders and non-founders.
However, the founders, with more equity than the employees, will put in a lot more hours. On average a founder will work 50 hours a week while a non-founder will get away with "only" 42.
To see the whole report, visit Arkwright X's website.