For all the breakthroughs in automation, there is one task that has long eluded robots — picking items up out of a box.    
While it may not sound overly complicated, the ability to pick up items of various shapes and sizes (rather than uniform ones) is a relatively new skill for robots. It's a task that involves hand-eye coordination that is tricky to teach a machine. 
"In almost every warehouse that you go to you will see a station with people whose task is to take an item from a box, potentially scan it, and then place it in another box or sorting system," said Tristan d'Orgeval, cofounder and chief operating officer of Polish robot startup Nomagic. "That's what we're automating."
Known as "bin-picking", the task is one of a diminishing number of repetitive jobs in warehouses that are still carried out by humans.
But that may not be the case for long. Warsaw-based startup Nomagic says it has already deployed its "bin-picking" robots in several warehouses across Europe. Founded in 2017 by Kacper Nowicki, Marek Cygan and Tristan d'Orgeval, the startup today announces $8.6m in seed funding — one of the biggest seed rounds in Poland yet — co-led by Khosla Ventures and Hoxton Ventures alongside existing investors DN Capital, Capnamic Ventures and Manta Ray.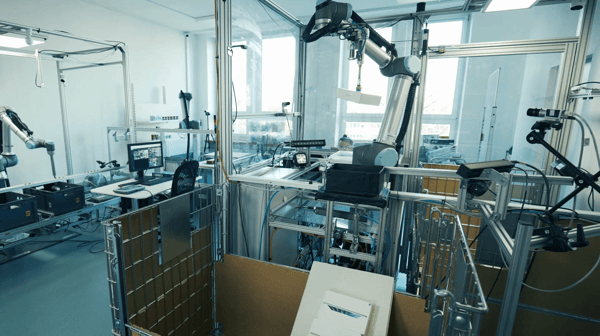 The tech behind the bin-picking bots took a big step forward four years ago when Google published the details of an experiment that saw robots learning how to grasp objects via machine learning. The paper has since been cited over 800 times, and Nomagic's cofounder Kacper Nowicki said this was a key part of the inspiration for the startup.
Nomagic's robots are already in use in the warehouses run by Cdiscount — one of the largest e-commerce companies in France. Each robot has a rubber sucker to pick up items such as iPhones from a jumbled cart, before scanning them and placing them into packaging. Since June, the bots have been working on packing objects, sometimes working 24-hour days.
Another startup working in the space is Covariant.ai, a spinout of the University of California, Berkeley, which was also founded in 2017. Covariant.ai's picking robots are currently at work in various warehouses including one owned by electronics company Obeta in Berlin. 
Well-known for its high-tech warehouses, the online grocery company Ocado has also been building pick-and-pack robots to help pack its groceries.
"The breakthrough here are the deep neural networks and vision based on machine learning. This is what allows us to have a very high success rate for picking up these items and handling them," said Nowicki.
The number of warehouses in Europe with these kinds of jobs is in the "high hundreds", according to d'Orgeval, while the number of workers that could be automated are in the hundreds of thousands.
From here the startup plans to focus on smoothing out the process of deploying the robots, which are being loaned to clients on according to a "robot-as-a-service" business model. It will also focus on making its tech work for trickier products, like clothes so it can move into fashion. It hopes to deploy more than a thousand smart robots in the next five years.
"There's a massive opportunity within the European market for warehouse robotics and automation, and Nomagic is well-positioned to capture some of that market share," said Sven Strohband, managing director of Khosla Ventures.