Every morning, thousands of women wake up, stick a thermometer in their mouth and enter their temperature into the digital contraception app Natural Cycles.
With all the wearables and technical solutions available, many users have asked themselves why they have to bother with old-fashioned thermometers. Soon, however, they won't have to anymore.
The birth control startup Natural Cycles is now releasing new software to its app (pending clearance from the FDA, the US health regulator) that converts temperature data received from third-party thermometers, including popular wearables such as the Oura ring.
These thermometers take their readings from the skin, saving the user a fair bit of hassle.
So why has it taken so long to jump on the wearables trend?
Hardware is hard
"For one thing, hardware is hard," Natural Cycles cofounder Elina Berglund Scherwitzl tells Sifted. "And since Natural Cycles is a medical device, it is really important to get it right. It took us quite a while to develop an algorithm to work with the Oura ring."
According to Berglund, temperature measurements from this kind of wearable are slightly less accurate than those from oral thermometers.
On the plus side, the Oura ring, which is the first wearable added to the platform, also measures heart rate. This makes it possible for Natural Cycles to collect data even when the user is hungover or has slept far less than normal — previously data from those days would not count.
Other wearables, such as bracelets, do not sit as tightly on the skin as the Oura ring and are, therefore, harder to use for Natural Cycles since the company use small variations in temperature for its algorithm to work. However, with further testing, Berglund believes other wearables will be added in the future.
The big idea
Natural Cycles was an early fertility tool, launched in 2013 by particle physicists (and real-life couple) Elina Berglund and Raoul Scherwitzl, who were working together at Cern.
Sifted Newsletters
Sifted Newsletter
3x a week
We tell you what's happening across startup Europe — and why it matters.
Berglund came up with the contraceptive tool as a way to avoid adding hormones to her body — and then, with the help of Scherwitzl, turned it into a business.
In 2017, after gaining CE marking from Germany, the startup became the first digital app that was allowed to market itself as a contraceptive throughout Europe. Expansion to the UK and other countries in Europe followed, and the app grew substantially; at the end of 2018, the startup said it had 1m users globally.
Now, two years later, with FDA certification in the US, that number has risen to 1.8m users and the US has now jumped ahead of the UK as Natural Cycles' largest and fastest-growing market.
Growing pains
But as the only FDA and CE-cleared digital contraceptive it could, perhaps, have grown faster.
Manually taking your temperature every morning before getting out of bed to use the toilet, talking with your partner or moving around too much, is not super user friendly. It's also easy to lose a day's data, if you forget to take your temperature, sleep less than usual or have one too many drinks the night before. The less data added, the less "green days" (days when one can have unprotected sex) users get.
Some users have not used other forms of contraceptives on their "red" days, which has caused problems for Natural Cycles, particularly in Sweden, where the app was said to lead to unplanned pregnancies and abortions.
With wearables, the number of green days is likely to increase, but using wearables to collect data won't be for everyone though.
"The Oura ring is quite an expensive device, it costs around $300. And so, it's maybe not something that every woman can afford, in comparison to the more simple oral thermometers, so we don't want to replace those," Berglund says.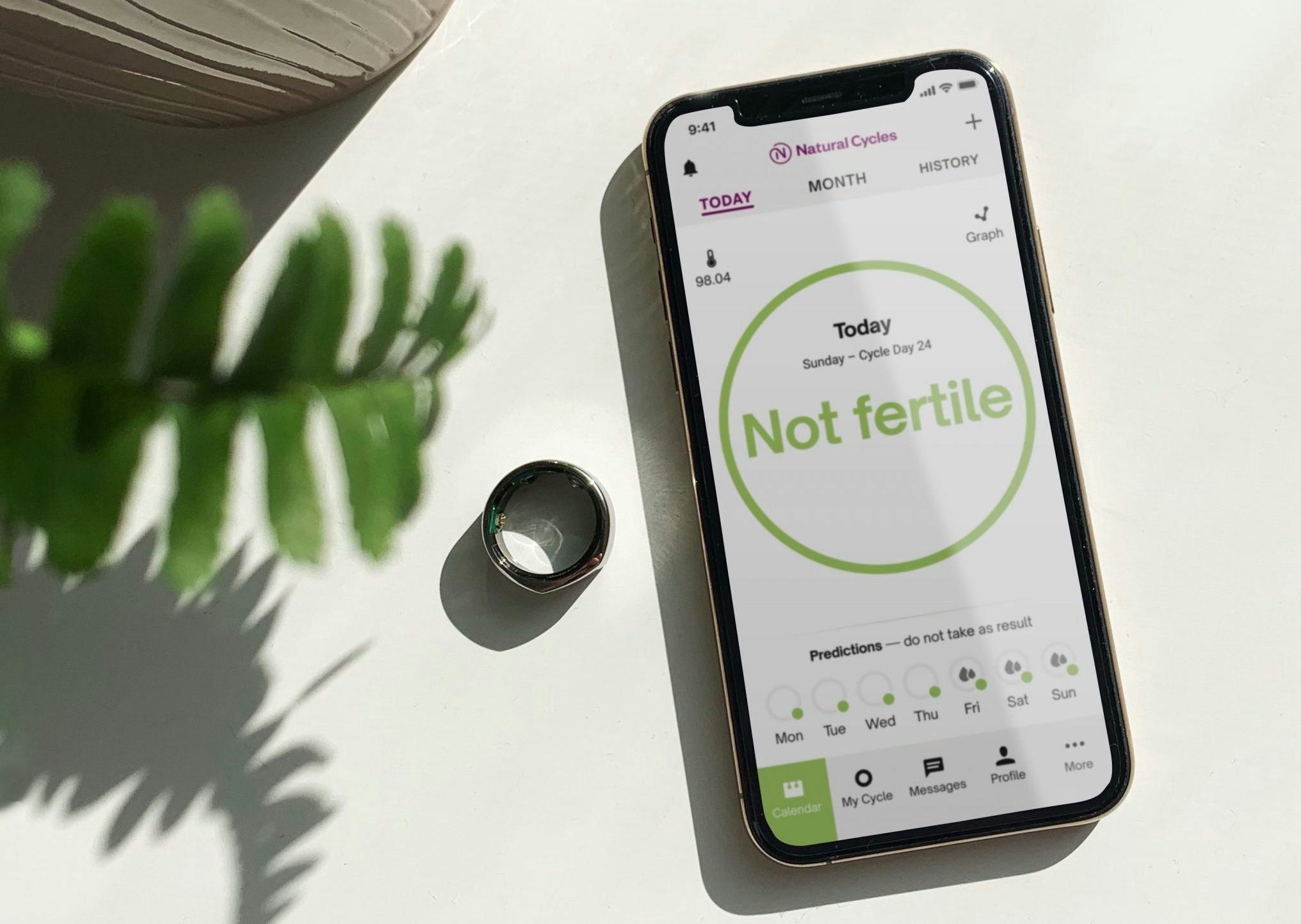 For women who use Natural Cycles, not as a contraceptive but to plan a pregnancy or monitor their fertility, the competition to Natural Cycles is growing steadily.
The Zürich-based Ava's bracelet, Berlin-based Inne's saliva monitor and Copenhagen-based Circle's non-hormonal vaginal capsule are a few European examples that are perhaps pulling customers away from Natural Cycles.
Still, Berglund hopes that by working with wearables already used by customers, Natural Cycles will be able to offer its existing customers a better service and attract new customers through its hardware partners.
"Of course, we hope to grow more and grow faster," Berglund says.
"And we are still not excluding doing our own hardware, now we are just looking into what works or doesn't. But it is still really important that it is sensitive enough to measure the temperature correctly."