When N26 first started out in 2013, few people would have bet on a startup set on building Europe's first digital bank.
Now, N26 is Germany's most highly-valued fintech at $3.6bn, with 7m customers across 25 markets. The company is eyeing an IPO in 2023, and is said to be raising several hundred million dollars in Series E fundraising, which could bring its valuation to $10bn.
While Austrian cofounders Valentin Stalf and Maximilian Tayenthal, who are CEO and co-CEO respectively, preside over N26, they haven't built the fintech alone.
Among their 1,400 employees, there is a small cohort of confidants who have been entrusted with helping scale the business.
Sifted has identified the 15 most senior people at N26: three of which are women. These are people that — according to multiple sources — have a remarkable level of influence over the business, and who have the ear of the CEOs. The list includes C-suite executives, general managers for key international markets, to those who run key segments like legal, compliance and public affairs. 
This is the map of N26's key power players today, based on information from sources.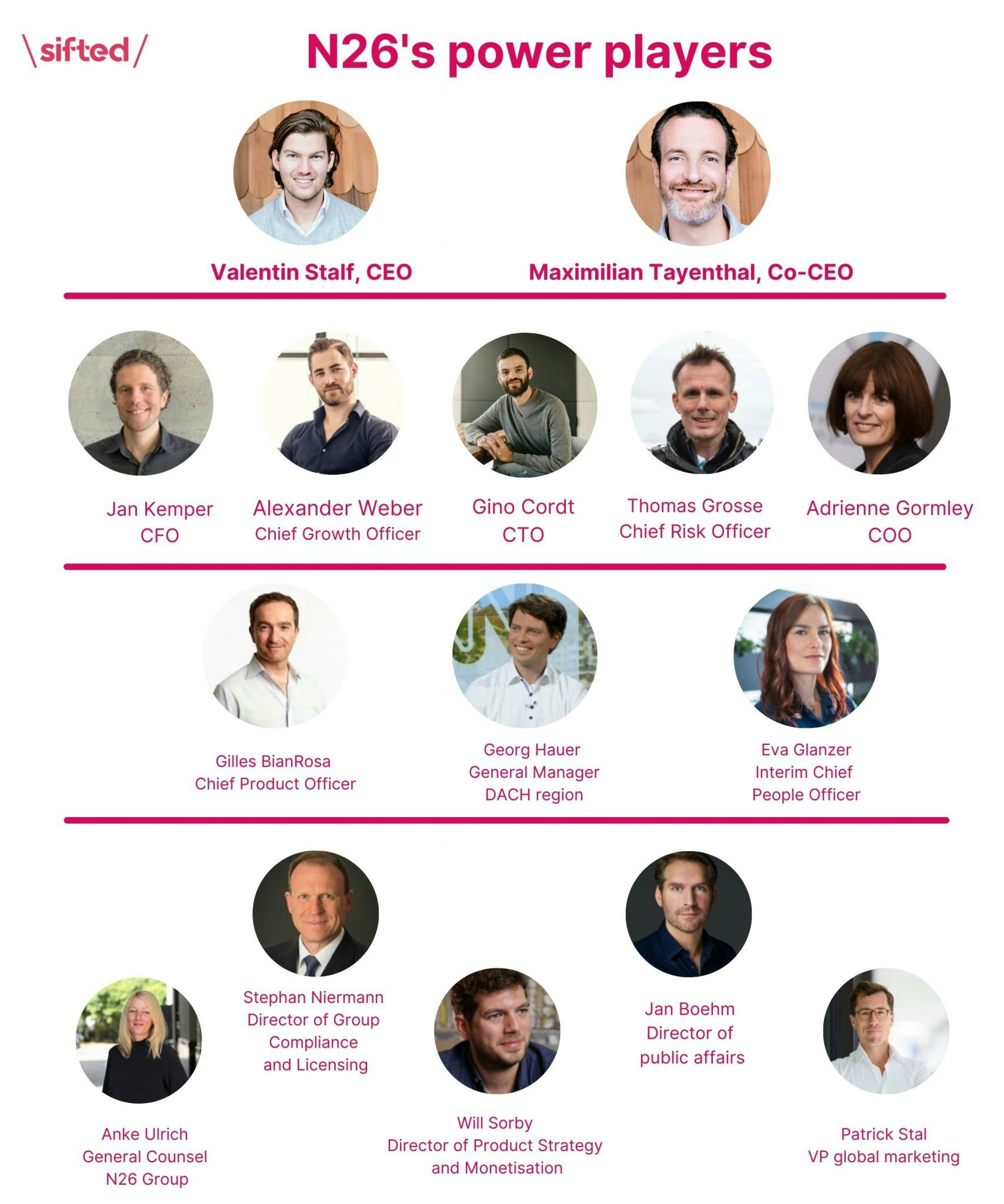 The first tier is, naturally, the CEOs of N26. The second tier is mostly composed of C-Suite executives, with the addition of the General Manager for the DACH Region. And the third tier are, according to sources, critical roles who may not be in everyday but are in direct contact with the founders. 
An N26 spokesperson said the company didn't want to comment on the list as they "have so many influential teams and leaders throughout the organisation."
The C-suite reshuffle
2020 was a stormy year for N26. 
A combination of the management vs staff movement of last August  — where employees stated their trust in the company was at an "all time low" — and the global pandemic caused N26 to shed hundreds of workers.
Finance Forward confirmed that the digital bank lost 300 employees between the period April 2020 and March 2021 – including more than a dozen important managers and C-suite members. Despite this, N26 has managed to snatch some seasoned executives from other companies to take over many of the positions. 
The chief people officer role at N26 has seen the most changes in the last year.
Noor van Boven, who served at the company for over three years, announced she was leaving in July last year and was replaced by Diana Styles, former head of HR at Adidas, in October.
Styles left only six months later — reportedly to start her own consulting business and become more active as an investor. Eva Glanzer — who was previously chief people officer and VP of people at travel tech unicorn Get Your Guide — is now serving as chief people officer for N26 on an interim basis. 
Additionally, Georgie Smallwood stepped down as chief product officer in August last year and CEO Stalf took over her role on an interim basis. Gilles BianRosa, formerly CPO at Soundcloud, was hired in May 2021 to take over the position permanently. 
Of the C-suite reshuffle and loss of employees, a company spokesperson from N26 said: "While a handful of leaders have parted ways with N26 in the last months, each of these were for very different reasons, and a natural part of our growth journey as a company."
They added: "It is important to keep in mind that N26 has grown significantly, [especially considering] the challenges of the pandemic. In this rapidly changing environment, having some employees move on is normal, and we know that many of them do so to embark on their own startup journey, or to join an early phase start-up again."
"As N26 was built by entrepreneurs, we absolutely support this."
The people with power
The chart includes some obvious names, including COO Adrienne Gormley — who joined N26 in October 2020 — and new CFO Jan Kemper, who was hired in January this year to lead the company's IPO. 
But there are other influential people too — particularly those who are part of what some employees call the 'Austrian bro club.'
Among them is CTO Gino Cordt, who is a university friend of Stalf and Tayenthal. Cordt is one of the longest-serving power players — with a current tenure of six years and two months. Sources say Cordt is the cofounders' right hand man, and their most trusted adviser. 
Chief growth officer Alexander Weber —  another N26 veteran who has been at the company for nearly seven years — is also a "chum of the CEOs," one N26 employee told Sifted.
Weber was one of the company's first employees and joined a few months ahead of N26's public launch in Germany and Austria. Sources say he particularly has the ear of CEO Stalf. 
He's like the special ops guy: if something goes wrong, you bring him in and he cleans stuff

out.
'He's like the special ops guy: if something goes wrong, you bring him in and he cleans stuff out," one employee said of Weber.
Georg Hauer, N26's general manager for the DACH region and Northern Europe, is also worth mentioning. His influence is vast, sources say, since he oversees 15 out of the 25 countries N26 is present in. These include the fintech's biggest markets of Germany, Austria and Switzerland, as well as Ireland, Poland, Slovakia, Sweden, Finland, Denmark, Norway, Iceland, Estonia, Latvia, Lithuania, and Liechtenstein.
Thomas Grosse, who was formerly chief banking officer for the N26 Group and now has a new title of chief risk officer, also wields significant power. 
Alongside Tayenthal, Grosse is setting the course for N26 Bank GmbH, the regulated banking entity within N26, to become a financial holding. This means that not only the bank subsidiary, but also N26 GmbH (the holding company) will be supervised by the German financial regulator Bafin — a "preparatory step for a potential IPO," said N26 in a press release.
Grosse and Tayenthal took on the additional roles as managing directors of N26 Bank after long standing CFO Richard Groneveld retired in June last year, and Markus Gunter, CEO of N26's Bank, stepped down at a similar time. 
'Critical' roles
Other important people at N26 include Anke Ulrich, general counsel and director of legal at N26 Bank.  Ulrich provides strategic legal advice on key aspects of the fintech's operations — covering governance, corporate and institutional legal matters. She's served in various legal roles in her five and a half year tenure at N26.
Stephan Niermann also has a critical role as director of group compliance and licensing — making sure N26 stays in line with EU regulations and is doing things by the book. Before joining N26 in January 2020, Niermann was managing director and chief compliance officer at J.P Morgan, and held a similar role at Commerzbank before that.
Also on the power players chart is Will Sorby, who was originally recruited in 2019 as general manager for the UK — a market that N26 later pulled out of citing concerns over Brexit. 
He's considered a power player by Sifted's sources as he's leading what "the founders expect to be the highest source of revenue: upselling to non-paying clients."
On the marketing side of N26, Patrik Stal is the most prominent player. As vice president of global marketing, Stal leads a team of 100 local and global marketers and is the creative mind behind N26's rather colourful campaigns.
Stal came to N26 from Uber, where he headed up marketing across 40 countries in Europe, the Middle-East, Africa and Pakistan.
Last but not least, Jan Boehm is director of government and public affairs — a role which straddles policy and communications. Boehm is in charge of coordinating the bank's relations with politics, associations and other socio-political actors and reports directly to general counsel.