Just hours after Hurricane Dorian ripped through The Bahamas and Florida last month Munich Re had already sent out the first planes to fly overhead to survey the damage.
This was a chance for the German reinsurance company to try out, on a large scale, a new tool it had developed — an AI programme to analyse before and after pictures from disaster zones to speed up the claims process.
It is making the cake bigger, not just slicing it up

differently.
The idea, says Tom Van den Brulle, global head of innovation at Munich Re, is that the company will already know the damage that has been done to the property before even being contacted.
"Imagine if we were able to provide people with indemnification before they go back to the property. Imagine if, instead of having to call your insurer, you got a call from them saying they already know that the roof needs to be fixed and that they have called and booked a contractor to come out," he says.
Most people, he says, hate dealing with their insurance company. But services like this might be a gamechanger in terms of customer relationships.
The technology, mainly developed in-house, is one of the projects in Van den Brulle's innovation remit that he is particularly excited about.
Another development he singled out is the partnership with Metabiota, a Californian startup that models the risk of epidemics such as Ebola, Sars or even just the spread of antibiotic-resistant strains of bacteria.
"Before, as an insurer you would just have to exclude epidemics from the cover. But now we can actually set up new products that can help take care of the problem," says Van Den Brulle. "I like it because it is making the cake bigger, not just slicing it up differently."
Sifted Newsletters
Sifted Newsletter
3x a week
We tell you what's happening across startup Europe — and why it matters.
Not "someone in a hoodie"
Van den Brulle has come a long way since he started in his innovation role at Munich Re two and a half years ago. In 2015 the board — like those at many other big corporations — had just woken up to the realisation that they needed to embrace the digital transformation of the industry.
"Everyone was thinking we would be dead in 10 years if we don't do this," says Van den Brulle. He gives the board credit for jumping into innovation with full commitment: they gave him a budget in the "three-digit millions" to pursue new innovative ideas and now he has a team of 35 people reporting to him.
Surprisingly, Van den Brulle is not from the startup world — he's a long-term insurance man with almost 20 years at Munich Re.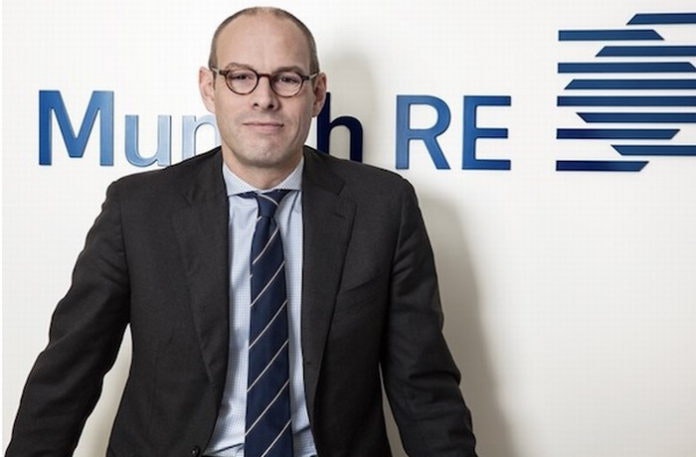 "I asked the board 'don't you want someone in a hoodie?' But they wanted an industry guy," Van den Brulle laughs. Munich Re wanted someone who understood the business model of reinsurance really well and wouldn't simply fixate on grafting on one kind of new digital model.
Since then, Munich Re has tried pretty much everything. They hired tech scouts in places such as Silicon Valley and Tel Aviv (although increasingly Van den Brulle is moving towards in-house scouts), worked with corporate innovation platforms such as Plug & Play and set up a corporate venture arm, which has invested in companies like the on-demand pay-per-use insurer Slice Labs and Trov, which provides companies with a white-labelled insurance platform which enables them to launch a range of different insurance products.
The company has also expanded its own internal digital capability, bringing on board 300 data analysts and around 60 artificial intelligence specialists.
The next phase of corporate innovation: learning to say no
So far none of the innovation projects "really move the needle" on Munich Re's annual revenues of €49.1bn (2018) Van den Brulle admitted. And he is coming under increasing pressure to show the board results.
"You can't get away with telling them stories anymore," he says.
So the team is moving to a second phase, away from simply experimenting. Van den Brulle is building more processes to help the company quickly decide which ideas it wants to take further and he is getting better at saying no.
We are getting better at having these discussions and making better

decisions.
Van den Brulle remembers getting a call in the early days from a Silicon Valley contact urging Munich Re to buy a particular hot insurtech startup. Before, such a call might have made an incumbent reach for their chequebook in a panic, but Van den Brulle held his nerve and had the venture capital team do the due diligence. How unique was the technology, really?
"We discovered that four or five other companies were, in fact, doing the same thing as this company. And we discovered we could do something similar ourselves," he says. Munich Re decided not to buy, and ultimately the "hot" startup folded.
Merger and acquisitions advisers should take note. The time for assuming that you can sell any old company to a gullible corporate buyer is over. "We are getting better at having these discussions and making better decisions."
One deal that Munich Re missed out on was Lemonade, the AI-based home insurance company that now has a $2bn valuation — rival Allianz got in on this deal in 2017.
But Van den Brulle dismisses any suggestion of worry with a wave of his hand. "We're working with pretty much everyone else."