"As more and more work becomes automated, people will have to continuously learn new skills to keep their relevance in the workforce," says Joshua Wohle, the founder of Mindstone.  The new startup has just secured $2.2m in funding from investors including Moonfire Ventures and The Fund. "That means we're going to have more adults learning than ever before."
The problem with this, Wohle says, is that educational tools aren't up to the task. Unlike children at school, adults can't schedule their lives around learning — they have jobs and families to attend to. 
To facilitate adult learning, an educational system needs to give people more agency over their learning than it does. Wohle's Mindstone believes it's got the solution, which is "taking the internet and making it into a textbook". 
But what does this mean?
Mindstone, founded last March, is a platform that lets you organise, annotate and highlight webpages, PDFs and academic papers online. As you follow a trail of information around the internet, you select things you'd like to remember and the system will then give you reminders to revise the information.
"This is based on space repetition," says Wohle. "There's an ideal frequency with which your brain is exposed to ideas if you want to optimise the retention. We're used to this idea in marketing, but we're not applying it to education, and the effects of it can help you retain 20% more information."
Mindstone also works off another principle from scientific research on how we learn — the need to create multiple pathways and links in the brain to new knowledge. The tool allows you to connect highlighted passages together, as well as connecting them to other user's notes.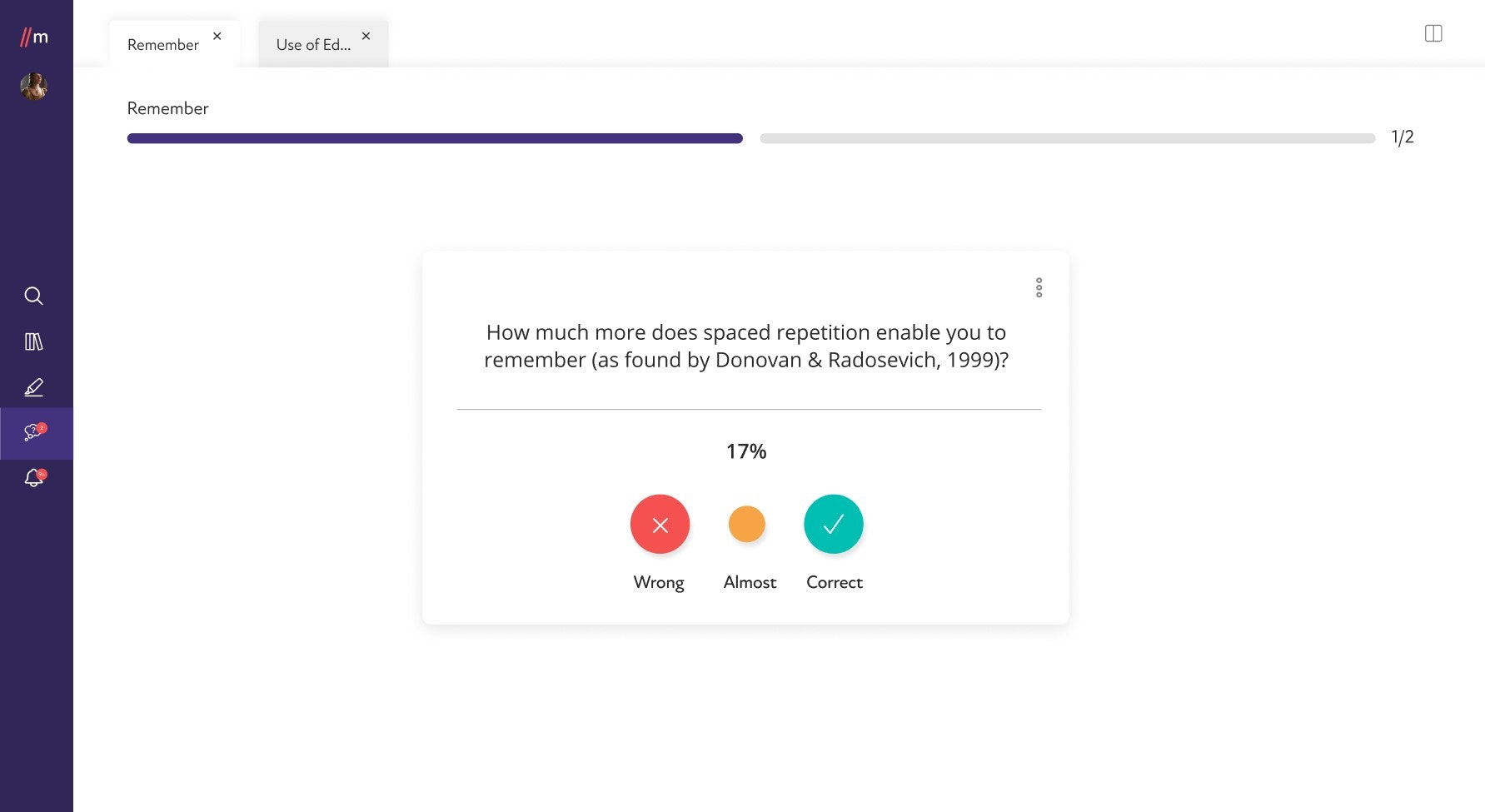 How we learn
For Wohle, who's Dutch but lives in London, the interest in how we learn stems from his own educational background. "By the time I was 13 I'd been to five different schools," he says. 
"I completed an MBA online through the Open University, and I was a big user of things like Coursera and Meetup as a way of learning different things."
"Then I read a book called 'How We Learn' by Benedict Carey, a New York Times writer, and it highlighted the discrepancy between everything we know about how the brain works and how little of that is used in the classroom — or how little people are aware of."
At the time, Wohle was working at SuperAwesome — a kid tech company he founded that was recently acquired by Epic Games, the creators of Fortnite. 
It whilst he was at SuperAwesome that he became interested in edtech, particularly tech focused on how we can optimise learning. He started investing in edtech firms himself, before founding Mindstone.
From financial investing to gravity
At present, Mindstone works by users choosing which parts of the internet they go to next themselves. The idea in the future, however, is that the system will be able to understand what someone wants to know, as well as their current understanding, and then map a path for them to acquire that knowledge.
"The end goal is that the system will recommend articles and steps for users, to create custom learning pathways ordered for individual learners, based on a skill assessment," Wohle explains. 
This could involve articles and blog posts, but also videos, podcasts and book recommendations that would take you closer to the goal.
"So you could tell the system you want to learn how to become a financial investor, or that you want to learn about gravity, and it would take you on a path to do that," he says. 
"The internet is already our textbook, but it's very siloed at the moment. There's really quality content out there, but we need a system that shows us how to navigate the internet to learn about a topic."