Much has been said about a surge in interest in European tech from US and Asian investors, but Middle Eastern investors are also getting in on the party.
Investment into European startups from the Middle East has more than tripled this year, according to Dealroom. 
This outpouring of capital from the region to its north-western neighbour has helped Europe become the fastest growing major region by VC investment — beating out Asia and even the US. 
"We've actually been talking to a lot of companies across Europe [and] in the UK" says Tariq Bin Hendi, director general of the Abu Dhabi Investment Office (ADIO) — a government hub focused on investment into the UAE capital. 
"I think what it is, again, that Covid-19 highlighted is that companies need to not only diversify their marketplaces, but they need to diversify the people that are helping them access those marketplaces." 
In 2020, €1.6bn was invested into European tech from the Middle East region. 2021 so far has seen a considerable increase with €5.3bn flowing into Europe from the region.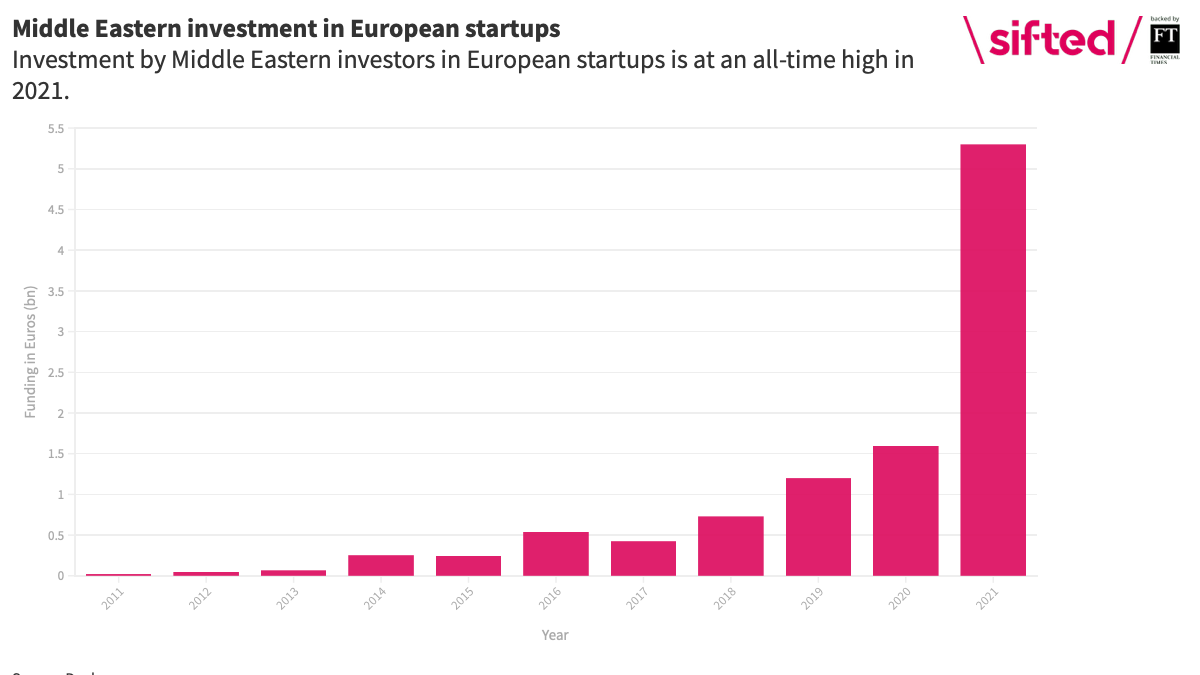 The biggest destination for these funds is Europe's largest startup ecosystem, the UK. By the end of June, Asian and Middle Eastern investors had poured more than £1.7bn (€2bn) into the UK tech scene — equal to 13.2% of total investments made in the country. Most of this was in megarounds of more than €250m, which makes sense given the size of many of the Middle East's active investors including sovereign wealth funds. 
That compares to 2016, when Middle Eastern investors only invested €179m into UK tech, and Japan-based investors such as Softbank dominated the scene. While Japanese investment money was 72.3% of that from the Middle East and Asia five years ago, that figure has shrunk to just less than a quarter. 
Sifted Newsletters
Sifted Newsletter
3x a week
We tell you what's happening across startup Europe — and why it matters.
Middle Eastern investors active in Europe
This year, the Qatar Investment Authority took part in Starling's Series D round along with Goldman Sachs and Fidelity. In 2020, they led digital challenger bank Tandem's Series D round suggesting that fintech is the sector they're focusing on. 
UAE-based Abu Dhabi Investment Authority (ADIA) participated in B2C car marketplace startup Cinch's €1.2bn round in May alongside Neuberger Berman Group, Soros Fund and GIC. The ADIA is a sovereign wealth fund responsible for managing the Emirate's excess oil reserves. 
ADIO announced on Monday that it will partner with IT startups on a non-equity basis to provide financial incentives such as rebates on highly-skilled payroll and high-tech capital expenditures along with assisting them in establishing their presence in the Abu Dhabi hub, as part of its $545 million programme to encourage innovation. 
Director General Bin Hendi told Sifted that although they are interested in sectors ranging from healthtech to agriculture to finance, he sees IT startups as an anchor to this. 
One of the startups that stands to benefit is Callsign — a deeptech scaleup that provides real time AI-driven identity and authentication solutions.
"The AI component [of Callsign] is a very big foundational anchor for the way that we're approaching technology," Bin Hendi says. "But more importantly, Callsign themselves were looking at the region in terms of growth and wanting to access Asia, Africa and the wider Middle East out of the [Abu Dhabi] hub."
Callsign, HQ'd in London, has already brought out a team of 45 to Abu Dhabi, with plans to increase this further. 
The future for Middle East investment in Europe
When quizzed as to what he sees as the future for Middle East investment in Europe and UK tech, Bin Hendi says that they're currently speaking to a number of companies in the region.  
He believes there are three reasons as to why this trend will continue. 
First, investors in the Middle East are now willing to take their risk on earlier-stage businesses to grow their portfolios. Second, they're no longer tied to what they know best to companies in traditional sectors that they can "essentially touch and feel".
Third is what Tariq terms the "reverse dynamic"; institutional investors are happy to invest only if the startups themselves invest in the region non-financially through upskilling and by locating at least part of their operations to Abu Dhabi. 
"I do think this is going to continue," he says "I think it's going to grow and I think that as some of these disruptors, particularly when you look at the financial services, sector, health sector, agriculture and so on, as they start to adjust their technology to serve their markets in Europe and the UK." 
"We will help bring them here and help them tweak the model to work for this part of the world."