David Brear, the bearded, hoodie-clad consultant broadly known as the guru of the London fintech world, struck a victorious tone when he and UK high street lender, RBS, first launched Mettle — its new digital business platform. 
"We launched a bank today. Boom", he said on Twitter, at the time serving as Mettle's interim chief executive.
But, behind the scenes, the project was under strain, according to half a dozen people interviewed by Sifted.
Just a month later, in December 2018, Brear left Mettle in a cloud of recriminations, amid a clash of cultures between Brear's startup ethos and that of a 300-year-old, risk-averse corporate. 
Today, one year on from Brear's departure, RBS-insiders accuse Brear and his 11:FS consultancy of being a mere "hype-machine" with loose engineering expertise. Meanwhile, 11:FS sympathisers speak of a stultifying and anti-innovation corporate culture within RBS.
Away from the mud-slinging, these tensions speak to the strains that large financial corporates can face when trying to build new products with a startup mentality (Mettle operates from a WeWork and its managers don jeans to work). 
It also highlights a specific challenge for RBS, which has been more aggressive than its UK peers in building stand-alone digital units.
Mettle is one such experiment, driven by RBS's sister bank NatWest to defend against the challenge of digital SME bank Starling, which wants to better serve Britain's 6m small businesses. Meanwhile, Bó, RBS's app-only retail bank launched last month to take on the consumer battle against Monzo and N26.
But reports are already circulating that Bó is set to lose its chief executive Mark Bailie. Mettle is on its third chief executive in just over a year. RBS also invested in digital current account Loot in 2018, only to see it fall into administration six months later.
What does this mean for RBS's digital future?
Brear, the cool voice of fintech
According to people close to Mettle, in mid-2017 Brear was brought in alongside global tech consultancy Capco to kick Mettle off.
For 14 months Brear led a team of engineers to build an early test app for Mettle, trialled by several hundred customers. 
From the outside things were going well. RBS's Alison Rose (now its chief executive) even appeared on 11:FS's podcast in 2018, crediting 11:FS as "amazing partners" and "experts" in their field.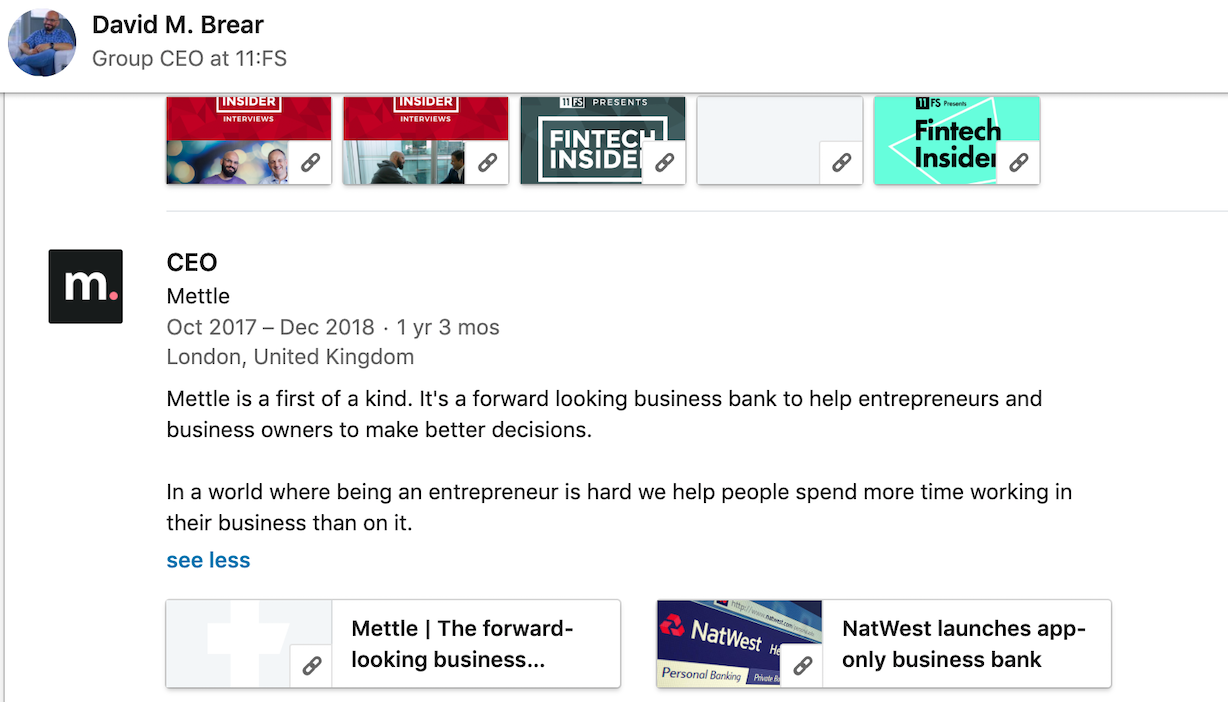 But weeks later Brear's tenure ended. Sources close to both sides suggest a culture clash was at the heart.
For his part, Brear argues that 11:FS was put into a strange position by operating as joint-partners with Capco. This was not the kind of lean startup approach he was used to. "We were working in a sort-of threesome with Capco and NatWest. And the incentives of those three parties were quite different. That makes the tension there constantly on what objective is what," he told Sifted.
However, two people close to Mettle say that 11:FS overpromised on its pitch, recalling RBS executives furious at the consultants' inadequate focus on security.
"We were worried about a data breach [within the app]," one insider told Sifted.
In other words, the bank's "rule-based", security-first approach jarred with 11:FS's "funky" fintech approach and its main focus on interface-design, says a former Mettle employee.  
"[11:FS] were a hype machine. They weren't engineers... The app needed a lot of work for a market launch," they suggested. "It's laughable they take credit for building Mettle now."
It's unclear what exactly triggered the end of the relationship, but in December 2018 Brear left Mettle — according to one eyewitness, after a final showdown. Chris Geldard then took over the reins, having led the original pitch as Capco's managing partner. 
Neither RBS nor Geldard would comment on Brear's departure, but Geldard suggested the transition was abrupt.
"They landed me in quickly and just said, 'right run it from here'," he told Sifted. He soon began the search for a longer-term replacement in Marieke Flament.
Brear disputes that, suggesting his "handover with Chris was [over] months". 
"We left Mettle in a good place," Brear noted.
Fintech innovation, the corporate way
One year on, Mettle has launched a public pilot version; employing fee-free, pre-paid cards while a full payment system is built. 
That arguably puts its progress in line with the likes of competitor digital bank, Starling, which was a little over three years old when it launched its beta (pre-release) app, as well as HSBC's digital business app, Kinetic.
Marieke Flament, Mettle's newest chief executive, is naturally upbeat about the future of Mettle, but she acknowledges there are issues with operating as a startup within a bank (as 11:FS did).
"The biggest challenge is probably that they're two different cultures, Mettle and RBS... Our way of working is more like a tech company than a bank."
That's somewhat at odds with RBS's "process-driven" approach to risk and compliance, she notes, which is ultimately mission-critical.
"We are held to a very high standard [by] 'the mothership'... so the question is how can you grow sustainably. It's not growth at all costs," before adding that the company still "moves very quickly. Surprisingly quickly".
Specifically, Mettle is backed and managed by the RBS Ventures team, sitting inside its so-called "portfolio" with something akin to a founder-investor relationship (where the investor has a majority hold on the board and technological oversight). 
"There's a healthy tension there," Flament jokes.
Still, for all its issues, this relationship gives Mettle an advantage. The 90-person-strong project has access to a giant small and medium-enterprise customer base, the NatWest brand, and a major loan book — giving it an instant revenue stream and lending services. 
Unlike its digital competitors Tide and Coconut, it also won't have to use sparse time and resources to fundraise.
Building a bank within a bank
Perhaps most striking is that Mettle is not expected to be revolutionary. Ambitions for user numbers are modest ("in the low thousands" by 2021, according to an executive). 
So it's about the bigger picture, says Andy Ellis, the head of RBS Ventures, which ultimately means defending against the newcomers.
"I don't have to worry about that question [of profitability]... You wouldn't look at it [Mettle] as a standalone... it's not something we worry about, as long as we're making money for the rest of the bank."
As a "flanker brand", sitting outside the bank's core infrastructure, Ellis insists Mettle's individual success is not life or death.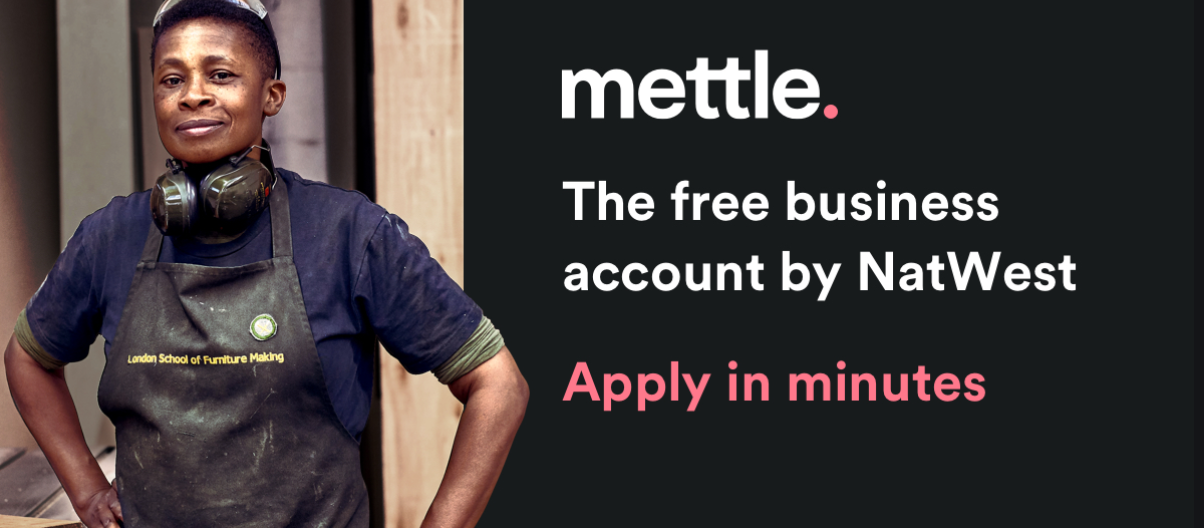 But for all the luxury of being cushioned by a big bank, Mettle's challenges so far hint at the broader issues of building fintechs, which are inherently experimental, within famously reticent financial institutions.
Anne Boden, a former RBS employee and now chief executive at Starling, argues big banks can suffocate true fintech innovation.
"I came from that world… if I thought I was going to be able to create that I would have done," Boden told Sifted last year. "It's very difficult to replicate the energy and technology of a startup."
The nature of banking innovation also means executives fail to fully invest mentally in side projects, according to a former Lloyds exec. 
"That's why they give these things a separate brand. If they want to close it without lasting embarrassment, they can," they explained.
Now, with Bó's leadership uncertain, Mettle will be watched with ever closer scrutiny. But can either project help to improve the survival rate of corporate innovation, and the pioneers who lead them?