The pandemic has put an extra strain on lots of people's mental health — and shone a spotlight on issues that were there before. 
In France, for example, cases of depression doubled across 2020, and a study by the UK government has shown how people's anxiety has risen at the start of each lockdown in the country.
At the same time, across the pandemic, VCs have boosted funding provision for the continent's mental health startups: between 2019 and 2020, funding into the sector increased 4.5 times.
Fabian Erici, investment associate at Norrsken VC, thinks the uptick in funding is down to consumers increasingly seeking out their own tools for mental health support.
"We have seen a shift in the market from being led by psychologists to being consumer driven — consumers are proactively searching for solutions to control their mental health," he says.
Europe's mental health startups
Using data compiled by Mustard Seed Maze VC*, we've created a map of where Europe's mental health startups are, and what they're working on.
The data shows 79 startups working in the sector in Europe. They do a range of things — from measuring patients' sleep to predict depression, to linking patients with counselling, and even providing virtual reality rooms to enhance therapy. 
Nearly half of the companies (35) are based in the UK. Germany has the second highest number, with 14, and Sweden has 10. 
Finland is home to the continent's most funded mental health startup: Oura Ring. The company provides wearable tech to measure biometrics and has raised €140m so far.
To map all startups in the sector, we've broken them down into three subcategories: gateways to mental health; tech-enabled therapy providers; and providers of ongoing mental health support. 
Gateways to mental health
Companies in this category connect people to mental health sessions with therapists, either in person or online. This can mean meeting with a therapist on video link, or via a text chat service.
In terms of funding, the biggest company in Europe in this sub-sector is British startup Ieso Health. The company connects patients with therapists for online therapy via a chat service. The company says it can be used to treat depression, anxiety, post-traumatic stress, phobias and OCD.
Ieso has partnered with the UK's National Health Service to offer free CBT (cognitive behavioural therapy) to patients in many areas of the country. It's received £42m of equity and convertible debt funding so far.
"State sector and public health systems are an obvious place for startups to engage with," says Nigel Pitchford, CEO of Ieso. "These tend to be the primary routes for people struggling with their mental health to pass through and hence the volumes are large."
The second best funded in this category is Swedish startup Mindler, which again connects people with online therapy, but it can be either video or chat based therapy.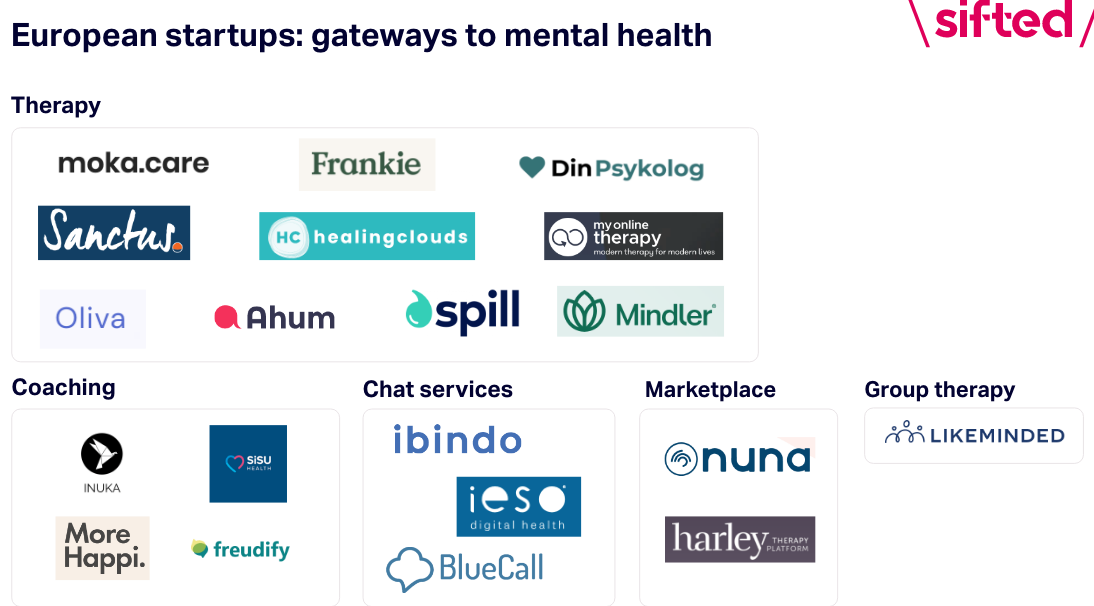 Tech enabled therapy providers
The next category of mental health startups use technology to help mental health practitioners treat patients more effectively. That can mean tools for the therapist to monitor the patient, biometric diagnosis tools, or therapeutic tech using VR/AR to treat patients.
Oura falls into this category. The company sells rings that measure things like how well you sleep, your resting heart rate, your body temperature and respiratory rate. 
A study from Helsinki University showed how the rings could detect signs of depression, by measuring sleep patterns and heart rate variability. It also found that people with depression tended to visit the same locations over and over, something Oura can also track.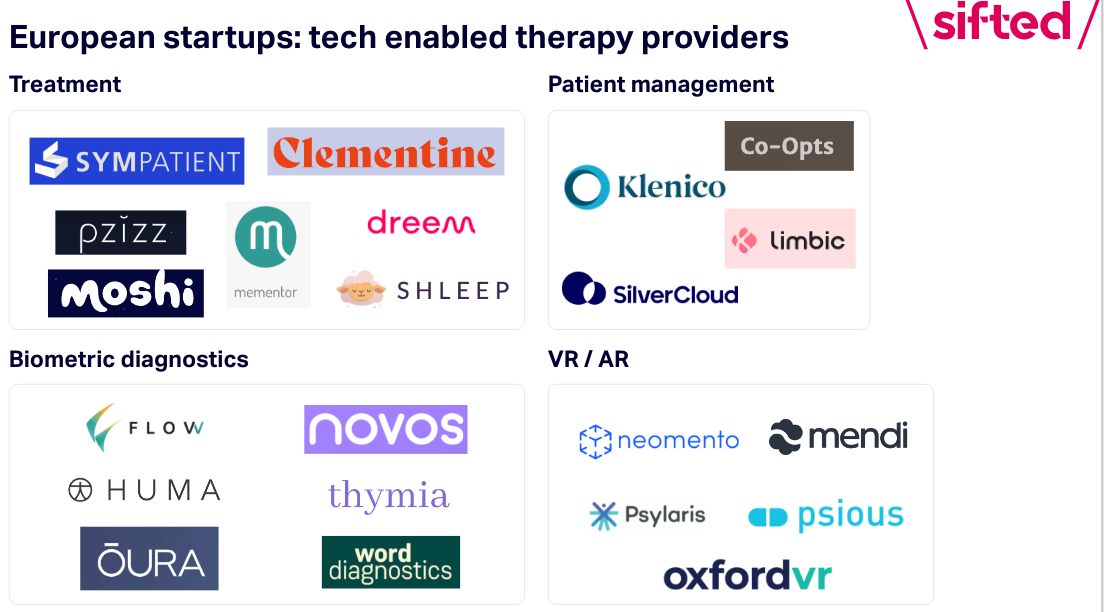 Other biometric diagnosis startups include Thymia, which uses a smartphone game to try and analyse patterns of depression, and  WordDiagnostics, a Swedish company which uses artificial intelligence to analyse text written by a patient.
Beyond diagnosis, there are also companies in this category working on tech that mental health practitioners can use in the treatment process. One of those is Psious, a Spanish company that uses virtual reality to help therapists place their patients in a variety of situations aimed at treating their condition. 
Another is French company Dreem, which is one of the best funded startups in mental health, having €41m so far. The company provides patients with a headband that measures metrics around their sleep and then compiles the data into an app which gives them tailored CBT-I (cognitive behavioural therapy for insomnia, a form of therapy).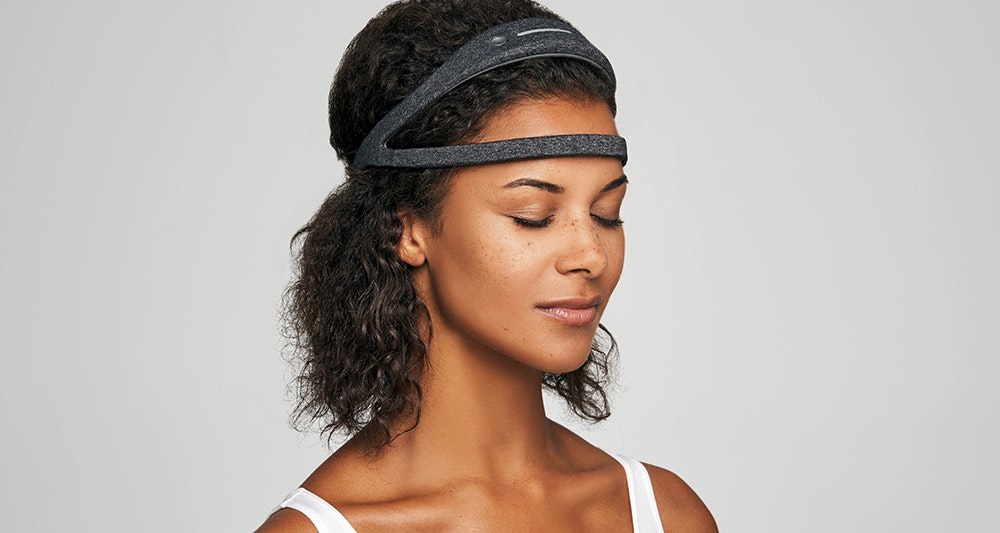 Providers of ongoing mental support
The third category of startups are those that provide ongoing, at-home help for patients. These include self-coaching and mediation apps, mediation platforms and peer support network providers. 
Danish company Reflectly, for example, encourages people to journal in its app, then uses AI to select prompts for each person. Spoke, a British company, runs an app with guided mindfulness tracks by famous musicians and spoken word artists, and Silatha, another UK-based company, runs guided meditations specifically aimed at women.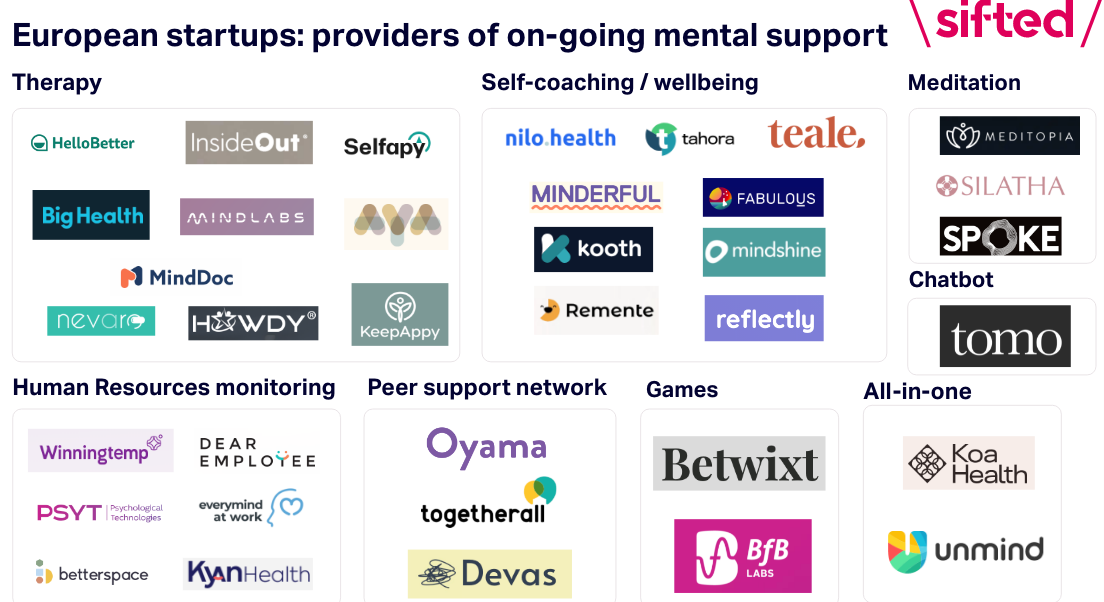 Also in this category are tools for human resources departments to help monitor employee's mental health.
There's German company Dear Employee, that aims to help employers continuously measure the stress employees are under through risk assessments. UK company Every Mind at Work runs tailored well being sessions for its employees through its platform.
See the full list of mental health startups below, and if you think we've missed any, you can email freya@sifted.eu with suggestions.
Freya Pratty is Sifted's news reporter. She tweets from @FPratty
*The writers of the analysis were Manuel Antunes, Associate at MSM; Sofia Queiroz, Investment Associate at MSM, and Henry Wigan, Founder and Director of Investment at MSM. The following people also helped with the mapping: Oliver van der Lande, Associate at 4Impact; Ines Streimelweger, Investment Manager at Creandum; Alistair Owen, Investment Associate at Venture Friends; Charlotte Baumhauer, Investment Associate at Paua Ventures; Harriet Hamblin, Associate at Northzone; Fabian Erici, Investment Associate at Norrsken; Seb Wallace, VC Investor at Triple Point; and Björn Nilsen, Analyst at Heartcore.