The media industry is having a rough time. Newsrooms are closing, team sizes are shrinking (even in social-first examples like Buzzfeed, HuffPost and Vice) and tech giants are hoovering up the advertising revenue that once went to fund original journalism. Public trust in journalism also remains low.
Despite that, we are seeing a new wave of digital media startups trying to do journalism differently, attempting to solve core issues with the industry by filling a niche in reporting, building a committed membership base or engaging the public with outreach programmes.
From Are We Europe to Tortoise, here we take a look at the best European media startups. To qualify for the list, the outlets had to be launched after 2010, editorially independent and digital-first; producing original content that disrupts their area of coverage or the media landscape as a whole.
We didn't put ourselves on the list, but we at Sifted are also an independent digital-first new media startup!
Web traffic stats for February 2021 are taken from SimilarWeb, and funding information from our data partner Dealroom — or from the media startups themselves.
Are We Europe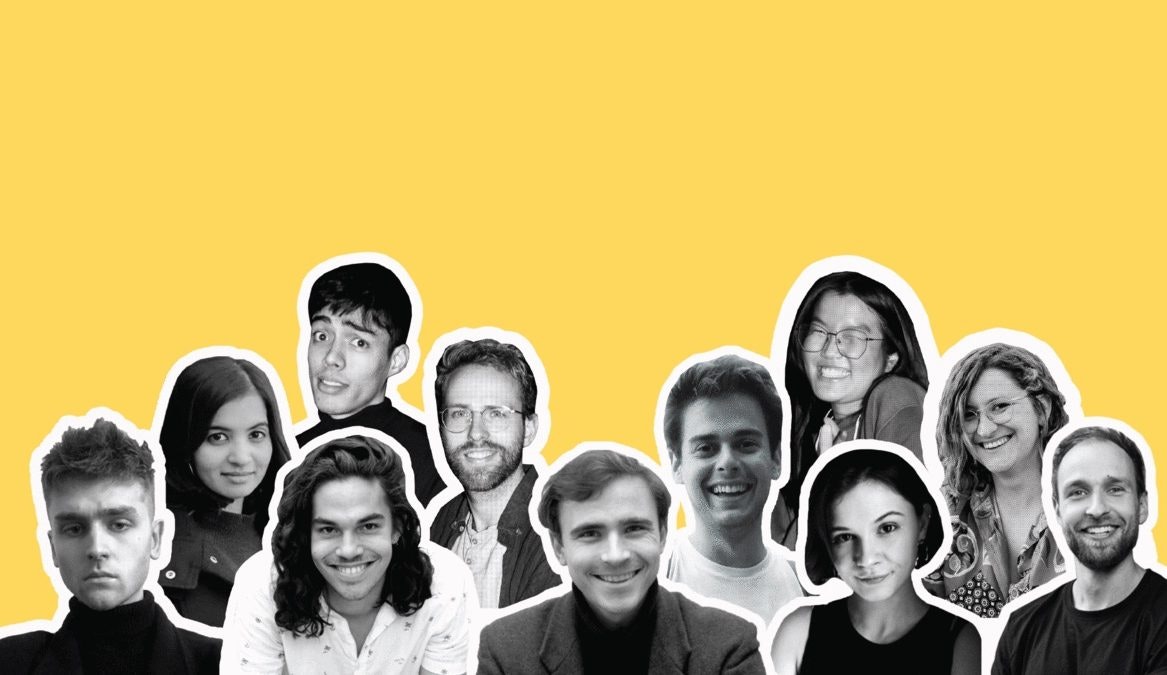 Are We Europe's crossborder journalism is trying to bringing together an increasingly politically fragmented continent.
As cofounder Mick ter Reehorst told Sifted, "There is just no truly European media, and the continent is in dire need of it. For too long, Europe is still portrayed through a national lens." It's aiming to publish underrepresented, even surprising "multimedia stories that go beyond borders, Brexit and breaking news."
Are We Europe boasts a 750-strong 'collective' of local freelancers across Europe who contribute articles, visual, video and audio content to the project.
Kyrill Hartog added: "the challenges of the future go beyond national borders and yet journalism pretends they don't. What good are the UK's green policies if Germany continues to burn cheap Chinese coal? The air we breathe doesn't care about Brexit — it won't stop at the border."
Founded: 2017
HQ: Brussels
Team: 15
Founders: Mick ter Reehorst, Kyrill Hartog, Ties Gijzel and Marije Martens
Editors in chief: Kyrill Hartog and Mick ter Reehorst
Monthly readership: 25k
Funding: annual revenue of €800k, its revenue stream from physical copies of its magazine, its recently-launched membership model and grants from Stimuleringsfonds voor de Journalistiek Accelerator (€80k) and the Adessium Foundation (€150k).
Key impacts:
Bellingcat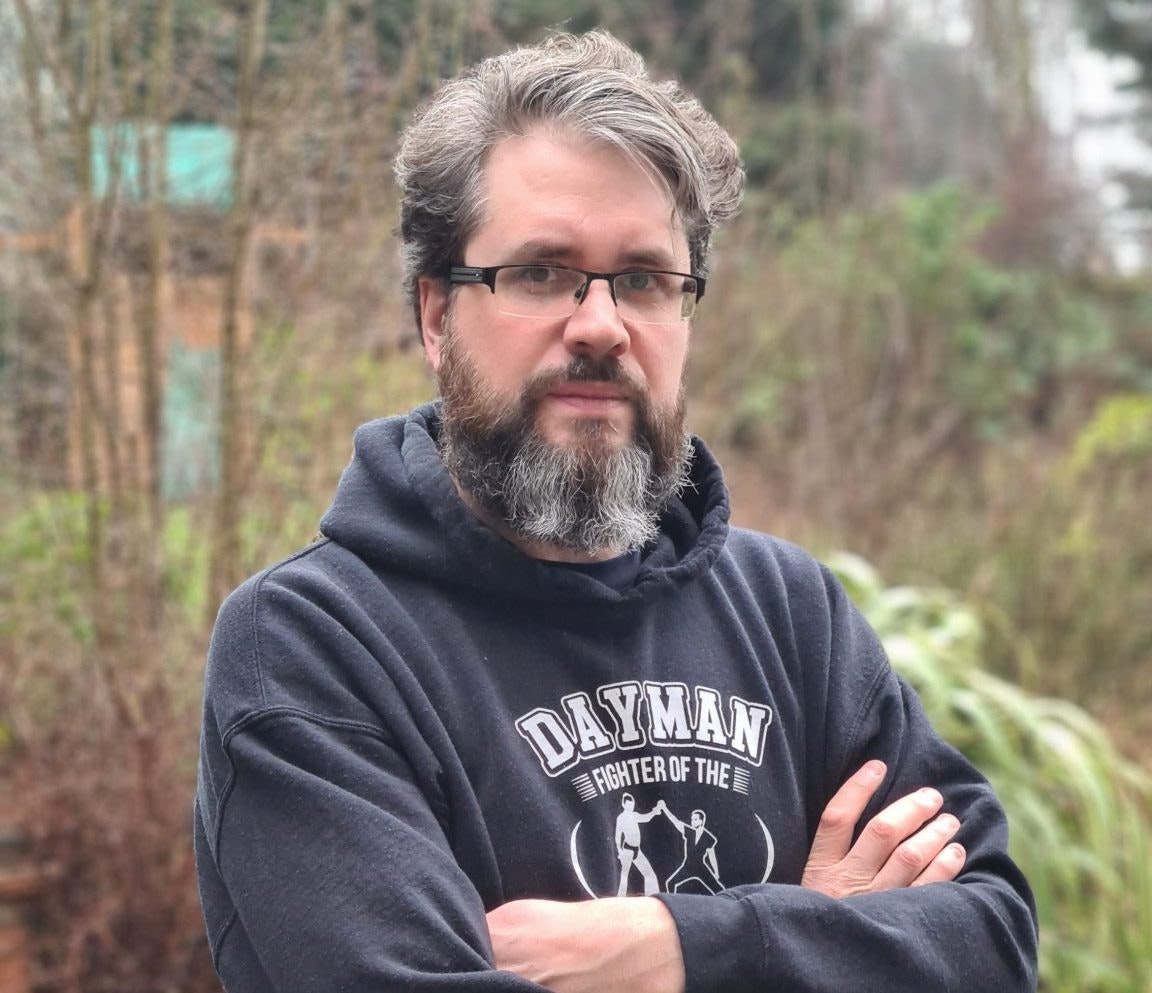 Founded and edited by Eliot Higgins, the Netherlands-based investigative outlet has done nothing short of redefined modern investigative journalism. It deploys open-source investigative (OSINT) tools and often calls upon a committed group of citizen journalists via its social media channels — though its core, full-time team makes 20 people.
Bellingcat uses a variety of techniques, including reverse image searches and satellite imaging in order to geolocate evidence pertinent to ongoing investigations — any crowdsourced tips go through a step-by-step verification process.
Higgins sits on the technology advisory board in the Hague's International Criminal Court; has just released 'We are Bellingcat', a book on its journey so far; and word on the street is the outlet is developing its own film unit.
Founded: 2014
Team: 20 staff, plus volunteers
Founder and editor: Eliot Higgins
Monthly readership: 800k
Funding: founded using Kickstarter and has used crowdfunding since; recipient of National Endowment for Democracy and Open Society Foundation grants.
Key impacts:
Bywire
Bywire covers blockchain technologies around the world, and this week it launches its new site. It's perhaps one of the most unusual publications on this list because all of its published content has been placed on the EOS blockchain network. That means all articles have a record on the blockchain that details when it was created, by whom and if any revisions have been made since publication.
Doing so gives Bywire or its readers a stronger ability to hold to account the contributors or editors responsible for a piece: its revisions and inaccuracies. The site even states that contributors "who fall short of our standards can be warned, sanctioned or removed from the network."
Bywire told Sifted that this method once deployed "will eventually help to end censorship from tyrannical governments and hostile corporations, and will deliver creator accountability and data ownership immutability."
Founded: 2018
HQ: London
Team: 8
Founders: Michael O'Sullivan and Thomas Barlow
Editor in chief: Michael O'Sullivan
Monthly readership: approximately 50k
Funding: bootstrapped except for angel investment from two eToro investors O'Sullivan met on the platform
CORRECTIV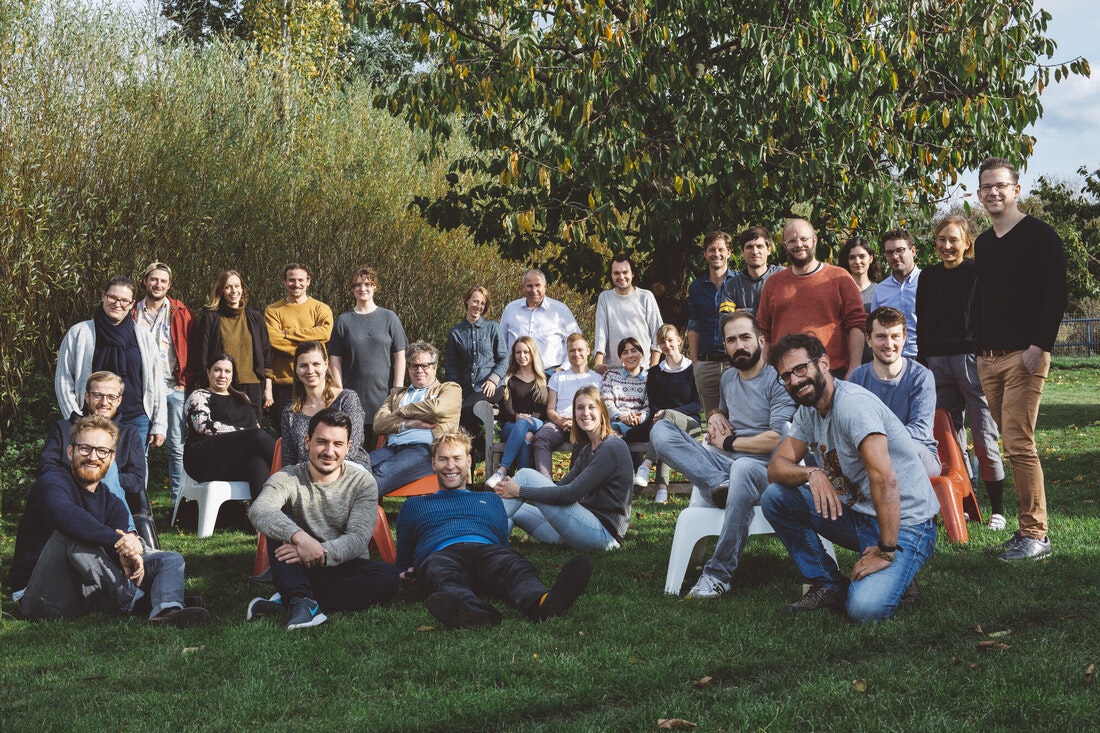 Correctiv claims to be the first donation-funded investigative centre in Germany. It covers a wide variety of areas, from corruption, political extremism and tax abuse; to real estate, health and climate change. It's received more than 30 prizes, including the Grimme Online Award which is one of the most prestigious in Europe.
Founder David Schraven, tells Sifted: "Our journalism focuses on society. This is a big difference to classical media. We do not work for a special target group — but for a greater good and the society as a whole. We unveil the information people need to empower themselves."
Founded: 2014
HQ: Essen, with newsroom in Berlin
Team: 40
Founder: David Schraven
CEO: Simon Kretschmer
Editors in chief: Olaya Argüeso and Justus von Daniels
Monthly readership: 1.3m
Funding: CORRECTIV has received funding from a variety of associations and over 10k private donors, from the Rudolf Augstein Foundation to Google's Digital News Initiative.
Key impacts: 
Correctiv was part of the cross-platform investigation into the CumEx-Files, a tax fraud scheme uncovered in 2017-2018 which cost European taxpayers around $63bn — alongside the 'Grand Theft Europe' investigation
Joint investigation with Frontal21 which revealed how the US Heartland Institute supported climate change deniers in Germany
Crowdsourced data piece on the housing market in Hamburg and wider Germany called 'Who Owns Hamburg?'
The Currency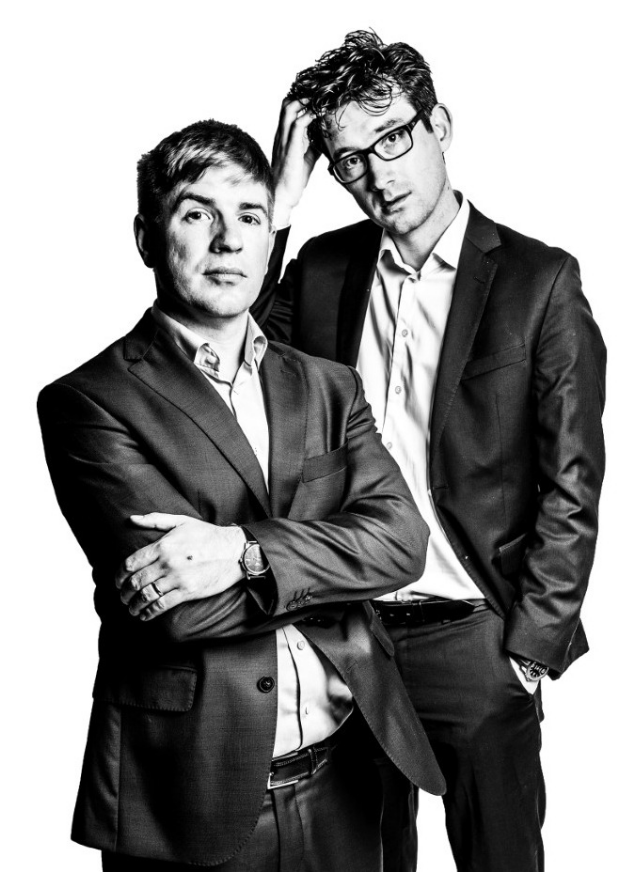 Dublin-based The Currency focuses on business, finance, economics and public policy — producing incisive investigations into the sectors. That includes anything from analysis of how multinationals use offshore havens to manage tax to telling the stories of hugely powerful figures.
"The Currency gives its members an edge in business," says Tom Lyons, cofounder and editor. "Our overarching philosophy is to create a platform for quality journalism; journalism that is fearless, focused, and always interesting."
Founded: 2019
HQ: Dublin
Team: 8 full-time staff
Founders: Tom Lyons and Ian Kehoe
Editor in chief: Ian Kehoe
Monthly readership: not disclosed, 4.5k paying members
Funding: subscriber revenue, supported by Ireland's Structural and Investment Funds programmes; Local Enterprise office and the EU Regional Development Fund
Key impacts:  
CzechCrunch
While covering the interesting aspects of industries, from startups to education, travel and architecture, Ptáček tells Sifted, is also trying "to disrupt the Czech media industry." As its name suggests, the startup's aiming to be the TechCrunch of the Czech Republic, which currently boasts companies like Twisto, ResistantAI and MagicLab.
How's it doing that? By engaging directly with its reader base. Alongside its own podcast, CzechCrunch Shine is its education platform and CzechCrunch Jobs its jobs site for the region.
Founded: 2014
HQ: Prague
Team: 18
Founders: Michal Ptáček and Vaclav Bedrich
Editor in chief: Ondřej Holzman
Monthly readership: 850k
Funding: "CzechCrunch is completely self-sustaining."
De Correspondent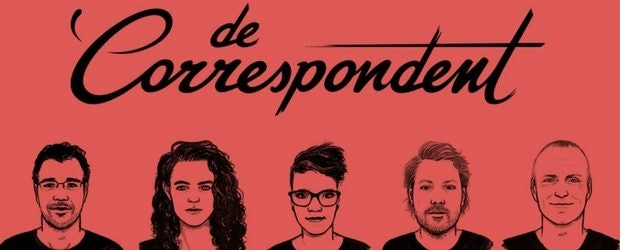 De Correspondent covers climate change, privacy, inequality, healthcare and politics. Free from ads, the platform focuses on in-depth, chronological coverage which is led by its correspondents — each of whom focus on a particular topic. It now boasts 72k paying members.
After its ill-fated English language sister organisation The Correspondent closed down in December 2020, De Correspondent became a new home for some of its staff.
Founded: 2013
HQ: Amsterdam
Team: 50-75
Cofounders: Rob Wijnberg, Harald Dunnink, Sebastian Kersten and Ernst-Jan Pfauth
Editors in chief: Rosan Smits and Rob Wijnberg
Monthly readership: 606k
Funding: based on 2019 data, the startup is 98.3% reader or member funded, (54% membership revenue) with the remaining 1.7% from grants
Dexerto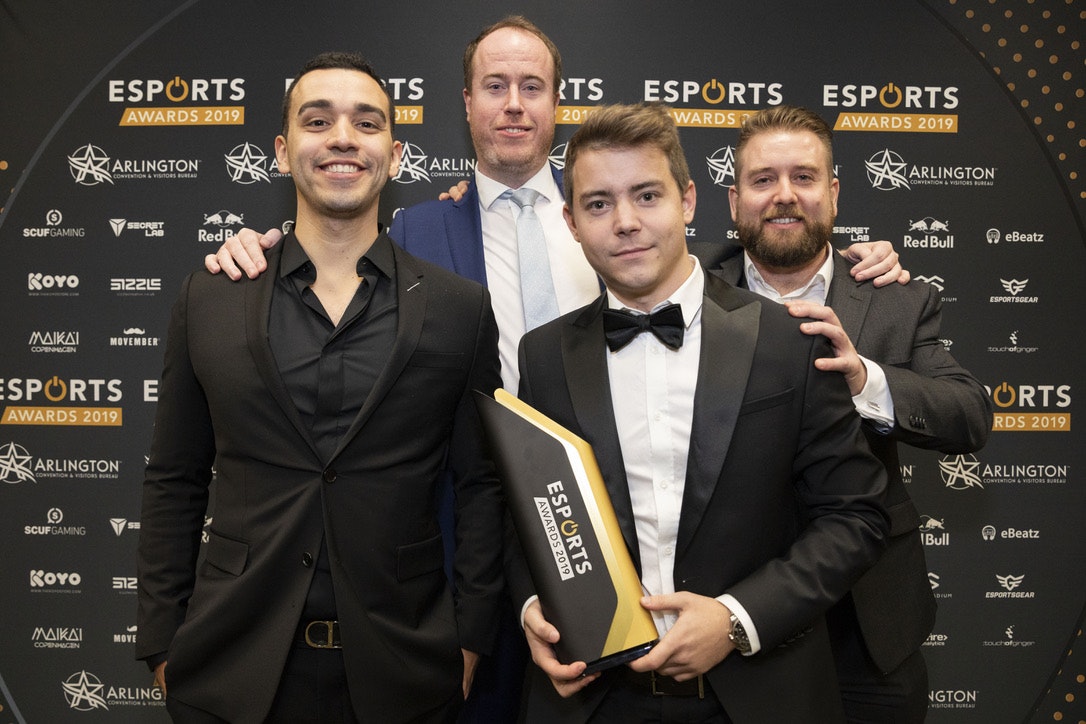 Founded in the UK in 2015, Dexerto is one of the world's largest media companies focused on esports and gaming, getting a massive 60m monthly pageviews across its various websites. It has 10m social followers and 100m monthly video views, it says.
That means the media easily reaches more people every month than all the other companies on this list put together. More remarkably, the company is still 90% owned by its four founders Chris Marsh, Joshua Nino De Guzman, Mike Kent and Nicolas Hulsmans.
Kent tells Sifted that the company's secret has been its ability to tell stories about the personalities of the gaming world, which has made the content more engaging. It has also been buying and building up other related websites including Fortnite Intel and Charlie Intel.
Founded: 2015
HQ: London
Team: 80
Founders: Chris Marsh, Joshua Nino De Guzman, Mike Kent and Nicolas Hulsmans.
Monthly readership: approximately 60m
Funding: some angel investment initially but largely self-sustaining
Forum.eu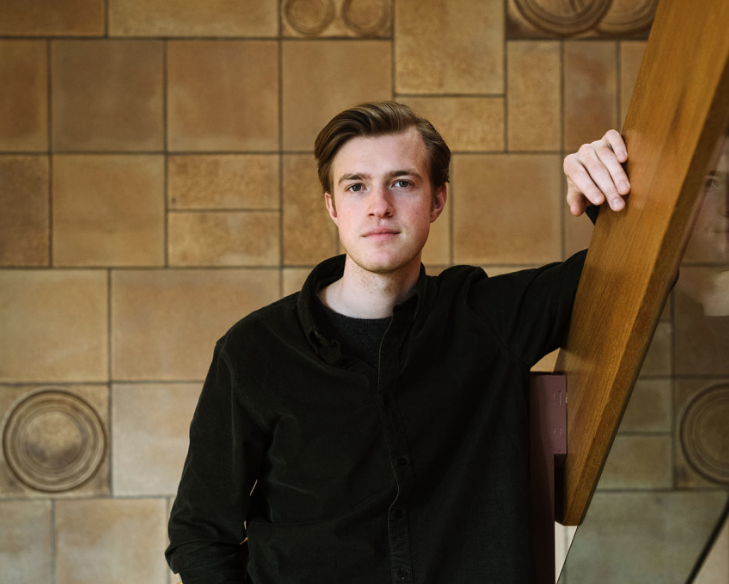 Cofounder and editor Paul Ostwald was included in Forbes' 30 under 30 list in 2020 with a vision of a "Europe united in diversity." Forum is structured around five or so themes — but as you might expect, it's centred around debate. Taking inspiration from Reddit's upvote-downvote system, the Forum platform picks out the 'Most Contested' of their output.
Readers can also access articles in six languages — either sourced from other publications (most recently the New York Times made an agreement with Forum) or exclusive op-eds.
Ostwald told Sifted he's optimistic about Europe's media startup industry, though it's "often overlooked."
"I think that's a shame both from an economic and a social perspective," he adds. "Besides Forum.eu, many projects drive innovation in the ways stories are told, and the underlying business cases show that the industry still has huge potential to grow."
Founded: 2020
HQ: Berlin
Team: 30
Founders: Paul Ostwald, Nikolaus von Taysen, Valentin von Albrecht, Jonas Bedform-Strohm
Editor in chief: Paul Ostwald
Monthly readership: undisclosed
Funding: in seed round, financed by VC firm Bonum
Key impacts:
The first Forum pieces were contributed by John Bolton, Trump's former security advisor and German vice chancellor Sigmar Gabriel — both concerning whether the EU should have a European army
gal-dem
Telling the stories of people of colour from marginalised genders
Set up by Liv Little in her last year of university, gal-dem has not only produced consistently incisive analysis on current political and cultural events, it's scrupulously called out the media industry itself for its failure to promote the voices of people of colour and advance their careers.
While it cultivates critical insight into what the media industry should and shouldn't be, the startup is cultivating a young team of journalists who are sure to have interesting careers ahead of them.
In 2019, it released 'I Will Not Be Erased', an anthology of personal experiences growing up as people of colour written by current and previous contributors. By any measure, gal-dem is proving disruptive media can be financially successful too: it is reportedly profitable, and before Covid-19 the publication had planned to launch in the US.
Founded: 2015
HQ: London
Team: 12
Founder: Liv Little
Editor in chief: Charlie Brinkhurst-Cuff
Monthly readership: 581k
Funding: angel funding, partnerships (including with Glossier, Penguin and Ace & Tate) newsletter subscriptions and print revenue
Key impacts:
Gotham City
Gotham City is an online platform and paid newsletter that operates in Lausanne, the home of Switzerland's Supreme Court. It's exclusively focused on cases of corruption, fraud and money laundering, mostly covering Switzerland and France — with an aim "to increase transparency in the court rulings of one of the world's most important conduits of financial crime," according to founder François Pilet.
"Although the court decisions we are reporting about are legally accessible to the media, they are often hard to access. In most cases, we are required to visit the courts in person to read them in full." It publishes some of these on its site.
Despite its small team, Gotham City's output is impressive — and in monitoring all white-collar crime cases submitted to Switzerland's three federal courts, as well as key government financial and criminal offices, it has emerged as a key resource for those interested in global economic crimes.
Founded: 2017
HQ: Lausanne
Team: 5
Founders and editors: Marie Maurisse and François Pilet
Monthly readership: 1k paying readers, 10k readers of free newsletter
Funding: solely by subscribers
Krautreporter

Krautreporter is a key success story in ad-free journalism in Europe. Before its launch, it raised €1m from 17k supports and remains Germany's largest crowdfunded journalism project.
Very early on, the startup introduced a cooperative model — not only allowing readers to own part of Krautreporter, but share their own areas of expertise — creating a highly engaged network of sources. Now it's Krautreporter policy to check with its reader database before any reporter starts work on a new story.
Founded: 2014
HQ: Germany
Team: 19
Founder: Sebastian Esser
Editor in chief: Alexander von Streit
Monthly readership: 252k
Funding: crowdfunding, membership revenue and a grant from the Engaged Journalism Accelerator
Key impacts:
A data piece on how German arms exports relate to its goals of European integration
An excellent crowdsourced advice column, the latest of which explains how you can have better conversations
Labiotech.eu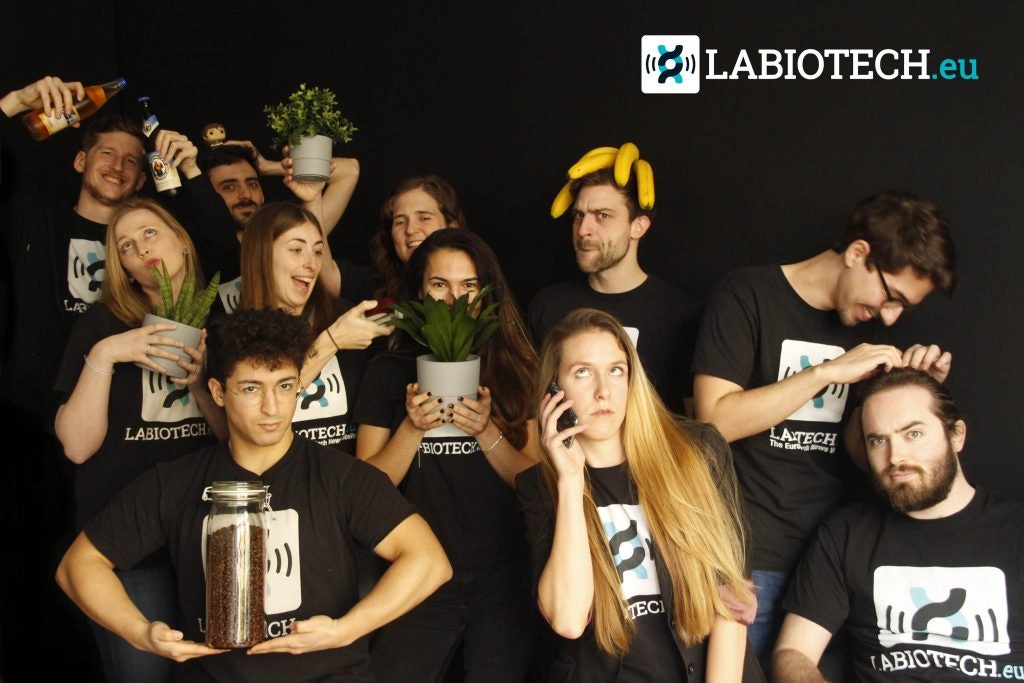 Labiotech.eu has made its mark on biotech in Europe — perhaps because it knows the industry inside and out. It was founded by two biotech engineers to fill the gap in coverage of the area, and its readership base consists of medical professionals at every level.
It's aim? Be the TechCrunch for biotech. It's certainly not far off.
Founded: 2014
HQ: Berlin
Team: 9
Founder and managing director: Joachim Eeckhout and Philip Hemme
Core editorial team: Clara Rodríguez and Jonathan Smith
Monthly readership: 164k
Funding: undisclosed amount in 2017 seed round that included Willie AG, Indiana Capital, JOT-Berlin, Induskia, WestTech Ventures and others. Its first investment came from WestTech Ventures' accelerator Project Flying Elephant in 2016.
Key impacts:
Jonathan Smith took a deep dive into how biotechs have faced a wave of cyberattacks triggered by Covid-19 and the rapid digitisation of healthcare
Has been nominated several times for 'Commentator of the Year' at the European Mediscience Awards
Maddyness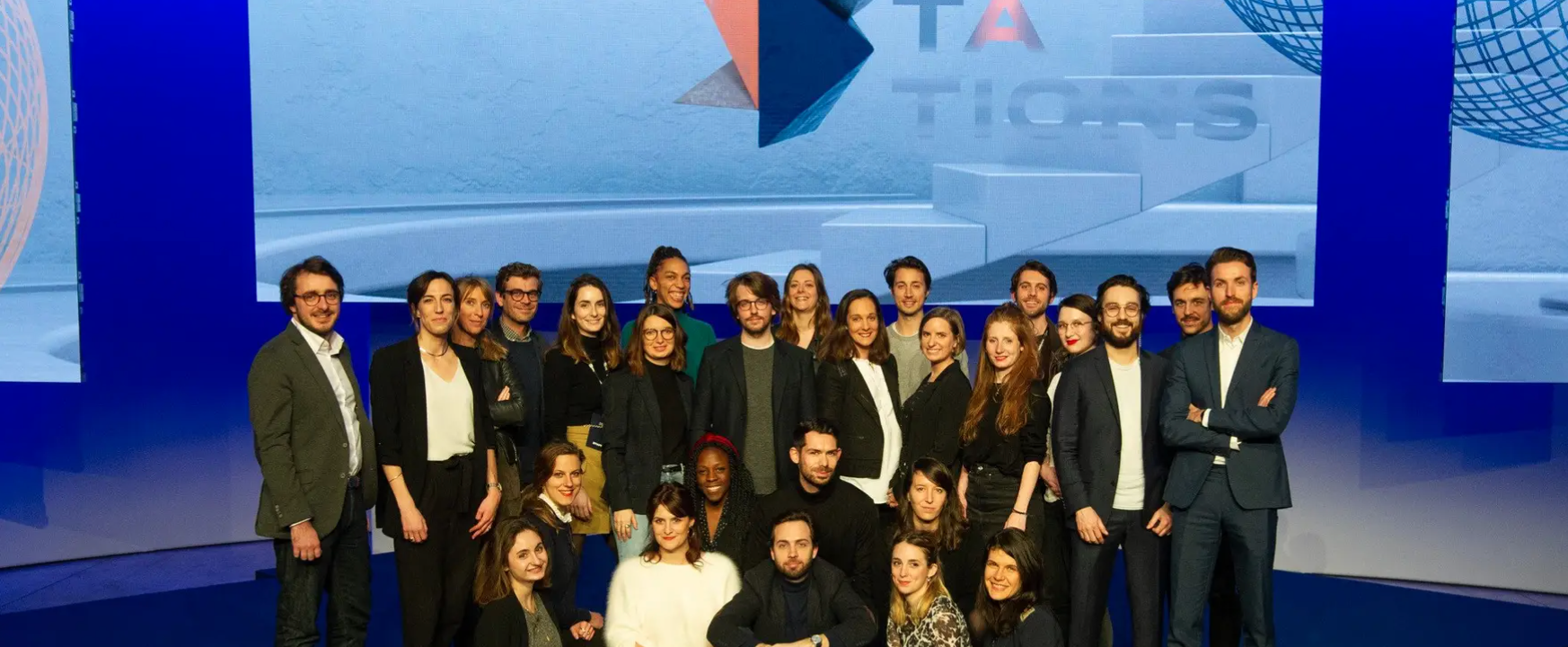 Maddyness' sleek, specialised coverage of entrepreneurship and innovation in the UK and France is now well and truly a multimedia venture.
It boasts Maddyplay, the first video-on-demand platform in the area; MaddyKeynote, its version of Ted Talks for key players; VOICE, its podcast and its book BackPack — a guide for entrepreneurs that's sold over 15k copies. It has also collaborated with youth-led crowdsourced environmental media startup Ours to Save.
Founded: 2012
HQ: Paris
Team: 30-40
Founders: Louis Carle and Etienne Portais
Editors in chief: Anais Richardin
Monthly readership: 400k
Funding: according to Dealroom, the startup is bootstrapped
The Mill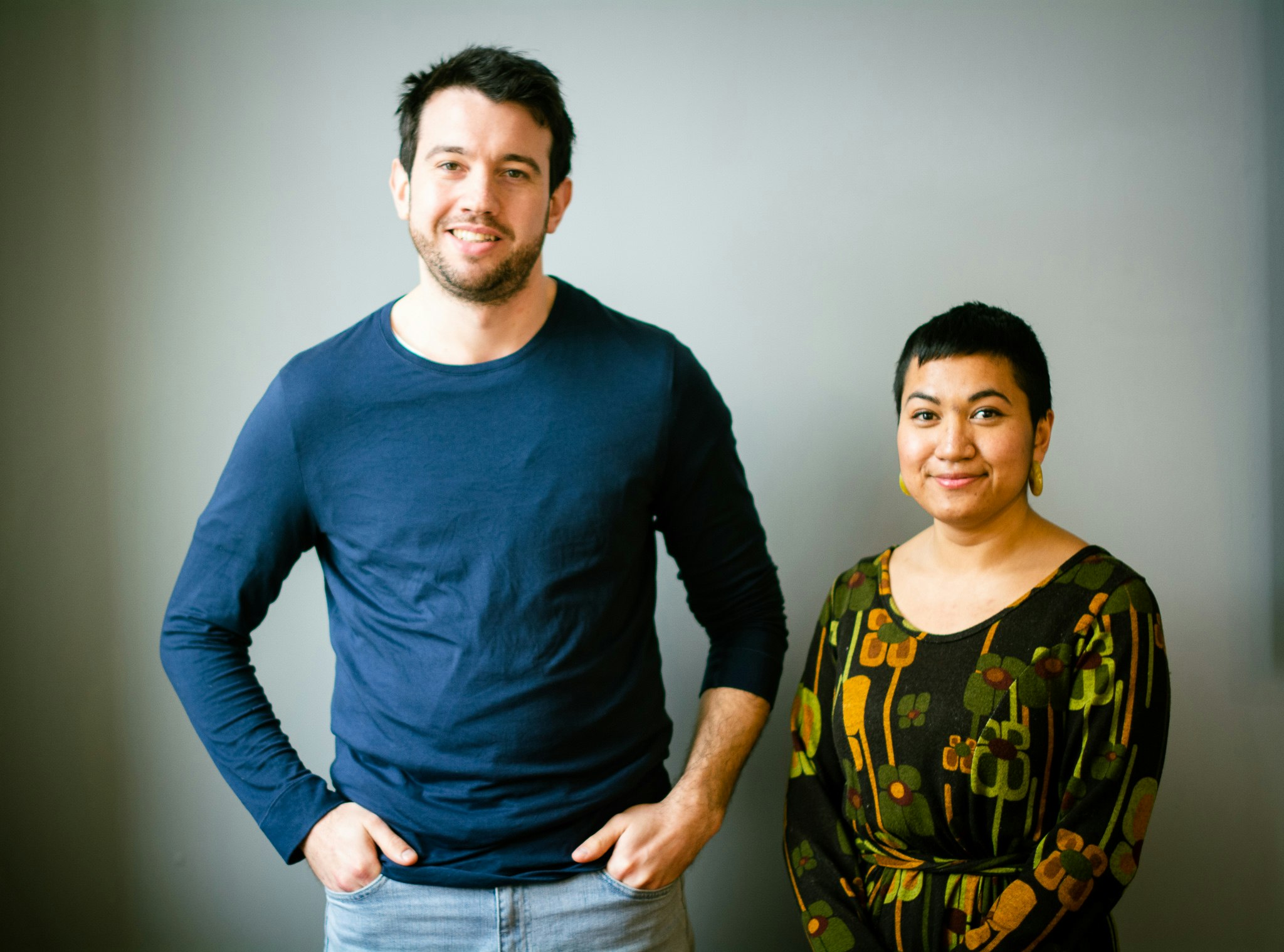 Recommended to us on Twitter, The Mill covers Greater Manchester (with a population of 3m) through a daily briefing that drops in your email inbox rather than your doorstep. But it's just as homegrown as a local paperboy. The team consists of founder and editor Joshi Herrmann, as well as trainee reporter and photographer Dani Cole.
"I started The Mill as a bit of a side project during the first lockdown," Herrmann says, "but the response was much bigger than I expected." Across Manchester, The Mill is known for indepth stories about local issues and now has a dedicated 25k reader base.
"There seems to be a yearning for high-quality journalism that treats stories thoughtfully rather than churning out low quality content for the ad model, and people are showing that they are willing to pay for it."
Founded: 2020
HQ: Manchester
Team: 2, not including freelance contributors
Founder and editor: Joshi Herrmann
Monthly readership: 25k
Funding: 800 paying subscribers, otherwise no funding so far
Key stories:
Notes From Poland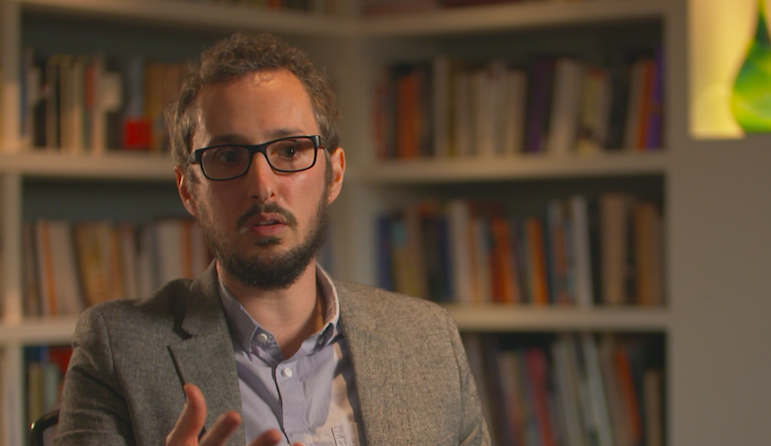 Notes from Poland started as a personal blog by Stanley Bill, head of the Polish studies programme at the University of Cambridge. Daniel Tilles, an assistant professor at Pedagogical University of Kraków, would join the blog soon after and help develop its social media presence — it's now followed by 27k Twitter users.
Their aim was to provide an English-language resource for those also interested in Polish current affairs. The startup filled a substantial gap in the market for broad and reliable journalism, not only in Poland, but in the international media landscape which consistently underreports on the nation — which in 2020 fell to its lowest ever position in the World Press Freedom Index.
Founded: 2014
HQ: Kraków
Team: 4
Founder: Stanley Bill
Editor in chief: Daniel Tilles
Monthly readership: 350-400k
Funding: crowdfunding campaign in 2019 to raise for a new website, followed by reader donations and grants, including from National Endowment for Democracy
Key impacts:
In March 2020, Maria Wilczek covered the British retailer Tesco's presence in Poland which has operated in the country since 1995 and is now retreating due to a variety of fascinating external factors
Agnieszka Wądołowska unpicked the meaning behind the many symbols used in abortion rights protests, believed to be the largest in the country since the fall of communism in 1989
A great cartographic data piece on the cultural and religious diversity in Poland based on one survey question: Who brings Polish children presents on Christmas Eve?
Republik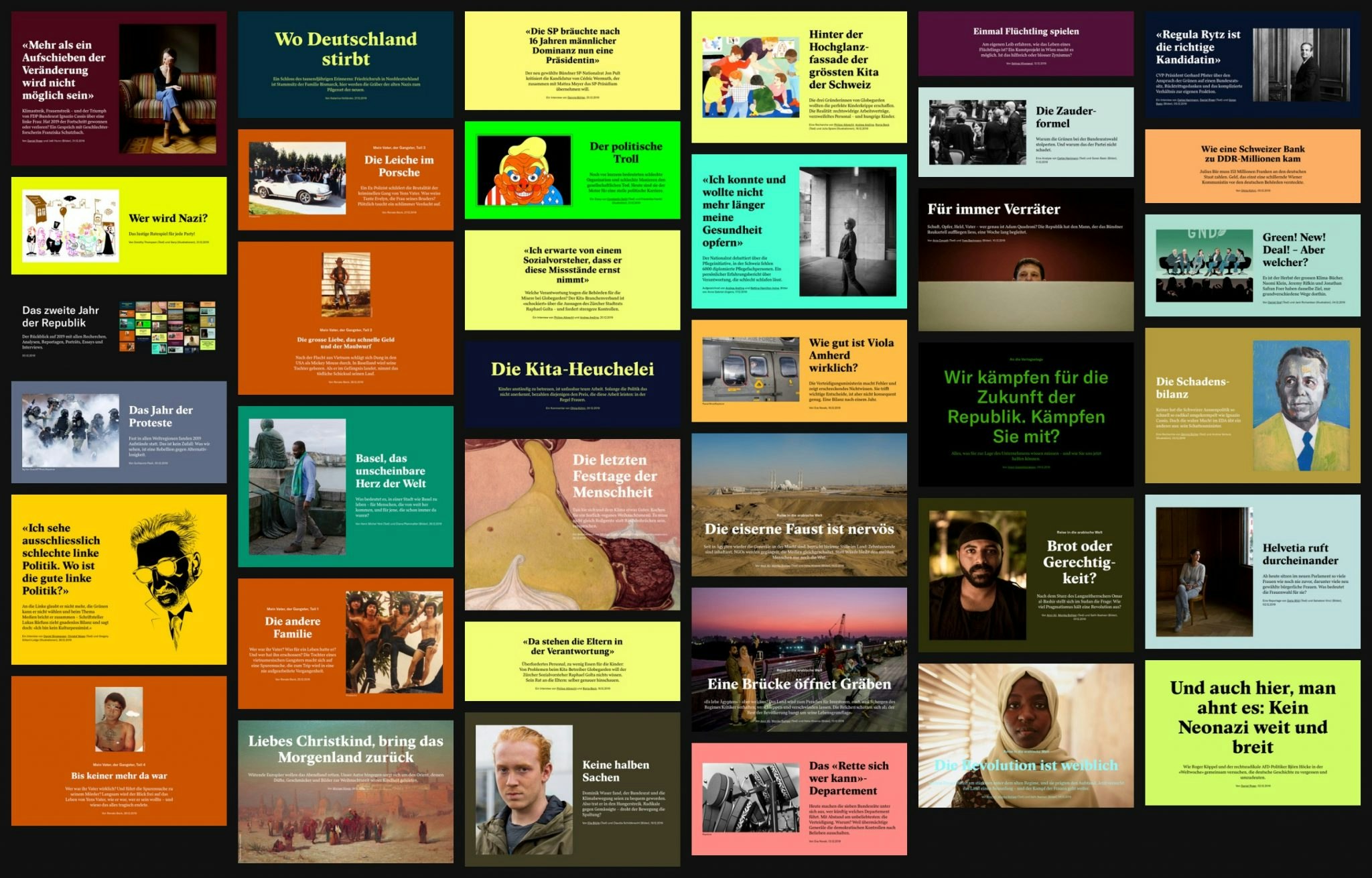 Reportedly modelled after De Correspondent, Republik also has a membership-only model while emphasising long-form content and investigations. But its approach to the relationship between journalists and readers, whom they call 'publishers', is distinct.
Its parent company is Project R, a cooperative project of which paying readers become members (there are 20k) and can participate in editorial and operational decisions. The model has undoubtedly paid off — the online magazine holds the record for crowdfunding in Switzerland, raising 750k Swiss francs in its first seven hours.
Oddly enough, it also has a podcast called Klang that explores classical music and opera.
Founded: 2018
HQ: Zürich
Team: 40
Founder: Laurent Burst, Christof Moser, Nadja Schnetzler, Constantin Seibt, Clara Vuillemin and Richard Hoechner
CEO: Miriam Walther
Editor in chief: Christof Moser
Monthly readership: 816k
Funding: crowdfunded
Key impacts:
The Shift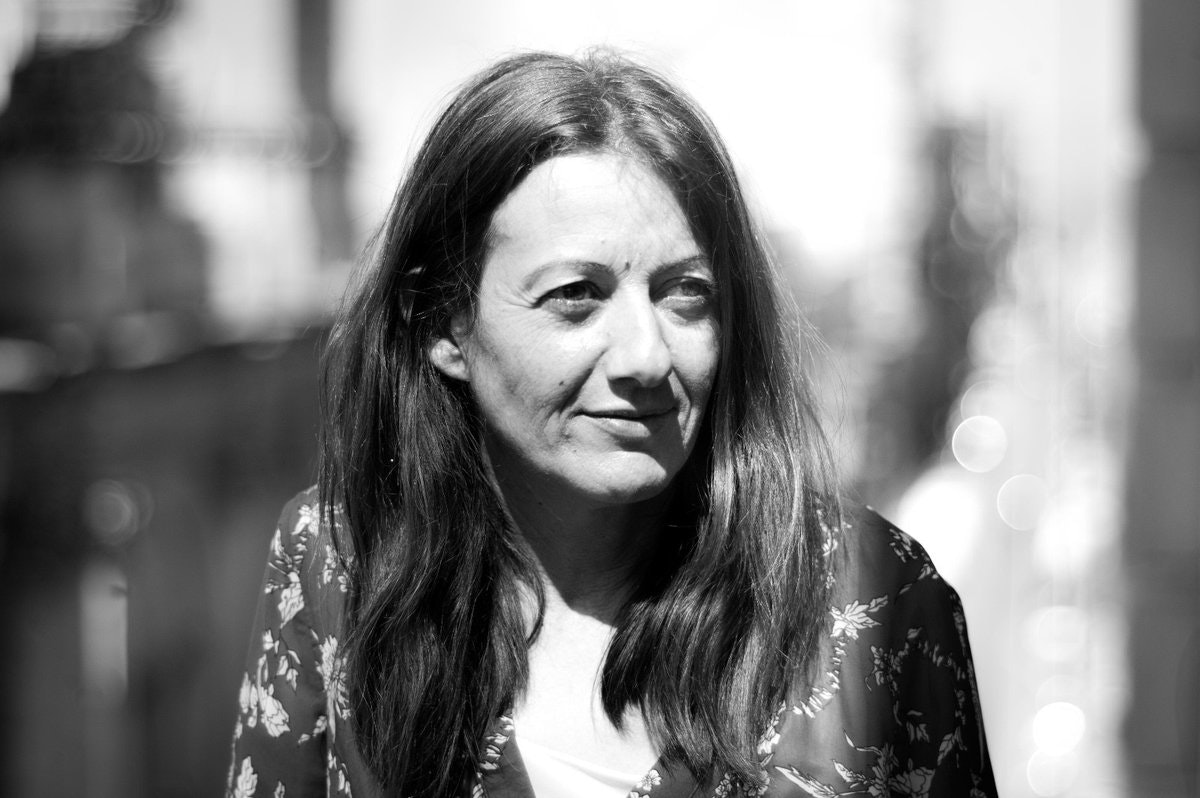 Based in and focused on Malta, The Shift claims its the only outlet in the country that "refuses to take funding or advertising from the government or political parties." Such a commitment is critical in the nation, which places 81st out of 180 on the World Press Freedom Index.
It's not giving into fast-paced media cycles, either, publishing between one to three articles a day with an emphasis on investigative journalism.
Founder and editor Caroline Muscat won the Reporters Without Borders award for Independence in 2019 — an achievement acknowledged by the media industry worldwide. PEN International Scotland said Muscat was "a vital, necessary, and committed voice for accountability, justice and democracy when it is needed most in Malta."
Founded: 2017
HQ: Malta
Team: n/a
Founder and editor in chief: Caroline Muscat
Monthly readership: 284k
Funding: 55% grants, 31% reader contributions and 13% fundraising events
Key impacts:
Solomon
Solomon's focus is on migration and refugees — but this results in committed coverage of a variety of related topics, from the gentrifying impact of Airbnb in Berlin to the Greek climate school strikes. Its platform contains datasets on the impact of Australia's huge wildfires and captivating photosets of refugee camps across Europe. Managing director and editor Iliana Papageli told Sifted that its community-based approach is distinct from the standard way of reporting on migration.
Its reporters, editor in chief Iliana Papangeli says, not only listen to migrant and refugee communities, but acknowledge "the agency these people have to shape and decide on their own stories and the way these stories are being told. We do not write about them. We produce stories with them."
Founded: 2016
HQ: Athens
Team: 7
Founder: Fanis Kollias
Editor in chief: Iliana Papangeli
Monthly readership: 4.5k
Funding: Solomon was the first Greek media project on Kickstarter, where it has raised €12k. It has also received €423k in grants from private foundations like the Rosa Luxemburg Foundation and Bosch Alumni Network.
Key impacts:
Tortoise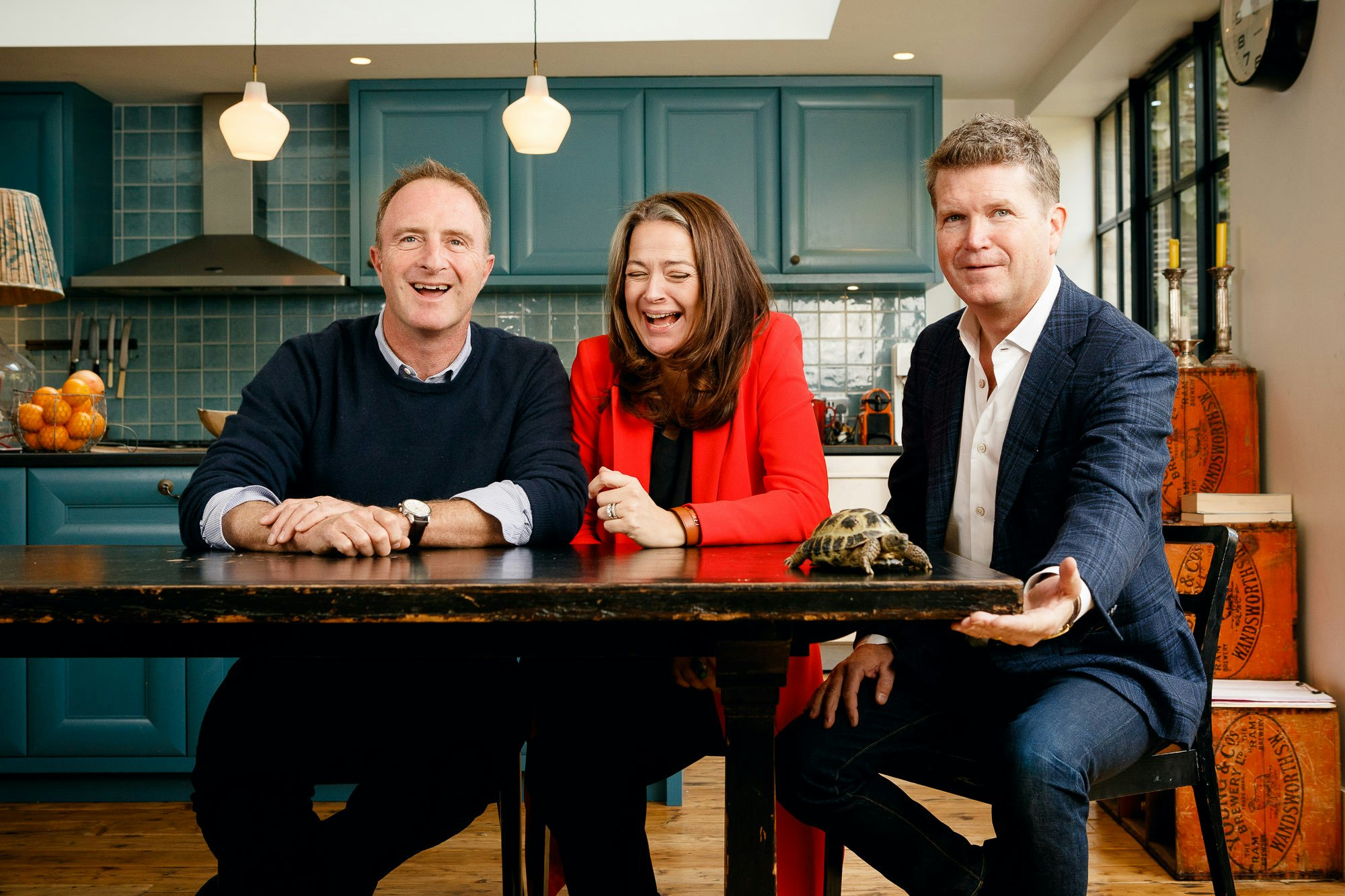 Sure, Tortoise is all about 'slow news', but its launch in 2019 was one of the fastest and most successful on this list. No wonder — editor James Harding was formally the head of news at the BBC while fellow cofounders Katie Vanneck-Smith and Matthew Barzun were president of the data company Dow Jones and US ambassador in London, respectively.
Instead of the traditional newsroom format, the startup covers five pillars it believes are driving change: 'the 100 year life', 'wealth', 'belonging', 'our planet' and 'new things'.
Founded: 2019
HQ: London
Team: 50
Founders: James Harding, Katie Vanneck-Smith, Matthew Barzun
Editor in chief: James Harding
Monthly readership: 105k
Funding: its Kickstarter campaign raised a whopping £540k in 2018, but now its revenue is driven from its significant paid membership base of 90k.
Key impacts:
The startup won two British Journalism Awards in 2019: Innovation of the Year for its open editorial meetings:
Innovation of the Year for its open editorial meetings called 'ThinkIns'
New Journalist of the Year awarded to Paul Caruana Galizia for his four-part podcast, 'My Mother's Murder', on the assassination of his mother and investigative journalist Daphne Caruana Galizia
Other mediatechs we like (but didn't quite fit our criteria)
Brut, which compiles the best video content from across the internet
Curio, an audio-only app that narrates external reporting
Protos Media, daily podcast on cryptocurrency
Decrypt, a blockchain-focused publication
FrenchWeb, a great resource on French business
VC funds focused on media
Supernode Global
EU funded programme MediaMotorEurope
MediaDeals
MediaFutures
Startupbootcamp Media Amsterdam
Media Lab Bayern
NextMediaAccelerator
Engaged Journalism Accelerator
Further resources